America is for Americans .... English is our Language!
"In the first place, we should insist that if the immigrant who comes here in good faith becomes an American and assimilates himself to us, he shall be treated on an exact equality with everyone else, for it is an outrage to discriminate against any such man because of creed, or birthplace, or origin. But this is predicated upon the person's becoming in every facet an American, and nothing but an American... There can be no divided allegiance here. Any man who says he is an American, but something else also, isn't an American at all. We have room for but one flag, the American flag... We have room for but one language here, and that is the English language... and we have room for but one sole loyalty and that is a loyalty to the American people."
Theodore Roosevelt's ideas on Immigrants and being an AMERICAN in 1907. I totally agree with his sentiments.
---
The following senators voted against making English the official language of America :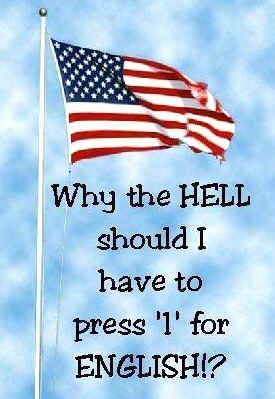 Akaka (D-HI)
Bayh (D-IN)
Biden (D-DE)
Bingaman (D-NM)
Boxer (D-CA)
Cantwell (D-WA)
Clinton (D-NY)
Dyton D-MN)
Dodd (D-CT)
Domenici (R-NM)
Durbin (D-IL)
Feingold (D-WI)
Feinstein (D-CA)
Harin (D-IA)
Inouye (D-HI)
Jeffords (I-VT)
Kennedy (D-MA)
Kerry (D-MA)
Kohl (D-WI)
Lautenberg (D-NJ)
Leahy (D-VT)
Levin (D-MI)
Lieberman (D-CT)
Menendez (D-NJ)
Mikulski (D-MD)
Murray (D-WA)
Obama (D-IL)
Reed (D-RI)
Reid (D-NV)
Salazar (D-CO)
Sarbanes (D-MD)
Schumer (D-NY)
Stabenow (D-MI)
Wyden (D-OR)
Following are the senators who voted to give illegal aliens Social Security benefits. They are grouped by home state. If a state is not listed, there was no voting representative.
Alaska:
Arizona:
Arkansas:
California:
Colorado:
Connecticut:
Delaware:
Florida:
Hawaii:
Illinois:
Indiana:
Iowa:
Kansas:
Louisiana:
Maryland:
Massachusetts:
Montana:
Nebraska:
Nevada:
New Jersey:
New Mexico:
New York:
North Dakota:
Ohio:
Oregon:
Pennsylvania:
Rhode Island:
South Carolina:
South Dakota:
Vermont:
Washington:
West Virginia:
Wisconsin:
Stevens (R)
McCain (R)
Lincoln (D)
Boxer (D)
Salazar (D)
Dodd (D)
Biden (D)
Martinez (R)
Akaka (D)
Durbin (D)
Bayh (D)
Harkin (D)
Brownback (R)
Landrieu (D)
Mikulski (D)
Kennedy (D)
Baucus (D)
Hagel (R)
Reid (D)
Lautenberg (D)
Bingaman (D)
Clinton (D)
Dorgan (D)
DeWine (R)
Wyden (D)
Specter (R)
Chafee (R)
Graham (R)
Johnson (D)
Jeffords (I)
Cantwell (D)
Rockefeller (D),
Feingold (D)
Pryor (D)
Feinstein (D)
Lieberman (D)
Carper (D)
Inouye (D)
Obama (D)
Lugar (R)
Sarbanes (D)
Kerry (D)
Menendez (D)
Schumer (D)
Voinovich(R)
Reed (D)
Leahy (D)
Murray (D)
by Not Voting
Kohl (D)
---
YOUR TAX DOLLARS ARE GOING WHERE?
Remember these folks when you pull the lever for re-election...and ask them why...TODAY !
For a Really Great Song now on YouTube to get you all riled Up..................
More of Dave's World