We Have Hundreds of Military Collectables and All are Absolutely Authentic unless described Otherwise! We Can E-Mail more or other photos to you on Request. We have many more items in stock than what is listed here.
~ Updated Thursday, May 4, 2017 ~
Military Firearms
A portion of our Militaria Window Display with Nazi Battle Flag, Helmets and Uniforms as well as many swords and bayonets


Click on each underlined title below for larger or additional photo link, or click on thumb nail photo for larger image.
---
Link to Pre- 1898 Military Collectables page.
---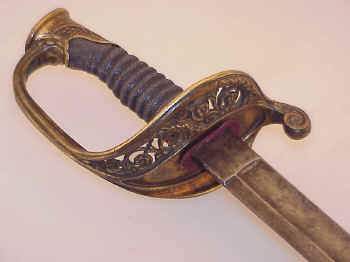 US CW M1850 Sword Link to other photos and other sword page.
1a) US Non- Regulation, Civil War Era, Model 1850 Foot Officer's Civil War Sword with slightly curved single edge, heavy, 32" blade marked "W. CLAUBERG, SOLINGEN" encircling a standing knight, "IRON PROOF" etched to back of blade. Wide brass, single arm guard, is pierced with florals. Though somewhat darkened with age about 70% of the original gold wash remains on hilt which is rare to find, most of these have been cleaned to the brass. The sharkskin wrapped grip is excellent but missing the wire wrap which can be replaced. The blade etchings of laurels and floral is faint but is quite discernable, some pitting to tip of blade. Overall a pleasing look to a highly collectable relic of our Civil War. The leather scabbard was quite deteriorated and is not included. All of these swords are getting very scarce. ... BUY NOW ... $895.00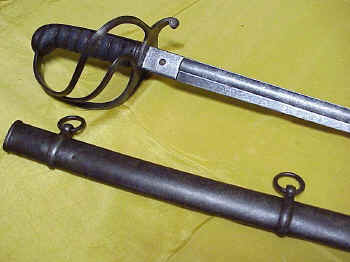 US Civil War Officer Sword
1b) US Non- Regulation, Civil War Era, a Model 1833 Style Officer's Sword with scabbard. The blade measures 32 1/4"

& o/a the sword is 37 1/2". It has a slight curve with a single edge and 2/3 fuller terminating at false edge of blade. "US" and scrolls are on reverse while "Eagle and Motto" are on obverse of blade. The etchings are worn, the blade has no nicks and it is in fine condition, marked "W. Clauberg, Solingen" with



standing knight, also "Proved" in circle. The hilt consists of a twisted wire wrapped sharkskin grip in 90% fine condition but only about half of full wire wrap remaining. Also a double bow guard and birds head back strap, all of steel, now turning gray. The steel scabbard fits blade well and has two loop hangers and a full drag. There are two



creases midway in scabbard. The style of this sword fits the 1822 English Pattern that was used for early US Regulation Swords. This seems to be an elusive sword to find in the normal sword books that I have checked. If you want to own an authentic piece of history from our Civil War this would be a fine purchase. We have priced this scarce item at only $xxx.00 ... BUY NOW. SOLD
---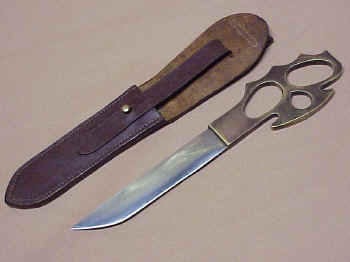 Rare Middle Eastern Commando Knife

1c) Here is a rather rare Middle Eastern Commando Knuckle grip knife with original sheath. This rare knife is listed in Ron Flook's book on British and Commonwealth Military Knives on page 208, item #503. It has an unmarked 6" heavy single edged blade with brass knuckle grip. Actual blade dimensions are 1 1/6" wide and 3/16" thick, the overall length is 11 5/16", the base of the grip or hilt is 3/8" thick with slight taper to 9/16" overall knuckle grip thickness. The condition is excellent


but the blade has of course been sharpened and there is a very small nick in edge which can be ground out. You see, these were actually used by Commando's and believe it or not, they actually sharpened their blades, just to make a point to the guy who says, "Too bad it was sharpened!" Tough! Go find a better one. There is a Commemorative

one out being offered at over $800. I have this sharpened Commando knife with excellent original scabbard priced at only ... SOLD.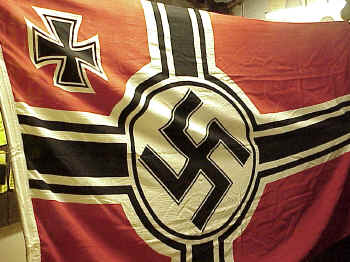 Nazi Battle Flag WWII, Excellent
2a) Nazi Battle Flag marked "Reichskriegsflg. 1,5 x 2,5" and Nazi eagle over M. The larger sizes were used on ships as Ensigns, this one measures about 100 inches x 53" and has a heavy braided white rope thru folded and sewn left edge. It is all imprinted on white back ground and is in very excellent condition but for several aging holes in disk area. The colors are excellent. This was used from 1936 thru 1945 and is an authentic relic of the period. Every Nazi collection needs this flag as the ultimate symbol of



near world dominance that was defeated by who we now call the "Greatest Generation." I personally salute you all. Just holding or gazing at this evil beauty that set the stage for most of the Twentieth Century is awe inspiring. Whether hung as a trophy of war, stomped upon with dirty boots or displayed carefully for future generations of collectors and historians this is an excellent example of a symbol of differing beliefs or views in people world wide. Love it, despise it or hate it this is a piece of world history. And they are getting very scarce. This is from my own collection and it is priced at $1150.00. ... BUY NOW.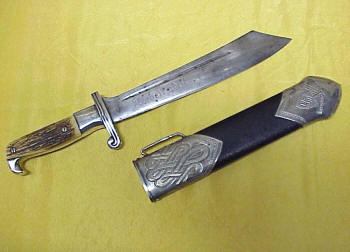 Nazi Silvered RAD EM WWII Hewer with Scabbard
2b) Early Nazi RAD Hewer for Enlisted Men, Model 1934 and maker marked by Carl Jul. Krebbs in an oval. This heavy silver hilted with silver mounted black painted scabbard has no other markings except on the blade is the standard etching of Arbiet Adelt meaning "Work Ennobles." The stag slabs for the handles are well figured and secured by two


screws with nuts, all in fine condition. The design is from an old German hatchet with eagle head grip and heavy scimitar style clipped blade. These knives, or hewers, were meant for use by the members who were issued them by the RAD organization, a workers group formed in the 1920's and 30's to alleviate the high German unemployment problem, similar to what was done here in the USA as the CCC.

When Hitler came to power all eligible men were obliged to enter the RAD for six months of training prior to military service. In 1943 the RAD was armed and militarized. This dagger was probably made in 1936 or so as there are no unit markings after that time but still is a heavy blade with silvered fittings. Later ones were nickeled and also made of aluminum.



The blade on this piece has been sharpened for use and there are use marks on the back strap of blade and also back of grip indicating applied force. It appears that the scabbard has been repainted and one side has a covered corrosion roughness. There is a nice over all patina to the silver and the use marks actually give this piece of working history a pleasing eye appeal. This is a wonderful collector piece of the Second World War and these early ones are becoming rare. We have this one priced at $xxx.00 BUY NOW.
Nazi Police Sidearm WWII
2c) Nazi Police Side Arm but without scabbard. The heavy straight blade has been sharpened and has a few deep pitting marks that were polished over, it measures just under 13". The maker mark has also been obscured slightly and appears to end with --oss. With all these problems … the hilt and grips are super.

The deep cut eagle head pattern and oak leaf cross guard are great. The stag slabs for the handle are heavy with deep crevices. The police emblem appears to be silver over brass with full design. If you have a scabbard to marry with this it would make a great example of an authorative and imposing item of the Nazi Police State during World War Two. This is a stiletto dagger not a bayonet, thus the use of the term sidearm. We have this great piece priced at $xxx.00 … BUY NOW. SOLD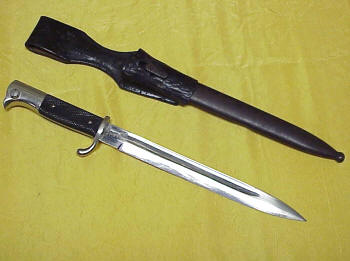 Nazi Dress Bayonet, WWII
2d) Nazi Dress Bayonet by WKC with scabbard and unmarked black frog. The 9 5/8" nickeled straight blade is next to perfect in condition only showing light draw marks from the scabbard. The black grips are near perfect also. A few very light scratches are visible where the bayonet may have been

attached to a firearm. The scabbard shows wear and two small dents in rear. The frog shows indentations of the grips indicating this unit has been together since birth. Great maker marked original complete bayonet from WWII. Priced at $295.00 ... BUY NOW.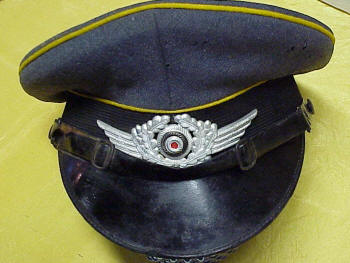 Nazi Dress Visor Cap, Luftwaffe WWII Period
2e) WWII Nazi Dress Cap with leather visor worn by Luftwaffe Enlisted Man. It has yellow piping over blue wool base. The chin strap is black leather and secured by EM buttons. There is a very nice aluminum Luftwaffe emblem on dark blue band but the Luft spread eagle emblem is missing, should not be a big problem to replace. There are several moth holes in the top rear of the hat. The inside is very fine as the thumbnail shows. We have this fine piece of World War Two history very reasonably priced at $395.00 ... BUY NOW.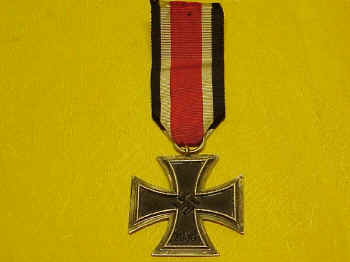 Nazi Iron Cross Second Class WWII
x) Nazi Iron Cross Combat Award, Second Class with Ribbon, not hallmarked. This is a fine example the bravery of a German soldier fighting for his belief in his country's cause. A two piece medal of German Silver layers sandwiching the iron cross and suspended by the ribbon of German National Colors. One side has the

swastika and dated 1939 and the other dated 1813. Without hall mark this was probably made later in the war. We have this priced at ... $xxx.00 ... BUY NOW. SOLD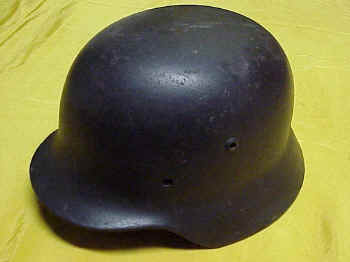 Nazi WW II Combat Helmet M35
x) Nazi Model 1935 WWII Helmet with standard rolled edge. Fine condition to period repaint, no decals and missing internal liner. This is an original wartime shell brought back by a US Veteran and can be used in display or with repro liner for re-enacting or Harley Riding. It is missing one retaining grommet for aluminum band that holds the missing leather The inner helmet is well marked on front and side. BUY NOW ... $xxx.00. SOLD
We have several other helmets with liners but missing straps and repainted with fake decals added ... $275.00 each liner.




---
WWII Books -
x) Two Books by Albert Speer, a) "Inside The Third Reich", 1982 Bonanza Books, HC, DJ, illustrated, excellent condition. b) "Spandau", 1976 Macmillan, First Edition, HC, DJ (tattered), illustrated, excellent condition. ... BUY NOW .. pair $xx.00
SOLD
Musket Balls from the American Revolution
3) These are eight different sizes and are labeled as to the caliber. All were dug on private land with the owner's permission and come from an American encampment site near the siege of Saratoga, more historically accurate is the Battle of Bemis Heights. All are in excellent condition and I believe the set is reasonably priced at ... $300.00 ... BUY NOW. Try putting this together on your own. (I have several sets)
---
Mini Balls from Civil War Era
4) Pictured are six different musket projectiles dug from an old Watervliet Arsenal firing range that was used during the Civil War. Number one actually looks like a shotgun slug. Numbers 2, 3, and 4 are .58 caliber mini balls that have various ribbed designs and are hollow based, # 5 has two ring, #6 looks much more modern. All show sufficient age as to be over a hundred years old. The price of the set is $150.00 and I do have others. ... BUY NOW
---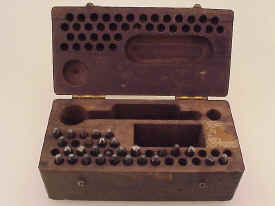 US Army Ordnance Metal Stamping Kit
5) WWI Period, US Ordnance, Metal Stamping Kit, for Dog Tags or what ever, comes with 27 dies, there are some duplicates. Wooden Box Military Marked, 4" x 8" x 3 1/2". Missing some of the components but is a good start for a complete kit. Stamps included are A B (2)D (2)E F H J K L P (2)R (2)S Z & 1 (2)2 4 (2)5 6 7 8. I do know some fellows who use the stamps for vehicle ID's. The kit is in very good condition ....




BUY NOW ... $125.00
---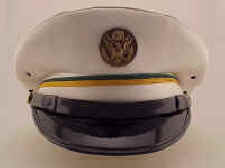 USA MP Cap more photos
6) US Army, Military Police, White Service Cap with Black Peak and all Insignia, Leather band, size 7, some marks on the white vinyl cover, otherwise in excellent condition ... BUY NOW ... $xx.00. SOLD
Also have US Midshipmen's Hat from Annapolis, white and in excellent condition. ... $65.00.

---
Viet Nam War Era Pith Helmet
7) Vietnamese Military Pith Helmet with Star Insignia, all complete and brought back by a veteran of the Viet Nam Conflict. There's some internal breaking of the cork in rear of brim but otherwise in nice condition and an authentic souvenir of the only war our politicians and our home grown misguided public lost. But a new generation is trying to outdo them on our current war on terror. ... BUY NOW ..$425.00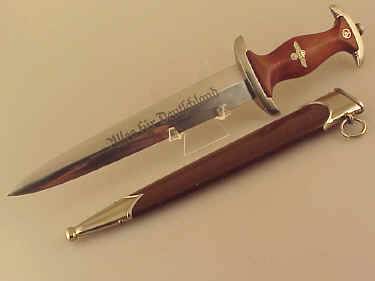 Nazi SA Dress Dagger WWII
8a) WWII Nazi SA (Storm Troopers) Political Dagger with scabbard. This is an original, untouched WWII vintage Third Reich item worn by an SA Trooper and brought back by a US GI. It is in overall excellent to near new condition with, I believe, a rose wood grip, nickeled cross guards and proper painted and fine fitting scabbard. The like new blade is marked RZM for the SA



acceptance and M 7/56 for the WWII makers mark. This is one of the finest examples I've had to sell with but the faintest of corrosion beginning after sixty or more years since it was given to a Nazi Trooper with his reverence to "Alles Fur Deutschland." A must have piece for any collector of Third Reich items and a blade in finer condition will be hard to


find today. The grip and fitting are excellent as is the Nazi Eagle and SA logo. There is one dark spot on reverse of lower crossguard that shows poor storage, it was resting on a piece of leather for many years. Scabbard has a few light scratches from use but is excellent overall. Any collector should be well pleased with this purchase and we have it offered at $xxx.00. ... BUY NOW. SOLD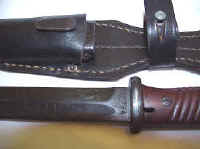 WW II Nazi Mauser Bayonet
8b) WWII German Bayonet for K98 Rifle with Scabbard and Frog. Blade marked 43 cqh, 5294 and is exc. except top strap of grip is dented, Arsenal remark on scabbard to 5294, 43 cvl. Has excellent white stitched black frog marked "RB Nr. 0/0566/0015" ... BUY NOW ... $xxx.00
We have several of these Nazi era bayonets that fit all the type 98 Mausers and they range in price from $175.00 and up.
---
"Rex Lee, Night Flyer" Aviation Book
9) Aviation Book, "Rex Lee, Night Flyer", by Thompson Burtis, HC, DJ, WWI Adventure, Rex Lee Series, excellent condition. ... BUY NOW ... $50.00

---
John Ek Military Fighting Knife
10) John Ek, Military Fighting Knife with Original Sheath, Patton Model, #6G254. WWII period and in excellent condition from a unique maker, now deceased, made in Hamden, Conn. One of the best in combat military knife collectables ...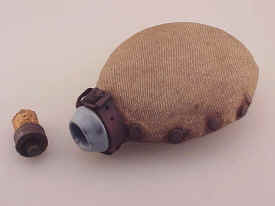 WW I German Canteen
11) WWI, Imperial German, Military Canteen with Tan Cloth Cover that snap fastens and with original plug cap. Most of leather strap missing but overall in fine condition. ... BUY NOW ... $155.00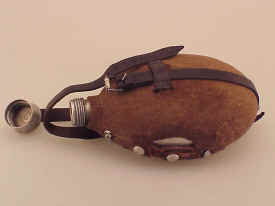 WW II Nazi Canteen
12) WWII Nazi, German, Military Canteen and cover. Aluminum body with tan, wool cover with snap fasteners ( small wear hole in cover ) original aluminum cap, leather strap is in fine condition but bottom strap missing tail. ... BUY NOW ... $xxx.00 SOLD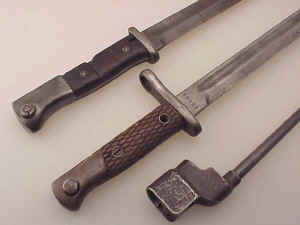 Three WW II Bayonets
13) (3) WWII Bayonets, a) German Mauser 1898 pattern with wood grips, 15" over all in good condition. b) Spanish Model 1916, 20 1/2", over all in good condition. c) British Enfield No. 4 MK II, arsenal marked, 9 3/4", over all in good condition. ... BUY NOW ... all 3 pieces ... $xxx.00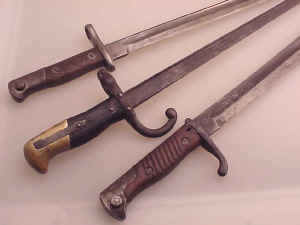 Three WW I Bayonets
14) (3) WWI Bayonets a) Spanish Model 1916, maker marked, 20 1/2", over all good in condition. b) French Gras, brass & wood Grip, arsenal marked 1877, 25", over all in good condition. c) German M1898 Butcher Blade, maker marked, 17 1/2", over all in good condition. ... BUY NOW ... $200.00
US Army Sewing Kit
15) US Army Sewing Kit, E-Z Pull, patent #2090873. Leather like cardboard case is complete with Army wool, buttons, etc., very good condition ... BUY NOW ... $45.00
Three Enfield Bayonets
16) (3) British, Military Bayonets for Enfield Rifle No. 4 MK II, Three different variations, arsenal marked, WWII period and forward, over all in fine condition ... BUY NOW ... $xx.00 SOLD
Pair of World War Two British Bayonets
17) (2) WWII British Military Bayonets and Scabbards for the No.4 MKII Enfield Rifle. Two different variations and both arsenal marked and over all excellent condition ... BUY NOW ... $75.00
---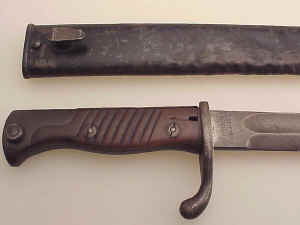 WW I German Bayonet
18) WWI German Military M1898 Butcher Blade Bayonet with scabbard for G98 WWI Mauser, marked "Dietrich, Altenburg" on blade, original wood grips, o/a very good condition but scabbard has some dents. ... BUY NOW ... $xxx.00
Three French Lebel Bayonets
19) (3) French Lebel Bayonets & Scabbards. a) Aluminum grip has dents on both sides and bayonet to scabbard #'s do not match, over all 19 7/8", good condition. b) Brass grip, blade marked C&P, #'s don't match, o/a 18 3/8", excellent. c) Brass grip, blade marked M.P. and #'s don't match, 25 5/8",
excellent. ... BUY NOW ... $225.00
WW II USN MK I Knife
20) WWII US Navy, MK I Fighting Knife, mfg. by Camillus, NY with USN Mark I Sheath, BM Co., excellent over all condition, but blade has been sharpened (probably by the sailor who used it during the war). ... BUY NOW ... $xx.00 SOLD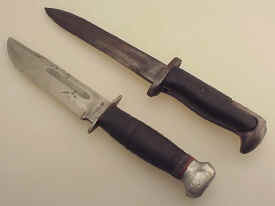 Two WW II Fighting Knives
21) (2) WWII US Fighting Knives, a) Pal, RH-36 (Remington) over all very good condition but has repair to missing leather washer in grip. b) M1 Garand Bayonet converted to a period WWII Fighting Knife (probably by a GI in the field) o/a good condition. ... BUY NOW ... pair $165.00
WW II USN MK 2 Knife
22) WWII US Navy, Mk 2 Fighting Knife, mfg. by Camillus, NY, excellent condition. ... BUY NOW ...
$xx.00 SOLD
---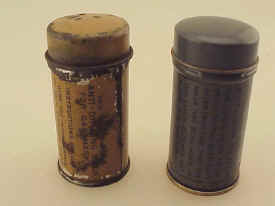 Pair of US Military Anti-fog, Gas Mask Cans
23) (2) WWI US Military Cans, anti-dim cloth for gas masks, accessory for inside Gas Mask Bag, both with unused contents. Brown one is in very good condition, has some rust spots, WWI. Gray is in excellent condition with several wear marks, WWI - WWII use. ... BUY NOW ... both for $65.00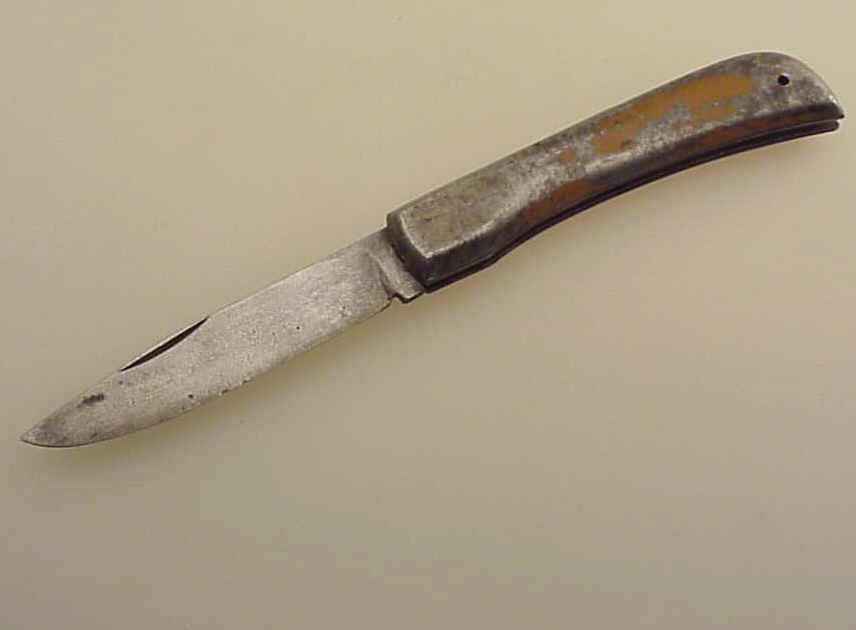 WWII Nazi Folding Knife
24) WWII Period German Army Folding Knife, single blade, metal body with 30% light brown paint remaining. The 3" blade has two small nicks. Taken from a
Nazi Soldier by GI. Holes in body for hanger??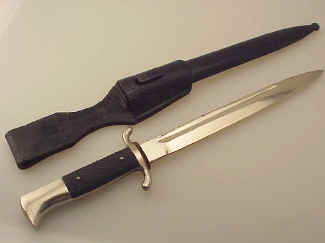 Nazi Fireman's Dagger
25) WWII Nazi Fireman's Dress Dagger, with black Scabbard & black Frog. All components unmarked and in excellent condition, blade wiggles slightly within grip, excellent leather throat washer. Blade has some small pitting to top of blood groove, the whole unit is other wise excellent. Scarce ... BUY NOW ... $245.00
Austrian Military Fighting Knife
26) Austrian Military fighting Knife, saw back blade and polymer scabbard. This is made by Glock, dated '81. As new ... BUY NOW ... $95.00
Mini USMC K-Bar
27) Miniature K-Bar style USMC Fighting Knife, 7 1/2" o/a, leather grip, metal blade marked "USMC 3572". Letter opener??? Like new ... BUY NOW ... $xx.00. SOLD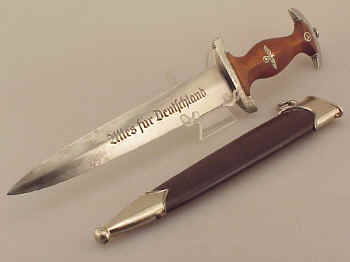 Nazi SA Dagger
27a) Nazi SA (Storm Troopers) Political Dagger with scabbard. This is an original, untouched WWII vintage Third Reich item worn by an SA Trooper and brought back by a US GI. It is in overall fine condition with an apple wood grip, nickeled cross guards and proper painted and well fitting scabbard. The fine blade is marked RZM for the SA acceptance and M 7/27 for the WWII makers mark. There is some minor staining to blade with typical wear and corrosion to base metal guards, the top one with small crack beginning.


This style dagger was among the first issued and a must have for a military blade collector. This is a fine example of a bygone era of history and can be a personal reminder to guardians of future liberty.
We have this priced at ... $xxx.00 ... BUY NOW.
SOLD
---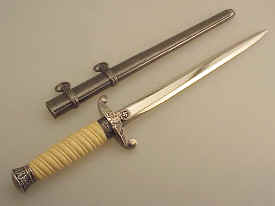 Nazi Army Dagger
28) Nazi Army Officers Dagger & Scabbard, blade marked "F. W. Holler, Berlin", white plastic grip, eagle with swastika cross guard. The blade alone is 9 3/4" and over all it measures 15 1/2" in the scabbard. ... BUY NOW ... $xxx.00
Current, New

Production.
SOLD
---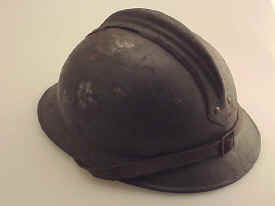 WW I French Helmet
29) WWI French Military Steel Helmet, most original paint intact. Has leather strap but no liner. Has some small dents. Type also saw use in WWII. Very good condition.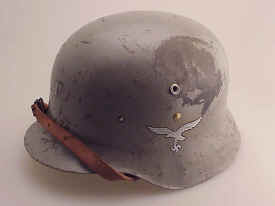 Nazi Luftwaff Helmet
30) WWII Nazi Style, Double Decal Luftwaffe Steel Helmet. Lt. gray paint, non-regular leather liner & chin strap, Luft & German Shield decals (applied), has metal strap in front part of helmet. Probably a Spanish repaint. Great for re-enactor, and

wearable. ... BUY NOW ... $xxx.00

SOLD


---
WW I USN Cutlass
31) US Naval Cutlass Model 1916 WW I Issue. Single edge, blued blade, cutlass curve with clipped point. Fuller runs 3/4 length of 24" blade. Formed sheet metal full guard also blued. Walnut slab grips attached by 3 metal rivets. Blade mkd "MILSCO", no scabbard. Cutlass is in excellent condition with normal wear. This is the last of the USN swords issued for combat, used into WW II period ... BUY NOW ... $xxx.00 SOLD
---
Nazi Army Helmet
32) WWII German Nazi Style Steel Helmet, rolled edge with rear hanger. Dark green paint over red base. Exc. Shell mkd. "DM 62", Exc, leather chin strap & liner mkd. "56". Overall Exc. cond. .. BUY NOW ... $xxx.00 SOLD

SS Officer Cap
33) Nazi SS Officer Cap, Political, Black felt & velvet band, Deaths head & Eagle Insignia, Bullion bands & chin strap. Plastic inner shield is worn, mkd. "Berlin", leather sweat band used slightly. Looks very authentic, but old remake. ... BUY NOW .... $xxx.00
SOLD
Luftschutz Combat Helmet
34) WWII Nazi Luftschutz Steel Combat Helmet, rolled edge, mkd. "Q64 - 1940", most bright blue, original paint but wear to top. Very good leather liner & chin strap. Very good silver emblem decal. Nice collectable. ... BUY NOW ... $xxx.00 SOLD

---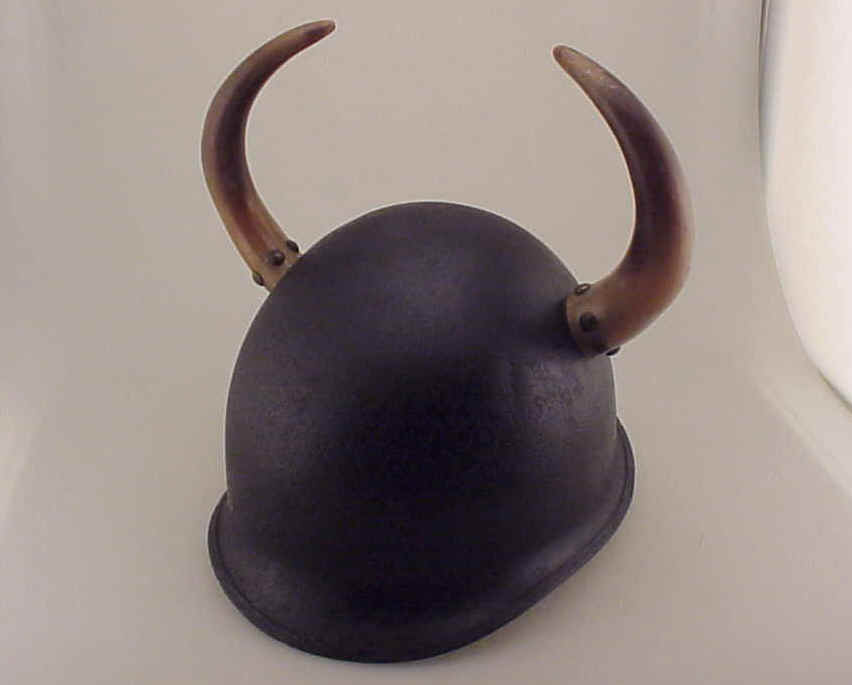 US Helmet with Horns
35) WWII US Army steel helmet with a nicely fitted pair of steer horns attached. Helmet has been painted black, it needs inner shell, there is no chin strap. Great for Harley Man or

Horny People. In very good condition and well done. ... BUY NOW ... $xx.00 SOLD
---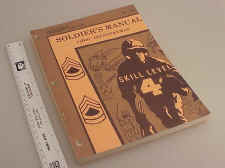 Book, Soldier's Manual
36) US Army Soldiers Manual, 11B40-Infantryman, skill level 4, field manual no. 7-11B4, 1976, soft cover, 7 3/4" X 10 3/4" new condition. ... BUY NOW ... $10.00
(I have 4)
---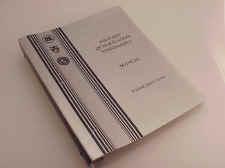 Book, Military Qualifications
37) US Army Military Qualifications Standards 1, Manual, 383 pages, three ring binder marked "Draft", 9 1/2" X 11", 1981, excellent condition.

---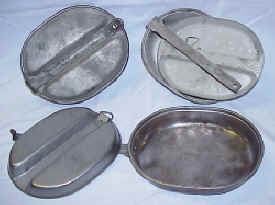 US WWII Mess Kits
38) WWII US Army Mess Kits (3), two dated 1942 (corroded), other dated 1944 is usable but bottom scorched.
... BUY NOW all three ... $40.00
---
---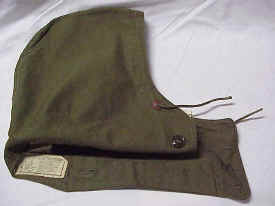 US WWII Military Hood
39) WWII US Military hood for M-1943 field jacket, dated April 28, 1945, OD cotton, in near mint condition.
... BUY NOW ... $35.00 (have 3 various dates)
---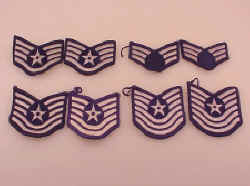 US Air Force Chevrons
40) US Air Force Chevrons, four different pair, removed from uniforms, c1960's, all in excellent condition.
---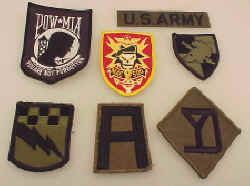 US Army Patches, Viet Nam
41) US Army Patches, Viet Nam era, Seven different. There are four subdued divisional insignia, standard army logo, POW ~ MIA civilian patch and colorful Special Forces patch.
... BUY NOW ... all $xx.00 SOLD
---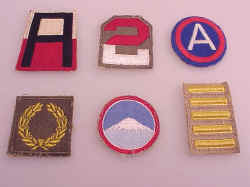 US World War Two Patches
42) WWII US Army, original Insignia, patches that have been removed from period uniforms, all in excellent condition, (6) different ones.
---
WWII US Navy Ships Scope
43) WWII US Navy Ships Scope 10X, Marked "US Navy - BU. Ships, MK II MOD. 1, 10 Power, # 10445 1943" above adjustable focus ring. Hexagonal mount on each end, black coating over brass, black pebble finish to body. Overall length is 23 1/2". Fine condition, lenses could use internal cleaning, scope does disassemble. We have this unit priced at
$145.00. ... BUY NOW.
The hand held telescope that you have on your site as a WWII Navy Scope is an OOD Glass. OOD meaning Officer of The Deck. So says, Bill Cook, Chief Opticalman, USNR-Ret., Seattle, WA. Thank you , Bill.

---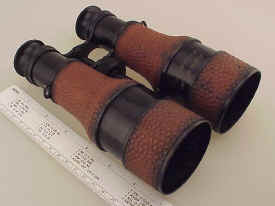 WWII US Navy Binoculars
43a) WWII US Navy Binoculars, 3X, coated brass, "US Naval Factory Annex, Rochester, N. Y." Exc. lenses, working, sun shield extensions, pre-WWII ... $xx.00 ... BUY NOW.

SOLD
---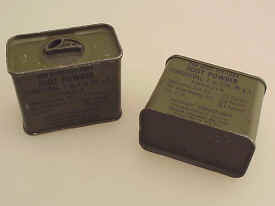 Foot Powder, Viet Nam Era
44) US Army Foot Powder tins, two one ounce cans, Viet Nam era excellent condition. ... BUY NOW ... both cans $xx.00
SOLD
---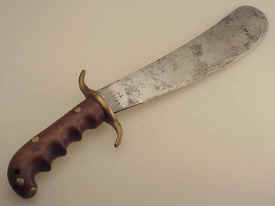 WWI US Corpsman's Bolo
45) WWI US Military Corpsman's Bolo Knife, "SA, flaming bomb, 1913", "US, 35036". S curve brass guard, excellent walnut grips with finger grooves, nice blade but some light pitting, o/a very good condition. ... BUY NOW ... $xxx.00

SOLD
---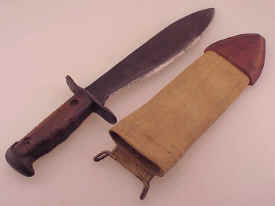 WWI US M1917 Bolo
46) WWI US M1917 Bolo Knife, "US, MOD., 1917 C.T.", "Plumb, St. Louis, 1918", excellent blade, fine, two piece walnut grips. With exterior web cover to rawhide inner sheath (which is missing). Leather tip marked "AK-CO 1918, RHS",

excellent condition. ... BUY NOW ... $xxx.00
SOLD
---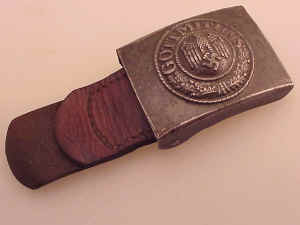 WWII Era Nazi Buckle
47) WWII Nazi, enlisted man's, Army Belt Buckle with leather tab. Gray/green paint about 50% remaining, excellent tab marked "H. Aurich, Dresden, 1942" ... BUY NOW ...

$xx.00
SOLD
Just got in an Army Belt Buckle without the leather tab but as above, clean metal and one rear belt prong is broken off, still useable and completely authentic ... $42.00 ... BUY NOW .
---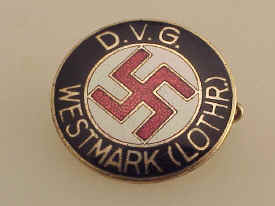 WWII Nazi Party Gau Pin
48) WWII Nazi GAU Political pin, "D.V.G., WESTMARK (Lothr)", with red swastika in center. 23cm, silver, pin back, reverse marked "RZM, M9/312". Authentic, excellent condition. ... BUY NOW ... $xxx.00
SOLD

---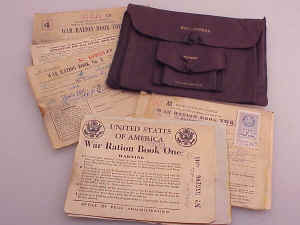 WWII USA War Rations
49) WWII, USA War Ration Books, Number 1, 2, 3, 4; from 1943, with leather wallet for books and ration tokens, left side and bottom have stitching undone, snaps are deteriorated but otherwise fine. Books are named and have coupons. ... BUY NOW ... $40.00
---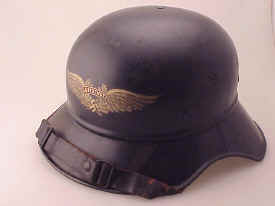 Luftschutz Gladiator Helmet
50) WWII Nazi Luftschutz early, 3 pc. Gladiator Helmet. Rolled edge, Exc. blue paint & emblem decal. Exc. 3pc leather liner & strap with Name. Shell marked "RL2-39/2, Hbchstpreis, Rm. 8." and

"Vertrieb genehmigt gemdss & 8 Luftschtzgesetz."
---
---