...continuation of Military Collectables, see our prior page.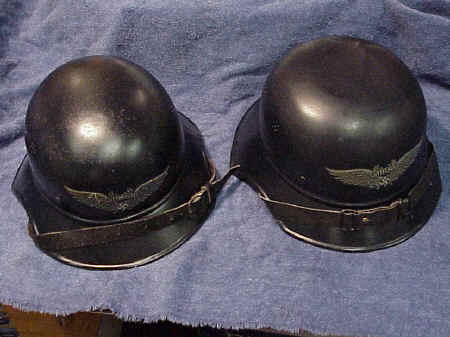 Back to Militaria Page One
50 A & B) WWII Nazi Luftschutz early, 3 piece Gladiator Helmet. Both have rolled edge, excellent blue paint and emblem decals. One has a three piece leather liner and strap and the other the finger style liner with strap. 50B appears to be a re-issue while

50A has the shell marking of "Vertrieb genehmigt gemdss & 8 Luftschtzgesetz". Both are completely original and exteriors are in excellent condition. The differences are in the liner condition and style. 50B also has a better decal and strap.
... BUY NOW ... $xxx.00 SOLD
... BUY NOW ... $xxx.00 SOLD
---
Belt Plates
51) 3 Belt Plates, a) Georgia State House Buckle, Confederate States of America b) Plain Buckle or Breast Plate (?) c) US Army Indian War Period Buckle ... BUY NOW ... $xxxx.00 SOLD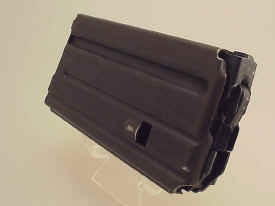 AR-15 Conversion Mag
52) Colt AR-15, .22 Caliber Conversion Magazine housed within Colt 20 round magazine. Excellent condition ... BUY NOW ... $175.00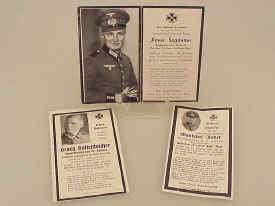 Nazi Mass Cards
53) WWII Nazi Funeral or Mass Cards, (3) of different Soldiers. Actual photos attached or printed with picture and German description of circumstance, Catholic reverses, 1941, 42, 44. All 3 are excellent ... BUY NOW (3) ... $85.00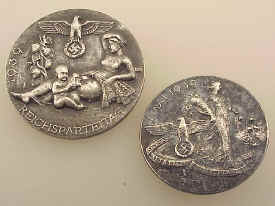 Nazi Tinnies 1939
54) WWII Nazi "Tinnies", (two) a) "1939, Reichsparteitag", RZM and maker marked, excellent.

b) "1 Mai 1939", maker marked, very good condition. Both zinc with normal corrosion. Pin backs, authentic.
---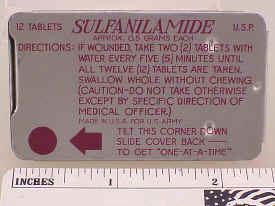 Sulfanilamide Tin with Contents

55) US Military Tin, "Sulfanilamide", Full with 12 tablets. For wounded soldiers. Like new condition, 1950's.
Naval Trophy from India
56) Inscribed Naval Trophy, Silver Plaque, "With Compliments of the Indian Navy", 6 3/8" wood base topped with cast silver shield of anchor and 3 lions atop, (obverse & reverse the same), 5 1/2" high and in excellent condition. ...
SOLD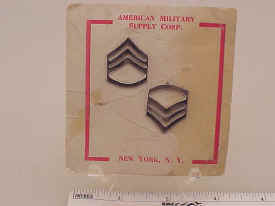 US Sergeant Chevron
57) US Army Sergeant Chevron Collar Insignia, Pair, Nickeled, back has 2 push pins, on original card marked, "American Military Supply Corp., New York, NY". Unused condition but soiled card. ... BUY NOW ... $25.00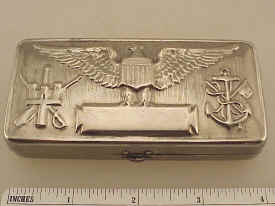 US Razor Case from WWI Era
58) "US Service Set", Gillette, nickled brass safety razor case with embossed Eagle, Shield for name, crossed guns and anchor. Purple silk fabric covers a

cardboard form inside, the reverse is marked in pencil, "bought Nov-1917 & name" and overall this World War One patriotic case is in excellent condition. ... BUY NOW ... $175.00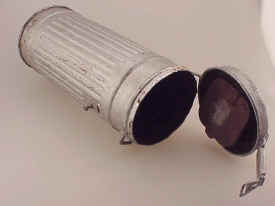 German Gas Mask Canister

59) WWII German field gas mask canister, creatively spray painted silver, no visible markings, it is what it is.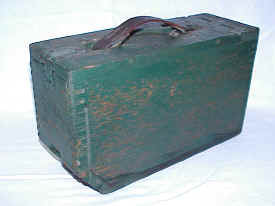 WWI Oak Ammo Box for Browning 50 caliber Machine Gun

60) WWI US Military Oak Machine Gun Ammunition box, dovetailed joints, original hardware, excellent leather carry strap, excellent condition but appears to be green repaint.
---
Tank Sight

61) Military Tank Sight, unmarked, olive drab green, 27", coated optics, adjustable objective, fine overall condition.
... BUY NOW ... $xx.00 SOLD

---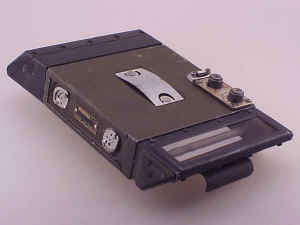 Army M4A1 Periscope

62) US Army Periscope, M4A1, has adjustable coated optics telescope lens M47A2 in unit (Stock number 7578382) Overall fine condition with fine glass and lenses however one round securing clip is missing, see thumbnail. ... BUY NOW ... $xxx.00
SOLD


Also available is another triangular lens unit replacement, sold with or without Periscope, again, see thumbnail.
... Buy Separately for $30.00.

Just got another site in that the seller claims was from a German Tiger Tank ... nice condition, similar form but much simpler in design. ... $xxx.00. SOLD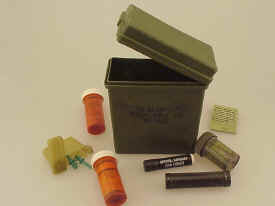 US Army First Aid Kit
63) US Army, "Insert, first aid kit case", 6545-01-094-6136, OD molded plastic with contents; ear plugs, lipstick, defog kit, matches, camo face paint, water purifier tablets, Betadine solution (empty), exc. condition.
---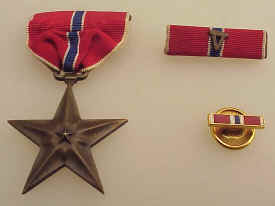 US Military Bronze Star
64) WWII, US Military Bronze Star Award with ribbon bar, victory "V" attached and lapel pin, no box but excellent condition.
... BUY NOW ... $xx.00 SOLD
---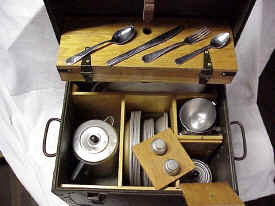 US Military Officer's Mess
65) US Military Officer's Mess Set in box. Serves 8; teaspoon, fork, knife, spoon, plate, bowl, cup, two serving bowls, tray, teapot, coffee pot, salt, pepper, most are marked "Mirror, Nash US" no dates. Also, "12/12/77 Field Chest, Tableware Outfit" on box, excellent. ... BUY NOW ... $xxx.00
SOLD
---
German Radiation Detector
66) German Radiation Detector Unit, dated June, 1955. Exc. cond. but box has an empty compartment, no instructions. ... BUY NOW ... $xxx.00
SOLD
---
CWP Carrying Case
67) "Canvas Carrying Case, Type CWP 10027A", only marking. Approximately 17" X 11" X 9" wide, with shoulder straps, zipper two sides, reinforced, heavy duty pack, c1930, exc. condition. Saw one in Syracuse that had USMC on it.
... BUY NOW ... $135.00 SOLD
---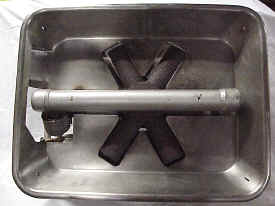 US Army Field Stove
68) US Army Field Stove, "Burner Unit, Gasoling-M2A". Korea through Viet Nam era, appears complete and should be in working order, needs minor cleaning, excellent condition.
(I have one left) To pack these for shipping add $25.00 to each unit, they weigh about 40 pounds to ship. The actual shipping cost is extra.
---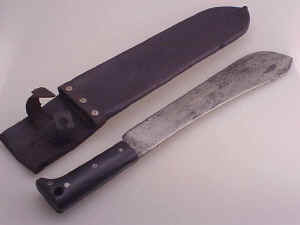 Collins 1944 USA Machete
69) "Legitimus Collins & Company, No. 1250, 1944", USA Machete, 19 5/8" o/a. Has some old pitting to blade, edge very good, handle excellent, original marked leather scabbard dated 1943, strap closure missing.
---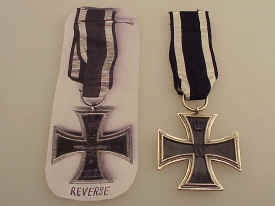 WWI German Iron Cross
70) WWI, German Iron Cross and Ribbon, Second Class, excellent condition.
---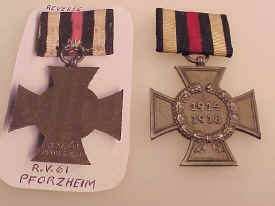 WWI German War Service
71) WWI German War Service Medal with Ribbon, excellent condition.
---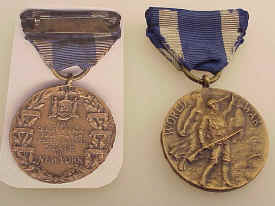 WWI NY State Service Medal
72) WWI New York State Service Medal and Ribbon, "For Service 1917 - 1919" in fine condition.
---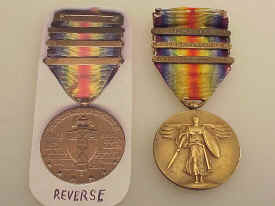 WWI US Victory Medal
73) WWI US Victory Medal with Ribbon and three bars, inscribed "The Great War for Civilization". Bars; St. MIHIEL, MEUSE - ARGONNE, DEFENSIVE SECTOR. ...
BUY NOW ... $xxx.00 SOLD
---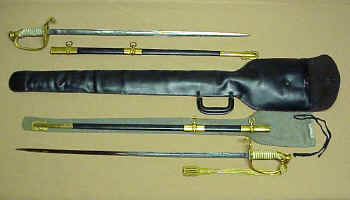 US Navy Model 1852 Officer Swords
74) US Naval Sword, Model 1852 and still used to our present day and I have two very nice earlier ones here. The top one is $350.00.
The Bottom is $595.00. ... BUY NOW

Back to Militaria ~ Page One
---