New Eastcoast Arms Collectors Associates
38 North Main Street; PO Box 385
Mechanicville, NY 12118 ~ 518-664-9743
Saratoga Springs, New York ~ Gun and Militaria Show
Saturday, October 17 and Sunday October 18, 2015
For immediate release ~ Local News and Events Calendar
Ribbon Cutting Ceremony 4 PM
Press and cameras are invited for our Friday evening Ribbon Cutting Ceremony and Preview from 4:00 to 6:00 PM.
Press release by David Petronis ~ President, NEACA, Inc.
For Immediate Distribution ~ 04 October 2015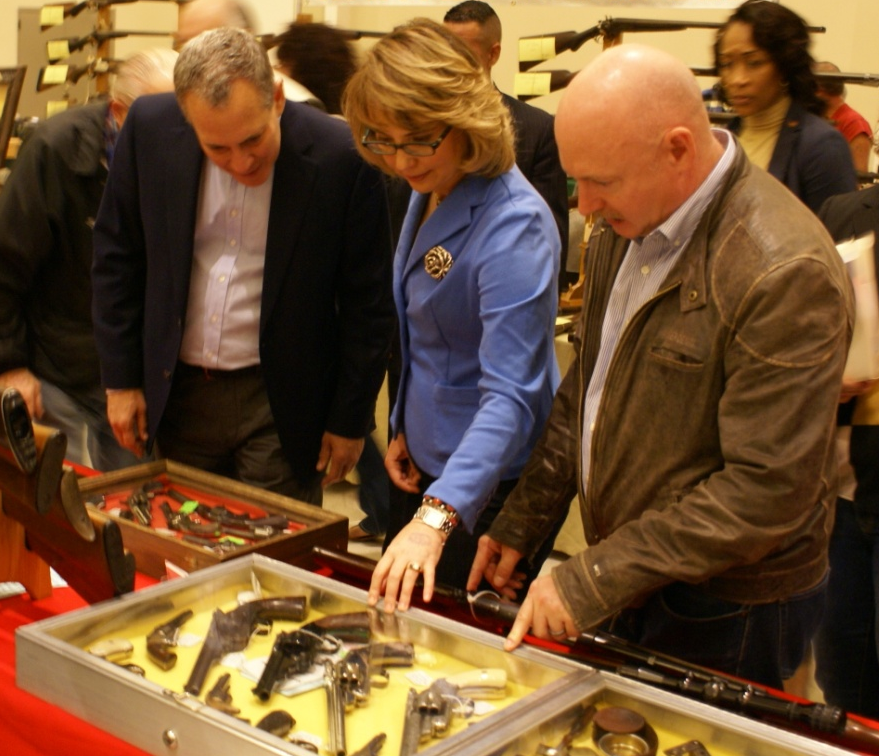 100 NEACA City Center Shows in 3 Decades
Our journey to 100 shows began with a screeching halt! The glimpse of a sign announcing the future home of a "City Center" coerced my right leg to respond instantly from a brain wave making my van hug a huge hole on the north end of Broadway. Over three decades later I can still recall traversing the construction area to find Mark Baker in a small trailer alongside new cement foundations.
In a matter of hours my fairly new company, NEACA, Inc., was on its' way to promote the first trade show in the yet to be built Saratoga Springs City Center. This October will continue with the 100th Arms Fair, which my wife Cathy and I have produced at the City Center since 1984. We began with a gun show in September, now 31 years later have our 100th Arms Fair on October 17 & 18.
Years ago when I arrived home and told Cathy I just booked two shows in a hole in the ground in Saratoga, she told me I had a hole in my head! Little did we know how our business journey would go or where we would end up. Actually, we have two sister businesses; one that buys and sells guns and things, the other being our show productions. Within them we have a membership of collectors and dealers in New Eastcoast Arms Collectors Associates, NEACA, and a brick and mortar shop with-in our four story building in Mechanicville, which we call "Hudson River Trading Company." Our web presence covers them both.
From a small gun shop in our home we now have a large store of antique, collector and modern firearms on Main Street. And from our very first gun show held at the Mechanicville Community Center in 1982 we have produced a variety of shows in the surrounding northeast states plus edited, printed and produced our own newspaper, "Arms Collectors Journal". Things have certainly progressed for NEACA.
Over the years our other shows have been very good but our Saratoga Springs Arms Fair has grown into a northeast premier event of quality exhibitors and excellent public attendance. Even with such a huge draw of people, who actually represent every state in our union, Saratoga Arms Fair still feels like a home town show. Of course many things have changed over these thirty years or so and our shows have had to keep up with those new trends, new laws, new regulations, and new politically correct ideas, among even changing attitudes. These changes have made our gun show business, shall we say, more interesting.
In the 1980's and 90's a myriad of things were happening and life as Americans was actually pretty good. Then among a 1998 tornado, the occurrence of another Day of Infamy on September 11th, 2001 and now the NYS Safe-Act to contend with, our gun show business has been challenging. However, we plan to continue and are actually expanding again to produce 20 to 30 shows each year. But, we take much pride in reaching this milestone of 100 shows at this one facility; the one which we opened with a show where we literally chased out the painters. The City Center Arms Fairs have been good for Saratoga and Saratoga Springs has certainly been good for Cathy and me. And as we all say, Saratoga is always the place to be.
David Petronis, President, NEACA, Inc.
PLEASE ENTER DATES INTO YOUR EVENT OR COMMUNITY CALENDAR. ~ Next Saratoga Springs, NY Arms Fair is our 101st show at the City Center on January 30, 31, 2016.
More show information is available at NEACA.com.
---