New Eastcoast Arms Collectors Associates
38 North Main Street; PO Box 385
Mechanicville, NY 12118 ~ 518-664-9743
Saratoga Springs, New York ~ Gun and Militaria Show
Saturday, October 17 and Sunday October 18, 2015
For immediate release ~ Local News and Events Calendar
Press and cameras are invited for our Friday evening Preview from 5:00 to 8:00 PM or throughout the show Saturday only.
Press release by David Petronis ~ President, NEACA, Inc.
For Immediate Distribution ~ 12 October 2015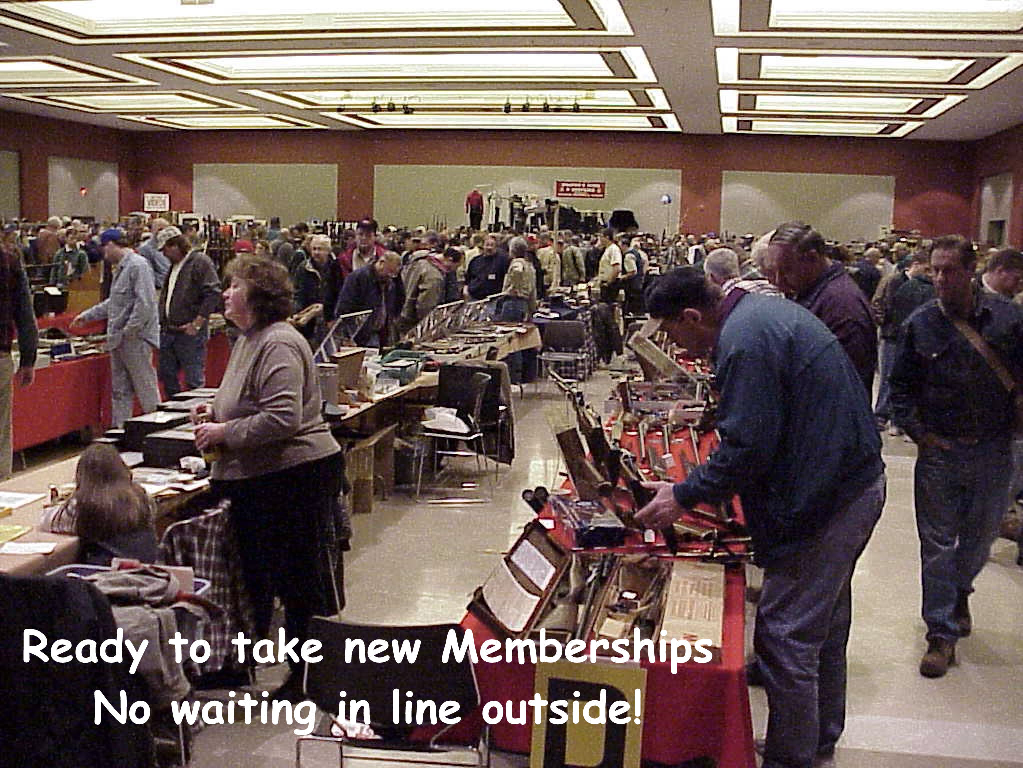 This Arms Fair is our 100th show at the City Center.
New Eastcoast Arms Collectors Associates, NEACA, Inc. will again host their popular Saratoga Springs Gun and Militaria Show this October 17 & 18. This is their 100th Gun Show, referred to as an Arms Fair, held at the Saratoga Springs City Center. NEACA produced the very first City Center Trade Show in August of 1984 and has been there continuously for Thirty-one years.
Collectors and dealers of antique, classic and investment grade firearms from all over the northeast, gather in Saratoga Springs to buy, sell and trade their wares several times a year. There are always interesting and historical offerings of Colt, Savage and Winchester firearms as well as rare pieces of Americana, military collectibles, quality reference books, Civil War swords and artifacts, thousands of guns, knives, ammo and accessories. It will be a stroll through history while perusing over 200 tables. Many other outdoor sporting, Adirondack antiques or unusual items often appear at these shows. This Show also features vintage sporting collectibles and investment firearms.
Interesting segments of New Eastcoast Arms Collectors events are collector displays presented throughout the show. This Arms Fair also includes prominent antique arms dealers, custom knife specialists and outdoors sports exhibits. NEACA always accommodates space to organizations for displays such as local Fish & Game Clubs and Friends of the NRA groups. Persons wishing information about local hunting, fishing and shooting sports can find it through these clubs. One can also join the NRA while at the show, the best bet to protect 2nd Amendment rights and perhaps the best bet in Saratoga this year! And we always have several exhibits for our ladies.
In keeping with the prominence of Saratoga Springs, this show features some of the best collector and investment arms dealers in the northeast. The list includes several of the finest, high quality shotgun dealers in the country plus many prominent dealers in fine investment firearms, wild life photography, vintage militaria and outdoor sporting collectibles. In attendance will be all the quality, local dealers from New York and New England displaying antique pistols, long arms, swords & accoutrements as well as Revolutionary War and Civil War artifacts. This will again be a premiere Arms Fair, presenting new and used firearms, militaria and sporting collectibles, which now are the hottest and most rewarding collector fields in the United States and fast becoming, more so, internationally. This is a show not to be missed.
Current NEACA members are admitted for early viewing on Friday evening at 5:30 PM. New memberships are available at the door at that time for an annual fee of $50. This includes free admission, with no waiting in line, to all NEACA Shows, for twelve full months. Renewals are $45 per year. The show is open to members one-half hour early on Saturday and Sunday. All State and Federal laws are in effect at all Arms Fairs.
The doors will open to the general public to buy, sell or trade on Saturday from 9:00 AM to 5:00 PM and Sunday from 9:00 AM to 3:00 PM. General admission is $8.00 daily ($7.00 for Senior citizens over 60) and children under 14 are admitted free when accompanied by an adult. Our collectors and dealers are always looking for items to purchase from the public. Before visiting the show, check that attic trunk for old military uniforms or war souvenirs, the back closet for Grandpa's old firearm or the garage for pack baskets, duck decoys, old animal traps or vintage fishing gear and bring it along to the show. Many of the exhibitors will be happy to perhaps purchase items, give an estimate of value, or if needed, written appraisal. Firearms must be cased or covered entering the City Center.
For further information call NEACA President, David Petronis at (518) 664-9743 or write to PO Box 385, Mechanicville, NY 12118. Information is also available on the web at NEACA.com
SALES OF ALL MODERN FIREARMS ARE SUBJECT TO AN FBI BACKGROUND CHECK
PLEASE ENTER DATES INTO YOUR EVENT OR COMMUNITY CALENDAR.
Next Saratoga Springs, NY Arms Fair is our 101st show at the City Center on January 30, 31, 2016.
---