This is a page of some of my Winchester Firearms and other Company things that I have collected over the years and present them solely for your perusal and edification but some day may move an item to my other Winchester Sale pages. However, we do have some Commemoratives and Boxed Rifles for SALE below.
~ Updated Thursday, May 4, 2017 ~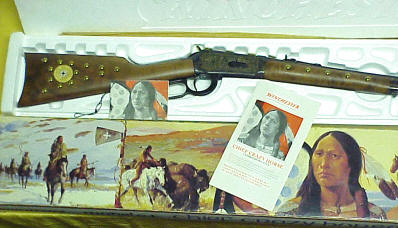 Winchester Rifle Crazy Horse Commemorative
CL2101... Winchester

Crazy Horse Commemorative Rifle is new in original box and with cover sleeve, chambered in .38-55 caliber, with 24" barrel, this was the commemorative model produced for the year 1983. It is unfired and is in as new condition. It comes with the original unused paperwork and hang tag. There are several very light narks on the stock from box wear which is common for these guns. (I mention this only for the purists with microscopes.) The walnut stocks are nicely figured with a crotch flame (see thumbnails). The box sleeve has slight wear to one end but is otherwise in excellent condition. This is one of the highly sought after Winchester Commemorative Rifles and rarely comes on the market in this condition. We have this priced at only $xxx.00 ... BUY NOW. SOLD
---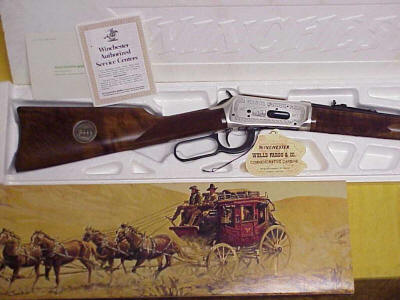 Winchester Wells Fargo, SR Carbine Commemorative
CL2102... This Winchester Wells Fargo Saddle Ring Carbine Commemorative is new in original box and with cover sleeve, it is chambered in the classic .30-30 caliber, with 20" carbine barrel, this was the commemorative model produced for the year 1977. The box sleeve is in excellent condition and the standard paperwork with hang tag is included. The fine checkered walnut stocks have a very nice figured grain and the dark wood is a striking contrast to the bright polished and engraved frame. A truly fine looking Winchester Saddle Ring Carbine. Another sought after and seldom offered gun we have this fine example priced at only $xxx.00 ... BUY NOW. SOLD
---

Winchester Semi-Auto Super X, Mod. 1

CL2103... This Winchester Super X Model 1 is in the original box and with the foam insert and unused paperwork, it appears NIB and unfired but the original owner says it was fired with three rounds ... could of fooled me. It is in 12 gauge with a 28" vent ribbed barrel with modified choke, also comes with wooden plug for waterfowl hunting. This is a semi-automatic self-compensating, gas operated action shotgun. It has a checked walnut stock and is of all steel construction, a very fine shotgun in as new condition but there are several small dings in the stock from handling. The box and paperwork are also in excellent condition. These were made in the late 1970's and we have this one priced at ... $895.00 ... BUY NOW.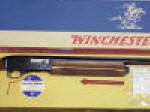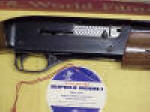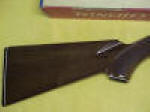 ---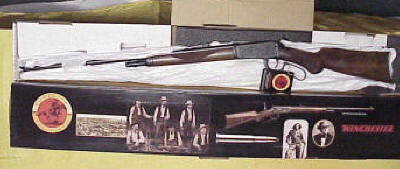 Winchester 1894- 1994 Limited Edition Rifle
CL2104... This Winchester Rifle commemorates the 100 years of the Model 94 as the Limited Edition 1894- 1994 Standard Model Rifle. It is New in the Box, never fired and with all paperwork, original box with colorful sleeve and outer Winchester shipping box. It is an excellent, eye appealing rifle, chambered in the famous .30-30 caliber, barrel marked as .30 WCF. It is mounted with select grade, dark walnut matched stocks, pistol grip and fine checkering. The engraved receiver and metal parts are all dark blued and blend nicely with the wood. This is a United States Repeating Arms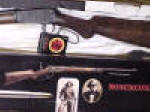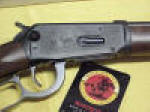 (USRA) product under license by Winchester as has been the case with all Winchester firearms since July of 1981. This Hundred Year Anniversary Model is truly a classic with half-round, half octagon barrel that begs a return to the good old days of great guns. This was limited to a run of only 12,000 rifles and we have this great piece priced at ... $0000.00 ... BUY NOW. SOLD
---
Winchester Wrangler in Original Box, SRC
CL2105... This Winchester Rifle has the large loop lever like the one on the TV show popular many years ago, "The Rifleman" and was also used on the John Wayne commemorative's. This is a Saddle Ring Carbine, Model 94 made by USRA in 1984 and has the shorter 16" barrel with the large loop lever that was popularized by "twirling and cocking" while


on the run by those movie stars. It is chambered in the larger .32 Winchester Special cartridge and comes in the original box with paperwork. The left receiver side is engraved with a Canastota Wagon with scrolls on the right and the gun is unfired and unused. This is a fine piece with very dark almost black bluing and is in as new condition BUT it was evidently sprayed with some sort of protector inside the action. For some reason it appears this spray acted like a rusting agent (which I thought was rust on the lower frame) and there is some pebbled bluing loss in several spots (see thumbnails). The serial number of this piece is 5107886 and the Catalog # is G9432WR, it has straight grain walnut stocks in new condition. We have this priced at ... $000.00 ... BUY NOW. SOLD
Have another one as described above. Was going to keep it but just have too many guns. $1095.00 ... BUY NOW




---
PERSONAL : NOT FOR SALE AS YET
---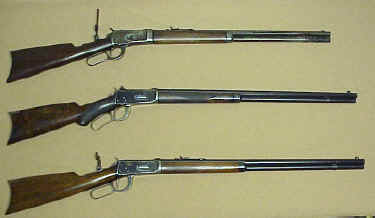 Several Nice Winchester Lever Action Rifles
The balance, the look and the feel of a lever action Winchester have brought many a hunter into now also being a Winchester Collector. Whether the gun has a round barrel or is octagonal, is extra long or extremely short, shoots a .22 caliber cartridge or is a big bore monster, we love them and want them all. And then we have to have all the big and little goodies that accessorize or care for or embellish their simple lure. The prices we have to pay continually rise but so does the desire to acquire. It is surely not a disease, this fondness for finding and buying firearms, we always tell ourselves, but rather a strategy in long-term investments and historical salvation of our American Heritage. And besides, we really like them, these Winchesters! Here are a few of my meager holdings. And always remember, you can never pay too much for a really nice Winchester, you can only pay too soon. Happy hunting!

A Winchester Model 1892 Special Order Take-down Rifle in .38-40 Caliber. The gun is still in fine condition with about 40% blue and good solid wood, crescent butt plate. It has a 24" round barrel with full magazine, there is a full blade front sight, a buckhorn rear sight and a vernier tang sight. Manufactured in 1915 with the serial number 7904xx. These 1892 take-down rifles are fairly rare, especially in the .38-40 caliber and this gun, though not in the pristine condition we would all like to have, is still a very fine Winchester to have and hold.

A Winchester Model 1894 Special Order Deluxe in .38-55 Caliber. It has the H checkering pattern on the fore-end and checkered pistol grip with grip cap and crescent butt plate which is unusual for a deluxe gun. The wood is nicely matched and would rate as three x. (I am not about to take it apart to prove it, though.) It has a Special Order 26" Octagon barrel with full magazine. Perhaps not ordered at the time (or it could have been) the "Climin' Lyman" receiver sight certainly has been on the gun since the turn of the last century, the serial number 1374xx, suggests this gun was made prior to 1898. It retains about 50% of the Case Hardening on the frame and more on the hammer and lever. About 90% of the blue remains. All in all a pretty nice gun, in the Antique Category which is always nice, and in fine condition.

A Winchester Model 1894 in .32-40 Caliber.
---
Photo and Caption
Winchester Model 1873 Deluxe in .44-40 caliber.
---
Photo and Caption
Winchester Model 1876 Deluxe in .50-95 caliber.
---
Photo and Caption
Winchester Model 1886 Deluxe in .40-65 caliber.
---
Photo and Caption
Winchester Model 71 Deluxe in .348 caliber.
---
Photo and Caption
Winchester Model 1892 SRC in .44-40 caliber.
---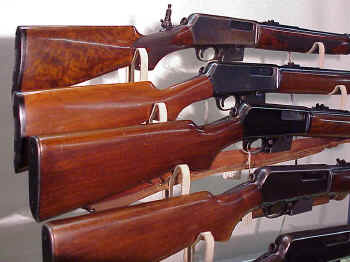 Winchester Model 1907SL Deluxe
C00101... Winchester, 1907SL Deluxe Rifle, semi-auto, .351SL cal., #54xx, with proper Lyman SL tang sight. Overall excellent condition, 70% flaking blue receiver, 98% bbl blue, 3X grained wood, fine line checkered pistol grip stocks. The rear stock was special ordered at 13", probably for a small man or lady. A fine, early and rare collector grade self-loader made in the year of model, 1907 and the gun will letter as configured. FFL required ... Price on Request