Dave's World - America's New War
Today is the 70th Anniversary of the Start of World War Two, September 1, 1939. Fifty Million people were estimated to have lost their lives in the ongoing years till War's end. Something to think about when then, like today, we were not prepared Mentally nor Militarily to respond to a threat from a National Socialist Party of Brown Shirts and Black Shirts who simply wanted to Right the Wrongs of the Past Administration. History can and will be repeated if common people lose their Faith. This Video urges us to Remember ... watch then join the Tea Party.

Up-dated October 15, 2008
Also see "Current Iraq Report from Baghdad" ended.
Begin ... "Kabul, Afghanistan"
Check out the cute games below
This page reflects my personal view towards this war on terrorists and may be unsuitable for viewing by anyone. Freedom of speech is my only defense. Freedom for those who are deserving my only cause.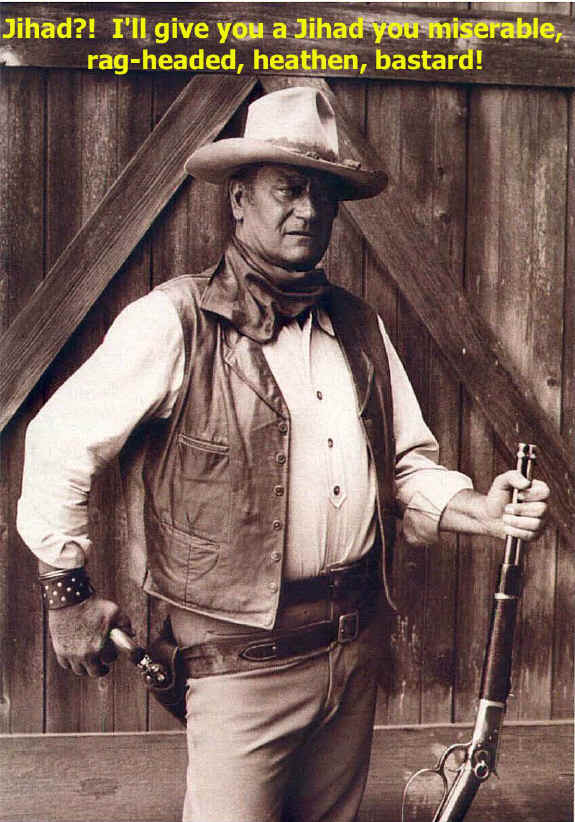 The Duke says it all. Also see our ACJ page ~ link.
From time to time, as the urge hits and inspiration overcomes me, I will generate more to this page in picture and in prose.
A Tribute to Our Soldiers
~ Past and Present ~
... HE LIVED ALL ALONE
IN A ONE BEDROOM HOUSE MADE OF PLASTER AND STONE.

I HAD COME DOWN THE CHIMNEY WITH PRESENTS TO GIVE
AND TO SEE JUST WHO IN THIS SMALL HOME DID LIVE.

I LOOKED ALL ABOUT, A STRANGE SIGHT I DID SEE,
NO TINSEL, NO PRESENTS, NOT EVEN A TREE.

NO STOCKING BY MANTLE, JUST BOOTS FILLED WITH SAND,
ON THE WALL HUNG PICTURES OF FAR DISTANT LANDS.

WITH MEDALS AND BADGES, AWARDS OF ALL KINDS,
A SOBER THOUGHT ...

FOR THIS HOUSE WAS DIFFERENT, IT WAS DARK AND DREARY,
I FOUND THE HOME OF A SOLDIER, ONCE I COULD SEE CLEARLY.

THE SOLDIER LAY SLEEPING, SILENT, ALONE,
CURLED UP ON THE FLOOR IN THIS ONE BEDROOM HOME.

THE FACE WAS SO GENTLE, THE ROOM IN SUCH DISORDER,
NOT HOW I PICTURED A UNITED STATES SOLDIER.

WAS THIS THE HERO OF WHOM I'D JUST READ?
CURLED UP ON A PONCHO, THE FLOOR FOR A BED?

I REALIZED THE FAMILIES THAT I SAW THIS NIGHT,
OWED THEIR LIVES TO THESE SOLDIERS WILLING TO FIGHT.

SOON ROUND THE WORLD, THE CHILDREN WOULD PLAY,
AND GROWNUPS WOULD CELEBRATE A BRIGHT CHRISTMAS DAY.

THEY ALL ENJOYED FREEDOM EACH MONTH OF THE YEAR,
BECAUSE OF THE SOLDIERS LIKE THE ONE LYING HERE.

HOW MANY LAY ALONE ON A COLD CHRISTMAS EVE
IN A LAND FAR FROM HOME.

THE VERY THOUGHT OF IT ALL BROUGHT A TEAR TO MY EYE,
I DROPPED TO MY KNEES AND STARTED TO CRY.

THE SOLDIER AWAKENED AND I HEARD A ROUGH VOICE,
"SANTA DON'T CRY, THIS LIFE IS MY CHOICE.

I FIGHT FOR FREEDOM, I DON'T ASK FOR MORE,
MY LIFE IS MY GOD; MY COUNTRY, MY HOME."

THE SOLDIER ROLLED OVER AND DRIFTED TO SLEEP,
I COULDN'T CONTROL IT, I CONTINUED TO WEEP.

I KEPT WATCH FOR HOURS, SO SILENT AND STILL
AND BOTH WE SHIVERED FROM THE COLD NIGHT'S CHILL.

I DIDN'T WANT TO LEAVE ON THAT COLD, DARK NIGHT,
THIS GUARDIAN OF HONOR SO WILLING TO FIGHT.

THEN THE SOLDIER ROLLED OVER, WITH A VOICE SOFT AND PURE,
WHISPERED, "CARRY ON SANTA, 'TIS CHRISTMAS DAY, ALL IS SECURE."

ONE LOOK AT MY WATCH AND I KNEW HE WAS RIGHT.
MERRY CHRISTMAS MY FRIEND AND TO ALL A GOOD NIGHT.

This poem was written by an unnamed Soldier, pass it on this Christmas season to family and friends and reflect on the reason.
Do you think

Crusade

is too harsh a word after the "holy war" was just visited on our American civilians and five more of our proud young Marines in the Rat Hole near Baghdad? I believe before we see the fields of Iraq flourish by turning swords into plowshares we should turn some Sunnis into fertilizer. Terror and mayhem be blessed upon the wretched.
I HAVE AN IDEA ! Women of America, DO YOUR DUTY !!
We all know that it is a sin for an Islamic male to see any woman other than his wife naked, and that if he follows the rigid doctrine of the Koran, he must commit suicide if he does.
So next Sunday at 4:00 PM Eastern time, all American Women are asked to walk out of their house completely naked to help weed out any neighborhood terrorists.
Circling your block for one hour is recommended for this anti-terrorist effort. All men are to position themselves in lawn chairs in front of their house to prove they are not terrorists, and to demonstrate that they think it's okay to see nude women, other than their wife and to show support for all our Patriotic American Women.
And since the Koran also does not approve of alcohol, a cold six-pack at your side, or Martini is good too, is further proof of your anti-terrorist sentiment. Please also have a long knife handy for hari-kari if you see any Islamics contemplating suicide.
The American Government appreciates your efforts to root out terrorists and applauds your participation in this anti terrorist activity. I'm sure even George would say, "God bless America and GOD BLESS AMERICAN WOMEN!"

CONSIDER IT YOUR PATRIOTIC DUTY TO PASS THIS ON.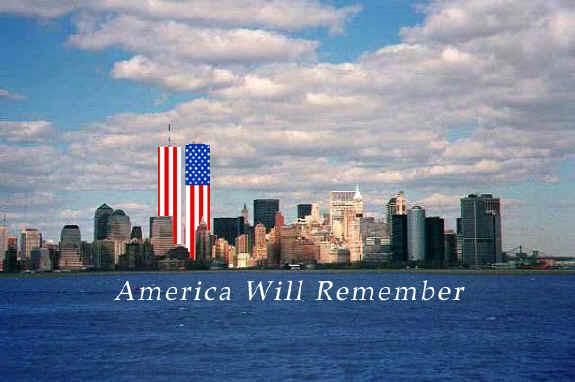 I always thought this rendition apropos.
With all the discussion at this time about what should replace the towers I think the simplistic approach is best. If they were good when they were built I see no reason for change. Perhaps the paint job would be much too overwhelming for the liberals to digest.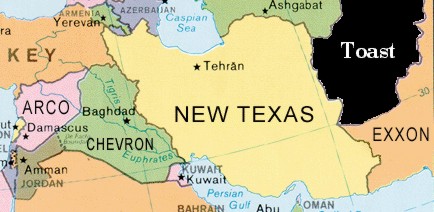 I LIKE IT !!
What better way to introduce the Middle East to our culture than providing the current residents with our view of the solution.

NEW GAME ~ Bin Laden's Liquor Store
Record score 68000
GAME ~ Daffy Duck Parachute Jump ~
The record holder for most kills in the eight year old female class is ~
MEGAN BAZAR of New York at 156
The record holder for most kills in the five year old female class is ~
KRISTIN BAZAR of New York at 29
I don't generally link to something unless I firmly believe there is something to see, something to think about or be advised about and here is one of those rare links. You decide what is right or wrong; I simply provide the path ... http://www.apfn.org/apfn/WTC_part4.htm
NEWS FLASH FROM THE YEAR 2029!!
Ozone created by electric cars now killing millions in the seventh largest country in the world, California.
White minorities still trying to have English recognized as California's third language.
Spotted Owl plague threatens northwestern United States crops and livestock.
Baby conceived naturally... Scientists stumped. Couple petitions court to reinstate heterosexual marriage.
Last remaining Fundamentalist Muslim dies in the
American Territory of the Middle East (formerly known as Iran, Afghanistan, Syria, and Lebanon).
Iraq still closed off; physicists estimate it will take at least ten more years before radioactivity decreases to safe levels.
France pleads for global help after being overtaken by Jamaica.
Castro finally dies at age 112; Cuban cigars can now be imported legally, but President Chelsea Clinton has banned all smoking. George Z. Bush says he will run for President in 2036.
Postal Service raises price of first class stamp to $17.89 and reduces mail delivery to Wednesday only.
85 year study: Diet and Exercise is the key to weight loss. Average weight of Americans drops to 250 lb.
Massachusetts executes last remaining conservative.
Supreme Court rules punishment of criminals violates their civil rights.
Average height of NBA (National Black Activity) players now nine feet, seven inches.
New federal law requires that all nail clippers, screwdrivers, fly swatters, and rolled up newspapers must be registered by January 2036.
Congress authorizes direct deposit of illegal political contributions to campaign accounts. ... and finally, IRS sets lowest tax rate at 75% and Florida Democrats still don't know how to use voting Machine
This sent by a friend ~ be sure to visit NewsMax.com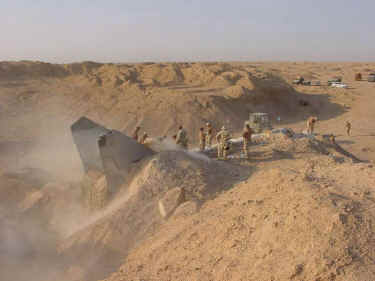 NewsMax.com has obtained exclusive photos of a buried Iraqi jet fighter being recovered by U.S. Air Force troops. The Iraqi jet, an advanced Russian MiG-25 Foxbat, was found buried in the sand after an informant tipped off U.S. troops.
The MiG was dug out of a massive sand dune near the Al Taqqadum airfield by U.S. Air Force recovery teams. The MiG was reportedly one of over two dozen Iraqi jets buried in the sand, like hidden treasure, waiting to be recovered at a later date.
Contrary to what some in the major media have reported, not all the jets found were from the Gulf War era. The Russian-made MiG-25 Foxbat being recovered by U.S. Air Force troops in the photos is an advanced reconnaissance version never before seen in the West and is equipped with sophisticated electronic warfare devices.

U.S. Air Force recovery teams had to use large earth-moving equipment to uncover the MiG, which is over 70 feet! long and weighs nearly 25 tons. The Foxbat is known to be one of Iraq's top jet fighters. The advanced electronic reconnaissance version found by the U.S. Air Force is currently in service with the Russian air force. The MiG is capable of flying at speeds of over 2,000 miles an hour, or three times the speed of sound, and at altitudes of over 75,000 feet.
The recovery of the advanced MiG fighter is considered to be an intelligence coup by the U.S. Air Force. The Foxbat may also be equipped with advanced Russian and French-made electronics that were sold to Iraq during the1990s in violation of a U.N. ban on arms sales to Baghdad.

The buried aircraft at Al Taqqadum were covered in camouflage netting, sealed and, in many cases, had their wings removed before being buried more than 10 feet beneath the Iraqi desert. The discovery of the buried Iraqi jet fighters illustrates the problem faced by U.S. inspection teams searching Iraq for! weapons of mass destruction. Iraq is larger in size than California, and the massive deserts south and west of Baghdad were used by Saddam Hussein to hide weapons during the first Gulf war.
U.S. intelligence sources have already uncovered several mass grave burial sites in the open deserts with an estimated 10,000 dead hidden there. In addition, Iraq previously hid SCUD missiles, chemical weapons and biological warheads by burying them under the desert sand. U.N. inspection teams found the weapons in the early 1990s after detailed information of the exact locations was obtained. Top U.S. weapons inspector Dr. David Kay is known to favor human intelligence as the primary means to find Iraq's hidden treasure trove of weapons and secrets.
While there are rumors of Iraqi chemical and biological weapons being shipped to nearby Syria, the weapons may

very well still remain inside Iraq buried under the vast desert wastelands. Some critics of the Bush administration have claimed that the inability of U.S. forces to uncover weapons of mass destruction is proof that the president misled the nation into the war with Iraq. However, in recent days the critics have fallen silent as word quietly leaked from Iraq that major discoveries have already been made and are now being documented completely.
Congratulations to all who helped get Saddam!! Still some left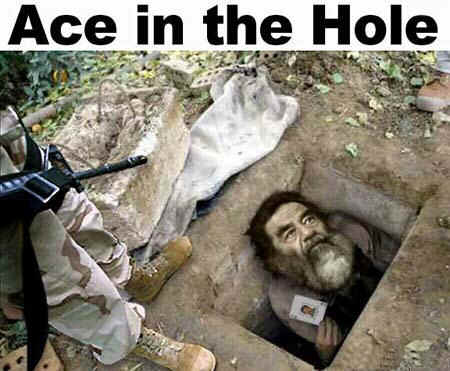 Now I know one of you soldiers has got to have a real photo of this guy crawling out of his hole. I would love to share your joy with the world and put it on our site. Please be careful out there in getting your tough job done. And Thank you all very much.
This jewel arrived in my e-mail ....
The ACLU has taken the view that crosses should be removed from all public property.....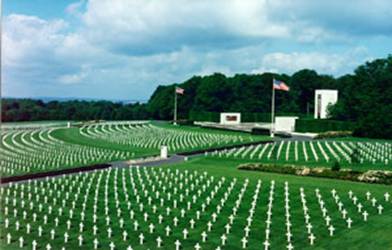 .... Let them try and remove these! What are these people thinking? At what point do we say, enough is enough? Please pass this on to as many people as possible as quickly as you can even if you normally don't do this type of thing. Some messages just need to be forwarded and this is most certainly one of them. Please take the time. Just copy and paste.
.From: Sadler, Steven B RDECOM @us.army.mil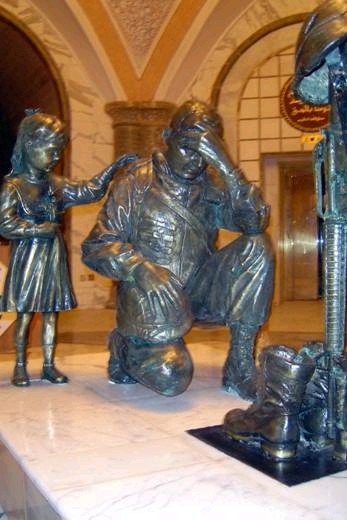 The Ultimate Recycle

This picture of the statue below was made by an Iraqi artist named Kalat, who for years was forced by Saddam Hussein to make the many hundreds of bronze busts of Saddam that dotted Baghdad . This artist was so grateful that the Americans liberated his country, he melted three of the fallen Saddam heads and made a memorial statue dedicated to the American soldiers and their fallen comrades. Kalat worked on this night and day for several months.

To the left of the kneeling soldier is a small Iraqi girl giving the soldier comfort as he mourns the loss of his comrade in arms. It is currently on display outside the palace that is now home to the 4th Infantry Division. It will eventually be shipped and shown at the memorial museum in Fort Hood , Texas.
A Soldier just sent me some new photos of this statue in Fort Hood, Texas and I will get them up soon.
Visit our page for a first hand account by front line soldiers now in Baghdad.
Current Iraq Report.
~ If You Haven't Had Enough Yet ~ Visit "Dave's World"