This page is for team sports collectables like baseball, football, basketball and any other sport that is generally performed or played as a team although the individual player is often the focus of the collectable item. Team yearbooks are made up of each team player. Trading cards, sports figure dolls, calendars and books are some of the items we will present here. As well as any other team sport collectable we find.
~ Updated Sunday, February 5, 2023 ~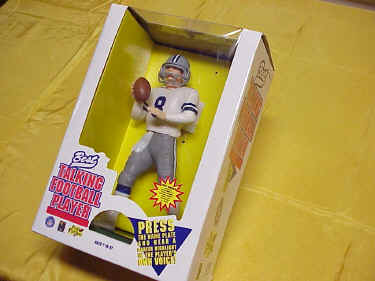 Talking NFL Football Player by Best Card Co.
This Talking Football Player is none other than Dallas's Big Number 8, Troy Aikman and he is still new in his original box. An exclusive from Best Card Company in 1996 makes this nice collector item ten years old already. Operates on three AA batteries (not included) and has original recorded voice in several comments. The figure on base is a tall 11 1/2" and was officially licensed by the NFL. We only have this one that we recently purchased from an avid Cowboy fan who's new wife only likes the Giants when it applies to hubby's PAY CHECK !! No more football dolls for this new wimp. Get him while you can still get a tackle in. He is cheap at $28.00 so ... BUY NOW.


---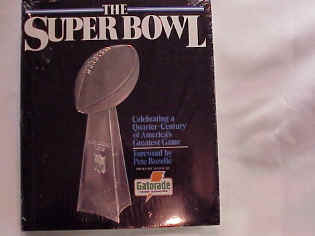 Super Bowl Book
Twenty-five year history of the big game, compiled by Gatorade Company from Super Bowl One. Hard cover with dust jacket, all in excellent condition. Would make a great gift for the football fan in your life. A large size format and full of stats. Collect your copy for only ... $25.00. ... BUY NOW ... (I have two).
---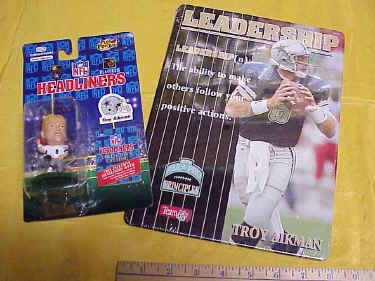 Corinthian NFL Headliners of Troy Aikman Figure
This is a pair of Troy Aikman items consisting of the Corinthian NFL Headliner Figure from 1996 that comes with a collectors catalog all still sealed in the original box. Plus a Troy Aikman metal plaque, 8 x 11" also sealed in original packing that can be set up as a photo. More of the collector items from that wimpy new hubby who now listens to his wife when she yells out, "Clean that closet!" Did he ever imagine in his wildest dream about how life would change when he passed her that little gold ring. When will passing ever be what he remembered. His loss, your gain. Here are two nice Troy Aikman items for one small price of a large Super Bowl pizza, ... $20.00 ... BUY NOW.


---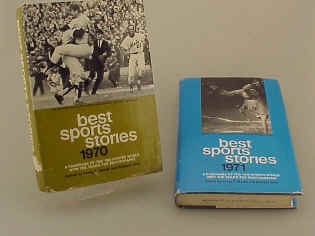 Two Sports Books
Two Hard Cover books, entitled "Best Sports Stories- 1970" and the same for "1971". Hard covers with little edge wear, dust jackets in good condition, size is 8 1/4" x 5 1/4", 335 pages, black and white photos. Both books are first editions, copyright 1970/ 1971 by Irving T. Marsh and Edward Ehre. Both were library books and have "Discard" stamped on frontispiece. They cover the top sports stories of the years prior to their publication 1969/ 1970 and there are some great sports stories within the pages. Joe Namath and the Jets' impossible dream, the Mets' World Series, Lew Alcinder in basketball, SGT. Orville Ploody wins the national open in golf, Majestic Prince wins the Kentucky Derby and Citation is now a ladies man, and many, many more great stories written from the news events of the period. Part of a yearly series. Offered at $21.00 for the pair. ... BUY NOW ON HOLD
---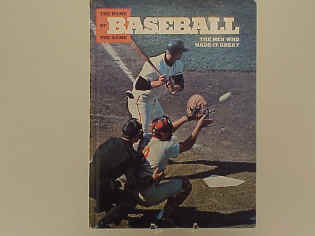 Baseball Book
Hard cover, "Baseball, The Men Who Made It Great", 64 pages. By Interlyth, Ltd., 1973, NYC, measures 7 1/2" x 10 1/2" and is in overall fine condition with some light soiling to covers and minor scuffing at the edges. Text and black and white photos of the greats of the game. Distributed by Gramercy Publishing Co., #114402. Priced at $18.00 ... BUY NOW
---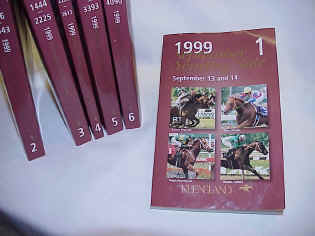 Keeneland Auction Catalogs, 1999
This set of six catalogs of the Keeneland Auction of September 13 and 14, 1999 is of that years' thoroughbred yearlings. If you are a racing fan or horse lover I would imagine you know what they are. All are in fine condition and are priced for the set of six at $45.00 ... BUY NOW
---
---
---