Collector Toys, Dolls & Games
When we purchase an estate, we never know what we will find. Sometimes, we find old toys, old forgotten board games, dolls, lead soldiers or whatever! Although we don't actually seek out toys, somehow we seem to have accumulated many and often acquire the mundane to the unique. On this page we will offer some of what we've found and what the pickers bring in to us.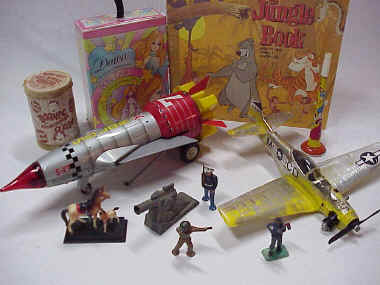 Toys and Things

Here is a grouping of a 1960's Disney Record, Dawn Doll Case, tin 1950's battery action Rocket, some 1940's lead soldiers, games and other stuff. Just a quick collage to show you the things we find around the shop.
---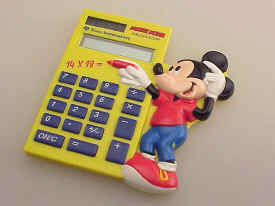 Disney Mickey Mouse Pocket Calculator
Mickey Mouse Pocket Calculator by Texas Instruments, copyright "The Walt Disney Co." Made in China, is solar operated and in fine working condition. Looks new and unused. BUY NOW .... $15.00
We also have one in original unopened blister pack for $25.00.

---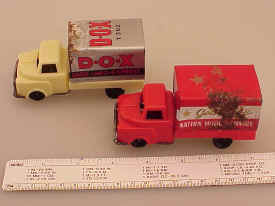 Pair of Vintage Friction Trucks
Pair of front wheel friction trucks, delivery style with plastic body, 4" long with tin truck box marked "Made in Japan". One red with red box "Gold Star - Nationwide Service" is fine overall except driver side has rust spot on box. Other is yellow with gray box "Daxie- Ohio- Express D.O.X T392" is fine overall except top front of box has rust spot. Still good collectors or use with train layouts.

Tires appear to be heavy plastic and are in excellent condition. Age is unknown, probably 1950's. ... BUY NOW ... $23.00 for both.
---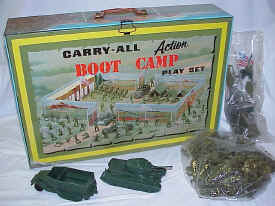 Marx Army Boot Camp Play Set
Louis Marx & Company, Boot Camp Play Set, Style No. 4645. Made in 1968 as tin carry-all. It has original contents but the full completeness is not known, it looks all there. The top and bottom left corners of the case have been cleaned of rust and corrosion spots as you can see in photos, but otherwise in excellent



condition.
SOLD
---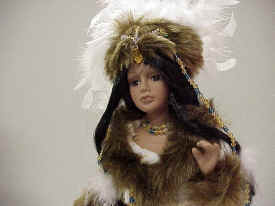 American Indian Doll Link
We have an assortment of new dolls on our Gifts page (Click link above). The one pictured at left is one in the ethnic series (only 5000 pieces made) and depicts an American Indian in native dress. Head and extremities are porcelain, real hair and adorned with real fur and feathers. The one pictured is $89.95.
---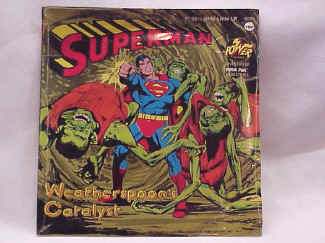 1975 Superman 33 1/3 Power Record
Weatherspoon's Catalyst is the name on this Super Hero 7" Little LP 33 1/3 Record by Power Records, a Division of Peter Pan Industries. It is #2299 and


features Superman in all his super glory. Copyright National Periodical Publications Inc., 1975. This is a 31 year old unopened package in like new condition of the Super Super Hero. ... BUY NOW ... $65.00
---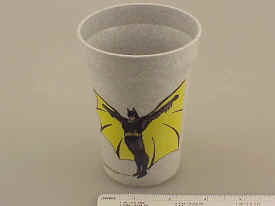 Batman Plastic Tumbler
Super Hero, Batman, plastic tumbler, 1992 DC Comics, Inc., Betras Plastics, Inc. Mfg. The tumbler is a speckled gray color, quality mold, art work is excellent and stands 5" tall. Has original silver applied stamp "Batman Official

Licensed Product, 1991 DC Comics, Inc." Looks unused. Priced at $20.00 ... BUY NOW
---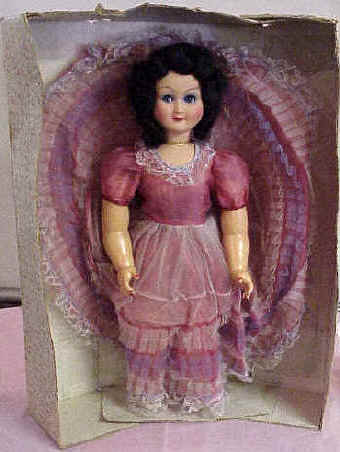 Vintage Italian Doll, Named, "Marissa"
Italian doll, "Marissa", 85 cm (34"), number 80 is molded into bottom of each white shoe. Rosa doll, in the original opening display box, fine original clothing, of evening gown with lace trim. She has black hair, a hard plastic body with joints made of bands at shoulders and hips, with jointed neck and lovely painted face with closed mouth. There is a sound box in her belly. Her blue, marble eyes with dark lashes close when she is in a reclining position. The doll and her clothing are in excellent condition. We believe she is circa 1950's or early 60's and acquired her from the original owner who said she cherished Marissa when she was a child. She comes with her original box, with some old repairs to box and it is marked "Made in Italy", "Colore



Capelli" (hair color). We have her priced at ... $595.00 ... BUY NOW.
---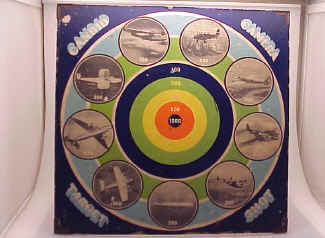 Candid Camera Target Shot Game Board
This game board is marked as "Candid Camera Target Shot" with one word in each corner of board. There are nine circles with an aircraft in each as well as a number value. A series of circles are arranged in center also with numerical values. This is all we have of the game. Apparently there was some sort of gun, possibly with a rubber suction dart, that may have been used to score hits. Marked "Made In USA By Lindstrom Tool & Toy

Company, Inc.

Bridgeport, Conn." Board is in fairly good condition as are the photos but there is some soiling. The reverse holds a fixed wire stand. We have this priced at ... $135.00 ... BUY NOW.
---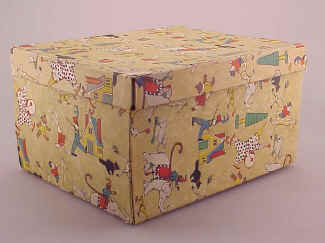 Childs' Cardboard Box ~ What a Toy!
This box is unmarked and I have no idea of what its' contents were. It is in overall fine condition and all I can say is here it is! It is at least fifty years old and we priced it at ... $50.00 ... BUY NOW.

---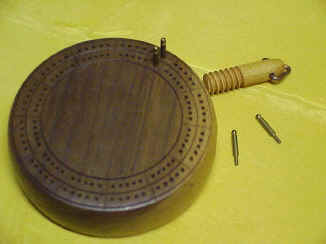 G. H. Voelz Haywood, ILL. Peg Game
This game is marked G. H. Voelz Haywood, ILL. on reverse. Comes with brass pegs that are housed inside hollow space and secured by wooden screw plug.

---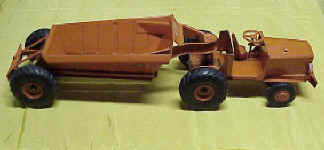 The Charles Wm. Doepke Manufacturing Co. Hauler
This Doepke Dirt Hauler is in fine condition with excellent decals and original orange paint. From the Charles William Doepke Manufacturing Co. Inc., Rossmoyne, Ohio, Model Toys. Euclid the Pioneer is logo in circle. Operating tractor and Dumping trailer



is 27" over all in length, is sheet steel construction with black rubber wheels. Red/orange original paint and excellent decals are on this piece. Front wheels operate by steering wheel, trailer dumps load from bottom flaps operated by side lever. It is in excellent condition and



listed as Model #2009 – Earthmover and Hauler. ... BUY NOW ... $295.00.
---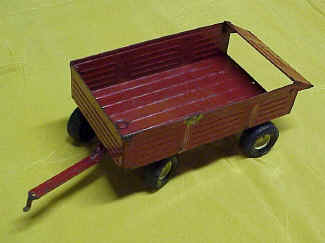 Ertl Company Red Wagon
This Ertl Company Red Wagon with hinged rear gate is in fine condition.
---