New Eastcoast Arms Collectors Associates
Gun Shows Still Booming

By Cathy Petronis ~ September 5, 2009

Investment firearms, self protection weapons, hunting guns and ammunition were still strong commodities sold during the recent summer Arms Fair at the Saratoga Springs City Center this past August. Gun sales have been strong in the past ten or twelve months as was ammunition that is needed for their function. "There did not seem to be any noticeable decline in overall sales at the NEACA Arms Fair on August 29 & 30", reported David Petronis, president of NEACA, Inc., sponsor of the show.

The New Eastcoast Arms Collectors Associates have held gun shows at this same venue for the past 26 years and NEACA is credited as producing the first commercial event at the City Center in 1984. Their first Arms Fair was in September of that year extending to their 76th event this past August. Arms Fair number 77 is scheduled for October 31st & November 1st of this year.

In the past few years, three to four shows were produced at the City Center with a lighter crowd and smaller dealer base usually seen at the summer events but this past one was sold out of dealer space with a larger than usual public attendance. Petronis noted that an extraordinary amount of firearms were brought in by the public attendees for sale or trade with the exhibitors in attendance. He attributed that to the economy where extra or unwanted guns were turned into cash or trade material for newer or more useful firearms. He said an older single shot firearm might be upgraded to a multi-shot model or a single barrel to a double or perhaps one of lesser caliber to a newly developed or better caliber firearm.

"The uncertainty of keeping the same gun laws with the change of administration, both State and Federal, from Conservative Republican to Liberal Democrat control, people in general have given thought and then cash to buying a firearm and ammunition now, believing that future purchases may be adversely affected by a myriad of newly proposed laws and regulations. Looking back at history when Democrats were in control the folks could see that probable detrimental changes in the firearms laws governing ownership or purchase could very well be enacted. Accordingly, they are buying guns at an unseen record rate and I see no retreat in the foreseeable future," Petronis said. And the gun dealers appear to like this trend.

"Business has been good, actually 'gun business' has been good," he said. "Not only hunting guns or self protection firearms have been selling but investment firearms and vintage or historical weapons sales have been steady or on an increase. The stock market hasn't been the greatest; recently I sold my GE stock at $42.00, now it hovers around $13.00 a share. But any of the fine guns I've purchased over the years have seen their doubling in price, perhaps even more. The cold hard fact to many of us, buying fine guns is a great and secure investment; besides in a rough situation you can always equalize your odds or sustain the family with venison or duck dinner. Try making soup with paper portfolios," Petronis quipped. He said, "Buying and owning firearms is an American Heritage, a Constitutional Right, currently a unique American anomaly that this new liberal administration views as a throwback to an outdated past, one that should be replaced with the laws of the new World Order believing we should be subjugated by the United Nations. Not in my lifetime nor in those of most of our countrymen and women who believe in America as a free and sovereign nation."

He said most of their business is done thru the shows or on their website at NEACA.com where they receive an average hit base of over 7 million a month with 200,000 views per month. He starts his "Dave's World" page with 'Stay Conservative, Buy a Gun'.

Cathy and David Petronis began NEACA, Inc. in 1982 as a show promotion business but prior to that started their partnership in the retail business in 1972. Both have Federal and State Firearms Licenses and now own and operate C&D Petronis, Inc., d/b/a Hudson River Trading Company at 38 North Main Street in Mechanicville where they sell Investment Firearms among other things and produce Arms Fairs in Saratoga Springs & Utica, NY with a new show scheduled for the Recreation Center in Old Forge, NY on October 2, 3 & 4, 2009.
MEMBERSHIP APPLICATION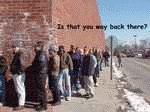 We are always happy to accept new members to the New EastCoast Arms Collectors Associates

Each member enjoys these benefits.... no waiting in line ------------------>

Attend all our shows each year with no admission fee...See the show before anyone else on Friday night...Experience previews and buffets at certain shows...Bring your spouse for only $14 more per year....Have all show information sent to you quarterly...Make contacts with people who share your interests...Save $$$$ on your tables at every show....Display only tables available to members only. Use VIP entrance, half hour before public on Sat. & Sun

And Much More!!!!

Fill out and return the application below with your payment of ONLY $50 for the first year, renewal is $45. Your spouse can also join for only $14 additional... Our group has been in existence since 1982 and we have had opportunities to join as a life member since then and again, we are offering a life membership for $375. now through December 31, 2011.

After initial membership year, your renewal will be on the first day of each quarter for the following, full 12 month period so unlike many other organizations you get one full year's membership;


Join During Yearly Renewal on

January - February - March ~ January 1
April - May - June ~ April 1
July - August - September ~ July 1
October - November - December ~ October 1

Life memberships open to December 31, 2014 at $400.

Application for membership in the New EastCoast Arms Collectors Associates

Name:__________________________________________ Spouse______________

Address: _____________________________________ Phone_____--___________

City:______________________________________State_____________Zip________

What do you collect?______________________________________________________________________

Are you a dealer?______________ FFL#_________________________________

New Member $50___Renewal $45____Spouse $14___ Junior $14 ____
Amount Enclosed $ _____ Check#______ Date Sent __________

Send To: NEACA, Inc., PO Box 385, Mechanicville, NY 12118
Your E-Mail: _________________________ Date Received :___________
---
First Annual NEACA Convention and Holiday Arms Fair
December 21, 22, 23, 2007
In twenty-five years of producing gun shows my experience learned is that things they are a' changing. Shows used to be fun and profitable, now it seems some time you can make some money or pick up an item or two but most of the fun exhibiting at a show has gone. As a promoter and producer I have always tried new things for the business, tried making shows comfortable as well as profitable and with Cathy's help, as both wife and partner, we have succeeded at Saratoga, it's a very nice show.
Twenty-four years ago we opened the Saratoga Springs City Center with a gala Antique Show but through time we opted to only produce our quality Arms Fairs at this fine venue in upstate New York. We now have four shows each year and this December 21, 22 & 23, 2007 we will host our Holiday Arms Fair & First Annual NEACA Convention and Christmas Party.
The Show will be at the City Center, 522 Broadway but the party, dinner and auction will be hosted next door in The Hotel at Saratoga carpeted ballroom, Saturday evening December 22nd, beginning at 6 PM. A meal will be served around 7 PM while a silent auction and bucket raffle are in progress and consisting of items donated by local businesses, NEACA Members and NEACA, Inc.
Dinner tickets are $35.00 each and have two door prize coupons attached. Following dinner, tickets also allow participation and bidding in our live auction of firearms, sporting collectables and art work. One need not be a Member of New Eastcoast Arms Collectors Associates to purchase dinner tickets but we do have a special two year Membership Promotion now being offered for only $45.00. This entitles members to free entry to all of our shows during the year including Friday night set-up and preview buffet also early entry on Saturday and Sunday with no waiting in line. We also extend reduced table or space rental for members who exhibit at our shows and guarantee an offer of future Convention tickets, plus more.
This December's Arms Fair will be our 69th produced at the Saratoga Springs City Center which has become a premier show in the Northeast. We usually sell out of the 250 eight foot tables while only allowing sporting collectables, related Americana or antique and collectable firearms, cutlery and militaria to be exhibited. Occasional deviations apply when in good taste or add to the overall variety of the particular show.
General public is admitted from 9:00 AM to 5:00 PM on Saturday and from 9:00 AM to 3:00 PM on Sunday. The entrance fee is $8.00 with discounts for Seniors and children under 13 are admitted free with adult. The public is also encouraged to bring items to the show for possible appraisals, trades or sale to our collectors and dealers. All firearms laws and taxes still apply at the show as they do in a general sporting store. Firearms should also be in cases when being transported to the show and only opened for inspection at the admission door to check that they are unloaded. All safety practices, local, State and Federal laws are always followed at our Arms Fairs.
For a first time experience to an Arms Fair, our Saratoga shows provide a walk through history or a visit to things remembered and cherished from a younger age and for the seasoned collector a chance to view and purchase some of the finest firearms in the field. And with Christmas right around the corner one can find that special gift or that hard to locate item for the person on your list who thinks they have everything. Our fairs are entertaining, educational and hopefully provide an enjoyable visit with friends and family who cherish our sporting heritage and Second Amendment rights. We hope to see you at the December show.
For further information contact David Petronis,
NEACA, Inc. President at 518-664-9743
or e-mail to sales@neaca.com
or visit our web at NEACA.com
---
First Annual Convention & Auction ~ Partial Listing
We have received around 25 guns so far for our Auction beginning around 8PM on Saturday Evening, December 22nd, in the Hotel at Saratoga Ballroom, Saratoga Springs, NY. This adjoins the City Center where our Arms Fair is being held. Plus a few Fully Framed Prints and other items. The guns are both handguns and long-guns, modern and antique and are from various members, plus a small collection of old guns with original boxes.
Auction Items for Convention
… Silent and Live Auction, December 22, 2007 6PM
(Must purchase Dinner Ticket to be Eligible to Bid ... $35.00)
Hotel at Saratoga, adjoining Saratoga Springs, City Center, NY
Partial List (Not in Order) See "What's New" for more ...
For Live Auction to save time the Minimum Opening Bid will be no less than half the Lower Estimated Value. This will eliminate starting all items with $5.00 or $10.00 bids. Example: Minimum Estimated Value is $100. to $200.00 ... opening bid $50.00 or pass, as there evidently is no serious interest in the item. Some items benefit the Foothills Friends of the NRA.
No. xx ) New England Firearms, SB2-MAG, Top-break Single Barrel Shotgun, 10 gauge, 3" chamber, 28" barrel, full choke … as New In Box … HS1684 Serial #NE282213 … Value $200. – $300.

No. xx ) Harrington & Richardson, Topper Model 48, Top-break Single Barrel Shotgun, 16 gauge, choke bored, 30" barrel … used, excellent … HC2157 Serial # H 11776 … Value $150. -- $250.

No. xx ) Savage – Stevens, Model 311H, Double Barrel, Side by Side Shotgun, 12 gauge, 3" chamber, 28" barrels, Modified/Full chokes, … used, as new … HC2141 Serial #D171337 … Value $300. - $500.

No. xx ) J. Stevens Arms Co., Chicopee Falls, Mass. Top-break Single Barrel Shotgun, 12 gauge, 28" barrel, … used, fine condition … HC2144 Serial #39055, … Value $100. - $200.

No. xx ) Westernfield, Model XNH 569E, Slide Action Shotgun, 20 gauge, 3" chamber, 28" barrel, Modified choke … used, like new … No Serial #, pre-1968 … Value $300. - $400.

No. xx ) Thompson Center Arms Co., Hawken Percussion Rifle, .54 caliber Black Powder, set trigger, walnut stock, USA … used, fine condition … Antique status, Serial # K191272 … Value $300. - $400.

No. xx ) American Arms Company, Patent Model, Single Barrel Damascus Shotgun, 10 gauge, Side- cocking mechanism … used, fine … Antique, Serial #2432 … Value $150. - $250.

No. xx ) British Enfield Musket, London 30" barrel, Carbine size, Military Proofed, marked, "J. P. Field & Co.", percussion .69 caliber with sights, short tang trigger guard, barrel & stock marked "11", under stock marked "GA" … possible Confederate use in Civil War, used, Antique condition … No serial # … Value $600. - $800.

No. xx ) Springfield Artillery size Rifle, 1864 Lock, .50 caliber Allin conversion in 1866 to breech block action, 30" barrel … Antique, excellent condition, no serial # … Value $1000. - $1500.

No. xx ) Maas French Military Rifle, Model 1936, Viet Nam vet bring-back said used by Viet Cong, appears to be chromed French parade rifle with original sling … used, fine condition … HC5000 Serial #85892 … Value $150. - $250.

No. xx ) Quality Firearms Inc, Model QFI RP, Revolver, 2" barrel, .22 Magnum … as New In Box … HS1914 Serial #SZ02708 … Value $120. - $200.

No. xx ) New England Firearms, Model NEF 9-R92, Revolver with 9 round, swing-out cylinder, .22 caliber, 4" barrel … as New In Box … HS1667 Serial #NB015133 … Value $200. - $250.

No. xx ) Harrington & Richardson, Model 622, 6 round Revolver with 2" barrel, Blue, .22LR caliber … as New In Box … HS1684 Serial #AP138789 … Value $150. – 250.

No. xx ) Harrington & Richardson, Model 649, 6 round Double Action Revolver, .22LR caliber 5" barrel, Blue, Walnut Grips … Used, as New … HS1873 Serial #AT055338 … Value $200. - $300.

No xx ) Heritage Arms, Rough Rider, Single Action Revolver, .22LR caliber with .22 magnum cylinder, 4" barrel, nickel finish … as New In Box … HS1958 Serial #HR57718 … Value $200. - $300.

No xx ) American Arms Company, New York, Double Barrel Shotgun, Mule Ear outside Hammers, side locks, 12 gauge, 28" barrels, walnut checkered stocks … Antique, fine condition … Serial # 381310 … Value $300. - $400.

No xx ) Harrington & Richardson, Model 348, Bolt Action Shotgun, 12 gauge, 20" Barrel, Walnut Stock, … Used, excellent condition … HC6001, No Serial # (Pre- 1968) … Value $150. - $250.

No. xx ) Springfield Arms Co., Chicopee, Mass., Model 53A .22 Cal. s/l/lr Single Shot, Bolt-Action Boys Rifle, Walnut Stock, 24" Barrel … Used, Excellent Condition – HS1642, No Serial #, (Pre-1968) … Value, $150 - $250.

No. xx ) Westernfield (Montgomery Wards), Model 550A (Mossberg) Slide Action Shotgun, 12 ga., 26" Barrel with Accu-choke, Walnut Stocks, jeweled bolt … as new, in box with papers … HC6010, No Serial # (Pre-1968) … Value $$300. _ $400.

No. xx ) Ithaca, Model 49 Saddle Gun, .22 cal. Single Shot Rifle, 18" Barrel, Boys Rifle size, … Used, Unfired, New In Box, w/hangtag (some light pitting on barrel from storage … HS2264, Serial #266398 … Value $300 - $350.

No. xx ) Winchester Model 12, 20 gauge, Slide Action Shotgun, 28" Barrel with Polychoke, ribbed fore-end, walnut stocks … Excellent Condition to re-blue … HC6102, Serial #1100454 … Value $400 to $500.

No. xx ) Westernfield, Model SB836 Deluxe (Savage/Springfield Model 187) .22lr/.22HS shorts caliber, Semi-auto rifle, 20" Barrel, Checkered Stock … Like New Condition, several stock mars, w/original box from Montgomery Wards … HC6020, No Serial #, Pre-1968 … Value $150 - $200.

Silent Auction ... Silma, Over/ Under Shotgun, 12 Gauge, New in Box ... Minimum Bid $800.

Silent Auction ... Bust of George Washington, Friends of NRA Sponsor Gift ... Minimum Bid $60.

Silent Auction ... Embroider Jacket with Deer for Friends of NRA ... Minimum Bid $35.

Silent Auction ... Hand Carved Wooden Frame with Deer Print ... Minimum Bid $60.

Silent Auction ... Sage Deer Signed and Framed Print ... Minimum Bid $40.

Silent Auction ... Burnton Rifle Scope, 3X - 5X Variable ... Minimum Bid $150.

Silent Auction ... Burnton Rifle Scope, 3X - 9X Variable ... Minimum Bid $200.

Silent Auction ... Unwanted Visitors, Song Bird Signed & Framed Print ... Minimum Bid $80.

Silent Auction ... Pachislo Gaming Machine, Vegas Style Game of Skill ... Minimum Bid $125.

Silent Auction ... Limited Edition Victorian Porcelain Doll "Gillian", 32" ... Minimum Bid $75.

Silent Auction ... Limited Edition Country Porcelain Doll , 24" ... Minimum Bid $45.
Plus ... About 15 to 20 items in our Bucket Raffle, tickets available at the Dinner.
---

Dear Members & Exhibitors,

Re: MEMBERSHIPS ~ SARATOGA SPRINGS, NY SHOW

It is becoming increasingly difficult and costly to manage memberships on a monthly renewal basis - we are the only group I know of that gives a complete twelve month membership when you join - usually you join during the year at full price and renew on January 1 the next year - real simple. We have allowed renewal in the same month of the next year, thus twelve full months.
Our change, to make things easier for us and still give as much as possible is this: Renewals will be on the first month of each quarter you join; i.e.: January 1 / April 1 / July 1 / October 1, and because of rising costs and for the complete show schedule that we offer, we are raising memberships per year to $30 initially and $25 per year renewal. A month before each quarter, we will send out renewal notices and, if renewed within 30 days of the quarter, the amount will be $25 - if after the 30 days, $30 will be due to sustain membership. Instead of 12 mailings and accountings, this will cut our work down to four and be easier to manage while continuing most of the full 12 months membership.
Life memberships will be open for the remaining part of the year 2003 for a fee of $250. We've been in the show business since 1982 with our NEACA group and many of you have been members since then or portions of that period. We have proven we will be around for the long haul and have many life members now.
Let me tell you about the benefit of being an NEACA member and I'll pose one of our shows at Saratoga in March as an example. If you were a member and wanted a table, you got to set-up from 3PM on Friday to 9PM in the evening - easy loading with our carts or you could tip the boys we hired to help you. You could set-up a display only table for a large reduction in cost or could save $10 each on sale tables from the non-member rate. About 5PM we had free drink and light hors d'oeuvres. About 6PM we gave all the exhibitors a free buffet of food so you didn't have to go out and find something to eat. Then at 6:30PM we allowed non-table holding members to come in to view the show and buy, sell or trade till closing at 9PM. Saratoga is one of the only shows that still, actually has a Friday evening sales time. The reason? We have dealers who stay because of the food and drink and because buyers, our members, come in from 6:30 to 9PM. So, if you have a table, you can set-up from 3PM to 9PM. If you are a member and not listed as a table holder, you get in from 6:30 to 9PM
Incidentally - there were way too many people at the last Saratoga show during set-up who were not table holders and again, we had to give out some badges that were forgotten or for "Joe who was going to help me set-up." You know - as dealers - you are supposed to be the ones, and the only ones, who get in early and perhaps get a good buy from the next dealer before the show begins, and at your leisure! If you allow other people to take advantage of you and buy out from under you or the dealer next to you, it's foolish. A big part of this buying and selling game is the buying! My job is trying to keep things as fair as possible for everyone while keeping control of the show. You can help by not allowing badges to be out unnecessarily.
Speaking of badges, we're going to limit them to two badges per exhibitor. If you need an extra person to help on Friday after 6:30PM or Saturday or Sunday, get them to become a member and they get in a half hour early before the public. If you and your friends have three or 4 tables with four or 5 badges, get tables in separate names.
As a non-table holding member, and non dealer, remember you are welcome to a table for casual sales once or twice a year, as long as the law permits, or to a display only table to see if you can buy something or possibly show off your collection. Or just come into the show free, and early, on Friday evening after 6:30PM and enjoy any buffet or drinks, etc, that may be still available. Many shows sell fictitious tables at $30 to $50 just for a badge to come in on Friday so you can buy - we don't do that. You must be a member (but you can join on Friday evening at the door for $30.00). Then you can still get in a half hour early on Saturday and Sunday before the public - for free at any of our shows - and not wait in line, and at Saratoga in March we had two solid lines until 12:00 on Saturday and even one for quite some time on Sunday.
To become a member, fill out the enclosed form and send it in to get your member card before our next show. For $30 initially (a $25 annual membership renewal) you get to go to the Saratoga Show three times a year on Saturday and Sunday - times $6 each day, that's $18 - plus come in on Friday evening for early viewing, food and drink - as a VIP -- because we want you there to buy, sell or trade with the exhibitors at leisure - a very important person indeed - again FREE and if you want a table just once a year - you save $10 - you've already saved the membership cost and you still have all our other shows to get into for FREE for the year. Plus we always have other special member things going on, a mailing of our shows is just one.
As a gun collector or military collector or knives, or just for the camaraderie with people who have the same interests - you should join us today. Our Saratoga Arms Fair comes up three times a year, March, August and November. You will want to be a member 90 days before then if you want tables at the discounted rate. Our member letter and current flyers go to all our prior exhibitors and members first - then a general dealer and collector mailing. Join today, you'll be happy you did.

Sincerely,
David Petronis, Pres.
NEACA, Inc.