New Gifts, Dolls and Furry Friends
~ Updated Sunday, February 5, 2023 ~
Looking for something different or unique? Need a gift for someone who has everything and who is particularly hard to please? In this section you will find very affordable, to perhaps quite pricey, fine quality gifts. We have Incolay Stone Boxes from California, woven triple thick throws and wall hangings made in North Carolina, Hand crafted furniture from Georgia, sponge ware pottery fired in Roseville, Ohio, hand carved and artistically painted wooden trout from upstate New York, toy wooden vehicles hand crafted in Maine plus styled and dressed Victorian Dolls and lifelike real fur covered molded animals and feathered birds, and more. And, satisfaction is 100% guaranteed. View what we offer with confidence that all will be pleased.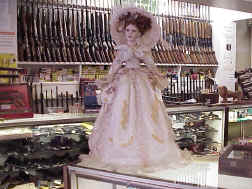 We have several limited edition Dolls on display in our shop that we will be selling at 40% off retail to make room for others. If you have any interest in these beautiful dolls, email and we will forward a list with prices and pictures. All display dolls have their original boxes and paperwork and are limited edition porcelain dolls.
---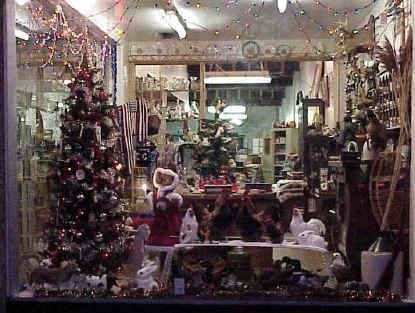 1) A collage of the fine gifts and unusual items we offer. One of our windows around the holidays.
---

3) Box Turtle, 7" long by 3" high, by Red Mill Company of West Virginia. These figures are individual artist's designs that are made into a mould which are filled with a mix of crushed pecan shells and resin and formed into the figure. Each is then hand finished and polished. We first started selling these in the 1980's and they were extremely popular. These are new old stock. Excellent condition, SOLD
---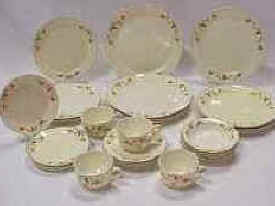 4) A set of Hall, Autumn Leaf pattern china distributed by Jewel Tea Company door to door between 1933 and the early 70's. This is service for four. Group of four settings of six different pieces to total 28 Piece Set. All in fine to very good condition with most of gold remaining on rims, some pieces are worn. There are 4 each of 10" plates, 9" plates, 8" plates, 6" plates, fruit bowls, cups & saucers. These are highly collectable today and getting scarce and pricey. This set is not as pricey as I've seen, only $250. SOLD But we do get others.
---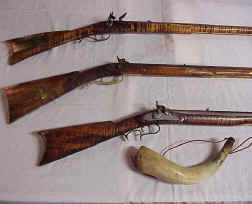 5) Pictured are a flintlock and two percussion rifles from the nineteenth century and an ever present powder horn. We always have a selection of fine antique firearms and accessories in stock. Or just a wall hanger for your den or kitchen. We never know what may come in and we get calls for appraisals and to purchase collections so if you have something in particular in mind you might want to be on our "call me" list.
---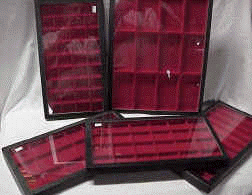 Glass collector cases with flocked lining
6) These are great for all kinds of jewelry, collectables of many types, coins, badges and most anything you want to organize or display. We can send you a description of insert size and help you pick what you need. THESE ARE MADE HERE IN THE USA and are heavy chipboard with glass window lid. The large size case is 12" x 16" x 3/4" deep and sells for $20.00
The smaller size is 14 1/2" x 8" x 1" deep and sells for $14.00. Number 2 is great for military medals while number 5 holds pocket knives or collector straight razors and numbers 1 & 4 earrings or coins fit perfectly.
Buy any three of our high quality cases and take 15% off the price. They make a fine gift to a collector. We also have wooden display cases made from oak with glass top and locks. Contact Us.
---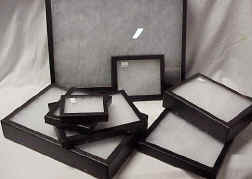 Glass collector cases with white cotton mesh.
7) These are the same quality cases as above and come in a variety of sizes and several depths. The standard ricor mount case that many dealers display their wares in is our 12" x 16" x 3/4" size and sells for $15.00. This also comes in the 2" depth for $21.00 and half size 12" x 8" x 2" for $11.00. They range to 4 1/4" x 3 1/4" x 3/4" for $5.00, great for an individual item for display or safe keeping. Same discount 15%, for 3, mix and match. Contact Us.
---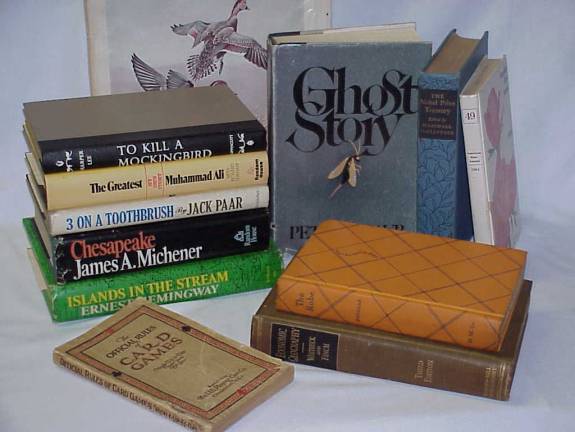 8) Do I see a First Edition there? I think I may. Or at least something to snuggle with when "Snuggles" is sleeping! Click on our Book Page link to see what we've got under cover. Books, old editions or new, make great and lasting gifts.
---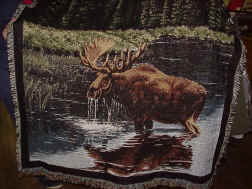 This woven throw is called "Northern Solitude."
9) This majestic moose is reflected in his Northern Solitude of the great outdoors. He brings this feeling to your wall or as a throw for the couch. This triple thick afghan is 54" x 70" and sells for SOLD
---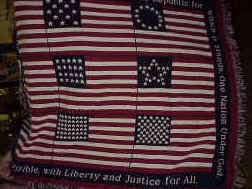 Pledge of Allegiance Throw
10) The pledge, under God, surrounds the flags. Wrap yourself in triple thick cotton weave and historic US flags while being embraced by these wondrous words of freedom. Naturally, made in USA. This measures 48" x 69" and sells for SOLD
---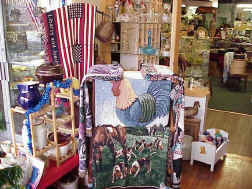 A collage of several woven afghans from No. Carolina shows several afghans on display in one of our front windows among some of our antiques and collector glass. Be sure to visit us when traveling along the Hudson River in upstate New York. A free boat dock is just behind our store, just south of the Champlain Canal Lock #3. We see travelers from around the world going either by craft on the Hudson or car via Routes 4 & 32 which run by our shop. Many are antiquing towards the National Saratoga Battlefield about six miles north. I must admit we are a very interesting stop along the way.
---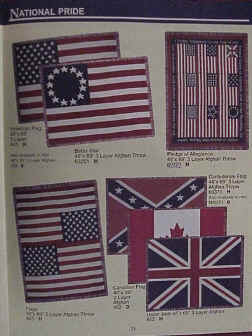 American Patriotism is alive and well in North Carolina. Have custom pieces done!
12) Catalog page of afghans using flags for patterns. For a very small minimum order we can make an afghan or wall hanging to your custom design for clubs or any organization. Call or e-mail us and we can give you a price quote or discuss a project. A minimum of only twenty pieces is needed to qualify for a custom order and the start to finish time frame is only about eight weeks. All these flag afghans are triple thick and measure 48" x 69" and priced at Be warm, feel wonderful, show your patriotism.
---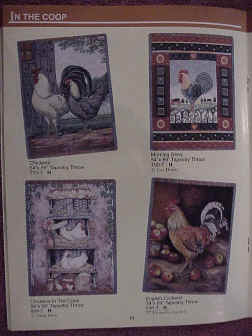 Who out there doesn't like to crow on occasion?
13) Another catalog page, this one of some of the roosters available to keep you warm when you are not in the henhouse. All are triple weave and measure 54" x 70". Top left is called "Chickens," to right is "Morning Glory," bottom left "Chickens in the Coop," lastly is the "English Cockerel."
---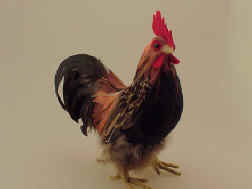 Speaking of Roosters ... and this one actually Crows!
14) This spunky fellow stands 10" tall and is 8" long and when you move him, he crows. Lifelike in sight and sound! He is priced at only SOLD. (Battery operated)
---
His big brother is 15" x 17" but mute at $26.95, larger size. Each is covered in real feathers. ... BUY NOW.
---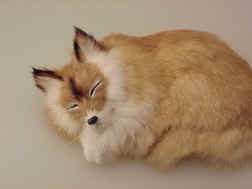 Should we just let this "Sleeping Fox" lie?
16) This sleeping red fox measures 11 1/2" x 4" and its molded form is covered in real rabbit fur. Makes a wonder pet, no mess, no bother, just let the sleeping fox lie. Makes a great gift and is priced at SOLD
---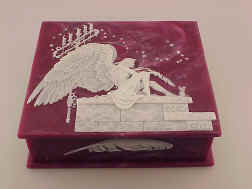 California Incolay Stone Boxes ~ "Angel's Play"
17) A complex combination of quartz- based minerals are formed and fused to translate the artisan's vision into a wonderful creation. The white art work is hand inlaid and each piece has 'a one of a kind' stone color formation. Dimensions of the box pictured are 9 1/2" x 8 1/2" x 3" high and weighs 4 3/4 pounds. The top is hinged revealing velvet inside. Garnet is pictured but this also comes in blue, lilac rose and navy. Priced at SOLD Made in USA.
---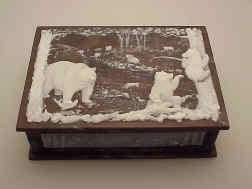 "Grizzly Family" in Incolay Stone
18) This frolicking family of grizzlies is pictured in a woodland hue of sardonyx brown and artistically portrayed in hand inlaid white quartz mix. It measures 10" x 7 1/2" x 2 1/2" high and weighs 5 pounds. A perfect gift for the outdoorsman, the hinged cover opens to velvet bottom an horizontal divider. SOLD
---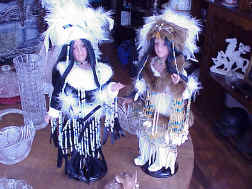 Two Little Indians
21) "Chenoa" and "Nituna" stand 19" from floor to flurry feathers and are bedecked with beads and fur. The perfect gift for your little Princess. All of our dolls come with their own base and stand and in a gift box. Each of these beauties is priced very reasonably at SOLD
---
21A) And a 19" x 9" high, laying White Bison mascot is only SOLD
---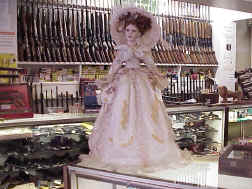 "Mona," Just Simply Has 'The Look'
22) We thought our shop name might be nice as "Guns and Dolls" as pictured here, and we did manage to get some nice local press on the shop. When we found this absolutely wonderful line of Victorian dolls we couldn't help but to order the most impressive grouping. "Mona " stands out as sheer class. She is 31" from floor to hat top and is a limited edition of one of 5000.
---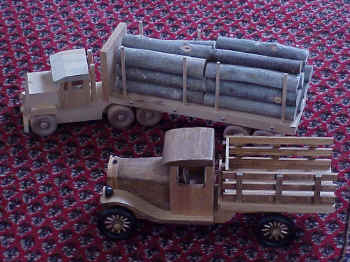 Trucks and Trains made in state of Maine and made of hard-woods. A Tow Truck and shorter Log Truck are also made. These are made on order and shipped when ready so allow enough time (usually two weeks) before you need them.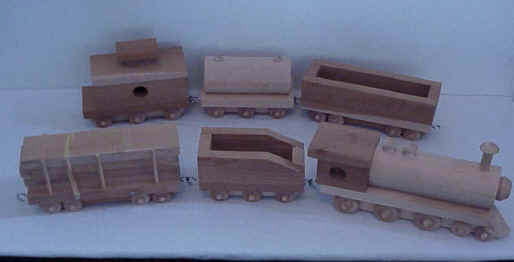 ---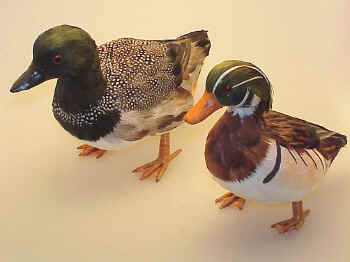 Yes, we have Ducks
25) Pictured is a male Loon and male Wood Duck and they approximate actual life size and looks. They have a foam body and are artistically fashioned with real feathers. They do look real. Each sells for SOLD
---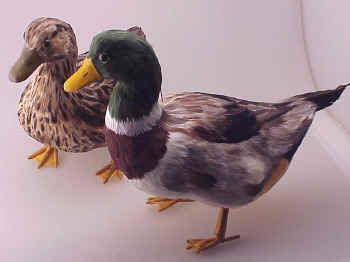 Mallard Pair of Female and Male. They are made as above and sell for $24.95 each but if you want we give you the SOLD