This is a page where collector items that are not listed on particular group pages will be found. Some items may be crossover collectables, that is things of interest to more than one collector group. Such as an Elvis Presley Candy Tin could be listed on our Advertising Collectables or a Presley Matchbox Car Set could also be under Toys. But the majority will not be under any particular category. Enjoy your visit.
~ Updated Sunday, February 5, 2023 ~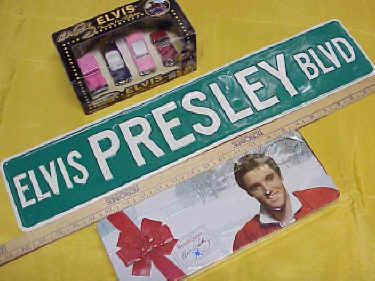 A collage of Elvis Presley Collectables
The items pictured from top to bottom are a set of four unopened Matchbox Cars mfg. by Mattel in 2001. A simulated street sign, 24" made in tin from 1994. At bottom an unopened tin of milk chocolate candies made in 2003 by Russell Stover.


Each item is covered in more detail and the thumbnails will give larger photos. Elvis collage Number One are Mattel Matchbox Cars from 2001 in new, unopened box featuring his Jeep dune buggy, Pink Cadillac and others. This is the original Elvis Presley "Favorite Cars" collection. We have this crossover collectable priced at $52.00 ... BUY NOW.
Collage Number Two is the "Elvis Presley Blvd" street sign made in a much lighter tin than an original would be.

This was a collectable made in 1994 and it is in excellent condition but with two small scrapes on the letters L and P. We have it priced at $18.00 ... BUY NOW.
The third item is a tin, one pound box of unopened Russell Stover Candy made with raised and embossed bow and photo of

Elvis Presley. It is sealed in the original plastic covering and in new condition. This was made in 2003 and is approximately 12" x 4 1/2" and we have it priced at $35.00 ... BUY NOW.
We also have an opened tin that is in mint condition with the internal paper but no chocolate candies.


We enjoyed those for our 2003 Christmas. The tin box is priced at $23.00 ... BUY NOW.
---
Also see our Books for more Elvis Items.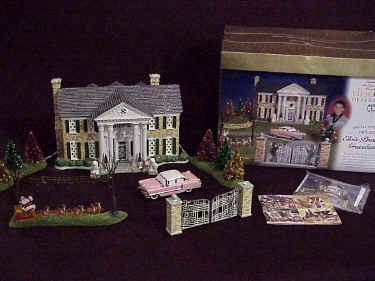 Department 56 Special "Elvis Presley Mansion, Graceland"
This is a Special Edition item by Department 56 of the Elvis Presley mansion in Memphis, Tennessee known as "Graceland." It is in the original box with all packing and paperwork is in excellent condition but


with several damaged areas as noted in thumb nails. The right gate post has a broken top ball and the right tree group has been broken but is not noticeable on top while displayed. Also the electric cord is missing that powers the lights. This was on display at a Christmas Shop and is still in fine condition overall. We have it priced at SOLD
---