This is a page of some of the guns we have sold on the web. It is simply a record of some of the guns we have had and items that were in a given condition.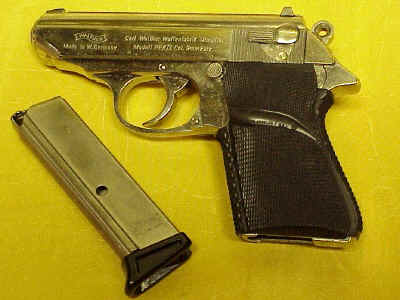 German Walther PPK/S in .380 cal.
HS6001 ~ This is the very popular Walther PPK made in Germany but to conform with US import regulations they had to make it slightly larger and they so designated it PPK/S and was marked as West Germany manufacture. The gun was made famous as being used by the Nazi Gestapo and then by James Bond 007 and originals today are extremely desirable. This one was imported by Interarms and is in Nickel finish, .380 caliber, has the finger grip magazine extension and wrap around rubber grips. The serial number is 143123S and the bore and internal parts are excellent. The slide however has some pitting marks where moisture developed due to poor storage.



(I can't emphasize enough the importance of putting a weapon away properly, value is lost quickly from poor storage.) The action is perfect. This is no longer imported and new ones today are made by Smith & Wesson. We have this fairly priced at SOLD FFL required.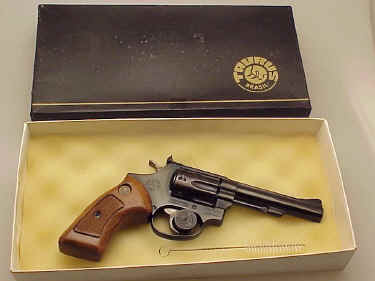 Taurus Model 94, 4" Bbl., .22 Caliber Revolver
HS0000 ~ Taurus Model 94, .22 caliber revolver with four inch barrel. It has a nine round swing out cylinder, transfer bar firing mechanism, double action with very smooth trigger pull. Has target features like case colored wide trigger and hammer spur and adjustable rear sight. The gun is in like new condition in its' original black box with cleaning brush. The serial # KH635xx puts it around 1991 manufacture and is item TAG94B4. Excellent pistol for light carry or just plinking. Offered at SOLD... FFL required.

Winchester Model 1910 SLR .401 Cal.
HC5000 ~ This is the hard to find Winchester Model 1910 SLR (Self Loading Rifle) that was introduced in 1910 and in the largest caliber of the SLR series, .401 Winchester. This has a quick take-down feature that is simply activated by depressing a small protrusion below a take-down screw just



forward of the tang. Most of the fore-ends on these have cracked over the years due to the punishing recoil of the heavy action. This one has only a small hairline beginning near lower receiver, see thumbnail. However, there are some heavy dings to fore stock. The 20" nickel steel barrel has about 95% blue and retains the original buck horn rear and blade front sight. The receiver sides had seen some pitting and a cold blue had been applied to protect metal. The overall appearance is pleasing. The hard



rubber butt plate has cracked and a screw has been added to retain the lower portion. Many of these were used by prison guards and police units and was a very popular and deadly high powered firearm in its' day. This particular one was made in 1917 with serial number 139xx. We have priced this at $xxx.00 ... BUY NOW. FFL required. SOLD
---
For Appraisal Information About Your Guns ~ See Appraisals

Marlin Carbine Model 336RC, Cal. .35 Remington
HS2900 ~ Marlin old model 336RC lever action carbine in very desirable .35 Remington caliber. This is an early gun with serial number K37424 and is fine condition with an excellent bore.



How do I know this is a real jewel of a gun? Because the proud original owner hand fitted three large imitation glass diamonds into the forestock, see the photos. Perhaps they were to signify how many Bears he shot, or Moose, I don't know. But the gun is still a popular item and in good shape, maybe you can



add a fourth diamond of your own. I believe the butt plate was replaced, good job and there was a small mother of pearl disc glued to pistol grip bottom which I removed, small imperfection left in wood. I put a reasonable price on this of only $xxx.00. ... BUY NOW. FFL required. SOLD
---

Ruger .44 Magnum Semi-Auto Carbine
HC1523 ~ Ruger .44 Magnum Carbine, 18" barrel semi- auto early production gun with factory cut-out for receiver sight. Serial # 732xx is in exc. cond. with 98% blue only minor scratches to excellent walnut stock finish, factory swivels are


present. A weaver K3 scope with tip off mounts has been installed. The steel 1" tube and lens are in exc. condition with fine crosshairs. A fine collector gun or popular shooter. Offered at $xxx.00 ... BUY NOW FFL required. SOLD
---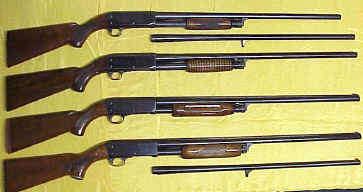 Ithaca Model 37 Slide Action Shot Guns
37 Slide-action (pump) shot gun, 16 gauge, plain 26" full choke barrel, 2 3/4" chamber with standard 14" length of pull. This is a very early gun and probably made in the 1930's with serial number 15401, which also matches barrel and inside butt stock. An early Featherlight with stocks of dark walnut done with hand checkering, pistol grip cap and


unmarked butt plate. The forearm is fully checkered in a variable diamond pattern and in excellent condition; the butt stock does have a few scratches in the varnish but no heavy digs or dings, in overall fine condition. The barrel and slide mechanism are excellent with 99% original blue. Unless these early guns were finished in a high polish blue as their original Remington Model 17

ancestors were, which I am not sure of, the receiver may have an old re-blue finish, about 95% remaining. Internal parts are excellent, some showing case colors, and the shell loading tube spring houses the early wood plug for migratory bird hunting. The plug still has wrapping with original paper instructions from Ithaca Company. This is a great hunter or very desirable early collector gun. Cathy and I purchased this from A. Acker estate, of whom was a very early and devoted member of NEACA. A super gun with a nice history but we just can't keep them all forever. We have this one priced at $xxx.00 ... BUY NOW. SOLD

Ithaca Barrel ... This is a 16 gauge, 2 3/4" chamber, 28" plain barrel with modified choke and small bead. This is from an old model Ithaca 37 with serial number 563260-2 in excellent condition. Please note that any Ithaca M37 below serial number 855,00 has to be refitted for any new or used replacement barrel. You don't just buy one and put it on! Ithaca Company used to do this work but no longer does, I don't know who does. All old model barrels also have serial numbers on them, this one is no exception. With that information given, we have this barrel priced at $xxx.00 ... BUY NOW. SOLD
HC2149 ... (Third) Ithaca Featherlight Model 37 Slide-action (pump) shot gun, 20 gauge, Simmons



vent ribbed 28" modified choke barrel, 2 3/4" chamber with standard 14" length of pull. With serial number 908873 this gun can readily accept new barrels. This features a semi-beavertail fore-end and Ithaca rubber recoil pad all in excellent condition with barrel and frame in like new condition.



Overall this an excellent light weight hunting gun or will enhance any Ithaca collection. Hard to find in this condition we have this gun priced at $xxx.00 ... BUY NOW. SOLD
HS1607 ... (Bottom) Ithaca Featherlight Model 37 Slide-action (pump) shot gun, 20 gauge, vent ribbed 28" modified choke barrel, 2 3/4" chamber with



standard 14 1/4" length of pull. With serial number 37-172xxxx this gun can readily accept new barrels. The as new condition wood has scroll checkering and all metal is like new condition, this is a fine looking and fast handling gun. The Ithaca butt plate



extends the LOP about 1/4". This extremely fine gun is priced at $xxx.00 ... BUY NOW. SOLD
---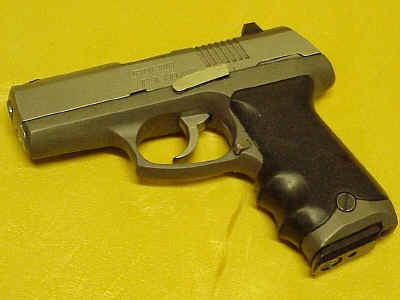 Ruger P93 DAO 9mm Semi-Auto Hi-Cap Magazine Pistol
This is a pre-ban Ruger P93 Double Action Only Hi-capacity magazine pistol in 9mm. It has a stainless steel slide and is in like new condition. Molded rubber grips give it fine handling and feel and is light in weight. The Trijicon adjustable sights allows great point of aim pick-up. We also have several police style holsters available for this model. The serial number is 306-058XX We

have this fine carry or

protective pistol priced at $xxx.00 ... BUY NOW. SOLD
---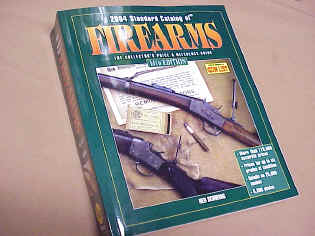 "2004 Standard Catalog of Firearms, 14th Edition"
This is "The Collectors' Price and Reference Guide", by Ned Schwing, 110,000 prices in six grades of condition, 25,000 models and 6,000 photos in 1408 pages, soft cover, 11" x 8 1/4", copy write Krause Publications, 2003.
New $34.99 ... BUY NOW ... $xx.00. SOLD
---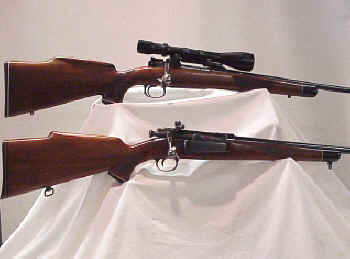 Mauser 98 Sporter and Krag Sporter, c1950
PC-1004 ... German Model 98 customized into a sporting rifle about 1950, caliber 8x57mm and has been stocked and blued. It has a 24" bbl. with check rest and hand checkering and is in excellent condition. A target trigger has been added as well as a fine Bausch & Lomb 2.5x to 8x variable Scope also with B&L mounts. The front sight has been removed from the ramp groove, probably when the scope was installed. This classic bolt action rifle has the famous action that most all other rifles have followed, even to this day, after over 100 years of production. Truly



in a class by themselves and this one is a prime example of a smiths work about fifty years ago. We have the whole unit priced at $xxx.00. ... BUY NOW. SOLD
PC-1005 ... Another classic gun and favorite action to sporterize is this Model 1898 US Springfield in .30-40 Krag caliber (.30 Government). The unique side loading magazine was a popular action for gunsmiths in the 1950's and many


of these fine guns found new homes with civilian hunters after use during the Spanish American War of 1898. This has been blued and stocked with fine American walnut with cheek piece and hand checkering. Period swivels and ebony fore end cap were routine at the time. The front sight is mounted in a ramp marked "REX." A Redfield receiver sight has been mounted in the rear. These actions are super smooth and the rifle

is in

excellent condition. We have this offered at $xxx.00. ... SOLD
---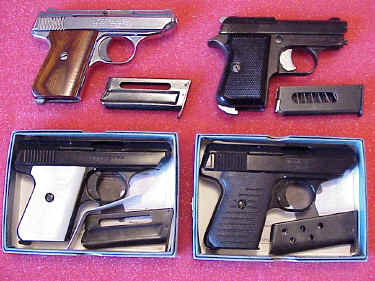 Grouping of Semi- Auto Pocket Pistols
HS0000 ~ (Top Left) ... Jennings J-22 semi-auto pocket pistol in .22LR caliber, Made in USA by Jennings Firearms Inc., Chino, CA with hard chrome finish and smooth walnut grips. This is one of the original models and actually has some internal quality parts, 2 1/2" barrel, serial #3161xx and has "CALWESCO" imprinted on back strap. Grips are excellent as is finish on gun but with some light holster wear on slide which could be polished out. Fine little pocket piece in good caliber. Our price is $xxx.00 ... BUY NOW. FFL required. SOLD
HS1913 ~ (Top Right) ... F.I.E. Corp. of Miami, Florida, Titan semi- auto pocket pistol in .25ACP caliber, 2 1/2" barrel with 7 round magazine. Has alloy frame with black finish, dark blue steel slide and barrel, black checked plastic grips exposed hammer and marked "Pat. Pen." on slide. Gun is in excellent condition with very minor holster wear to edge of frame. Serial #2420xx is compact and light weight, now discontinued. We have it priced at $xxx.00. .. BUY NOW ... FFL required. SOLD
HS1677 ~ (Bottom Left) Jennings J-22 semi-auto pocket pistol mfg. by Bryco Arms, Irvine, CA, Made in USA, in .22LR caliber. Gun is new in the box with ivory plastic grips, extra mag. and instruction sheet. Dark blue finish to steel frame, 2 1/2" barrel, serial #5284xx. No longer manufactured, our price is $xxx.00 ... BUY NOW ... FFL required. SOLD
HS1678 ~ (Bottom Right) Jennings J-25 semi-auto pocket pistol mfg. by Bryco Arms, Irvine, CA, Made in USA, in .25ACP caliber. Gun is new in the box with black plastic grips, extra magazine and instruction sheet. Dark blue finish to steel frame, 2 1/2" barrel, serial #2953xx. No longer manufactured, customer service is now in Costa Mesa, CA, 714-755-0182. Our price is $xxx.00 ... BUY NOW ... FFL required. SOLD
---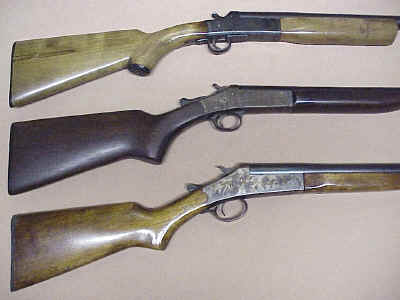 Single Barrel Top Break Shotguns
CL3003 ~ (Top) Boito 12 gauge FIE Import single shot shotgun top break activated by trigger guard release. Has 28" barrel, 2 3/4" chamber and modified choke, made in Brazil. Tight action, excellent bore, 99% finish with hardwood stock, some dings in wood. Over all in fine condition, serial # 4055xx. FFL Required or Dealer to Dealer Transfer. BUY NOW ... $xx.00 SOLD
HC2157 ~ (Middle) Older Harrington & Richardson Arms Company, Worcester, Mass., 16 gauge single shot, top break, by top lever. Topper M48, 30" barrel, 2 3/4" chamber, full choke with excellent bore. Has dark walnut stock in fine condition (one very fine crack near receiver should be of no consequence). Most case colors on receiver remain but dulling, 99% barrel blue with some old spotting. Very tight action and gun shows little use but evidently not properly cared for, serial # H117xx. FFL Required or Dealer to Dealer Transfer. $xxx.00. ... BUY NOW ... SOLD
HC2144 ~ (Bottom) Springfield, manufactured by Stevens Arms Co., Chicopee Falls, Mass., 12 gauge, single shot shotgun, top break by top lever. Has 28" forged steel barrel, 2 3/4" chamber with excellent bore and hardwood stock that has beginning of crack two-thirds from top, Fajen plastic butt plate added. Has 80% of bright color remaining on receiver and 99% hunter finish remaining on barrel, serial # 390xx. FFL Required or Dealer to Dealer Transfer. $xxx.00. ... BUY NOW ... SOLD
---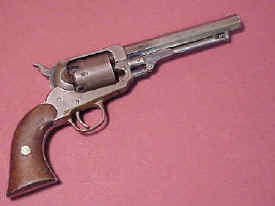 E. Whitney .31 cal. Pocket Model
Here is a nice E. Whitney Pocket Model, Second Model, Second Type, .31 caliber cap and ball, five shot percussion revolver with 5 1/8" octagon barrel. It is marked "E. Whitney / N. Haven" on the top barrel flat and serial number 16310 on the barrel, cylinder and loading lever which are the only markings. It has seven groove rifling and the bore and cylinders are




excellent. The cylinder scene is about 80% and has the ship, shield and lion with "Whitneyville" banner. There is a brass trigger guard. The frame bluing has turned gray, the barrel retains about 25% and the loading lever and hammer



have nearly all the case colors, about 90%. The only detriment is that the well fit walnut grips do not have the matching serial number to the gun. A nice example of a used Civil War private purchase revolver. We have this priced at only $xxx.00.

... BUY NOW. SOLD
Size comparison to a Colt Navy
---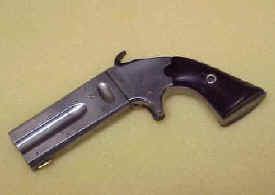 Double Barreled Percussion Pistol
This is an unnamed and unmarked double barrel percussion pistol with old walnut grips and a nickel finish. The serial number is 08622, the only marking on the gun. The barrels twist 180 degrees for firing each chamber. The make and model of this gun are unknown to me, however Frank Wesson had a similar design in the 1860's. The condition is fine as is the working order. I have sold reproductions of this



style of firearm, this one looks and feels like an original double derringer. We have it priced at $xxx.00. ... BUY NOW. SOLD
---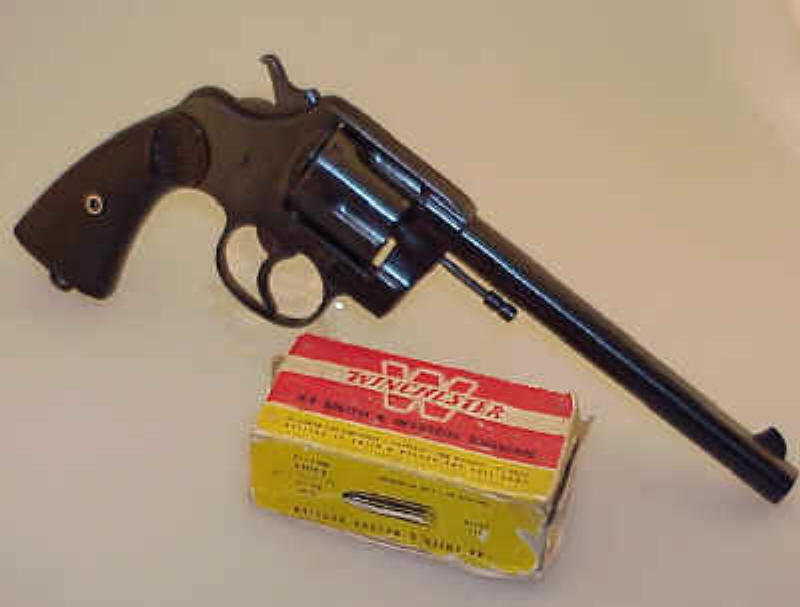 Colt New Service .44
Russian Revolver
View our Colt Page

C00126... Colt double action New Service Revolver in the rare .44 Russian caliber. Serial #7999 with 7 1/2" barrel. Manufactured in 1909, Old Model, with lanyard ring, with excellent condition hard rubber Colt grips. Gun has old refinish, is bright and in excellent condition but some old pitting is visible. Bore is fair to good, could be better with some scrubbing. Included with gun is original box of Winchester ammo, 25 rounds remaining, box is in poor cond. Curio, FFL required. BUY NOW ... $xxx.00 SOLD
PG9728... Winchester Model 1876 Lever Action Rifle was made in 1881 and chambered for the .45-60 caliber. A rare gun being one of around 15,000 made in this configuration, this rifle has a 28" octagon barrel with full magazine and is of the late, second type of the



"Centennial Model." Marked on what I believe is a heavy barrel and several other spots is the name "A. Lamont" of which I can find no reference as of yet, as to who this fellow was. Obviously proud enough of this rifle to apply his name to. There are many famous men with the name of Lamont but none yet that I can ascribe to this



gun. Probably some old ornery Buffalo Hunter. The gun metal was originally blued which has now taken on a pleasant brownish patina with the lever and hammer being originally case colored. There are standard sights, which the rear being a full buckhorn while the tang does have the standard hole for a tang sight. The rear stock of straight grain walnut does appear to have been cleaned more than it should



have been but the overall look of this classic rifle is still very good. The action is fine and the bore is fine, this is just one of those nice old guns. Still great for Buffalo Hunts and we have it priced at only $xxxx.00. ... BUY NOW. Antique SOLD
See our Winchesters
---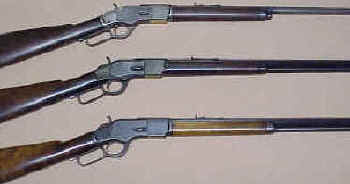 Winchester M 1873 Antique Rifles
Top to Bottom ... A Special Order half round, half oct. 24" barrel Winchester 1873 rifle with case colored frame in .44-40 caliber. There are some traces of color left, perhaps 15% but the gun has been overly cleaned and only about 50% blue remains on the barrel. The side plates have what looks like an old reblue but the reverse sides show full case coloring. The original buckhorn rifle sights are intact and a blade is on the front, action and bore are excellent. Another special


order feature is the button magazine. This rifle was made in 1882, serial # 102945A, and it is classed as a third model. The 1873 still remains the classic gun that won the west and a must have piece for a western room or a Winchester Collection. We have this Special Order one priced at $xxxx.00 ... BUY NOW. SOLD
Middle ... Winchester Model 1873, Third Model in .38-40 caliber with standard 24" barrel. This was manufactured in 1885, serial # 1816xxB and functions well and the bore is fine. About 95% of an old refinish remains on entire gun. The barrel logo is faint and there are some dings in the dark walnut


stocks. It is still a fine looking piece of our American heritage. It will make a great Cowboy Companion or look super on a wall display. We have this fine gun priced at $xxxx.00 .. BUY NOW. SOLD
Bottom ... Winchester Model 1873, Third Model in .44-40 caliber with special order 26" octagon barrel and semi-fancy wood. Nearly 100% remains of an old refinish to barrel, loading tube and frame. A fine barrel address remains as well as sharp edges. There is some visible pitting marks to be seen on


the frame but does not detract from the guns' overall appearance. The wood is fine with minor dings to old re-varnish. The bore is fine on serial #1866xxB. This was manufactured in 1885 and remains a classic Western rifle that was said to have "Won The West." Getting hard to find, this great collector or Cowboy gun is offered at $xxxx.00 SOLD
---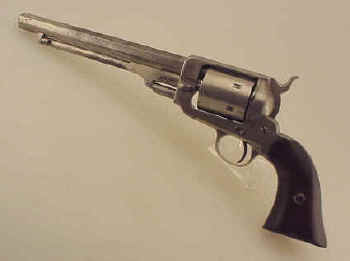 E. Whitney Navy .36 Caliber Revolver
"E. Whitney, N. Haven", Navy Model, 2nd Mod, 3rd Type, .36 cal Percussion Revolver, 7 5/8" octagon barrel, 2 piece walnut grips, brass trigger guard silvered; nickeled frame, bbl. and loading arm. Bright finish & nickel give overall excellent looking condition. Gun has sharp edges and exc. varnish on grips. All matching numbers throughout of serial #203xx. Now a post Civil War conversion to .38 rim fire. Fine bore, overall excellent, crisp condition and in working order. ... BUY NOW ... $xxxx.00 Antique. SOLD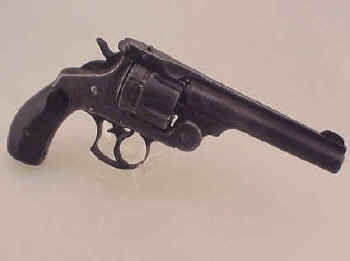 Smith & Wesson DA
Smith & Wesson Frontier, Double Action .44cf Revolver, Top Break, #109xx, 5" ribbed barrel. Frame and bbl. overall dark gray and mostly pitted, appears to have been blued finish. Hammer, trigger, guard and latch blued with
about 80-90% of it
remaining, the hard rubber S&W logo grips are excellent but
well worn. Barrel and cylinder (1

9/16") are vg+. In excellent working condition and fine cylinder lockup. Caliber is .44-40 Winchester but unmarked. An all original and scarce gun. ... BUY NOW ... $xxx.00 Antique. SOLD
---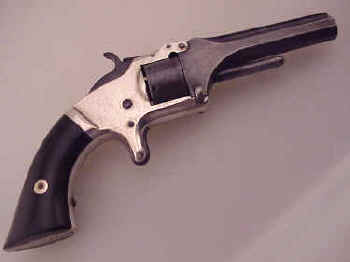 Smith & Wesson No. 1 Revolver

Smith & Wesson No. 1, 2nd Issue, Tip-up Revolver, .22 cal. short black powder cartridge. Seven round, non-flute cylinder, 3 3/16" octagon bbl., #792xx, 3 patent dates on cyl., barely visible, excellent rosewood grips, blue finish turning gray, 98% silver on frame, overall antique, fine+, Civil War era ... BUY NOW ... $xxx.00 Antique. SOLD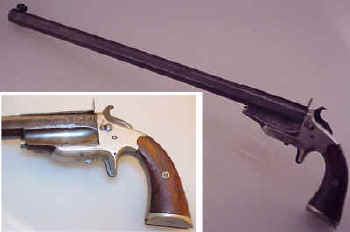 Frank Wesson .32 RF Pistol
Frank Wesson Single Shot .32 Rim Fire Pistol known as 1870 Pocket Rifle with medium frame. It has a 15" octagon barrel and is chambered in .32 Rim Fire and is serial numbered 608 on both frame and barrel. It is a brass frame with 75% or more heavy silver plating remaining. This does not have the standard iron frame usual to this so named, second type, because of the external push button type half-cock. The breech measures approximately 22/32". The bottom of grip frame is cut for skeleton shoulder stock which is missing. There is a manual ejector on right side of barrel breech. Standard globe type front site and elongated rear, which is missing one attachment screw. Bore is fine. Rosewood grips are the norm but these appear to be walnut and in excellent condition but ding on top right slab. In working condition with pleasant overall appearance but barrel edges have quite a number of dings and dents - now worn smooth. These guns are interesting, quite collectable and fairly scarce. This is an early and unusual one. ... $xxx.00. SOLD
---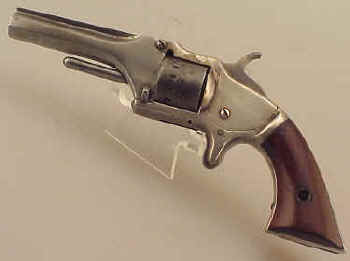 Manhattan .22 Pocket Revolver
This 7 shot, .22 long, black powder cartridge, pocket revolver is classed as the 2nd model and marked "American Standard Tool Co. Newark N - J".
American Standard Company succeeded in producing Manhattan Firearms with a limited line from 1868 - 1873. This gun is almost


identical to S & W No.1, second issue revolver except that the Manhattan has a cylinder stop mounted on bottom of frame. Putting the two guns side by side will show the difference of the stops and also that the cylinder is longer. To me the Manhattan seems to be a better firearms design and made as well or better. The gun pictured is serial number 11768 and that matches the frame and roll engraved cylinder. Engraving is about 50% worn and the cylinder stop bar is missing - gun functions well except for stop. The two piece walnut grips are excellent with minor varnish wear. The 3" octagon barrel and cylinder were once blued but are now polished with fairly sharp edges remaining but company marking is very faint - brass semi circle front sight blade is missing (an easy replacement). Bore is excellent and hammer shows case color. The brass frame is 97% heavy silver plate remaining with only small area of flaking on both sides of top frame strap. Overall this gun is in excellent condition except where noted. We have priced to ... $xxx.00. SOLD
---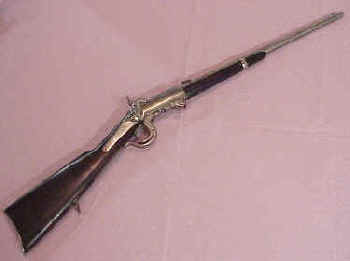 Burnside Carbine 5th Mod. Civil War
Burnside Carbine, 5th Model, designated by US War Department as Model of 1864 and so marked on top of frame. The serial number of 2547 suggest manufacturing date for government issue in 1863. This is a breech loading, lever operated carbine in .54 caliber. There are two cartouches in ovals on left side of stock and "W" and "H" inspector mark on frame and lever and breech block. Saddle ring on left frame and sling swivel on butt

stock, a


two position rear site is fitted to 21" round bbl. The bore is excellent as are the markings, however, all of the metal has been polished bright. The stocks are dark walnut and in very good condition with normal dings and marks that would be associated with use by a Civil War Cavalry Unit. This gun was made in Providence, RI and the side plate is so marked. With a nice bluing this Civil War historical arm would rate as fine to excellent. Our price is $xxxx.00. SOLD
---
Percussion Colt 1860 Revolver in Walnut Presentation Case
Italian Copy of Colt 1860 .44 caliber black powder percussion revolver with brass frame and nickeled barrel and cylinder, all fully engraved. The red felt lined walnut display case is excellent and has caps, balls, brass mould and powder flask. All you need is the powder for loading and firing this authentic civil war reproduction revolver. It is used but in like new condition and we priced it at just $xxx.00 ... SOLD.
---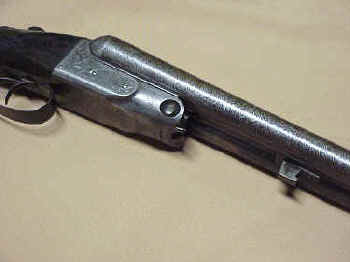 Parker Bros. 12ga. Shotgun, C Grade
Damascus Double Barrel 12 gauge Parker Brothers "C" grade shotgun but missing complete fore-end and has been shot in the wrist with a bullet and with a bad repair. Otherwise it ain't bad! At one time this was a top quality American Double gun. Check the thumbnails to see the engraving and the stock work. A dog is on either side with a covey of quail on the lower receiver. The barrels are also a little bit short of original, 24 7/8" but finished well and the



original bead sight in place. So what we have is a Gunsmith's project of time and love or a bunch of Parker gun parts. It has a skeleton butt plate with inside checkering and all of the working parts still in the action and frame. It is in the 82,300 serial number range and the locking lug is marked 1 1/2. The frame is marked "C" with the last patent date of Oct. 8, 1889 with serial # and "4" above. The frame is gun metal gray with no visible pitting but shows definite use. A jewel now

turned to dull


stone. A rare straight stock, English Style, Parker. Can it be restored? With TLC, yes. You can also refit with a nice set of fluid steel barrels, the Damascus pattern is quite nice on the set now. This could be a very nice hunting gun once again. This whole wonderful project can be yours for only $xxx.00. ... BUY NOW. Before the price goes up. SOLD
---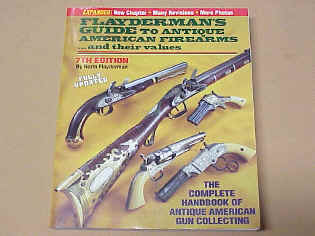 "Flayderman's Guide to Antique American Firearms and Their Values" 7th Edition,
By Norm Flayderman, 654 pages, 8 1/4" x 10 3/4", soft cover with over 4000 antique American Firearms, 1700 photos, histories of makers, this is "the Bible of Antique Gun Collecting", copywrite 1998, New ... BUY NOW ... $xx.00. SOLD
---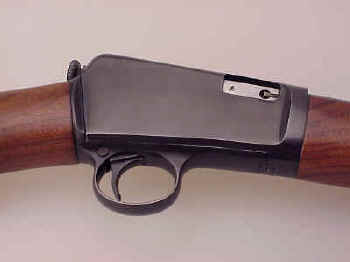 Winchester Model 63 Rifle
C00102. Winchester, Model 63 rifle, semi-auto, .22LR, #376XX, excellent condition, 99% over all, manufactured 1940. A fine, collectable, pre-war self loading rifle, has scope mount screw on top, front of receiver and one on bbl, under sight (see thumbnail) and two correct tang screws for tang

sight, FFL required ... this is a very nice gun at $xxx.00 ... BUY NOW.
SOLD
---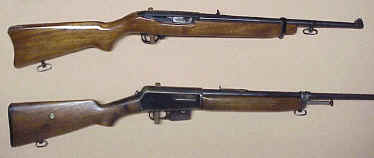 Ruger .44 Magnum & Winchester .351SLR
HS2007 ~ (Middle) Ruger .44 Magnum Carbine, 18" barrel semi- auto serial # 100-474xx. Gun is factory tapped for scope

and has

period sling swivels attached to excellent condition walnut stock. Gun is in 99% condition and is excellent shooter or collector, now discontinued. Now offered at $xxx.00. .. BUY NOW FFL SOLD
HC2156 ~ (Bottom) Winchester Self-loader, Model 1907 in .351 caliber, a semi- auto carbine. Serial # 279xx was manufactured in 1912 and is in fine condition except as noted below. Metal has about 80% blue remaining and right side of detachable magazine has some old pitting. The walnut hand guard has a long repaired crack in left side. The butt stock has repair to top and bottom where breaks have occurred, the butt plate also is damaged. With a butt stock repair




or replacement the gun would rate as excellent. Offered at $xxx.00. FFL SOLD
---

Savage Arms Corp. Single Shot M 219
HC2143 ~ Savage Arms Corporation, Utica, NY Model 219 single shot, top- break rifle. Early serial # 138 was manufactured c1938 and chambered in caliber .30-30 to this interchangeable barrel system gun, shotgun barrels were also available. The metal retains approx. 80% blue which is thinning and the walnut fore end has small crack in left rear, the


butt stock also has repairable 1 - 2" cracks near receiver, otherwise stocks and butt plate are in fine condition. Bore is excellent, action is tight, nice buck horn rear sight on 26" barrel. Overall this is a fine gun. Offered at $xxx.00. FFL SOLD
---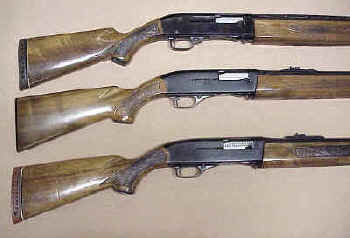 Winchester M1400 Semi-auto Shotguns
PC2006 ~ (Top) Ted Williams Model 300 by Sears Roebuck & Company, (Winchester 1400 Model) 12 gauge, Semi-auto Shotgun. A standard 2 3/4" chamber and 27" vent ribbed barrel mounted with variable choke are featured. Walnut stocks are fancy grained with pressed checkering and are in fine condition, a Ted Williams pad is on butt stock. Finish on receiver is fine but 6 holes


have been drilled for mounting a scope (screws intact). Some exterior barrel pitting is pictured but otherwise gun is in over-all fine condition. It is offered at $xxx.00 ... BUY NOW ... FFL required SOLD




HS1012 ~ (Middle) Model 1400 Winchester MK II Delux, semi- auto 12 ga. Shotgun. Has 24" slug hunter

barrel, (M140 Ranger) with adjustable rear sight and ramp front. The walnut stocks are excellent with Winchester plastic butt plate. Serial # N8202xx is on this excellent condition, near mint, slug gun. It has a 2 3/4" chamber and offered at $xxx.00 ... BUY NOW ... FFL is required. SOLD
HC2133 ~ (Bottom) Winchester Model 1400 MK II Slug Gun, 12 gauge semi-auto Shotgun. It has a 2 3/4" chamber, 22" slug barrel with adjustable rear sight and ramp front. The walnut stocks have standard pressed checkering and are in fine condition with a few minor scrapes and scratches a factory

Winchester butt pad is present. The barrel and receiver finish are excellent with but minor blemishes. This is a fine deer gun with serial # 4200xx. Over-all fine condition and offered at $xxx.00 ... BUY NOW ... FFL is required. SOLD
---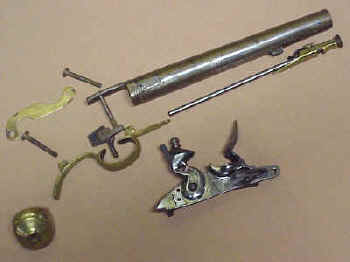 Tower Flintlock Pistol Kit
PC2020 ~ Tower flintlock pistol with 9" steel barrel with serial # 416, the only marking on barrel. All parts seem to be here but the stock, got a pen knife and wood block? The lock is marked Tower, with Crown over GR. All the parts are in fine condition but need a little cleaning, or not. This is a reproduction piece and offer it at $xxx.00 ... BUY NOW ... SOLD
---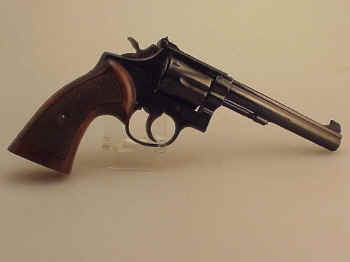 Smith & Wesson Model 14 Target .38 Special
HS-220x ... Smith & Wesson .38 Special caliber, Model 14 in high gloss blue finish with 6" barrel. This was made around 1957-58 with a pinned barrel, adjustable target sights and custom walnut target stocks. This early gun was to become the K-38 Special Masterpiece Target gun which was then discontinued in 1983. It is in like new condition with fine smooth double action and


excellent bore. I actually bought this from a little old lady who used to shoot with her husband back in the 1960's and was one of her guns. This well cared for revolver is now priced at $xxx.00. ... BUY NOW. SOLD
---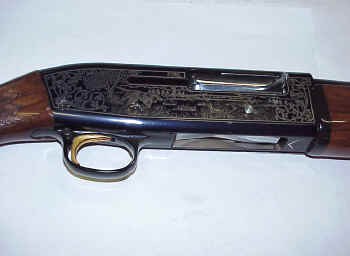 Ithaca SKB Model 900 Semi-Auto Shotgun
C00125... Ithaca-SKB Mod 900 deluxe, semi-auto shotgun, 20GA, 3" chamber, 24" buck bbl with rifle sights. Nice slug gun with deluxe wood, original rubber butt pad, gold trigger, etched gold receiver (photos make the etching look silver but it is definitely a full gold) and light weight, only 6 1/2 lbs. Early recoil operated



for minimum recoil, manufactured 1970-1972 only. Gun near new condition, probably unfired, as was told to me by original



owner, but no box, Serial # S83077xx, FFL is required. ...only $xxx.00. ... BUY NOW
I just got another Mod 900 20 gauge in that is in excellent condition. This one has a few stock scratches and handling marks in the high gloss finish but for a hunter it should be of no consequence, very minor. Also, this one does not have a pad but


rather an Ithaca plastic butt plate. There are "Buckhorn Sights" and this is a very light recoil gun. Nearly identical to the one above, except the price. We have this excellent one for $xxx.00 ... BUY NOW. SOLD
......... I also have a 12 gauge in very fine condition for $xxx.00. SOLD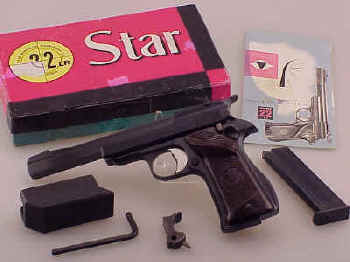 Star .22 Short Olympic Model Semi-auto pistol
C00129... Star Olympic Model, .22 short semi auto pistol. Dark blue finish with brown plastic Star grips, has 6" barrel and is in near mint condition. No slide stop for alloy slide, seems to be earlier production gun, circa 1950's. Comes with barrel weight & allen wrench, both seem to be unused, (needs final fitting). Also included is spare hammer and extra magazine & paper instruction brochure. Serial number 78707x stamped on bottom of grip with "Olimpic", also. Comes in original colorful box that does have some old scotch tape marks. Made in Eibar, Spain. This gun is priced at $xxx.00. FFL required. SOLD
---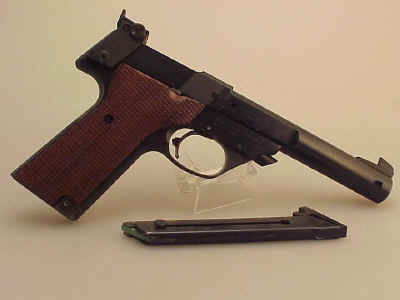 High - Standard .22 Supermatic Citation
HS222x... Hi - Standard M107 Military Supermatic Citation, semi auto pistol, .22 LR, has 6" bull barrel with screw holes. The serial number is 23116xx and is in near new perfect condition with single and proper magazine and walnut stocks. The balance and weight was designed to be like the Colt 1911 .45ACP for target shooters and was and still is, one of the most popular .22 caliber target pistols. This is from the 1960's era when fine



guns were still made as standard practice. We have this fine piece priced at $xxx.00. ... BUY NOW. SOLD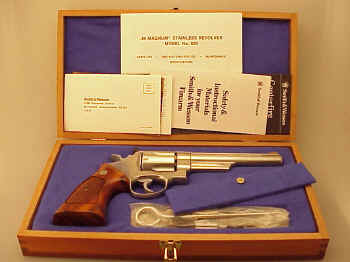 Smith and Wesson .44 Magnum Model 629
HS-2190 ... Smith & Wesson .44 Magnum caliber, Model 629 in stainless steel with 6" barrel in original walnut presentation case. Serial number N8979xx also has all of the original and unused paperwork and cleaning accessory packet. The gun looks in as new condition but has had 12 rounds through it according to prior owner. The S & W walnut checkered grips with logo inserts look as new. The gun also


features an adjustable rear sight with white outline, red ramp front sight also target trigger and hammer. We have this exceptional package priced at only $xxx.00. ... BUY NOW. SOLD
---
---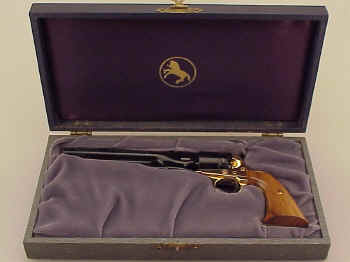 Colt 1860 Civil War Commemorative Pistol (Colt Page Link)
C00140... This set is a smaller version of a boxed 1860 Army Colt and was made in 1960 as the 100 Year Commemorative Model and is chambered in .22 short. It is a single shot pistol that does require barrel and cylinder disassembly to fire and reload. I don't believe it has been fired and it looks in as new condition. The box does have some traces of wear. We have this wonderful little gun priced at just $xxx.00. SOLD
---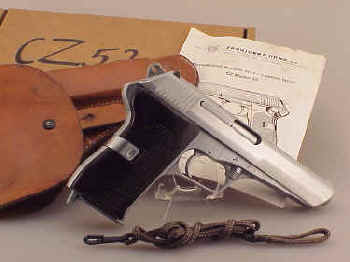 Czech CZ 52 Semi- Auto Pistol
C00143... This Czech CZ 52 Military semi-auto pistol has had professional quality refurbishing with a hard chrome finish and looks as new. The caliber is 7.62 x 25mm and comes with a lanyard, holster, paperwork and boxed. These were done about ten years ago by a private company in Massachusetts. The price is $xxx.00 ... BUY NOW ...
FFL is required. SOLD
---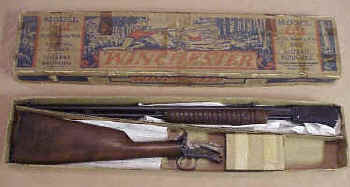 Winchester Model 62 Slide Action .22 Rifle
PC- 0620 ... Winchester M 62 .22 S/L/LR Caliber Slide Action Rifle in original box. This is the take-down boy's rifle so popular from the turn of the nineteenth century. It looks to be in 99% original condition and probably unfired. This is a tube- feed firearm with 23" barrel and bead front sight. The walnut stock and fore- arm are also close to new condition. Very slight wear to bluing on the sharp



edges, probably from box wear is all that keeps this from being in as new condition. It has an excellent composition butt plate and with serial #2030xx was made in 1947. The box is serial numbered to gun but has some old scotch tape still intact. We have this very fine gun priced at ... $xxxx.00 ... BUY NOW. SOLD
---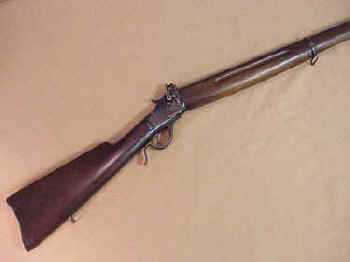 Winchester Model 1885 Winder .22 US Musket
PC- 0885 ... Winchester US marked Model 1885 Low Wall Winder Musket in .22 short caliber. Known as the thin side configuration it has the standard 28" barrel and is equipped with the proper Lyman peep receiver sight. It has an excellent bore and is in overall excellent or 95% condition. The sight has some


bluing loss. This was made circa 1914 and used both in training and rifle competition, serial number 101981. The US with Ordnance Bomb markings are on the rear tang of receiver. We have this fine military musket priced at $xxxx.00 ... BUY NOW.


SOLD
---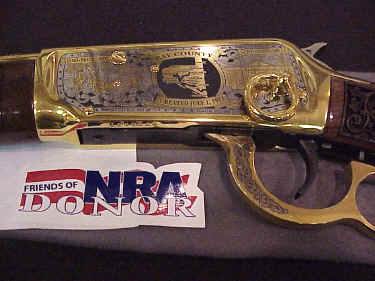 Winchester Model 1894 Special Proof Rifle in .45 Colt as Bay County Florida Commemorative finished in 24K Gold
We have been given the

opportunity to offer this very exquisite Winchester Lever Action Rifle to raffle for the NY Foothills

Friends of NRA for their benefit. Only 250 tickets will be printed and this is the very first opportunity to obtain one. The cost is $25.00 per ticket, limit of five per buyer at $100.00 Special for five. To cover my cost of mailing and transaction fees add $2.00 per ticket. Gun will be shipped to FFL Dealer with shipping and insurance cost borne by winner. Don't hesitate, buy one soon by calling us at 518-664-9743 during regular business hours, EST. The value was $3000.00 when produced as one of the last of the lever actions off the American Winchester line but now may well exceed $6000. in value. Be one of those lucky people to hold a ticket or two when the winner is drawn at our NEACA September 19, 20, 21, 2008 Saratoga Springs Arms Fair at the City Center.





This rifle is Model 94AE Winchester Saddle Ring Carbine, for angle eject, with 20" barrel in .45 Long Colt caliber. It was first contracted for by Investment Arms, Inc. and then secured by the NRA for special raffle purpose. There is fancy inlaid carving to to semi-fancy special walnut stocks and engraved scenes on receiver then plated with 24 Karat gold. It is a Trails End, Bay County Florida Commemorative. All proceeds go to the Foothills Friends of NRA Committee which benefit the shooting sports both locally and nationally through the National Rifle Association. For some slim possibility that not all tickets are sold by the drawing date of our show the drawing may be moved to a later date. SOLD
See Our Member Page for Dinner & Auction Details.
---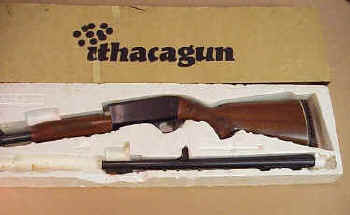 Ithaca Featherlight M37 Repeater Deerslayer
HS- 1605 ... Ithaca Model 37 Featherlight Deerslayer 12 gauge slide action shot gun in original box. This is one of those classic guns that stands the test of time. The 20" barrel has receiver sights with front red insert. A Supreme butt pad and deluxe pistol grip cap adorn the fine grained walnut stock. Both it and the matching ribbed fore- arm are in like new condition. The metal is also in like new condition and the gun looks unfired. These models have ambidextrous safety's and bottom ejection


which make it fit for both right and left handlers. With serial number 371- 883682 this will also take other factory standard barrels. The simplicity and functionality of this gun make it an all around favorite. Discontinued in 1987. New ones were being made as the 87 Model but they don't compare to the quality and function of these fine older collector guns. We have it priced at $xxx.00 ... BUY NOW. SOLD
---
For an appraisal of your particular firearm or other item go to our Request Info page.