This page will eventually redirect to Sold Items
Remaining items listed here are in groups of related categories
This is a page of some of the guns we have sold on the web. It is simply a record of some of the guns we have had and items that were in a given condition.
For Appraisal Information About Your Guns ~ See Appraisals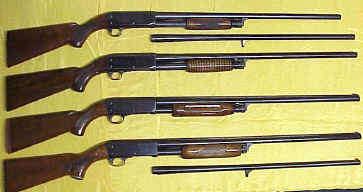 Ithaca Model 37 Slide Action Shot Guns

37 Slide-action (pump) shot gun, 16 gauge, plain 26" full choke barrel, 2 3/4" chamber with standard 14" length of pull. This is a very early gun and probably made in the 1930's with serial number 15401, which also matches barrel and inside butt stock. An early Featherlight with stocks of dark walnut done with hand checkering, pistol grip cap and


unmarked butt plate. The forearm is fully checkered in a variable diamond pattern and in excellent condition; the butt stock does have a few scratches in the varnish but no heavy digs or dings, in overall fine condition. The barrel and slide mechanism are excellent with 99% original blue. Unless these early guns were finished in a high polish blue as their original Remington Model 17

ancestors were, which I am not sure of, the receiver may have an old re-blue finish, about 95% remaining. Internal parts are excellent, some showing case colors, and the shell loading tube spring houses the early wood plug for migratory bird hunting. The plug still has wrapping with original paper instructions from Ithaca Company. This is a great hunter or very desirable early collector gun. Cathy and I purchased this from A. Acker estate, of whom was a very early and devoted member of NEACA. A super gun with a nice history but we just can't keep them all forever. We have this one priced at $xxx.00 ... BUY NOW. SOLD

Ithaca Barrel ... This is a 16 gauge, 2 3/4" chamber, 28" plain barrel with modified choke and small bead. This is from an old model Ithaca 37 with serial number 563260-2 in excellent condition. Please note that any Ithaca M37 below serial number 855,00 has to be refitted for any new or used replacement barrel. You don't just buy one and put it on! Ithaca Company used to do this work but no longer does, I don't know who does. All old model barrels also have serial numbers on them, this one is no exception. With that information given, we have this barrel priced at $xxx.00 ... BUY NOW. SOLD
HC2149 ... (Third) Ithaca Featherlight Model 37 Slide-action (pump) shot gun, 20 gauge, Simmons



vent ribbed 28" modified choke barrel, 2 3/4" chamber with standard 14" length of pull. With serial number 908873 this gun can readily accept new barrels. This features a semi-beavertail fore-end and Ithaca rubber recoil pad all in excellent condition with barrel and frame in like new condition.



Overall this an excellent light weight hunting gun or will enhance any Ithaca collection. Hard to find in this condition we have this gun priced at $xxx.00 ... BUY NOW. SOLD
HS1607 ... (Bottom) Ithaca Featherlight Model 37 Slide-action (pump) shot gun, 20 gauge, vent ribbed 28" modified choke barrel, 2 3/4" chamber with



standard 14 1/4" length of pull. With serial number 37-172xxxx this gun can readily accept new barrels. The as new condition wood has scroll checkering and all metal is like new condition, this is a fine looking and fast handling gun. The Ithaca butt plate



extends the LOP about 1/4". This extremely fine gun is priced at $xxx.00 ... BUY NOW. SOLD
---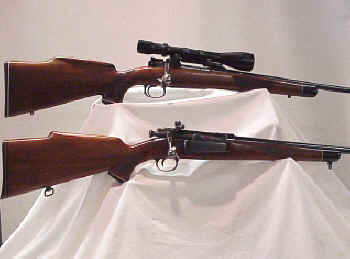 Mauser 98 Sporter and Krag Sporter, c1950
PC-1004 ... German Model 98 customized into a sporting rifle about 1950, caliber 8x57mm and has been stocked and blued. It has a 24" bbl. with check rest and hand checkering and is in excellent condition. A target trigger has been added as well as a fine Bausch & Lomb 2.5x to 8x variable Scope also with B&L mounts. The front sight has been removed from the ramp groove, probably when the scope was installed. This classic bolt action rifle has the famous action that most all other rifles have followed, even to this day, after over 100 years of production. Truly



in a class by themselves and this one is a prime example of a smiths work about fifty years ago. We have the whole unit priced at $xxx.00. ... BUY NOW. SOLD
PC-1005 ... Another classic gun and favorite action to sporterize is this Model 1898 US Springfield in .30-40 Krag caliber (.30 Government). The unique side loading magazine was a popular action for gunsmiths in the 1950's and many


of these fine guns found new homes with civilian hunters after use during the Spanish American War of 1898. This has been blued and stocked with fine American walnut with cheek piece and hand checkering. Period swivels and ebony fore end cap were routine at the time. The front sight is mounted in a ramp marked "REX." A Redfield receiver sight has been mounted in the rear. These actions are super smooth and the rifle

is in

excellent condition. We have this offered at $xxx.00. ... SOLD
---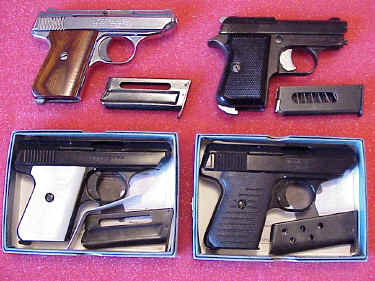 Grouping of Semi- Auto Pocket Pistols
HS0000 ~ (Top Left) ... Jennings J-22 semi-auto pocket pistol in .22LR caliber, Made in USA by Jennings Firearms Inc., Chino, CA with hard chrome finish and smooth walnut grips. This is one of the original models and actually has some internal quality parts, 2 1/2" barrel, serial #3161xx and has "CALWESCO" imprinted on back strap. Grips are excellent as is finish on gun but with some light holster wear on slide which could be polished out. Fine little pocket piece in good caliber. Our price is $xxx.00 ... BUY NOW. FFL required. SOLD
HS1913 ~ (Top Right) ... F.I.E. Corp. of Miami, Florida, Titan semi- auto pocket pistol in .25ACP caliber, 2 1/2" barrel with 7 round magazine. Has alloy frame with black finish, dark blue steel slide and barrel, black checked plastic grips exposed hammer and marked "Pat. Pen." on slide. Gun is in excellent condition with very minor holster wear to edge of frame. Serial #2420xx is compact and light weight, now discontinued. We have it priced at $xxx.00. .. BUY NOW ... FFL required. SOLD
HS1677 ~ (Bottom Left) Jennings J-22 semi-auto pocket pistol mfg. by Bryco Arms, Irvine, CA, Made in USA, in .22LR caliber. Gun is new in the box with ivory plastic grips, extra mag. and instruction sheet. Dark blue finish to steel frame, 2 1/2" barrel, serial #5284xx. No longer manufactured, our price is $xxx.00 ... BUY NOW ... FFL required. SOLD
HS1678 ~ (Bottom Right) Jennings J-25 semi-auto pocket pistol mfg. by Bryco Arms, Irvine, CA, Made in USA, in .25ACP caliber. Gun is new in the box with black plastic grips, extra magazine and instruction sheet. Dark blue finish to steel frame, 2 1/2" barrel, serial #2953xx. No longer manufactured, customer service is now in Costa Mesa, CA, 714-755-0182. Our price is $xxx.00 ... BUY NOW ... FFL required. SOLD
---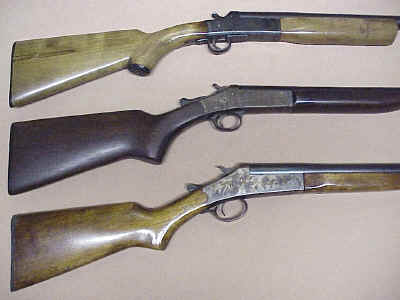 Single Barrel Top Break Shotguns
CL3003 ~ (Top) Boito 12 gauge FIE Import single shot shotgun top break activated by trigger guard release. Has 28" barrel, 2 3/4" chamber and modified choke, made in Brazil. Tight action, excellent bore, 99% finish with hardwood stock, some dings in wood. Over all in fine condition, serial # 4055xx. FFL Required or Dealer to Dealer Transfer. BUY NOW ... $xx.00 SOLD
HC2157 ~ (Middle) Older Harrington & Richardson Arms Company, Worcester, Mass., 16 gauge single shot, top break, by top lever. Topper M48, 30" barrel, 2 3/4" chamber, full choke with excellent bore. Has dark walnut stock in fine condition (one very fine crack near receiver should be of no consequence). Most case colors on receiver remain but dulling, 99% barrel blue with some old spotting. Very tight action and gun shows little use but evidently not properly cared for, serial # H117xx. FFL Required or Dealer to Dealer Transfer. $xxx.00. ... BUY NOW ... SOLD
HC2144 ~ (Bottom) Springfield, manufactured by Stevens Arms Co., Chicopee Falls, Mass., 12 gauge, single shot shotgun, top break by top lever. Has 28" forged steel barrel, 2 3/4" chamber with excellent bore and hardwood stock that has beginning of crack two-thirds from top, Fajen plastic butt plate added. Has 80% of bright color remaining on receiver and 99% hunter finish remaining on barrel, serial # 390xx. FFL Required or Dealer to Dealer Transfer. $xxx.00. ... BUY NOW ... SOLD
---
---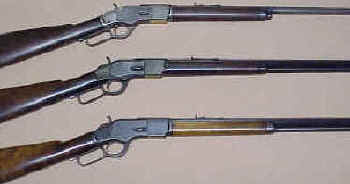 Winchester M 1873 Antique Rifles
Top to Bottom ... A Special Order half round, half oct. 24" barrel Winchester 1873 rifle with case colored frame in .44-40 caliber. There are some traces of color left, perhaps 15% but the gun has been overly cleaned and only about 50% blue remains on the barrel. The side plates have what looks like an old reblue but the reverse sides show full case coloring. The original buckhorn rifle sights are intact and a blade is on the front, action and bore are excellent. Another special


order feature is the button magazine. This rifle was made in 1882, serial # 102945A, and it is classed as a third model. The 1873 still remains the classic gun that won the west and a must have piece for a western room or a Winchester Collection. We have this Special Order one priced at $xxxx.00 ... BUY NOW. SOLD
Middle ... Winchester Model 1873, Third Model in .38-40 caliber with standard 24" barrel. This was manufactured in 1885, serial # 1816xxB and functions well and the bore is fine. About 95% of an old refinish remains on entire gun. The barrel logo is faint and there are some dings in the dark walnut


stocks. It is still a fine looking piece of our American heritage. It will make a great Cowboy Companion or look super on a wall display. We have this fine gun priced at $xxxx.00 .. BUY NOW. SOLD
Bottom ... Winchester Model 1873, Third Model in .44-40 caliber with special order 26" octagon barrel and semi-fancy wood. Nearly 100% remains of an old refinish to barrel, loading tube and frame. A fine barrel address remains as well as sharp edges. There is some visible pitting marks to be seen on


the frame but does not detract from the guns' overall appearance. The wood is fine with minor dings to old re-varnish. The bore is fine on serial #1866xxB. This was manufactured in 1885 and remains a classic Western rifle that was said to have "Won The West." Getting hard to find, this great collector or Cowboy gun is offered at $xxxx.00 SOLD
---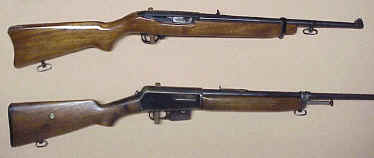 Ruger .44 Magnum & Winchester .351SLR
HS2007 ~ (Middle) Ruger .44 Magnum Carbine, 18" barrel semi- auto serial # 100-474xx. Gun is factory tapped for scope

and has

period sling swivels attached to excellent condition walnut stock. Gun is in 99% condition and is excellent shooter or collector, now discontinued. Now offered at $xxx.00. .. BUY NOW FFL SOLD
HC2156 ~ (Bottom) Winchester Self-loader, Model 1907 in .351 caliber, a semi- auto carbine. Serial # 279xx was manufactured in 1912 and is in fine condition except as noted below. Metal has about 80% blue remaining and right side of detachable magazine has some old pitting. The walnut hand guard has a long repaired crack in left side. The butt stock has repair to top and bottom where breaks have occurred, the butt plate also is damaged. With a butt stock repair




or replacement the gun would rate as excellent. Offered at $xxx.00. FFL SOLD
---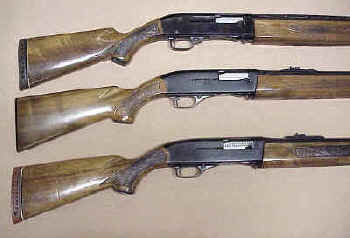 Winchester M1400 Semi-auto Shotguns
PC2006 ~ (Top) Ted Williams Model 300 by Sears Roebuck & Company, (Winchester 1400 Model) 12 gauge, Semi-auto Shotgun. A standard 2 3/4" chamber and 27" vent ribbed barrel mounted with variable choke are featured. Walnut stocks are fancy grained with pressed checkering and are in fine condition, a Ted Williams pad is on butt stock. Finish on receiver is fine but 6 holes


have been drilled for mounting a scope (screws intact). Some exterior barrel pitting is pictured but otherwise gun is in over-all fine condition. It is offered at $xxx.00 ... BUY NOW ... FFL required SOLD




HS1012 ~ (Middle) Model 1400 Winchester MK II Delux, semi- auto 12 ga. Shotgun. Has 24" slug hunter

barrel, (M140 Ranger) with adjustable rear sight and ramp front. The walnut stocks are excellent with Winchester plastic butt plate. Serial # N8202xx is on this excellent condition, near mint, slug gun. It has a 2 3/4" chamber and offered at $xxx.00 ... BUY NOW ... FFL is required. SOLD
HC2133 ~ (Bottom) Winchester Model 1400 MK II Slug Gun, 12 gauge semi-auto Shotgun. It has a 2 3/4" chamber, 22" slug barrel with adjustable rear sight and ramp front. The walnut stocks have standard pressed checkering and are in fine condition with a few minor scrapes and scratches a factory

Winchester butt pad is present. The barrel and receiver finish are excellent with but minor blemishes. This is a fine deer gun with serial # 4200xx. Over-all fine condition and offered at $xxx.00 ... BUY NOW ... FFL is required. SOLD
---