Start the Day off Right ... Stay Conservative and buy a gun ... while you still can ! Don't be surprised when the Dems try banning everything and taxing all else if ever given back the power .... you were warned once; second time around you must just be stupid! ... Was I right?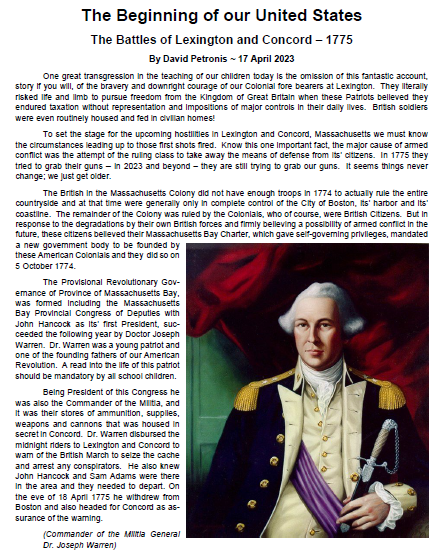 There's a computer world phenomenon known as blog. It started as a compilation of comments in no apparent order in what appears as continual words of wit or wisdom or wisecracks. My commentary and links may not quite be blog but close enough, so here goes. You can follow me on Twitter ... @DavidPetronis
Ever Have That Really Great Day Planned?
By David Petronis
Some days I don't even want to get out of bed but on this recent Friday morning I woke up and was just ready to go. My wife, Cathy has been looking at car web sites for a new minivan and I decided that today we were going to buy a new van. It simply felt like the right day to get it done!
We are in show business. No, not actors on a stage nor even movies, but we produce Gun Shows or Arms Fairs as we like to call them, and have had our share of TV notoriety over the years. The only reason I digress a bit about our business is that it seems that is all we get to do - do business.
So, no exception today, up early but a lot of questions to answer from phone messages, computer Emails plus advertising to check on - all just a routine day that eclipsed an early morning into almost noon; let's go get a car, we're wasting time!
Of course, just because I wake up and want to do something surely doesn't mean that I am going to have it go my way. After all, we were supposed to meet someone in Glens Falls to buy a collection and on the way also stop at a repair station in Saratoga and have our springs checked on our minivan. And, of course, take care of the rest of the routine that all small business owners must do daily. Working for yourself doesn't necessarily mean that you can do what you want to do, like "go fishing!" Forget about it!
A light breakfast, some coffee, some business, let's go; about noon-thirty we were out the door, then bank, post office, then head north from Stillwater. It was a beautiful sunny day, dry with a slight chill for this late May time period and the drive around Saratoga Lake was quite nice. We noticed the absolutely stunning homes that have been built where old camps used to be and commented to each other on how the area has changed so much since the 1980's when no one even wanted to buy a place on the lake. Today you could spend $100,000 or more just to tear down some old camp and build a dream house mansion. What a different world our kids will live in, certainly a more clean and beautiful one in this area.
We were at Matt's about 1:00 but all their bays were in use so our Chrysler Town and Country couldn't get the spring inspection we wanted. I didn't realize that every Tom, Dick and Harry auto repair couldn't do suspension work - or wanted to. Years ago we bought our "Old Bess" 16 foot box truck from Matt's Service Center to haul our tables to gun shows and have done business there for years, all pleasant I must add. Well, we told them we would be back in a half hour or so.
We still had plenty of time to make our 4 PM appointment up north so we continued up Route 9 to Nemer Chrysler Jeep Dodge Ram of Saratoga to see a vehicle or two. Cathy had downloaded a half-dozen offers from various dealers through Edmunds.com and she had already spoken to Lindsey at Nemer to look at a 2015 top of the line Chrysler in black, with all the whistles just like what we are driving now but in silver. Cathy likes blue.
We travel a lot to our various Gun Shows and I load up the car pretty good with iron in gun cases so we need comfort, performance and room. I found that the Chrysler Stow-n-Go feature with the heavy duty hauling package is an ideal vehicle for a Gun Show dealer. Automatic doors and tailgate make it easy to load and unload and the interior floor space can fit a 4' X 8' sheet of plywood flat and straight. With that amount of room we can distribute a heavy load evenly with a very comfortable and smooth drive.
Well, regardless, when I enter a car dealership I naturally have an attitude of me against all of them! With stern face and aggravated body language (glancing around like this was a den of vampires) some unfortunate lady asked if I needed help. I informed her I was looking for Lindsey, who she would go and find. After greeting Lindsey, who happened to be standing next to the sales manager, I said, "I'm here to buy a top of the line Chrysler and I want to dispense with all the crap and be on my way!" Manager Jamie said he would make sure we got what we wanted and we started looking at cars.
A young fellow was directed to bring up a 2015 Town and Country; Cathy nearly puked, $30,000 and tan? "What happened to the $40,000 black one with the works?" she asked. "That is what we came up to see!" Then Meghan took us out back to "the lot". There was her black car but with a $32,000 price tag.
We looked in and out, no trailer hitch, no power folding rear seat, no sun roof, no Michelins - no good, I thought! But I sat in the driver seat and played with the buttons while Cathy went looking for something else. I pushed the shift to reverse and the back-up camera screen showed me how much room I had to park this thing - so I did. Meanwhile, Cathy had Meghan pull out another Town and Country next to my black one. Hers was blue! Hers had a sun roof and Michelin tires and everything she wanted - including the $40,000 price tag - with 10 miles on the odometer, but it was a 2014! Cathy found her car. We took it for a quick drive to check for wind noise and ease of handling and it was fine, including the blind spot sensor feature in the mirrors.
Now to the haggle, I wanted $10,000 off - after all it was a year old and blue -- and without a trailer hitch. Well, with some negotiations of give and take, Cathy got her car. Literally - got her car that same day - within hours of when we came in we were driving her new car to our appointment in South Glens Falls on its first business trip!
With a phone call and return fax of our insurance certificate, and Nemer being set up to grant a temporary registration (permanent one comes in the mail), then they installed new license plates as we did still keep the old silver lady, they detailed the 2014, filled the tank with gas and then Cathy's checkbook made it all happen. I never knew one could buy a car and drive it off the lot the same day - what a new world I am discovering!
Buying at Nemer Motors was like visiting family you knew you didn't like but then discovering they were really nice relatives. We actually enjoyed buying a car at Nemer. And, of course, we talked about guns and our Saratoga Springs Arms Fair we have produced at the City Center for the past 32 years. I think I may try to get them to exhibit at our next event in August and show a vehicle to our gun folks.
Pretty good day so far. An hour late but we still made our appointment to buy a collection of Autumn Leaf china made by Hall Company and sold decades ago through the Jewel Tea traveling salesmen. We buy and sell more than collector and investment firearms, we also buy several patterns of Hall china. Our NEACA.com website shows pieces of Hall we offer for sale as one of the largest dealers of this pattern. And we also collect. Well, we came, we saw, we bought, we left - all without lunch and just a light breakfast; Cathy and I were famished and now it was nearly 7 PM.
We needed to stop again at Nemers to pick up our other Town and Country and we remembered passing the Wishing Well Restaurant so on our way back down Route 9 we stopped there for dinner. We entered through their bar, which was very nice, with a "horsey" flair because of the proximity of the Saratoga Race Track, a few miles down the road. We had never been to the Wishing Well before.
After greetings, our very pleasant hostess sat us at a table for four - what I like - with elbow room and comfortable chairs. Next to us was a gentleman who greeted me with, "I know you, Gun Shows!" Told you we were in show business - celebrities too! I thanked him and said, "I wish you had already ordered so I could see what is good on the menu." I usually look around in a restaurant to see what the folks have ordered and generally start a conversation with strangers. Hey, after all, it's a night out; might as well meet someone, you never know where a conversation may lead. Besides, we are friendly people, and evidently, celebrities!
Started off with my usual Jack Daniel's Manhattan, dirty rocks on the side, Cathy with a single malt Rob Roy. I was impressed when the hostess showed her an extensive Scotch list, Cathy settled for 12 year old Glenfiddich; never ruin the 18 year old with vermouth! Then some simply delectable New England lobster bisque with a touch of Sherry. A real close competition to my own but I am slightly biased! Being famished we also needed the Escargot, four in shells and 5 bathed in a very nice butter and garlic sauce, just enough to share as hors d'oeuvre. We both were also half sauced with one drink after not eating all day so we were definitely ready to order; Cathy picked the pair of 4 ounce filet mignons and I had a pair of Maryland crab cakes. Both came with green beans and potato croquet so we also shared each other's paired course.
You could not wish for a more melt in the mouth, tender steak and their perfect crab cake than we had at the Wishing Well. Their sign says fine dining and we certainly dined finely. The service was terrific and our excellent waitress, Kylee, was super. The atmosphere was of a fine dining experience among friends and we were well pleased, especially when Bob Lee, the proprietor stopped by and inquired of our meals and satisfaction, something which is rather rare in today's world.
We conversed about the food and our business, I told him that some of our Saratoga gun dealers raved about the food here and how they visit when they are in town at our Arms Fair, but that today was our first experience even though we have done business in Saratoga for years. With that Bob offered a courtesy drink which we declined so we ended our meal with great desserts on his bill; Crème Brulee for Cathy and a combination of two of my favorite snacks, an iron skillet baked, fresh chocolate chip cookie, topped with butter pecan ice cream.
What a great meal, then we talked guns - Bob had told me that he and his son were at our past March Saratoga Arms Fair and also had a half dozen long guns hanging over his back bar and asked if I would take a look and perhaps apprise him of any information, which I obligingly did. Turns out the bartender also lives in Mechanicville and used to work at the old Clover Leaf Tavern, only a few blocks north from our Hudson River Trading Company shop on North Main Street.
A fine meal, seemingly small world, great people we've met, some business mixed with pleasure, new acquisitions to our collection, talk of my favorite subject - guns, a terrific new blue Chrysler and full tummies; we could not have planned such a really great day.
David Petronis
131 Hudson Avenue
Mechanicville, NY 12118
518-664-7610
News About New York Gun Show Loophole...


Link to CBS 6 Albany TV Spot

See response to Attorney General Press Release .... All Below...



I DID Support my guy MITT ! ?? NOBAMA ! Where were you??


WRGB Channel 6 News Video Dave on panel of

Town Hall Meeting Guns In America




"As democracy is perfected, the office of President represents, more and more closely, the inner soul of the people. On some great and glorious day the plain folks of the land will reach their heart's desire at last and the White House will be occupied by a downright moron."
--- H.L. Mencken, The Baltimore Evening Sun, July 26, 1920 ~ He was right!

Make SURE you read below the line!

Me at my home office computer, blogging & grogging.

Ou r New Blog Page is starting ...

NEACA.net

OK, the libs finally got to me...

I am all in favor of gun control like this; Gun Control My Way!

---

Unfortunately we had to cancel this one because the facility is being renovated ... but, stayed tuned!

Next NEACA Gun Show is in Watertown, NY at the Watertown Municipal Arena off Coffeen St on July 26 and 27....


... This new show has a 250 table capacity and we are inviting all military personnel in uniform and with a current military ID to come to our show FREE! There are 15,000 US troops stationed a few miles north at Fort Drum ... don't all come at once BOYS!! You dealers should be there to meet and greet the troops and give them some good buys. See our Gun Show Page for more details.




---

SAUGERTIES GUN SHOW REPORT

June 17, 2014 ~ Dave Petronis

After threats of protest, a Friday thunderstorm of drenching rain followed by extreme humidity and deep pools of rain water our Saturday morning crowd at the Saugerties Ice Arena Arms Fair was only a trickle. I thought we were in for another slow show continuing the trend of bad weather during the week with gorgeous weekend sun that was keeping our crowds doing outdoor activities.

But the trickle became a steady flow and we ended up with a decent public attendance. I sold two military WW II rifles within the first hour and continued on with buying and selling until about noon when the traffic became light again. The beautiful spring weather won out and with lots of things going on, the public stayed outside in the sun instead of coming inside to buy our guns.

Reports from other gun shows confirmed that the light public attendance was spread completely throughout the circuit and that trend seems to have begun in mid April. Naturally, some dealers had excellent shows, some just good, while others did poorly; the nature of the beast even though gun and ammo sales are still hot. Supply of what attendees want, however, is still tight, or even non existent while prices are high.

Regardless of rosy economic forecasts by this current and morally corrupt administration in Washington, there is not a lot of disposable cash in the hands of middle class Americans but there is plenty of doom and gloom to go around. The weekend news of Bagdad potentially falling to radical hoards of Muslims resembling the scourge of Genghis Khan spurred on talk of wasted American lives and incompetence in the White House. It also spurred the renewed urgency of buying a gun and some ammo.

The Hunter Mountain Country Fest also brought some celebrity singers to our NEACA Arms Fair in Saugerties; Travis Tritt and Brad Paisley were said to be seen Saturday at our show but not by me! I must have been busy doing business and was quite disappointed considering I had a cased Travis Tritt Commemorative Single Action Army revolver among my display; I wonder if he saw it? Also, one dealer reported speaking with Willie Nelson and his Manager! Then on Sunday we had Hank Williams Jr. stop by; I did manage to talk about some antique Smith and Wesson Schofield revolvers with him and converse about an old friend of mutual acquaintance. A few of the exhibitors had photos snapped with Hank and one even managed to get three front row seats for Sunday night's concert and even a back stage invite! Way to go Hank! Still wish you bought that Schofield, call me!

All in all, the Saugerties Arms Fair was an overall nice event, no protests, and as usual no problems; the concession stand and arena personnel were terrific and the show was another NEACA success. Some of our New Eastcoast Arms Collectors Associates had a great show while others didn't quite manage a good profit but we all had fun and an opportunity to meet new people and some celebrities to boot.

If all goes well in our future, we will return next year amid lots of offers of help in getting the word out to the surrounding gun clubs and gun enthusiasts so our exhibitors can afford their own return to a great little village and our second Saugerties Arms Fair. Thank you to all who contribute support of NEACA and your Second Amendment right to keep and bear arms.

NEACA, Inc.




---

June 6, 2014 ~ Press Release for

:

NEACA Arms Fair and Sportsmen's Expo at the Kiwanis Ice Arena in Saugerties, NY

June (13*) 14, 15, 2014

See the local news poll at :

http://www.saugertiesx.com/2014/05/21/poll-gun-show-kiwanis-ice-arena/

Amid the controversy of our NEACA Arms Fair I present the following;

Let Dad do what he really wants to this Father's Day Weekend … let him go to the "Gun Show"! That's right girls and boys, mom's and wives … daddy wants to peruse the exhibitor tables at this weekend event being held at the Kiwanis Ice Arena in Saugerties, NY. And go along with him because not only are there guns but rather there's something for everyone.

But, there certainly will be investment and collectable firearms like Colts and Winchesters and modern rifles from Remington, Savage and Mossberg plus new and used pistols and revolvers by makers like Smith & Wesson, Beretta, Glock, Ruger and many more. Hundreds of guns will be on display to peruse, purchase and parlay the price with a trade or on a special gun show sale. Of course all laws are adhered to and all modern firearms purchasers must go thru the National Instant Criminal Systems (NICS) background check.

Also, you may want to bring something in to sell to our collectors and dealers who are always interested in buying vintage firearms, collectable knives or vintage sporting items and war militaria. Viewing our tables is like a walk thru history or a museum where you can also buy what you see and like. Knives and swords will be there plus a very fine fellow who can sharpen that dull kitchen knife on the spot. Want a Damascus blade folding knife? You can find one at our show.

Americana, vintage sporting collectables, Adirondack lore and even a world renowned nature photographer, none other than Dennis Donahue, can be found at our weekend event. As we say, we are so much more than just guns! But remember, our country was founded, explored and secured because of our ability to have, hold and keep our firearms; it is the American Heritage, our historic way of life, that so many individuals outside our beloved United States can only wish to one day attain. So, we still call our show what it really is, a gun show or an Arms Fair that celebrates our American tradition and our Second Amendment right of gun ownership. We wish all of today's fathers the ability to come and celebrate our fore-fathers gift to our nation and our spirit; come to our, no your, gun show this weekend at the Kiwanis Ice Arena in Saugerties.

Search the attic for that old military uniform or World War memorabilia, dig out that unused smoke-pole antique rifle or rummage the cellar for those old traps, duck decoys or sporting art no longer of your use and bring it along to sell or trade with our collectors. And, if you are ready to trade that old handgun for something new, or just want a new trap gun or closet shotgun stop by our show this Saturday from 9 AM to 5 PM or even Sunday from 9 to 3 and talk to our dealers about your needs. Need ammo? Our dealers have plenty of that ridiculously scarce twenty-two ammunition, lots of shot shells and even hard to find or obsolete ammo at the show.

Our local and State representatives who selflessly serve our great country are always invited to our NEACA events and many prominent politicians have stopped by our shows. For this weekend event Congressman Chris Gibson noted that he would like to be here in Saugerties for our Gun Show and we expect that he will be attending on Saturday.

From hunting accessories, scopes and sights, gun racks and gun signs, targets or reloading supplies to wartime Lugers and Nazi dress daggers … there is something for everyone at our NEACA Arms Fairs. Come and see for yourself this weekend.

Did I mention the local entrepreneur with fancy pickles and olives or the one with HD-DVR dash cams? Wow, pickles to pickelhaubes, all at our Arms Fair! Why would anyone want to protest?

*Friday is for Dealer set-up and NEACA early viewing. Press is also invited Friday after 4 PM to 7 PM or Saturday AM

David Petronis, President

NEACA, Inc.

---

Military & Veterans Want Obama Out!....

... reported 27 March 2014

Please read ... and forward this to all your e-mail buddies. It needs to go viral. If you are not a veteran send this to those that you know who are, or to those who may know veterans.

The 2014 United States elections will be held on Tuesday, November 4, 2014. During this midterm election year, all 435 seats in the United States House of Representatives and 33 of the 100 seats in the United States Senate will be contested in this election. Make sure everyone you know is REGISTERED TO VOTE AND GET OUT and VOTE!!!

A movement has been started by our armed forces to get out the vote in 2014.. They are organizing themselves, but this can be done by all of us. The President, the Commander in Chief, has made the Rules of Engagement (ROE) so difficult, that our troops are often killed before they can even get permission to fight. Nothing has been done to stop our troops from being murdered by the Afghanis they are training, either. Now, the President wants the US to sign on to the UNs International Criminal Court (ICC), which would allow the UN's ICC to arrest and try US troops for War Crimes, without the legal protections guaranteed under US Law, and from which there is no appeal. The President, with his Democratic control of the Senate, has nearly all the power. If the Non-Establishment Republicans, and Conservatives, can take back the Senate in 2014 , our troops can once again be protected from unnecessary danger. Please consider this, and send it on to your mailing lists. Thank You.

Interestingly enough, when GWB was president you heard about the military deaths in Iraq and Afghanistan almost daily. With Obama in the White House, the mainstream media has been strangely quiet. ---

More than 1,000 American soldiers have lost their lives in Afghanistan in the last 27 months. This is more than the combined total of the nine years before. Thirty have died in August. During the last month, over 50 additional NATO and US servicemen have been murdered, inside jobs by those who are hired to be a force for good in Afghanistan.

The commander in chief is AWOL. Not a peep, although he ordered the White House flag flown at half-staff for the Sikhs that were killed. There is a deep disgust, a fury, growing in the ranks of the military against the indifferent incompetence of this president.

It has taken on a dangerous tone. No one knows what to do about him, but the anger runs deep as the deaths continue with no strategic end in sight to the idiocy of this war. Obama has had 4 years to end this futile insanity, during which time he has vacationed, golfed, campaigned, and generally ignored the plight of our men and women in uniform. But, there is now a movement afoot in the armed services to launch a massive get out the vote drive against this president.

Not just current active duty types, but the National Guard, Reserves, the retired, and all other prior service members. This is no small special interest group, but many millions of veterans who can have an enormous impact on the outcome of the November election if they all respond.

The one million military retirees in Florida alone could mean an overwhelming victory in that state if they all show up at the polls. It might not keep another one hundred U.S. troops from dying between now and November, but a turn out to vote by the military against this heart breaking lack of leadership can make a powerful statement that hastens a change to the indifference of this shallow little man who just lets our soldiers die.

When is the US Congress going to Impeach this failure?

---

No More Tickling of the Ivories

Commentary by David Petronis .... 17 March 2014

It will soon be illegal to "Tickle the Ivories" in your favorite karaoke bar or by a master pianist in Carnegie Hall if the US Fish and Wildlife Service and Mr. Obama have their way. That's correct, no more tunes to sing to from the bar piano or the fabulous grand pianos which set the stage for world endeared pianists; at least no more sounds from those with ivory keys. Those pianos will soon be illegal to use and quite possibly your favorite artist performing on one could end up in jail! Hail the regulators and do-gooders everywhere!

Today, the 17th of March, 2014, is the final day for written comments to be sent and registered to the Presidential Task Force's Advisory Council on Wildlife Trafficking so that these comments may be heard concerning their proposed ban on elephant ivory. The USFWS will be holding their hearing about this very important subject on March 20, 2014. Any e-mails can still be sent to cade_london@fws.gov .

Like all governmental agencies in this current administration a plan to ban all elephant ivory in the United States is being concocted by the USFWS under the National Strategy for Combating Wildlife Trafficking & Commercial Ban on Trade in Elephant Ivory. This ban that will go into effect was put in place on February 11, 2014 by the United States Executive Branch of Government, OBAMA, without any consultation with the Legislative Branch, Congress; you know, the ones you elected to make the laws. That little sidestep about not really having the authority to enact new laws hasn't thwarted the Obama administration so far, so why worry now? Any good liberal democrat knows that the end always justifies the means. Watch out knee, here comes another jerk!

Now we all want to save the darling endangered elephant, even though they kill and injure hundreds of people per year and destroy hundreds of thousands of dollars worth of homes, property and crops, all that should be overlooked because man, Africans, Indians and Asians, are infringing on their territory. I agree, save the elephant from ivory poachers. The way to do it is not by destroying the ivory trade in the United States, which is not that significant with current ivory supplies, but by destroying the poachers themselves and guarding our borders from traffickers in illegal ivory. "Hang 'em from the highest tree" used to be the way to set them poachers free! Am I being too harsh, again? I don't think so! This ban will only increase the price poachers will get in the future.

When I said "all ivory" would be banned, let me clarify that I was only referring to … like everything! Not only piano keys, but also most vintage and current instruments, ivory beads on vintage shotguns, those ivory pistol grips on General Patton's famous Colts and all of the other ivory grips and stocks that have adorned antique firearms for centuries and are still used by artisans worldwide. Don't forget pool cues, jewelry, religious objects and carved art; or your chess set, tool and knife handles, or that antique family artifact or heirloom; all will be illegal to own, sell, gift or display. All will become worthless and the artists who still create these things will themselves become extinct. Millions of dollars of art, instruments, tools and cherished heritage will become worthless overnight. And do these regulators actually believe by causing this to occur that they will stop one elephant to be poached? They probably do. That is because, this is how I believe; a liberals' mind has a disease known as, "I know best!"

My solution to the illegal ivory trade, along with hanging poachers in conjunction with an open season on them, is to "give" all the currently live and endangered elephants to the people who need to live with them; again, the African, Indian or Asian villagers. If they own them, and raise, care and harvest them, they will have a stake in the elephants future well being and can eventually make an income from their crop, or herd. When one dies or needs to be "harvested" as a rogue or otherwise, the local villagers will be rewarded with an income of a considerable amount. One large old elephant could have a pair of tusks weigh in at 500 pounds or more. With the illegal trade selling in Asia at $1500.00 a pound that could mean an income of over $750,000. That could be a pretty good incentive for those villagers to protect their investments. Poachers would be shot on sight. But, no, that would be too easy a solution … and we probably wouldn't need any more liberals to think up ways to irritate the rest of the population they believe they need to protect from ourselves.

If you have your own ideas on how to protect African elephants and their ivory or to comment on why the US Fish & Wildlife Service should not be doing what they plan to do, contact your rightfully elected Congressman or woman or US Senator and tell them to take back the job you elected them to do, make laws. Not to sit by and watch some beaurocratic Agency make them for the Congress! You have only several more days to do so.

For myself, I have a vested interest in stopping this ridiculous process because of the firearms and antiquities I deal with as a licensed dealer; my ivory stocked guns plus those classic double barreled shotguns with little beads of ivory for a front sight and my ivory embellished guitars, other instruments, tools, knives and even my piano will soon become illegal to own or sell. As usual, as a conservative and conservationist, with us, it's all about the money and our own greed. How is it about your cause?

Also see:

http://www.bucksbusinesslaw.com/domestic-ivory-ban-crushes-small-businesses/

---

I also Have a Dream!

Commentary by David Petronis

~

January 1, 2014

I recall an inspirational speech given many years ago in which just a few short words have always resonated in my mind. The speaker's words were directed then toward freedoms of choice and empowerment but still today I find power and satisfaction in their simplicity and encouragement. "I have a dream," bellowed Dr, King; and today I am going to tell you that for quite some time, I too have had a dream.

Martin Luther King, Jr. was in the forefront of a cause devoted to freedom so every person could pursue the American dream but also of equality for all. Certainly, my cause may not be as grandiose as his or others like him, but there is at least a similarity. Dr. King spoke of equality; my dream is for the same. He sought equality for mankind. I want an equal playing field in the business community and a halt to the practice of being treated as, at best, a second class citizen or at worse, a pariah or blight on the liberal community.

Yes, I am a gun owner; a person among many who feels like a target of persecution. Along with others, I have passed a Federal Bureau of Investigation Instant Background check in order to buy and posses a long gun. I am one of millions who has passed rigorous background surveillance simply to be able to handle a hand gun within New York State. Citizens who have demonstrated their mental stability, community worthiness, legal right and simply by being a good and honest person should not be looked at, as a threat, but as an ally.

I go a step beyond in just gun ownership and being a Second Amendment supporter because I am also a Federal Firearms Licensed Dealer and NYS Firearms Licensed Dealer in hand guns. I have been an FFL Dealer for nearly forty years regulated by the erratic laws in New York State, ones that govern sales, possession, use, registration, carrying and other restrictions, but are not simply created and voted on by our Legislature, but are entwined among a myriad of agencies, judges and burocrats to do with as they will. And believe me, if you could discover all which pertain to gun regulations they would fill a book. Do we seriously need them with all their complications? I would say, probably not.

An individual gun owner who may also have a carry permit for a handgun without any artificial restrictions placed upon it, may have a jolt of a "second class feeling" when he sees a sign stating, "No Guns Allowed." Or perhaps a family's eight year old daughter who mimics shooting an arrow from an imaginary long bow is scolded and expelled from school. Or a seven year old boy who bites a cracker into the presumed shape of a handgun is also expelled under the Federal "No Tolerance Law" so the school won't lose those all important funding dollars. These are ridiculous circumstances but which have occurred and will continue to occur and ruin a child's creative and active upbringing. The school law needs to go. We need to bring our children up with a sense of history and the American perspective.

But my dream centers on my other gun related business. Along with my wife and partner, we created, built and run New Eastcoast Arms Collectors Associates, NEACA, Inc., which promotes Gun Shows. Similar to that individual who is stopped in his tracks with "No Guns Allowed" signs, we too are looked upon as a second class business when it comes to being able to rent a location for our Gun Shows. This hasn't always been the case, however. In the nearly thirty-five years that we have promoted shows throughout the Northeast, in New Hampshire, Vermont, Massachusetts, Rhode Island, New York, and including Long Island, we had very little difficulties with show venues.

We rented Armories in New York State and others quite extensively, we ran shows in schools along with other promoters who did the same. All things changed with Columbine and the crazed kids who lived out their video fantasies. And several other similar events perpetrated by similar unstable young people have occurred since. This breakdown of a social issue should be used as a lesson in how to reach and treat people with problems before they engage in carnage but should not be used in a way to discriminate against a legal and legitimate business like ours. Schools and Colleges need money and renting their common ground facilities like field houses and gymnasiums should not only be for craft fairs and flower shows; they should go back to treating us gun show promoters with equality. Or, so as to not discriminate against us, rent to no one at all.

My dream of equality is to recognize that these great United States were only able to be formed, established and grown through the use of firearms. History may be unsettling to some but both a Pilgrim and a settler needed a gun as much or perhaps even more than a hammer and a saw. But know this, all those tools were essential then and still are today. Protecting life and property in our Twenty-first Century may outweigh the primitive need for deer hide clothing and venison steaks, however, the realm of the hunting gun will never be lost.

It is said that there are probably 300 million firearms in the hands of US citizens. That is enough to arm the whole populace. That is enough to wage war on invaders or on an oppressive government, as the Founders of our Constitution envisioned. It is certainly enough to fuel our Gun Show community through most of our lifetimes. Guns are never going away. They will be improved in the eye of the new purchaser or collected in the beholding eye of the historian but never will they disappear. For them to do so would be the need to make the American spirit disappear; to make the American dream of life, liberty and pursuit of happiness disappear.

My dream is to pursue my desire to run Gun Shows and of my company's expansion, or I should say "revival", of the ways things were when we were not second rate citizens and still may be able to survive in this land of the free. I want to be "un-oppressed" by unelected burocrats and "knee-jerk" legislation. I want equality in our laws for gun related businesses and equality for gun owners. I can live with "sensible" regulations designed to keep felons and misfits from legally obtaining firearms. But when these same individuals resort to theft and coercion I want to be free from prosecutors who would rather defend the perpetrator rather than the victim or homeowner who defends his person or property.

We gun owners have passed both the test of time and tests of community, it is time we regained our first class freedom and Second Amendment rights. It is time schools taught right, wrong and individuality again instead of "kid's rights," the wrong history and "I deserve to win too" mentality! The world is a cruel place and always will be and survival of the fittest will always be the norm for most people. It is time again to teach children to be fit and how to survive. My dream teaches firearm safety back in schools and shooting classes instead of individual expulsion for a gun impression and ill-perceived safety of the huddling masses.

We must still endure "Obamacare" until it collapses on itself; we must live with the NY Safe-Act for the time being and we need to grit our teeth when hearing of yet another ridiculous school expulsion for a while longer, but the time will come when we will take back our Country from this "nanny state" the liberals and progressives have reshaped us into. Start with asking questions of your upcoming school board members vying for election. Remember which Legislator turned their back on you and created a terrible law with the Safe-Act. Reward your pro-gun State and Federal official with funding and your vote and turn-out the turn-coat among us. I want to see our beloved America back in the reins of the God-Fearing and free people whose forefathers created and died for is my dream. I hope my dream resonates as yours. Register, vote, pray and be free.

---

NEACA Saratoga Arms Fair prior to new Safe-Act Law

governing ammunition Sales

Commentary by David Petronis ~ January 1, 2014

Our next NEACA Saratoga Springs Arms Fair is just around the corner, specifically January 11 and 12, 2014. Our advertising has begun with a direct mailing of over 6000 post cards offering an admission discount to prior attendees. Last years' show saw a record crowd come to support our Arms Fair and every citizen's right to own a gun. Most of our core NEACA exhibitors, plus new ones, will be back for this terrific gun show and militaria exposition. Again, we will present to the public and our NEACA Members a walk thru history while they peruse our 200 tables of exhibits.

Our last January Saratoga Springs Arms Fair at the City Center drew in over 7000 attendees of public, dealers, and NEACA Members who showed their support for our show. The Saratoga Show was one of the first events, and one which we did not cancel as other promoters did, after the tragic shooting in Newtown, CT. and just before our own New York State Safe-Act was rushed thru banning most "assault style" weapons and hi-capacity magazines. All of the foregoing happening while the City Council of Saratoga Springs debated our shows existence and new city regulations about guns. It was a trying time for my wife, Cathy, and I as well as all of the Second Amendment supporters in the Country. Add to the debate the anti-gun protestors and petitions to ban our show at the City Center and the scenario became downright vicious in actions and in commentary. What transpired is world-wide attention to our plight to run a gun show as we had done for over 30 years amid the calls for shutting it down for last January and banning it altogether in the future.

However, the pro-petitions and pro-gun stance by a vast majority of the Saratoga Springs and surrounding area populace came to our support of the Arms Fair and with the overwhelming support of the businesses and people who showed up at the doors of the City Center at 9AM it was simply stunning. Local news generated Regional news which brought in National and International news reporters and agencies; Cathy and I were inundated with interview requests. To this day we still get calls from some of these same outlets to express our opinion on gun matters. Folks still come up to me to shake my hand for just doing what my job is to do; run a good clean gun show. Our New York State Attorney General, Eric Schneiderman, has critiqued our Saratoga Springs Arms Fair "as the safest place to buy a gun". Thank you, Eric!

Last year at this time the hype was mostly about banning "assault guns", gun shows in general and hi-cap magazines. The anti-gunners are still out there eager to finish their agenda of gun confiscation and ammunition purchasing. They say all they want are "reasonable" gun laws, I don't think that is the case. This January 15, another section of the NYS Safe-Act goes into effect; the licensing of all ammunition sellers. To consider this law in a more onerous way it means it is now illegal for any individual to sell, give or transfer any amount, style, type or caliber of ammunition to another individual unless you have this NYS license. So, don't give that half-box of shot shells you find in the cellar to your hunting neighbor across the street – you may be ignorant of the law but still a criminal. I do hope you will all feel safer after January 15.

Luckily, our Arms Fair comes again to the city of Saratoga Springs, just before this ridiculous law takes effect. You can still bring any of that hazardous and deadly material (old or new ammunition) to the show for our exhibitors, dealers and personal collectors to trade or purchase. With this law any Federal Firearms Licensed dealer will be automatically registered as a NYS ammunition seller by the New York State Police. As soon as the NYS Police get their new and expensive computerized data base up and running any NYS resident who wishes to purchase any amount of ammunition, such as a common, 50 round box of .22 caliber target ammo, must go through a NYS Police background check and do so through a registered ammunition seller or FFL holder.

Folks, we need you again at our Saratoga Springs Arms Fair to show your continued support for our Gun Show and to demonstrate your anti-Safe-Act stance upon the Legislators in Albany who passed this costly and meaningless law last January. Remember them in November 2014 and work for their ouster, not the continuation of Albany politics as usual. Perhaps you should join a Tea Party near you and promote a candidate who will work for you. We hope to see your continued support at the City Center in Saratoga Springs, this January 11 & 12. Please, also consider joining our New Eastcoast Arms Collectors Associates, NEACA, Inc. as a new member for $50 annual dues and get into all our shows free, early and without waiting in line. You can visit us for more information at NEACA.com. We need to save our Second Amendment.

---

March, 24, 2013 ... I am posting my thoughts on guns to the Times Union Blog on Guns. If you would care to indulge yourself in commentary from both sides of the issue, stop by and take a look. Click on Times Union Gun Blog . This is my current post ...

Do You Feel Safer With the Safe-Act?

Commentary by David Petronis ~ March 24, 2013

As of March 15th, private sales of firearms between friends, neighbors or co-workers are a practice of the past, courtesy of our NY State's new Safe-Act. No longer can you give grandpa's old Winchester to your second cousin who always admired it or sell that single shot break-open shotgun to your neighbor at the garage sale.

However, if you bring the gun and prospective buyer to a Federal Firearms Licensed Dealer, then you can complete the transaction if the FFL holder decides to do a background check on your buyer. More than likely, he or she won't. Why? Because the same Safe-Act mandates what fee can be charged by the FFL holder, a ten dollar bill. It is simply not worth the time, effort and paperwork for the FFL dealer to do so.

Even more insidious is the simple mandate of setting the fee; FFL dealers are not pawns of Governor Cuomo's desires. And, as independent business people, licensed dealers aren't going to be told what to charge for their services. Personally, I think all Lawyers should only be able to charge $10.00 for a simple service like (adjusting) my speeding ticket. It ain't going to happen if the Governor mandated that scenario and I see no reason why he should be able to control what any individual can charge for their time.

Also, just like most of his gun grabbing Safe-Act, there are completely contradictory statements in the process as outlined. I am an FFL dealer in Mechanicville and very critical of the Safe-Act and it's midnight madness passage back in January and then signed into law immediately the next day. Not a way to run a government in my opinion and there are lawsuits being advanced to curtail the whole law or at least certain portions of it.

To complicate matters, the State never sent dealers any information or notification about the new Safe-Act, so we had no actual written rules to follow, only by reading the published law on the web could a dealer try to make some sense out of the whole misguided approach to end gun violence. A few days ago we finally received a letter from the Governor's new army, the State Police, on how we can file on line to be kept up to date on procedures. What if a dealer doesn't have a computer?

So, Joe wants to buy this great little .22 caliber rifle from Harry, who just won the chicken shoot at the local gun club, and Joe offers Harry 200 bucks! Harry says, "Sure, I'll sell it", but cute little Shirley hears the sale and offers Harry 300 bucks and he says, "Sure, I'll sell it to you Shirley". Now ol' Joe gets pissed and calls the Department of Criminal Justice Service Hotline to report an illegal gun sale and asks for his $500 reward. Is Shirley going to get a visit from the State Police while Joe gets arrested for making an illegal transaction? That is how the law under the New York State Safe Act now works.

This entire above scenario because, "No one needs twenty rounds to kill a deer, Cuomo" needed to do "something" to pass more restrictive gun laws. See how banning "assault rifles" trickles down to the gun club lowly .22 rifle. Neighbor against neighbor are now going to be pitted against each other just like the Gestapo tactics in Nazi Germany or by the KGB in the Soviet era. Do you feel safer? The DCJS hotline is 1-855-486-7697 to do your duty!

---

March 8, 2013

~ Looks Like Rand Paul Saved Our Constitution!

While establishment Republicans called him names. Very SAD!

---

OBAMA DRONES CAN KILL IN AMERICA

Without Warrant President Can Kill "Extremists"

Gun Craze Commentary by David Petronis ~ March 6, 2013

Eric Holder says it is "not their choice" but if warranted and if it is the only option, the President can kill a patriot extremist on American soil. Folks, let me clue you in on one fact, that was never policy in America. At least not before our US Attorney General answered "Yes" to the above new rule. Holder responded in a letter to US Senator Rand Paul, "It is possible …. for the President of the United States to authorize the military to use lethal force within the territory of the United States." This on March 4th, 2013. Rand Paul is responding with a rare and real Senate filibuster.

Our, rather your, constitutional privileges, which used to be guaranteed for over 200 years, are steadily slipping away. When a new deal by the Justice Department to purchase 2600, mine absorbing combat vehicles, i.e. small tanks, for use here on American soil, is coupled with Drone attack policy, is it any wonder civilian gun sales are through the roof? I think firearms and ammunition sales will rise even further; it seems everyone, now wants a gun!

I see doctors, nurses, lawyers, judges, business people, laymen, teachers, laborers, and even soccer moms, coming into my Mechanicville gun shop seeking firearms for self protection. From whom, I sometimes ask; the answer, "Anyone and everyone!" And, "the government", also ranks high in answers. Wow, folks in general are afraid to be without guns for protection! Then of course, we all need ammunition. Did you realize there is a very limited supply in shops, marts, malls, or at gun shows? And prices have increased dramatically with the loss of supply. One major cause of the ammo shortage is government purchases. First, is for the military. Second in line is the Justice Department, including Home Land Security. A staggering 1.6 billion rounds have been ordered; enough to sustain an Iraqi War for over 20 years of combat. What is your government getting ready for? Internal strife could be an answer.

Not only sales of guns and ammunition are at an all time high but folks are also stock piling food and essential supplies needed in a disaster. What disaster do Americans think may be coming? Dooms Day, perhaps! I see nothing wrong with being prepared to be able to survive the next tornado, earth quake or major hurricane. I and my family have dealt with the full effects of a tornado and know well there is literally no help within the first crucial days. There is an awful lot of talk and strategy, a lot of news reporting, but you are basically on your own in the debris with only rain and pain; usually without phones, electricity and perhaps water. Being prepared for a natural disaster is a good start for any internal breakdown of society.

The stock market is at an all-time high, right now. Our economy cannot possibly sustain such a rise; the bubble will burst! When folks start realizing their tax refunds aren't as large as they were, that taxes in general are up, coupled with seeing their take home pay is less than it was, they may begin to wonder how the government can always paint such a rosy picture. Day after day, news bombards our minds of how housing sales have increased, job reports are really great and Wall Street is doing terrific. Problem is, reality will eventually win; housing sales are still spurred by investors buying foreclosures, and why not, the banks pay less than 1% if they save their money. If employment is so good why are there still 8% unemployed? And, I believe, the bulls on Wall Street will soon be shoveling the crap left behind.

American's today are not in an optimistic mood, so I think they seek protection, and that either means getting prepared or just being scared. My last January Arms Fair at the Saratoga Springs City Center saw a record crowd with vigorous purchases of guns, ammo and supplies … the hording continues. Most gun shops are out of product to sell, manufacturers are running at maximum capacity while the supply pipeline is barely a dribble. As fast as product, that is guns and ammo, come in, it is gone! These facts must be able to tell us something; that something is fear.

NEACA Promotions, and I as President, have another Arms Fair this March 16 and 17 at the City Center in Saratoga Springs. Our dealer tables are about sold out; the public is waiting and eager to converge on Saratoga again. They will come to buy because that is where the product will be. While doing so they will spend cash in restaurants, at gas stations, in hotels and in toll booths. They will spur the area economy for another weekend and go home feeling a bit better that they have more ammo, more dry food stocks, more needed accessories or even their first gun. And to these folks, Wall Street won't really matter. Learn more about our Arms Fairs at NEACA.com .

---

I'm Bringing My Guns to Town!

Commentary by David Petronis ~ March 3, 2013

Just like everybody out there I woke up this snowy Sunday morning about 7am, went to the early Mass, came home, tried to locate my morning newspaper in the snow bank and had a nice breakfast with my wife, Cathy. Then wanted to go back to bed and sleep the rest of the day. Life is busy these days; we have to work hard just to stay ahead of the game. But no crawling back under the covers, I had to see a producer about a possible TV show … you all know how it is when you're a popular gun guy like me. Everybody wants a piece of my time but now I am officially, well I will be on the 6 th , a septuagenarian (yeh, I had to look up the spelling) which means I am seventy years old! But, thanks to God, I don't feel a day over 69. I kind of thought I'd be on my yacht floating somewhere in retirement … but, no! I still have to "bring my guns to town."

Sometimes I even dress in all black. Johnny Cash is singing away in my brain while I pull on my boots and strap on my Colts in shinning black leather, then adjust that Stetson to just the right pitch and swing open the doors to the City Center. I don't need an announcement; all know who just entered… the Guru of Guns, the Doctor of Gun-Ocolgy, THE man in black, here to bring guns to the waiting hoards of buyers. Then I'll count my cash! Well, that is how it evidently appears to my friend, Charles Samuels. I met him during his gun protest at my last Arms Fair in Saratoga Springs, then again at the Channel Six News Discussion Panel about "Guns in America" where he endeared himself to all you gun nuts! I even had my picture taken with you Charlie; I hope you posted it.

If there is someone who doesn't know who this big BS'er is, I'll clue you in. I'm David Petronis of Mechanicville, please don't confuse me with one of my far off relatives living the hi-life somewhere with the possible same name; I don't want to start any family feuds. And I was just Googling my name to see how great I was when I found this cute little story in the Times Union about how Charlie was always waiting to get mugged in New York City. He carried "mug money"; I would have carried Colt Cash, but that is why we are different. There always seems to be two sides to every story, unless you talk with a bunch of people then there are a bunch of sides to the same story. Whatever your side is on guns I seriously doubt we will ever see the other guys' side. But if we do, we certainly won't be swayed into believing it could be the right side especially if you happen to be on my left!

For an example of conflicting stories let's look at that little gathering in Albany a few days ago, you know, the one where 117 or so buses came to town filled with devoted gun guys and gun girls, forty to ninety to a bus but only a couple of thousand showed up. To my gun guy side those buses alone mean about six to seven thousand folks, then there were the hundreds of cars or was it thousands with two to five more folks each; was that another two to five thousand more dedicated gun folks? The fact is, there were ten to fifteen thousand pro-gun rally folks on the grounds to tell the Governor and the Legislature that we are not going to take it anymore! And hallelujah to ya'! You folks showed them who was voting them in and who was going out. My Republican friend Senator Skelos and a lot of his buddies' best be dusting off the resume's.

After passing one of the most atrocious scraps of so-called legislation in history now they want to tweak or amend it in some appalling vindication of their own stupidity. No, I don't want the police or National Guard or Cuomo's Private Army to have more than seven rounds in their magazines! What is good for the public citizen is good for the government. Or, what the government has the governed should also have. Better yet, get rid of the stupid requirement of seven rounds to a magazine! Repeal that provision.

No! Movie producers can't have banned guns on the streets of our State if we, the civilized citizens can't have them. Or, simply repeal the section of the "Safe Act" that bans guns with one stupid "Assault Gun Feature." Return to the original policy of " 1994 pre-ban status " if you like. At least it had some sanity with it.

No! Background checks are neither reasonable nor necessary for ammunition purchasers. Why create a new bureaucracy within the Private Army and spend $39 million dollars we don't have or need to spend? Creating new jobs in the State Police Unit is akin to Obama's saving union jobs with your money. Got money? Share it with entrepreneurs who will use it to create new jobs. Ammo background checks didn't work with the Federal Government, but they are pushing them again , and won't work with the State either; it was useless, will be again and a waste of money.

Not so! It is not true that over 70% or at worst "most" people want more gun control. If the question is asked, "Do you favor some sort of gun control?" Even I will answer, "Yes." If you ask, "Do you favor all the new gun control measures in the Safe Act?" You will get a much different result; a resounding, "NO!" Repeal the downright dumb parts and keep the possibly good actions. As any good democrat will tell you, we should compromise. Let's do it here, I hereby compromise that three really dumb, stupid and money wasting parts should be scrubbed and you can keep three other new parts. First of those being; notification to the FBI that a person may be unstable and should not own a gun. And, two, that ALL folks should go thru a background check to own a gun. Also, third, the safe storage of guns if someone in the household is not allowed gun ownership.

So we get to repeal three we don't like and you anti-gunners get to keep three; isn't that how these compromises work? In fact, if the safe storage requirement was actually used in that Newtown, Connecticut household or the requirement that a mentally unstable person was put into custody or even, if after failing to pass the background check when the perp tried buying a gun, somebody showed up at Adam Lanza's house to question him perhaps twenty kids lives and six or seven more adults would have been saved. The process was already in place but it wasn't used!

Now I'll go a step further: on the Federal Form 4473 , which all buyers of firearms have to fill out and sign under severe penalties if untrue, I propose that a new question be asked. "Do you have anyone living with you in the same household who may be mentally defective and/or a felon who cannot own a firearm? Yes or No." So, anti-gunners everywhere, we gun nuts can actually come up with good solutions to hard problems; all you need do is ask, and then listen.

And to you, Charlie, my friend, I want you to know that when you were out evading the NYC muggers I brought my guns to town for over 30 years and no one was mugged or shot by any of our responsible Saratoga Springs gun buyers or owners. And that this last Arms Fair in January saw about seven thousand of them supporting our show and their own Second Amendment Rights, the one that you seem to hold in high disregard. We will be at the City Center again this March 16 & 17 for our 91st Arms Fair , hope to see you there Charlie. And just to clue all you anti-gunners in on another strange fact; even with all those wacky hill-billy types that descended on our Capitol last Thursday, literally around twelve to fifteen thousand of them, (many probably armed with their concealed carry guns) nobody got shot or caused any problems or damage. It is very strange, I know, that when the cream of the crop of New York State get together for a rally no one gets hurt, arrested or shows cause for concern. Perhaps y'all ought to invite some of them to your party. We are going to invite some of your ill-informed and re-educated, to ours.

February 23, 2013 … Controversy Over Safe Act Looming Large...

Governor Andrew Cuomo knows he made a mistake but can't quite reconcile the problem. New information just in with meeting behind closed doors, as usual, trying to figure out just what to do. However, we have exclusive video footage forwarded to us by sources unknown. Go here for the real story behind the headlines...



Cuomo's Backroom Deal




---

Civil War?

Are we to repeat a tragic history lesson?

Commentary by David Petronis, 20 January 2013

I posed a question to one of the officers now deployed in Afghanistan and have yet to hear an answer. I repeat my question to those of you who hold our Second Amendment dear to heart and also believe in our US Constitution. I asked, "Ever wonder what you guys are fighting for? I also wonder of you in the National Army or in the National Guard or the Home Police Units, when called upon to disarm your friends and neighbors, who simply wish to exercise their Second Amendment right to KEEP their guns in the face of tyranny, who will be the first to pull a trigger. Are we repeating history with brother against brother when push comes to shove, and the gun grabbers attempt to take from the gun owners what has been, and should be, their nearly three centuries old law and tradition of being an armed populace? Each side has vows to uphold and constitutional law as precedents to follow; who will flinch and then who will win? Ever wonder, ever ask? I hope we don't have to find out …. again!"

My question may sound inflammatory, irrational or downright stupid to some, but to others, it is not farfetched or illogical; my question is also on the minds of millions of Americans. And the other huge query, "What has America come to?" These United States we now live in is not where we lived before, at least not for us over sixty. We see a different world, one we don't recognize. And then our minds wonder, where has it all gone wrong? And then our minds wander, back to what we loved, back to what we believed in and back to what we recognized. Living in this day is not what we all expected, not what we worked hard for and not what we wish to leave to our children or now to our children's, children.

My grandkids will never know what I have known; they cannot experience what I have done. Even some of the simple things I did could get them locked-up or at the least, punished. Could a fourteen year old sling a rifle over his or her shoulder and walk down a highway without someone calling the police? I did it as commonplace and then scaled a steep incline and walked the old iron railroad bridge, stepping only on the evenly spaced wooden rail ties while looking at the flowing Hudson fifty feet below. To what insane purpose, one might shriek; to shoot woodchucks and squirrels in the fields and woods beyond the bridge, of course. I brought them home, skinned and cleaned, ready for the freezer or the cook pot. Today, a kid relaying that story in school would be cause for suspension! In my day it was cause for bragging rights of the shot I made! Where have all the good times gone?

That is what a gun was to me years ago and it still swells my chest to remember those fond days. My rifle was a tool to use safely and wisely and because I used a gun I was wiser and safer in all I did … well, mostly. We still all have our skeletons. But I was taught the use and I enjoyed hunting or just shooting for accuracy. Some of my friends would shoot baskets or run or play football; I would rather take in the wonders of nature and the beauty of the hills and woods I walked thru. We all got along; we all tried for the same girlfriends we all went to the same school dances and sporting events. Mechanicville teams hated Saratoga teams, and vice versa; I never thought of shooting any of them, but we did yell a lot … sometimes, a real lot. Today, we don't hate each other; it was only at the school basketball games where we all wanted to kill the referees. Today, I don't think you can yell out, "Kill the ref!" We are too politically correct, for that.

Who, in school today, could teach a youngster how to be an Olympic Biathlon Shooter? How many kids in school today even know what one is? Kids, if you do please don't draw a picture of a biathlon rifle, you could be suspended. Isn't it a shame that our school kids today will never know that one of them could be a national champion in a sanctioned school shooting match? Or even experience the pleasure of knowing that they could handle a rifle responsibly and actually hit what they were aiming at … our second amendment right view of gun control. Video games just don't do the experience justice, my little friends. Teachers, why not ask your school boards to consider putting firearms training and safety training back into our schools. Education might be a lot more positive than keeping a kid in the principal's office for bringing in a photo of their fathers gun. You know the one they snuck-out from under the bed.

Yes, the world has changed considerably since I was a kid. We were taught quite a bit about history; ancient, American and modern, it was called "Current Events" then. I go so far back I can even remember our "Weekly Reader." I'm sure there is an equivalent today. We learned about war; we learned about the Civil War or the War Between the States. We learned how history has a habit of repeating itself, are they teaching that now? I don't know. What I do know is that it was a terrible war, even family against family; at times, brother against brother. One hundred and fifty years ago was a time that tried men's souls. The repetition of history may now be upon us again, but perhaps aged and experienced against the young and carefree, or gun-owner against the gun-grabber, brother against brother as it was as slaver against the enslaved. I hope not.

---

17 January 2013

... New Gun Law

Best New York Citizens May Now Be Criminals!

My Opinion on the New Gun Law ~ David Petronis

A freight train rolled through Albany around midnight Monday, January 14 and more of our freedoms were loaded aboard bound for points unknown. I find it somewhat ironic that our New York State Governor and the Legislative bodies still believe that the cream of New York's society needs to be railroaded and regulated; no, not the socialites and millionaires of Manhattan, but every gun owner and pistol permit holder in our state. We, who have already passed a background check, have been fingerprinted and vouched for by our peers, passed muster through a sitting judge and filed, signed federal forms stating, under penalty of laws, that each of us is not a drug user, felon, spousal abuser, illegal alien and on and on. We, the cream of the crop of New York State citizenry are always somehow, singled out, and en mass, to further lose our liberties. This new gun law now intends to make its best citizens criminals.

Even having over 6,000 gun laws on our New York State books this latest invasion of our freedom is not only ironic, in that it makes good people feel like they are treated worse than bad people, but also moronic because this new gun ban law won't save a single life. I don't even know if those who passed it actually feel any better. The current 1994 New York State gun ban law was workable and was tough as it was written, there was no need for a change but now I personally believe our State Senators and State Representatives should be the ones who need to pass background checks, both for intelligence and mental stability. Rest assured, we gun owners and supporters of our Constitution will remember your vote in November.

Years ago when our Governor's Daddy, Mario, was in charge of New York State, one of his infamous quotes was, "Gun owners drink beer, cheat on their wives and don't vote!" That went over like a lead balloon with voters like me. Now I see his little boy grew up, following in his footsteps, while yelling at fever pitch, "Hunters don't need ten rounds to kill a deer!" Evidently, and respectfully Governor, the nut didn't fall far from the tree. I actually thought he would have been better than that, fool me twice and that ain't nice.

While AR-15s aren't really the hunter's choice for deer they are a great gun for varmints, coyotes and woodchucks. Incidentally Governor, when deer hunting, it has always been a New York State law that only 5 rounds can be in a magazine. However, ten round magazines are used in specialized shooting matches which have gone on for years. This new law upsets that balance for no good reason. But trying to pit hunter against the black gun target shooter is tucked in the liberals agenda under the chapter of divide and conquer. And, know what? It works! Works so well that our ignorant Republican legislators allowed the left to run rough shod over the right – the right for us, the good guys, to lose another piece of our liberty and further erode the Second Amendment to our US Constitution. Grow some backbone! All of us good guys will scream from the highest hill, "We're fed up and we're not going to take it anymore!"

This hunter, shooter and collector does need his AR-15. And his AK-47, his Mac-90, and Uzi, too! I collect these guns, I enjoy shooting these guns and I invested a lot of money in these prior, pre-1994-ban firearms. I also want to keep them all and should not be required to register them and be on a registration list in some bureaucrat's file. Over and over again, history has shown us that registration comes before confiscation and wasn't that a term you used, Governor? Registration of firearms owners should be unconstitutional.

A representative of a constituency needs to listen to the whole of them not just the minority who believe guns are inherently bad. The anti's probably have no idea of the extent of gun laws, or of guns in particular, nor have ever fired a gun. In other words, most anti-gun folks, in my opinion, are ignorant and need to be educated; that is, real education in schools, about history and the American way of life would be a good start and a welcome change to what is taught today.

Perhaps one lesson to learn is that thousands upon thousands of crimes like burglaries, assaults and murders are actually prevented by legal gun owners every year. That lesson could begin on how point three, five, seven can be used prior to nine, one, one. For ignoramuses, in literal English, so all can begin to understand this lesson, a .357 magnum hand gun can be put to instant use prior to or while dialing 911 to summon help in a very bad situation. When seconds count, help can be only minutes away, sometimes 20 or 30 minutes away. And, if I am a single woman at home alone at night that .357 should be loaded and readily available as any useful tool should be when needed. When you need a hammer on the second floor and it is stored in a tool chest in the cellar or garage, you might try to compensate with the use of a hair brush instead. It could work, but not quite as well. When you really need a gun to protect life and limb you might just want it ready for use, not locked up. If we could save just one life, yours, shouldn't your gun be available?

A belief that this new law will protect a person's right to privacy and not have his or her name outed by the press as a handgun owner, is also a stretch in reality. Read the law and learn of the hurdles one must overcome to have your name excluded from the rest. Sure, police and judges, lawyers and state or federal representatives, plus the well connected, can be protected, but not you and I so easily. Perhaps this same protected group will also get a waiver on the magazine capacity of their handguns. As a collector I'd like a waiver too, or what we should do is waiver the whole stupid law. And, as for the anti-gun owners I have a sign I sell here at my shop in Mechanicville which states, "NO Guns Here!" In fact, I can be so generous as to provide any of you gun grabbers with that sign for free! Just pay a small shipping and handling charge.

How can any responsible and sane person, supposedly like each of our legislators, ever think that 7 rounds in a magazine would ever make a bit of difference to a criminal than 10 rounds in a magazine? First, I ask, does that mean that I can also have one round in the chamber with 7 additional rounds in my magazine? Back to education 101, 7 plus 1 equals 8; a difference of 2 rounds. Class, is it worth spending millions of dollars to create another bureaucracy, drive gun manufacturers' nuts and also disrupt the lives and well being of millions of New York gun owners? The correct answer is no. After all, revolvers, unregulated in this new law, now can be purchased with 7, 8, 9 and 10 rounds in their cylinders. Are we to think two extra rounds in a revolver cylinder is somehow less deadly than the missing two rounds in my magazine? Besides being crazy this law is probably unconstitutional on grounds of restricting interstate commerce. Is this law on sound footing or have we gun people just felt another foot up our ass?

I've read the law and the portions that I can actually understand, without being coached by a lawyer, seem to have some very good procedures in it. Actually looks like the Senate might have tried to initiate some useful crime stopping measures, i.e.; mental health issues are addressed, which is good and about time. I've covered the portion about banning the exposure of pistol permit holders to the press, which is a half hearted attempt but also good. Even having all people who purchase guns go through a background check is, with our current society, a measure I applaud. But eliminating that requirement among family members, I believe, is a mistake. A law should be a law and applicable the same to all; one of the problems of our laws are too many special loop holes. If a law is good for me it should also be good for you – or not passed at all! I know sons who should not inherit their Daddy's guns. And with that, my own sons and daughters would have no problem with a background check.

With our economy the way it is, creating a large new bureaucracy to regulate ammunition sales and do background checks on honest, law abiding gun owners is almost bordering insanity! The federal government tried regulating ammunition and gave it up as unnecessary and unworkable. Our own Governor Andrew Cuomo, before he presumably re-read Mao's Red Book, actually rid the state of the useless bureaucracy of cartridge collecting for all handguns. I applaud him for that. New York State tried it for ten years and spent millions of tax dollars to discover not one crime was solved. Why do they now believe any crimes would be stopped because we good guys now need a background check to buy ammunition for our legal guns? And, we Federal Firearms Licensed dealers, or a newly developed group of "ammunition sellers", are to now execute these background checks, and for what cost? My time and knowledge is worth money. Am I to charge a fee from $15 to $55, as some dealers now do for a background check, and apply that onto a $4.00 box of .22 squirrel cartridges? Is K-Mart, Walmart, Dicks or Cabelas going to provide this service for free and keep new records of ammo coming in as cases and out as a box here and a box there? I, for one, certainly don't intend to; I don't have enough free time now to run my shop.

Not withstanding, the ridiculous new regulations on ammo, now we FFL holders need to provide background checks for private buyers who purchase through private sellers; their second amendment right just evaporated. First of all, if a person is buying and selling guns on a regular basis, that person should have a license to do so. Admittedly, some folks don't want to be regulated as we FFL dealers are, but some sellers can't obtain a license because they don't have a regular store location or have zoning issues. This is a problem that should be addressed but I don't have a rock hard position for that outcome.

However, I take offense when I am now told that I can only charge a fee of $10 to provide a service; that is simply wrong! Regardless of the amount, whether it be $10 or $100, I should be able to post my own amount of money I wish to charge and again, not have some ignorant bureaucrat pick that fee out of the air. By the way, I think state workers should go back to getting $7.50 an hour, I think that is what their jobs are worth. Why doesn't it work that way? Each and every shop owner should be able to charge what they wish for any service and allow the free market to set the optimum price. I, for one, will not perform background checks for $10 for private sellers. If all FFL holders refuse to do it, then let the state do it, after all, they will be creating their own massive ammunition background check service on their new and wonderful, soon to someday be designed, computerized system. It will only cost millions – and all for virtually nothing!

There are literally millions upon millions of large capacity magazines – those over 7 rounds – and guns that hold more than 7 rounds that are still legal with this law. And also ammunition, loose or in boxes, which is just lying around in garages, cellars, attics and gun cabinets that will never be sold as part of this law so, in effect, the whole law will be rendered useless and unenforceable while also creating criminals out of otherwise law abiding citizens.

Would someone please explain who is going to gun owners homes and check whether they only have seven rounds in their nine or ten round magazines? Is that even legal or Constitutional? Or, for that matter, who will be assigned to inspect ones home for magazines that hold more than 10 rounds? When high capacity magazines are banned and made illegal, and we are required to register with the State the firearms that accepted them, will there then be home inspections and possibly even fees for registration? Did you Senators even ask these questions? Did you even read what you voted on? Or did you call Nancy Pelosi? After reading this law, I still don't quite understand what is actually banned and what is not. First, we had a short list of firearms, now we have a more extensive list published by the State Police, but within the law we have a "fifty year old gun" omission. At least that was nice; it saved from banning and registration the high capacity, 8 round magazine used in the M1 Garand, our battle rifle that won WWII for us. Also saved was the British 10 round detachable magazine of WWI and WWII Enfield rifle. Again, back to basics; this is the year 2013 minus 50 years, equals 1963; so any rifle developed or made prior to 1963 is exempt? What does the 50 years exemption mean?

How about the Russian SKS introduced in 1946 or the Chinese SKS from 1954 or the Russian Dragunov SVD semi-automatic sniper rifle with detachable magazine from 1963? Is the Russian Simonov from 1936, one of the earliest semi-auto, "assault rifles" also exempt? And let's not forget the famous Tommy Gun, developed in 1921 and 1928, of which there are many pre–1986 ban rifles out there made prior to 1963. The M-14 rifle was produced from 1957 through 1963 and, in my opinion, was and still is the best and most lethal "assault weapon" ever, is that exempt? But let's not forget the venerable AK-47 Kalashnikov developed in 1947, the most widely used "assault weapon" in the world; millions made and sold for about $15.00 each and lots of them prior to 1963. The law as written is just stupid.

Last but certainly not least, one of my favorite collectible rifles, the Colt/Armalite AR-15, developed in 1960, also prior to 1963. Are those omitted from registration because they are collectible and a great gun for targeting shooting, but also look exactly like the 10 round semi-automatic Bushmaster, which will now be banned? That same gun that was shown to be used in the Newtown, CT school massacre, but was actually never used, it was in the shooters vehicle while four handguns were actually used in the carnage; and is it to be banned because of the way it looks? All this history is simply to point out the ridiculous. But one last fact, the Heckler and Koch, G3 HK, semi-auto, .308 caliber, battle rifle that was developed for Germany from the Nazi WWII MP-43/44 rifles and now sold commercially by PTR Company, made in Connecticut. This rifle accepts a 10 round, detachable magazine it is, or was, a legal firearm to sell or own without registration a few days ago. There are literally millions of 20 round high capacity magazines dated from the early 60's for that one rifle alone, still in warehouses. Does any legislator think that a ban on these from the American people will make these and other countless magazines disappear? Line up, if you do, I have a bridge in Brooklyn at a real bargain price.

My wife, Cathy and I, just finished producing our 90 th Arms Fair, or Gun Show, at the Saratoga Springs City Center this past weekend. The hype created first by the petitioners and then by the protestors, attracted the media which in turn drew a crowd size that the City Center hasn't seen at any other event since we opened it with a gun show almost thirty years ago. The line to show support was, at times, four abreast and an eighth mile long. The line stretched from the two inside ticket booths to around the City Center, then back to the Old Bryan Inn. Supporters of our Second Amendment rights stood in that line for over two hours. And, Cathy and I, thank each and every one of you, we are absolutely humbled. Last weekend you legislators threatened our rights and our supporters turned out; all of us plus more, will turn you all out in November. All you people had to do was keep the pre-ban law as it was, forget the stupid 7 round, anti-commerce magazine restriction and not even consider the really dumb money pit portion about background checks on ammunition, you could have a good law without much controversy. Why are you legislators so stupid?

The exhibitors inside were actually exhausted from the experience and many, many deals were made. I'm also grateful for the support shown by very many prominent business people and area politicians who came to show support, with many taking a membership in NEACA, our New Eastcoast Arms Collectors Associates. For a $50 fee they can now attend all of our shows free for a full year and also come in free on Friday evening and early both Saturday and Sunday without waiting in that long line. Any and all gun collectors, hunters, shooters, historians or simply Second Amendment supporters are welcomed into our organization for mutual support, camaraderie and friendship. For information see "membership" at www.neaca.com . Today, we all need to stick together, we need to be a grass roots group which could number in the hundreds of thousands and in turn show our support to the legislators who are with us, and with the Constitution but show our displeasure with those who aren't, please join us.

On Sunday, Kathy Marchione, NYS Senator from my home district which covers Mechanicville and our show location in Saratoga Springs, spoke to the large crowd about her resistance for the proposed law banning certain guns and magazines. Some portions of this law are good, as I stated, but some are downright disgraceful and probably unconstitutional. Kathy has a petition on her website seeking support from gun owners and is telling them she intends to place a bill in the Senate to have the law or at least the parts that deal with magazines and so called assault rifles, the bad parts, overturned or rewritten.

Also at the microphone on Sunday was Steve McLaughlin, NYS representative of the 107 th Assembly District of Rensselaer and surrounding counties. He spoke to the crowd about an undue rush to judgment in passing this law without debate and asked that each legislator be given the required three day period to read and digest the contents. From the swift procedure last Monday evening we could all see that the law was extremely rushed. I ask now that you legislators who voted for it, so you could read what is in it, now rescind the worse parts of it. If not, your largest constituencies will rescind your traveling rights to Albany. But, considering that as representatives you actually didn't "represent" those who put you in office, you should be ashamed of yourselves and simply resign.

Thanks be to you, you stalwart group who stood up for the rights of us, the cream of the crop of New York State citizens. We are the ones who obey just laws, follow the rules and are known as the "silent majority." We all applaud you and will support you and those democrat friends who also voted "no" for passage of this affront to liberty. We can all support honest, actual protections, or good new laws, that have been thought out, debated and agreed upon. Good laws can actually make a difference in society but laws which are useless, overbearing and downright dumb, need to go .

---

Jan. 16, 2013 ... So, the controversy that sparked the "assault rifle" ban in NY State actually never happened ... link to
MSNBC news report on AR-15 in Newtown, CT.

---

16 January 2013 .... I will report on the NYS NEW gun law soon ...

SARATOGA SPRINGS GUN SHOW MOST SUCCESSFUL IN 30 YEAR HISTORY

Double the Past Record Attendance and Major Community Support

Mechanicville, NY ~ January 14, 2013 ~ Press Release

The 90th Saratoga Springs Arms Fair was held this past weekend, January 12 - 13, in beautiful downtown Saratoga Springs, New York. This show was a major milestone for many reasons beyond the fact that it has been held for the past 30 years. This show was under significant scrutiny locally as well as at a state and national level with suggestions that it should be cancelled.

"Not only was it NOT cancelled, the show saw the greatest attendance in its history," said show promoter David Petronis of the New Eastcoast Arms Collectors Associates that runs the show. "We were shocked and humbled by the response."

This show is one of the largest in Upstate New York, including over 250 tables and 80 dealers. The show includes a variety of merchandise from items dating back prior to the American Revolution up to modern hunting and sporting firearms as well as various equipment, ammunition, books and more. "This was the first gun show I attended and I have to say, I was pleasantly surprised by the diversity of the merchandise here," said James Cormer of Barre, VT.

Besides the variety of merchandise there were also organizations collecting donations for our active military and Veterans. Aid our Veterans, a Washington, D.C. based nonprofit, raised donations to help homeless veterans. Operation Gratitude's local group was also set up soliciting donations for our active military and the Wounded Warrior Project. NEACA donates space to both organizations on a regular basis. The two groups raised over $3000 combined.

The show brought attendees from as far away as Ohio, as well as thousands of locals from Saratoga, Schenectady, Albany, Rensselaer, Washington, Warren, Fulton, and Montgomery counties. There was also quite a showing from Greene, Columbia, Ulster, Orange, Duchess, Putnam and Westchester counties as well. This record crowd waited patiently, sometimes for over two hours on a line that stretched over an eighth of a mile. "I can't tell you how many people waited for hours in line just to come in and show their support. And there were no incidents, issues or altercations," said Petronis.

Mark Baker, President of the Saratoga Springs City Center , where the show was held, said he's never seen a crowd like this. "We expected this to be a bit chaotic with the potential for protests as well as proponents, but the crowd was even larger than we ever imagined. Even with all the people on both sides of this debate, it was peaceful and very orderly."

The NEACA expects this show to continue on well into the future and Petronis added, "I'd like to thank everyone who came out in support of this show. It was beyond any expectations I had. Given this outpouring of support, I hope it sends a clear message that this show matters to the public and that the second amendment matters."

Dave and Cathy Petronis, who run the NEACA and this show, would like to thank the organizations and people that put in significant effort to make this show happen. There's a long list including the Saratoga City Center and all its staff, the City of Saratoga Springs, the Saratoga Springs Police Department, the New York State Attorney General's Office, the Friends of NRA, Patrick Henry Chapter, Project Appleseed represented by Mark Rosenzwieg, Robert LeClair and his petition on Change.org, all the people who stood outside in support of our Second Amendment rights and every single person who took the time out of their busy lives to show up.

"We would also like to thank and acknowledge several speakers who spoke on behalf of New York State gun owners and supporters of the Second Amendment to our US Constitution, namely NY State Senator Kathy Marchione and NY State Representative from the 107th District, Steven McLaughlin."

Cathy and David Petronis are members of the Saratoga County Chamber of Commerce. New East Coast Arms Collectors is a member organization that promotes the responsible collecting and use of firearms through a variety of Gun and Collector Shows throughout New York State. The organization is 2000 members strong and growing, and has been in existence since 1982. For more information about this show, the organization or other shows they sponsor, contact us 518-664-9743, sales@neaca.com , or find us on the web at neaca.com .

The Saratoga Springs City Center is at the core of a unique conference complex formed by the 32,000 square foot Center and adjoining 242 room Saratoga Hilton Hotel. Our key location in downtown Saratoga Springs offers attendees the opportunity to stroll the streets of our Victorian City, enjoy the many unique shops and fine restaurants. Since 1984, the City Center has served as host to corporations, New York State Associations, trade groups and Northeast Regional Organizations. If you would like to join the New EastCoast Arms Collectors Associates, NEACA, Inc. and the gun collecting fraternity they represent you can find details here .

---

I Am Getting Tired .... 7 Jan 2013

Tired of what, you may ask? Of the anti-gunners, the hysterical left and the do-it-for-the-good-feeling-we-get politicians who knee-jerk their reactions to see if they can placate the loudest shrieks to ban this or confiscate that! The silent majority has to rise up and BE LOUDER!! The link below is a call to that majority to do just that; to rise today to tell the NYS Legislators to listen and be warned. We have had enough, already … and we are not going to take it anymore!

http://www.scopeny.org/st_of_the_st.html

This link is from SCOPE informing the gun fraternity of the plans Governor Cuomo has to announce at his State of the State address this Wednesday in Albany, NY at 1:30 PM. If you wish to see many more anti-gun legislation proposed, go to the NYS.gov website. It is getting so knee-jerking that I think their brains are falling out. Ban what, 250-300 million guns in the hands of the American populace? Good luck there, my good friends.

Cathy and I have decided to abide by the Saratoga Springs City Council resolution to ask that AR-15 style firearms or their 30 round magazines not be brought to this show at the City Center on January 12 and 13, in deference to the Newtown, CT and Webster, NY shootings. Being sensitive to their request and of the situation as a whole, in no way negates our staunch avocation to our right to own and collect guns; and of advocating our rights according to the Second Amendment, it should not be infringed! Stand up and be counted … because all the politicians do is count the numbers who will be supporting them in their coming election. Make sure at this count they have to use more than their fingers and toes!

When you come to our show this weekend please keep your firearms in cases so as not to walk the busy streets of Saratoga Springs with threatening-looking weapons slung on shoulders. Let us be sensitive to the wishes of the City Council and the past and present rules and ordinances of the city. There will probably be protesters near the entrances so, again, please be civil and do not antagonize so as to reflect badly on our NEACA Arms Fair or on the gun fraternity in general. When this show is over and we, meaning Cathy and I, … plus the City Center Board of Directors, the City Council, the Saratoga Board of Supervisors and especially the businesses and people of the City of Saratoga Springs, NY, … reflect on how all went well, proper and legal we can ask the question … "We've been here for nearly 30 years, do you want us here for the foreseeable future?" If so, we will do business as usual and fulfill our coming schedule of three more shows this year.

---

Still Good ol' News... You Like Guns? You're going to like this! Click on "I LIKE GUNS!"

---

Dave has been so busy recently, he forgot about his world in cyberspace ... 12/29/12

... but among all the fuss about gun control these days I received this from a friend in Canada which I want to share ...

"The Gun Is Civilization" by Maj. L. Caudill USMC (Ret)

Human beings only have two ways to deal with one another: reason and force. If you want me to do something for you, you have a choice of either
convincing me via argument, or force me to do your bidding under threat of force. Every human interaction falls into one of those two categories,
without exception. Reason or force, that's it.

In a truly moral and civilized society, people exclusively interact through
persuasion. Force has no place as a valid method of social interaction and
the only thing that removes force from the menu is the personal firearm, as paradoxical as it may sound to some.

When I carry a gun, you cannot deal with me by force. You have to use reason and try to persuade me, because I have a way to negate your threat or employment of force. The gun is the only personal weapon that puts a 100-pound woman on equal footing with a 220-pound mugger, a 75-year old retiree on equal footing with a 19-year old gang banger, and a single guy on equal footing with a carload of drunken guys with baseball bats.

The gun removes the disparity in physical strength, size, or numbers between a potential attacker and a defender.

There are plenty of people who consider the gun as the source of bad force
equations. These are the people who think that we'd be more civilized if all guns were removed from society, because a firearm makes it easier for a [armed] mugger to do his job. That, of course, is only true if the mugger's
potential victims are mostly disarmed either by choice or by legislative
fiat--it has no validity when most of a mugger's potential marks are armed.

People who argue for the banning of arms ask for automatic rule by the
young, the strong, and the many, and that's the exact opposite of a
civilized society. A mugger, even an armed one, can only make a successful living in a society where the state has granted him a force monopoly.

Then there's the argument that the gun makes confrontations lethal that
otherwise would only result in injury. This argument is fallacious in
several ways. Without guns involved, confrontations are won by the
physically superior party inflicting overwhelming injury on the loser.

People who think that fists, bats, sticks, or stones don't constitute lethal
force, watch too much TV, where people take beatings and come out of it with a bloody lip at worst. The fact that the gun makes lethal force easier works solely in favor of the weaker defender, not the stronger attacker. If both are armed, the field is level.

The gun is the only weapon that's as lethal in the hands of an octogenarian
as it is in the hands of a weight lifter. It simply wouldn't work as well as
a force equalizer if it wasn't both lethal and easily employable.

When I carry a gun, I don't do so because I am looking for a fight, but
because I'm looking to be left alone. The gun at my side means that I cannot be forced, only persuaded. I don't carry it because I'm afraid, but because it enables me to be unafraid. It doesn't limit the actions of those who would interact with me through reason, only the actions of those who would do so by force. It removes force from the equation... and that's why
carrying a gun is a civilized act.

By Maj. L. Caudill USMC (Ret.)

So, the greatest civilization is one where all citizens are equally armed
and can only be persuaded, never forced.

...Very nicely put into perspective for the gun grabbers!

---

Democratic senators offer gun control amendment for cyber security bill

By Ramsey Cox, The Hill - 07/26/12

Democratic senators have offered an amendment to the cyber security bill that would limit the purchase of high capacity gun magazines for some consumers.

Shortly after the Cyber security Act gained Senate approval to proceed to filing proposed amendments and a vote next week, Sen. Chuck Schumer (D-N.Y.), a sponsor of the gun control amendment, came to the floor to defend the idea of implementing some "reasonable" gun control measures.

The amendment was sponsored by Democratic Sens. Frank Lautenberg (N.J.), Barbara Boxer (Calif.), Jack Reed (R.I.), Bob Menendez (N.J.), Kirsten Gillibrand (N.Y.), Schumer and Dianne Feinstein (Calif.). S.A. 2575 would make it illegal to transfer or possess large capacity feeding devices such as gun magazines, belts, feed stripes and drums of more than 10 rounds of ammunition with the exception of .22 caliber rim fire ammunition.

The amendment is identical to a separate bill sponsored by Lautenberg. Feinstein was the sponsor of the assault weapons ban, which expired in 2004.

The proposed amendment would only affect sales and transfers after the law took effect. Schumer defended the Brady law and assault weapons ban on the floor Thursday evening, perhaps in preparation for the coming fight with Republicans and gun rights activists. Schumer suggested that both the left and right find common ground.

"Maybe we could come together on guns if each side gave some," Schumer said. He suggested that Democrats make it clear that their goal is not to repeal the Second Amendment.

"The basic complaint is that the Chuck Schumers of the world want to take away your guns," Schumer said of the argument made by gun lobbies. "I think it would be smart for those of us who want rational gun control to make it know that that's not true at all."

Schumer also pointed out that it would be reasonable for the right to recognize that background checks on those buying guns is necessary — as called for in the Brady law. He also said average Americans don't need an assault weapon to go hunting or protect themselves.

"We can debate where to draw the line of reasonableness, but we might be able to come to an agreement in the middle," Schumer said. "Maybe, maybe, maybe we can pass some laws that might, might, might stop some of the unnecessary casualties … maybe there's a way we can some together and try to break through the log jam and make sure the country is a better place."

Next week the Senate is expected to debate and vote on proposed amendments to the cyber security bill.

---

Wanna See A Grown Man Cry?

..... May 9, 2012

I guess there are some people who actually read the member letters I send out for our New Eastcoast Arms Collectors Associates; the last and most current one was about the ongoing saga of the possibility of the elimination of New York State Gun shows.

First, let me thank all of you who read it and most of all the NEACA members who took it to heart. I explained in my last letter, which you can see on our member page, as to how members can help in this fight to keep our Gun Shows intact, so I won't rehash that. Some of you have gone the extra mile and I want to recognize several members here and now.

Just got off the phone with Brian Sherwood in Tupper Lake who called to request an extra table for display at our Clifton Park Show and he explained how one of his friends and one of our members was on a phone campaign urging members and dealers to either send a contribution to the war chest or take an extra table at Clifton Park. After my prodding he told me the caller was Terry Perrigo, also from Tupper Lake, apparently, Terry is going the extra ten miles.

Cathy opened a letter in this morning's mail and while watching her I saw a check fall out; she said the letter was from Terry and that she would read it to me. Before she uttered a word and I saw there was no application for the upcoming show I knew exactly what the letter said and what the check was for. While she read it you could have seen tears in my eyes. The letter is below.

Ray Done from Rochester emailed about doing the show in Clifton Park on May 19 & 20 and then said that he would make sure all the websites that had gun show information on them also included our Clifton Park event, again going the extra mile. Talked to Steve Svitek of Congers, NY, I'm sure most of you know Steve as the ammo guy. Not only is he involved in all types of ammunition that he brings to our shows but he's also been conversing with other dealers to try to bring them to our Clifton Park Arms Fair. I know all the above named would not want me to even mention what they do but I must. There are many more among the nameless who contribute in a large or small way to make our shows a success. I am proud to call them friends. Terry's letter;

May 6, 2012

To: Dave and Cathy Petronis

Dave and Cathy

As you know I am one of your friends and of course a vintage gun collector. I am also very disappointed in the AG and his under handed tactics to persecute gun enthusiasts and the unconstitutional effort to coerce honest US and NY citizens. This governmental injustice is all very sad and a blemish on America and free societies. As you know I have set up at a few shows in an effort to reduce my gun collection since the apparent goal of these tyrants is to subvert the laws of this fine country and disarm its citizens. I have been a hunter, trapper and fisherman all my life. I was raised on a small farm in the Adirondacks where bringing home some game for the table was greatly appreciated by my grandparents from Austria. They worked hard and honestly to meek out a living in difficult times and terrains. It took me years of hard work to earn enough extra money to put together a collection and hoped it would be an investment and fun in my retirement years. I have worked 50 years building roads, bridges, railroad crossings, wastewater treatment plants, airport improvements, power lines, and many other public domain improvements. I fan a fur business for 27 years, a motel for 8 years and a construction business for 2 years. I was president of our local rod and gun club and founded the Adirondack Trapper Association. At nearly 68 years old, I have just signed up for another two years for an engineering company to rebuild a local road and bridge (a 7 million dollar project). I will not be able to attend shows that need to be set up usually on Fridays and weekends, I'll likely be too tired to be away from home (most of the weekend) that often. I was born in Syracuse and since my birthday present each year in my youth was a trip to the state fair, I really enjoy that show. I will endeavor to make it to your shows when it is viable. I am enclosing a check, which I hope you can use toward legal defense of this outrageous onslaught on your family and our constitutional rights. This is the first time I have done this but it is my way of contributing toward honesty in America. I know it's not a lot but I hope others may join in on your effort for justice. This way you can hopefully sell the table space and earn some extra $$$ without having to outlay table cost for me etc. I will spread the word hoping to encourage others to do the same. God Bless America and god bless you Dave and Cathy in these desperate times of injustice.

Respectfully,

Terrence R. Perrigo

Terry, I want to thank you personally and one of these days, Cathy and I will really stop in and have that coffee. And to the rest of you NEACA members, NEACA Gun Show exhibitors and dealers, I really do appreciate you who make our shows what they are.

---

Grand Daddy's Closet Gun, Can You Sell it?

By David Petronis

April 25, 2012

Eric Schneiderman wants his resume to read, "I closed the Gun show loop-hole!" The Attorney General of New York State would be grossly mistaken. There never was one so it just can't happen. What he considers is a loop-hole in the Gun Show Business Law is actually the right an individual has to sell personal property. Any man or woman who owns a gun can legally sell it to anyone else! That right should not cease at a gun show.

What he and others of the "let's control everything" ideology believe is a crime is, in fact, a constitutionally protected freedom; a United States citizen's right to keep and bear arms. It's known as the Second Amendment to our United States Constitution. The AG thinks it's a crime. Why? Because he says it is.

In their view when a man or woman like you brings your grand dad's shotgun to the gun show and while exiting your vehicle in the show parking lot it just so happens your brother-in-law sees you and say's "hello". Now in this criminal conspiracy he asks, "What are you doing at the Gun show?" And, "What's in the gun case?"

When you reply that it's your Grand Father's shotgun that's been in the closet for twenty years and you want to sell it at the gun show, he asks, "Can I see it?" Now the crime is in progress.

"Sure," you say. "I'd rather see it go to someone in the family than a stranger." Trouble is now brewing and the conspiratorial criminal act is about to unfold.

Your brother-in-law looks at your gun and says, "I'll buy it, I like the gun. How much do you want?" It doesn't matter the cost. You could give it to him for free on the spot or sell it for fifty dollars. At that point, when you hand him the gun, you, as a "firearms dealer" have just committed a crime. And your brother-in-law has just committed a crime of receiving a firearm without going thru a Federal background check.

If spotted by any police officer in New York State you are subject to arrest, imprisonment and fines. But, our NYS Attorney General is proud that he has now 'closed" the gun Show Loop-hole!

Several months ago I wrote an article for the Sunday Gazette (January 1, 2012), which pertained to a Subpoena that Attorney General Eric Schneiderman sent to me and several other Gun Show Promoters. My offense to the NYS General Business Law, Article 39-DD, S 896, "Operation of a Gun Show" section two, was that I allowed some similar circumstances to occur at two of my shows. Though I haven't been officially notified of my exact offence, I believe it to be that someone, on the way into my shows, was approached by his undercover agents and a purchase was made thereby, an otherwise law-abiding, God fearing, American citizen was deemed a "Firearms Dealer" and arrested for selling a gun without insisting the buyer go through a NICS check; NICS meaning National Instant Criminal System check. Who knew? Did you know it is a crime to do what transpired?

One of my question to the Attorney General's office was, how are people going to know it is a criminal offense to sell or give your gun to anyone who you know hasn't passed a NICS check? The answer, it appears, of educating the NY State populace of this law is on my shoulders and the responsibility of other Gun Show Promoter. Another unfunded mandate from the office of the Attorney General of New York State; I must educate you about his mandate!

According to a draft letter I just received from his office I either have to agree to this mandate plus admit I broke the "Business Law" by allowing the above scenario to occur (which is a crime) according to his law, pay a fine of $10,000 and fork over another $2000 for his expenses to perhaps pay for his undercover agents and also abide by a host of other new regulatory steps to insure it never happens again.

Or, they will continue with the subpoena and seek every piece of paper work and computer records, plus personal notes, tax returns and photos of any "empty files" I may have in my file cabinet; plus number all in proper order at a designated position and submit all and any records of business in a timely manner. And give a deposition under oath!

But, I could agree to this new demand, pay the fine and watch my step in the future. I thought blackmail was illegal.

As a citizen, you have a perfect right to sell your personal property anywhere, anytime and to whom you wish. That is, except your legally owned guns at gun shows! Of course, if you were at a show in our adjoining states of Vermont, Massachusetts, Connecticut, Pennsylvania or Ohio you could still do the same thing. Only in New York is it a crime. In New Jersey there are no gun shows but you can own a machine gun. Schneiderman may be looking to mimic New Jersey without the machine gun part. I still have my sights set on Jersey though. I've spoken casually to Governor Christy about gun shows, we'll see.

If you as a free citizen of this New York State agree that this whole charade is just that, a political move to enhance a resume, then help me and the other promoters of Gun Shows by letting your elected representatives know how you feel about your rights being violated. This is not about guns; this is and always will be about control!

Guns will never go away, they are a part of the American Tradition. Guns make us Americans. Whether you like or dislike this is, not the question. Whether you can sell your personal property is. Who is Eric Schneiderman to tell you, you can't? Perhaps our Second Amendment Protection Union should be formed.

I am producing a Gun Show at the SportsPlex of Half Moon, Clifton Park, this May 19 & 20 and all of these show regulations will be in effect. You may not sell your gun to anyone while on the show grounds or adjoining parking lots without having the buyer go through a NICS check, this is illegal. These NICS checks can be performed by any Federal Firearms Licensed Dealer inside the show for a fee. You can, however, sell your guns to any FFL dealer. They are there, in fact, not only to sell but to buy new inventory.

But, don't be discouraged about all these new and proposed regulations. We can still do business but in a far more intrusive way. Do bring your guns and other collectables to our gun show dealers, keep them covered until you enter our show and don't be caught outside breaking the law.

This is my first attempt at educating the public about "Eric's Law". It should be the responsibility of the State, not mine. And all this because you took Grand Dad's gun out of that freakin' closet!




Only in New York, the Gun Show Gap

Commentary by David Petronis, Dec. 7, 2011

Download the complete story as a PDF

See more on this below!


---

SportsPlex Gun Show Interview with
Rodger Wyland on Sept. 27, 2012

---

My new story is a little out of sequence because the most important is above.

A Gun Lover Poem

By David Petronis ~ April 29, 2012

In earnest response to a Viewpoint in the Sunday Gazette dated April 29, 2012 I respectfully disagree with the author and her views but staunchly defend her right to flowingly air them. I humbly submit a gun lover poem:

Barbara DeMille of Rensselearville

At writing has really a fine wit

But with accuracy become more a nit-wit.

Automatic weapons were never used

While her facts they were quite abused.

For protection in homes today

I prefer the shotgun of Earp's yesterday.

While Dillinger's revolver was one of choice then,

Reasons schools should teach aim and accuracy again.

I long for the day when kids went afield and about

And mom's only concern was to not shoot your eye out!

Responsibility with ownership is more what we need

And less of Barbara's outrageous new creed.

As for a hooded perp with a burglary history

A security shooting should not be a mystery.

Threats to my person or force into my house

I should not be required to run like a mouse.

Our gun control to be strived more

Should be to hit what is truly aimed for!

---




All I Can Say in Defense from January until today ... Man, We've Been Busy!

GUN PRICES ARE GOING UP

... March 24, 2012

Seems like all the major gun companies have figured out that with all the buying activity, they can raise their prices to distributors. Naturally they then pass it on to us dealers who in turn – guess what – have to pass it on to our customers. Not a really big deal, what amounts to another $20 to $30 across the board but the price increases are most common on all the hot items; and most of those are currently out of stock in distributor's warehouses.

My main gun supply guy passed on this little piece of info stated by Ruger Company, "Don't bother to send us orders until May, we are that far behind on filling what we have." Fortunately, we made our large purchases in January and March at distributor shows and will get most of what we need, pays to plan ahead. We also have a great supply of Ruger handguns in stock right now; LCP's, LC9's, LCR's, SP100's, and lots of Ruger 22's. You may want to stop by and get yours before the summer fun begins and none are around.

Also, just got resupplied with the Russian Moisan Nagant, both round and octagonal receivers. However, the importers raised our price by $25 per gun. But they are in super condition with accessories and are still fairly cheap considering the overall market on guns in general. We also have the 7.62 X 54 ammo.

Been to an auction lately? The guns usually end up costing more than for what I sell the same thing at my store, no bargains there. And I give a guarantee. At the auction it's still "buyer beware"! Perhaps you should stop by our Hudson River Trading Company store at 38 North Main Street, Mechanicville and really see what you've been missing.

And, oh yes, we do have all the black guns from Colts, Bushmasters and Rugers through the PT91 .308's and the S & W 15's to S & W .22's along with lots more stuff. Need a 37mm B & D Launcher? We got those.

We're at the shop from noon to at least 6PM daily (call on Mondays to check) and for the next couple of Saturdays from 11AM to 3PM. Then we'll be out in Cortland, NY for our show at the J M McDonald Sports Complex. See our Gun Show page for details.

Hey, like us on Face Book and follow me on Twitter 'cause every now and then I actually tweet a sweet deal you won't want to miss; or at least you'll get some current info.

Try joining our New Eastcoast Arms Collectors Associates, NEACA and get into all our shows early and free! Click on our link to join, lots of guns and stuff at our shows. Happy hunting!! DP

---

Nomination for Woman of the Year ~

Catherine Petronis ~ 5 January 2012

VP & Treasurer, NEACA, Inc.; VP, C&D Petronis, Inc.

Hudson River Trading Company

38 N. Main Street

Mechanicville, NY 12118

To My Wife and the Rest of the World …

Living married with me for nearly 50 years and working in our business's together since 1972, that alone should warrant a woman of the year award. Cathy has been a wife, mother, transportation specialist, friend to all, business partner, writer, secretary, stenographer, typesetter, composer, proofreader of our Arms Collectors Journal, photographer, company tax consultant & preparer (plus her own sideline tax business), financial planner, computer technician, home & office handyman, website developer at NEACA.com, phone operator & canvasser, inventory control specialist, living & walking phone book with memory recall of most names I forget, nurse, family & vacation planner, travel consultant, treasurer & banker, bookkeeper & keeper of the file system, account payables & receivables technician, human scanner & corrector of incorrect billing practices aimed at my money, insurance & claims adjuster, appraiser, bottle washer & light bulb changer, auto mechanic, loan specialist, copier & fax repairman, website administrator & computer e-mailer, all while staying my good personal friend and that is just some of her accomplishments and daily attributes. And I do remember that time she helped me with an engine overhaul! Where she finds the time I'll never ever know!

By the way did I mention Cathy being a hunter, licensed gun dealer, trade show promoter, avid traveler and answers many hundreds of worthwhile & occasional dumb questions each year or that she taught knitting, crocheting & sewing, feeds 100 or more hungry gun dealers at our Saratoga Arms Fairs nearly single handedly (our next being at the Saratoga City Center this January 28 & 29), keeps 30,000 show attendees in continual updating, mails thousands of fliers & postcards periodically, administers our New Eastcoast Arms Collectors Associates Membership monthly and is a damn good cook? And for keeping up with me to reach our fifty years of marriage on June 30, 2012, any wonder I want to keep her happy?

Or that she is still the apple of my eye and my best friend? All in all I think I may have scratched the surface of what Cathy Petronis, my wife and life partner, has done and continues to do on a daily basis. We survived the Mechanicville Tornado that ruined our home and plans then worked together to rebuild our lives. As many other partners have we've survived illnesses, family tragedies, business down-turns but together worked through all those low points of our lives. Yes, we have reached retirement age and should be on the street of easy living, but hope and change simply didn't come close to reality and survival so we continue on, hopefully hand in hand, for another few years.

I will always be with my pistol packin' mama, till death do us part, seeking the good life while remembering our great one that we have already traveled together. For this life and in the next, I nominate Cathy Petronis for woman of the year.

All a great big part of Dave's World at NEACA.com .

David Petronis, President

NEACA, Inc.

518-664-9743

..... and that's the truth!

---

H appy New Year with a New Opinion Article... See our Sunday Gazette!

Gun Shows ~ January 1, 2012

---

Happy New Year to all us Primates!

January 1, 2012

You may have heard about the loss of the squirrel monkey from the San Francisco Zoo and of its' recent return. This is my Niece, Jill Andrews, with the little guy. For the full story click here! San Francisco Chronicle.

---

Only in New York, the Gun Show Gap

Commentary by David Petronis, Dec. 7, 2011

In regard to the Daily Gazette article on Thursday, December 1, and as one of the persons mentioned in that article, I'd like to respond first to the headline "Gun Sale Sting Shows Law Gap," and second to Attorney General Eric Schneiderman's reported remark that "guns are freely available to all at gun shows."

As to the word "sting" used in the headline, the common meaning of that word denotes that if a "sting" was in progress, then the target of the operation must somehow be criminal. Our organization does not engage in criminal activity. I am President of New Eastcoast Arms Collectors Associates. The purpose of our organization is to promote our arms collecting hobby and provide a forum where arms can be traded or acquired and educational displays can be presented. We have organized and promoted gun shows since 1982. We have never experienced a bad incident or problem of any sort and during the past 30 years we have provided safe and enjoyable events to hundreds of thousands of people through the Northeast from Maine to Pennsylvania. Evidently, now we are somehow to be looked upon as criminals by the Attorney General, and our past three decades of professionalism mean nothing.

I am not quite sure if the Attorney General actually believes that our hobby provides places where criminals gather to do evil, but let me assure you, that concept is as far from the truth as possible. Gun shows have been held throughout New York State for decades with no problems. As to the Attorney General's quote that guns are "freely available to all" at gun shows, he appears convinced that there are no effective laws to regulate gun show transactions. He contends that his "Operation Background Bust" was conducted to demonstrate to the Legislature and to the Governor that new laws need to be enacted.

In fact, there are existing laws regulating gun shows, and even a designated group of New York State troopers to enforce those laws. The law states that the "grounds" where the show is staged must display specifically worded signs at the entrances and throughout the show. We conform to this requirement and have done so since we were notified of it. We also notify in writing all "dealers and exhibitors" who set up at our shows that all sales of modern firearms to individuals must be subject to a National Instant Criminal System background check, commonly known as a "NICS check" . This rule also applies to all persons entering the show, even to individuals who meet at the show, discuss the purchase of a firearm that one of them owns, then leave the show together. They are still legally liable to obey the regulations of the NICS check if they finish their transaction outside. But where do the "grounds" of the show end? Does the rule still apply to two friends who meet at the show and then sell a personally owned firearm at one's kitchen table sometime afterward?

The worst part of this scenario is that the Attorney General might expect show promoters like me to control such "illegal" transfers between private individuals. By the way, let me explain that the above rule with respect to private sales is only for us New Yorkers. Only in New York does "dealer or exhibitor" responsibility apply to a private person who goes to a show with a privately owned firearm. That's how the Attorney General was able to issue a press release stating that ten "dealers" had been arrested in his "sting".

An even more bizarre situation concerns the person who arrives at the gun show with a private firearm and sells it to someone before ever entering the building. I hear in conversations that this may be exactly the situation that I am now being investigated for. I have heard no clear explanation of how I, as a promoter, am expected to prevent such a thing, or what actually transpired but I am now targeted according to the Attorney General's letter.

<![if !vml]> <![endif]>AS A SHOW PROMOTER I, IN NEW YORK, AM SUPPOSED TO CONTROL WHAT GOES ON OUT THERE IN THAT LINE HALFWAY AROUND THE CITY CENTER IN SARATOGA.

I have had many calls of inquiry and support from people who have attended our shows and from our NEACA members. Many have asked to send a letter of support saying that our practices at the shows have always been above board and according to regulations. To all those people, I say Thank You! And yes, please send those letters to your newspapers, your legislators, and the Attorney General's office. Show your support for someone who has stringently obeyed the laws and has probably annoyed some of our show attendees by stressing in word and practice that we all have a responsibility. I urge you to support our local shows, our NEACA organization and most of all our constitutional rights.

It has been said to me that our new Attorney General is an anti-gunner, a staunch liberal in favor of eliminating gun shows and possibly our gun rights. I don't know about that. I do think, however, that like many public officials he may have an agenda. A lot of progressives feel that gun control is righteous and will save lives. As a conservative and freedom loving individual I happen to believe that our freedom and preservation of our Second Amendment rights is a lot more important than anybody's agenda, for any reason. Again, thanks to everyone for your continued support and we hope to see you at our next City Center, Saratoga Springs Arms Fair on January 28, 29, 2012.

---

I Guess It's Timing ...

"The fact that we are here today to debate raising America's debt limit is a sign of leadership failure. It is a sign that the US Government can not pay its own bills. It is a sign that we now depend on on-going financial assistance from foreign countries to finance our Government's reckless fiscal policies. Increasing America's debt weakens us domestically and internationally. Leadership means that, 'the buck stops here.' Instead, Washington is shifting the burden of bad choices today onto the backs of our children and grand-children. America has a debt problem and a failure of leadership. Americans deserve better."

-- Senator Barack Hussein Obama, March 2006

Six years later America will do a lot better ... 2012 is a-comin' ... his chickens are going home to roost.

---

Letter to the Editor ~ The Gazette

from David Petronis ~ Monday, 29 June 2011

As a firearms dealer, I read with some interest the Pastor initiated gun buy-back program offered in Schenectady and reported in your Gazette on June 19, 2011. I question the lawfulness of such an event.

As a state and federally licensed dealer in Mechanicville, I applaud the attempt of removing illegal guns from city streets as the Pastors Charlie Muller of Albany and Ted Ward of Schenectady have envisioned. In fact, my gun show promotions company, NEACA, Inc., gave free space to an awareness group advocating the same thing at a show we sponsored at the defunct Centre City in Schenectady many years ago, so the idea isn't new. But at that time there were so many legal hurdles to address which made such an attempt to retrieve stolen and illegal guns near impossible, I wonder what now has changed; not much, I believe, perhaps attitude.

Our New York State laws still insist that a handgun be registered by name, serial number and caliber to an individual holding a valid and current pistol license. By our laws no one can touch, fondle, use or carry any pistol not on one's own personal permit (some family crossover exceptions exist). In fact, our laws upstate don't even allow a permit holder to carry his lawful weapon in NY City, but that is another topic. The point is, regardless of the noble intent, the picture your photographer snapped of the Rev. Charlie Muller holding that .40 caliber semi-auto pistol is now, I believe, evidence of him breaking the law. Dumb as it is, that is the way it is.

It is not my intention to undermine the efforts of these fine and responsible people but rather to raise awareness of some of the stupid rules that try to run our society. So what does Charlie do with an illegal handgun? Give it to the police who then need to find out where it came from? That could well be their job. If it was found to be a stolen weapon, which in most cases it probably is, do they return it to the rightful owner? I don't know. And by simply getting a murder weapon off the street, if that is what we are most concerned with, is the evidence of that gun and its ballistics now useless to track and prosecute the murderer?

Why not let plain folks who find old guns in their attic just turn them in to their local licensed gun dealer who in turn can help them be registered or sold as a collector piece? That scenario won't ever happen for one reason or another but a private individual, with all the right intentions, is basically allowed to do the same thing. Why can one scenario be solemn and good while also being lawbreaking, the other be impossible? Just one of my many observations in Dave's World.

---

---

The Real Gun Show Story

#

2

by David Petronis ~ May 25, 2011

The Real Gun Show Story #1 is below and I started off telling about our upcoming August Arms Fair ... "This August NEACA," etc. but that was a year ago; let me update. First, our 2011 summer gun show date is August *26, 27, 28; the Friday being reserved for NEACA Members and show dealers.

This next event will also mark our 28th year producing shows at the Saratoga Springs City Center, this one being number eighty-four! To see some of our prior exhibitors and their presentations click to Saratoga Arms Fair. However, the expansion of the City Center is now complete and instead of our capacity being for 250 eight foot tables in the main room we have two new carpeted areas plus the adjoining hotel also available for about twenty 8' x 10' booths in their gallery.

In these new spaces we want to expand to another fifty or so additional 8' x 10' booths comprising dealers in vintage sporting collectables, artists whose work will generally compliment the outdoors theme of our show thru nature, the animal world, hunting & fishing, the cowboy, our native Indian culture, or creations of decoys, mounts or related artisans. Over the years we have had many highly creative people included in our Arms Fairs and this is a great opportunity for many of them plus new artists to pool together in our show and make August in Saratoga not just the place to be for horse folks but for Artists and Artisans as well.

Our Arms Fairs are held four times each year and all are similar but also different enough to draw many diverse public attendees; so we don't get the same folks coming to every show, nor do we have the same exhibitors. What we do get is our NEACA Member base that now numbers around 1400 and 3000 plus buyers. That is why our Saratoga show has been running fine for these nearly three decades! To toot our own horn, we try harder and work friendlier. Our Gun Show page will have more complete information about the details and logistics of our NEACA Show Promotions.

The actual next event we are producing is in Old Forge at the Hiltebrant Recreation Center on North Street. This is being held at a new time, during the height of the tourist season, on August *5, 6, 7. We have also contracted for the same location on October 1 & 2, 2011. This is a great little village in the beautiful Central Adirondack Mountains of New York State, truly a world away from city trials and troubles; though the traffic does get backed up when the whitetails wander the main roads! A place to rejuvenate the mind and spirit, come up to our Gun Show & Adirondack Expo to get back to nature and the world of hunting and fishing the old time way.

When I said, "we've come a long way baby," in my original report I was just envisioning some of these new areas and expansions but they are now reality. Our business is good, we at New East-Coast Arms Collectors Associates or NEACA, are all well and in fine health; we like what we do and have friends across the country … what else can there possibly be to better enjoy the continued good life? I know, for you to check out our shows as an exhibitor or attendee, better yet, join us and become a Member . You will enjoy what you have been missing.

---

The Real Gun Show Story

#1

by David Petronis ~ July 14, 2010

This August NEACA celebrates the beginning of its 27th year of producing trade shows at the Saratoga Springs City Center. Our company actually staged the first large event at the budding building when we opened with an exquisite Antique Show. We didn't quite manage to fill what we thought then was a most massive hall of 20,000 square feet but came close, twenty six years later the City Center is expanding its width and height as it grows along with Saratoga itself. The City, the Center and our business have grown considerably since 1984, I guess the old saying can be used again as, "We've all come a long way, Baby!"

As President of a new and energetic company, while passing through the north end of Saratoga Springs one day way back in '83, I noticed a large clearing with the beginning of a foundation surrounding a good sized hole. I think the sign announcing something about a new Convention Center brought me to an abrupt halt and I found Mark Baker on site doing things in a small construction trailer. In no time we had contracted for the Antique Show and what was to become our 80 t h NEACA Arms Fair we will have produced on that ground this August 28 & 29.

Mark is still there issuing our contracts and now overseeing the expanding show area. We now routinely fill the hall with exhibitors and public has been flooding in four times a year to buy, sell and trade firearms of all makes and models plus taking home antique war weapons and accoutrements of every description. Our NEACA Arms Fair has also "been the place to be" for thousands of visiting folks.

Ours has been an ever changing business; we routinely must revise our shows to comply with new rules and regulations. Not only are there changing Federal laws to stay abreast of but New York State is one of the most restrictive in business with its own laws, taxes and compliances that we must follow, and being in the gun business we must abide by many more specific regulations. Running a legal, safe and enjoyable gun show isn't as easy as one would think; we don't just set up tables, invite exhibitors and sell guns to anyone who walks in. To buy a firearm there are forms to fill out, instant background checks to be made and hopefully received back in a timely manner, and delivery to be accomplished. There are no "gun show loopholes" liberals would have you believe.

Our shows are run as an extension of the firearms shops most of our exhibitors work at during the week, the weekend show is usually a big expense for them but they meet a lot more customers and also get to buy things from other dealers or the public they normally wouldn't see brought into their own shops. What used to be a lightly regulated swap meet 30 years ago is now a full time, well managed business. And years ago when these meets were few and far between today there are literally dozens of gun shows that go on simultaneously each and every weekend across these great United States.

Business has been good; while other businesses may be feeling the recession, the gun makers and sellers have been doing fairly well. It seems that people who never expressed an interest in owning a gun now want one in their home. Pistol permit applications are way up and background checks for purchases are at record levels.

Whenever a Democrat administration is in power just the threat of more rights being compromised or more restrictive gun laws enacted seem to be enough to spur our business on. Now with the Obama nation in charge of both the Congress and the Whitehouse, the fears stated are present once more. Guns and ammunition sales were at record levels last year and continue to be strong. The recent Supreme Court ruling that the Second Amendment to our US Constitution actually means what it states, that individuals have the right to own guns, now is being exercised at a brisk pace. The prevailing thought is the Second Amendment was placed there to guarantee all the others; even the First, Freedom of Speech, which also allows for the dissenting opinion.

It is also widely believed that after this election in November that a left over Democrat lame-duck Congress will try to ram through new laws or regulations that will be very adverse to gun owners nationwide. There has been little to no conversation over the past year and a half about any restrictive gun legislation which is most unusual.

This, we believe, is not by chance but by design and meant to lull the gun owning majority to dampen their guard over our freedom. This may sound like the popular conspiracy theories, but never the less, that belief is another driving force for immediate and continuing gun purchases.

Aside from fear of losing or having the future ability to buy or own guns there is another, though less known aspect in the collecting of guns; their strong resale market and retained or increasing value. Prices of quality collector firearms have been sky rocketing; auction houses routinely break individual record sales. Highly engraved, rare or historically attributed firearms are now one of the best of investments. Like the gold commercials we've all seen on TV, "It has never been worth Zero," guns will always have value, rarely down, most always up.

Usually a better return on investment than the stock market, especially so over the last several years; and honestly what would you rather have trying to protect your home one of these nights, a piece of paper portfolio or an antique, highly engraved, still functional Smith and Wesson revolver with a box of 50 rounds of .44 Russian cartridges? They were good enough for the European wars over a hundred years ago and still potent enough for today's intruders.

Over the decades, even the centuries, the cost of a good quality firearm has generally been high; whether for war, peaceful use in hunting or sport or for self protection, perhaps a month's salary or more was handed over gladly. Today, high tech manufacturing and laser engraving has brought the price considerably lower for a fine and fancy firearm. All types can be found at our NEACA Arms Fairs and at all levels of value.

Visiting one of our shows is still a walk through history but also, unlike a museum, you can actually purchase and go home with a true historical artifact or museum quality firearm. Not just guns but all sorts of sporting antiques, military collectables, investment quality custom knives, old hand crafted hunting decoys, traps, artwork, or Americana plus reference books and shooting accessories of all types can be found among the myriad of tables manned by the most extraordinary of throw backs to a different age; the gun dealer. Come visit them at our next show in the newly expanding Saratoga Springs City Center on August 28 and 29.

If you wish to join our New Eastcoast Arms Collectors Associates and receive benefits as a member of NEACA, visit our website at NEACA.com. Getting an average of over 6 million plus hits a month must define that there is ample interest in what we do. And we will also be doing it on September 25 and 26 in Old Forge, NY at the Hiltebrant Recreation Center on North Street and the following week at our largest show in the immediate northeast, held in Clifton Park at the SportsPlex of Halfmoon this October 2 and 3. Fill out your door prize coupon at any of our shows and be among the nearly 30,000 households who regularly get a mailing of our upcoming events. You will be in good company, pleasantly enlightened or modestly entertained and we do hope to see you at our next NEACA Arms Fair.

Anniversaries & Dining Out, Our Recent Experience

by David Petronis ~ July 10, 2010

As the saying goes, timing is everything. In little more than a week away, Cathy and I were celebrating our 48th wedding anniversary and I hadn't a clue as to what we should do. It's usually a grandiose affair, this big day when our family all began, but daughter Denise had travel sports with her two girls, son number one, David, will be working in Charlotte, NC and Scott, our baby, needs to be at his office in NYC. Wednesday, June 30, 2010 wasn't going to be a family gathering. A very busy time for us as well so it's just we two and we're staying local. Then came an e-mail.

"Special 5 Course Dinner & Wine Pairing – June 30th, 2010" was the message, "Reservations Required. Seating at 6PM at the Chef's Table." Sounded like a plan, a special dinner just for us in a special place on our special day; fate is good to us! This was a message from TR's Restaurant at the Holiday Inn Resort – Lake George Turf. Only about 40 minutes north of our home this intimate dinner for two was to be our celebration of another milestone in our loving lives; well, almost.

Cathy and I produce Arms Fairs for exhibitors and public to gather for the purpose of selling and buying firearms and related accessories. Collectors and dealers belong to our New Eastcoast Arms Collectors Associates as members of NEACA, Inc. As such we have been utilizing the banquet room at the Holiday Inn Turf for a February Gun Show for over fifteen years, so we knew the facility and our dinners there were always top notch. A Friday evening seafood buffet is a highlight for the locals and guests and we have made it a point to partake of the fare. With our pleasant experiences already, we knew this intimate five course dinner was going to be great. But intimate, not so much.

We've been dining together often with our dear friends Jan & Ken Delano, owners of Charlton Gun Shop and Cathy mentioned the special dinner offer we received. A few hours later a return call from Jan was that they would also like to go and wanted to treat us for our anniversary dinner. Not a proposition to refute and their company is excellent. This deal is looking better all the time, I thought – great dinner, fine company and now a gift!

I've been mentioning this 5 course dinner but now you must know the whole deal. What would you expect to pay for a Chef's Table, which means special attention, with five exotic courses, all paired with a special wine, that is – five wines? Including an appetizer, a salad, a special appetizer, filet mignon and dessert; a hundred dollars a plate would not be a lot. How about $49 per person? The entire mouth watering menu was in our original e-mail and we were ready to party. Unfortunately, all the hotel rooms were sold out so we couldn't party too much and drive home safely. So intimate dinner for four, here we come.

The Turf Hotel group owns several in the area and have been upgrading their Holiday Inn property overlooking Lake George for a year now. The place is beautiful, with accommodations, lobby and patios very comforting and eye appealing. The view of the lake is great and an evening cocktail near the outside fire pit is simply relaxing. From past experience we knew pretty much what to expect with dinner seating and service, but for this evening a surprise awaited.

On arrival we were greeted by the hostess, who knew us from our Arms Fairs, and led us into a special newly remodeled private room with doors opening to a private patio. A table for eight was nicely set up and we were motioned to pick our seating. I immediately mentioned that some confusion must be happening as we only had a reservation for four. "No confusion Mr. Petronis, this is your table and four other guests will be joining you, that is, if you don't mind?" Seeking help with an answer all agreed and I was motioned to the head of the table with Cathy on my right. We were a little early so we started on a bottle of the first wine offering of the evening, a Chardonnay from California. Our conversation began with how meeting new people should be an interesting one but I wondered what was in store.

In a few minutes our Executive Chef, Michael Squires came in to greet us and explained a bit about our meal and that four other guests will soon be arriving. Then Brian Straughter, Vice President of Turf Hotels arrived with Michael Spilman the Holiday Inn Turf General Manager. Then a couple from Niagara Falls, who were staying at the hotel, also joined us at the table. They were about our age, married 46 years, and complemented the group very well. All were in attendance and our night began.

A Jumbo Shrimp Francaise with lemon and saffron beurre blanc was placed in front of us and more Chardonnay was served. Chef Michael explained about the serving and what was to come and our mouths began to water. But 3 large shrimp covered in a butter sauce needed to be dispensed with first; they were delicious – could have been equally sufficient with only two! It was then divulged by manager Mike that this was the first offering of this dinner with real live customers, us, and that they sincerely appreciated our reservations. Prior dinners were for the staff where they tweaked the menu and service and were still seeking input as to how everything is served, amounts of food and style. We were the "guinea pigs" for the evening. And what little piggies we were to become!

Cleanse our palette, here comes a Pinot Grigio from Tuscany and our Belgian endive salad with walnuts and apples slices. Of course, nothing is as simple as it sounds. Not just walnuts, but ones that were roasted with honey and sprinkled with confectionery sugar. Thin slices of apple arranged in a perfect circle surrounding endive leaves in citrus vinaigrette. The fruity wine was a wonderful pairing.

We were beckoned that it was time to stretch our legs and retreat to our private patio where Chef Michael was grilling our special rack of lamb. I never really cared for lamb, I will tolerate it and have been served delicate little half-raw finger chops in some of the most beautiful of settings; they look great but just aren't for me. Well, these morsels sure smelled and looked pretty darn good, I'll mull through them one more time, I mused. Michael was finished grilling; we knocked off our Pino Grigio and returned to our seating among interesting conversation and awaited our next course.

Our server appeared with a California Pinot Noir, supple in texture, with rose petal and red fruit aroma. Pour away, I'll need it to drown out the lamb. Chef arranged these two great looking little chops with bone handles in a crossed arms fashion, almost in honor of our NEACA emblem of crossed rifles, he placed them over a mound of pesto risotto and sided with sun dried tomatoes. I couldn't believe the taste, I found I do like lamb! These were grilled to perfection with an applied herbed au jus and they were superb. The mound of soft, short grain rice was tasty but much more than I could handle for an appetizer. My buds were working overtime as it was. Cathy and Jan were contemplating how to duplicate the lamb as a meal when our fourth wine was uncorked, a dark Cabernet Sauvignon from Sonoma, this flavor of plums and Bing cherries perked the palette for our coming main course; anticipation was in the air.

An entre of medium rare Filet Mignon encrusted with blue cheese and wrapped in bacon was placed in front of us, one could almost hear the beckoning of "Taste Me!" This most exquisite of beef lay between a baby portabella mushroom demi-glace and roasted red pepper coulis, a tangy puree of red peppers, shallot, wine vinegar and olive oil. Adjoining each side were Yukon smashed potato and a roll of asparagus tips; a sight fit for the God of Goodness and a taste to please any King. The company ceased all chatter and the business beforehand was indulged upon. And indulgence indeed was this fine food and drink.

The serving and meal so far spanned about two hours then our table was cleared while our very competent and lovely server opened a slightly bubbly Rosa Regale from Strevi, Italy. Aromatic and tasteful of ripened raspberries the sweetened taste created an anticipation for dessert and coffee. Then Chef Michael produced a Chambord bunt cake with chocolate raspberry ganache. It was a temptuous finale to a wonderful meal. Over coffee we expressed our opinions amongst ourselves, Chef Michael and our hosts.

The unanimous consensus was that the idea and setting was great, the meal was handled perfectly and the food was superb. Ken suggested the wine pairings could reflect our own New York State vineyards in keeping with "buy locally." I suggested the appetizer portions could actually be reduced even though none of us had an "overstuffed" feeling. Chef Michael said he already went to three shrimp from five and said they were still exploring the serving time and portions. Two and a half hours for a great meal with a patio break at half-time seemed to fit the optimum dining experience. Jan wanted the recipes. All of us were well pleased.

As noted, timing is essential and if you want to experience a wonderful evening each Wednesday, TR's at the Lake George Holiday Inn Turf is a dinner to behold. We thank the owners and management for developing the idea and the cordial atmosphere of their Special 5 Course Dinner & Wine Pairing and wish them great success. Whether you like to dine as a couple, foursome or want the experience of joining a group table, all requests seem to be accommodating but their intimate private area appears to be designed for less than twenty adult people. Our invitation turned out to be an evening of celebration that we soon won't forget.

TR's takes its name from Teddy Roosevelt, a military leader, stalwart conservationist, experienced hunter and one of New York's favorite sons. His old politics may not be credible to all but his namesake overlooking Lake George is truly a remarkable establishment and surely will become a destination to partake of beauty, friendliness and a wonderful dining experience. Our hats are off to Chef Michael Squires, Cathy and I are looking forward to our return visit.

---

The First Amendment to our US Constitution gives us the Right to write this; the Second Amendment Guarantees that we can! July 4th, 2010

There was talk yesterday about Obama (he's not my President) trying to stifle reporters from using pictures or videos about the "Oil Spill" anymore, or REPORTING on it! And eluding to time in jail plus a $4000.00 fine. Now you know why I start my home page with Buy a Gun! EVERYONE should own guns.

---

AARP or CRAP? ... You Decide!

June 10, 2010 .... by David Petronis

Just received my Valuable Life Insurance Info from AARP; you know them as the modern leaches of the elderly as opposed to the olden times blood suckers that were thought to help with physical ills. I must say though, reading their policy proposal gave me a good morning laugh.

First of course, you must join the American Association of Reprehensible Practices – or whatever AARP stands for – and then fill out this New York Life associate questionnaire; no health examination is needed, alluding to "you can fool them by lying." Don't believe it for a second and read the fine print of the policy before 30 days is up. Most large organizations make a lot of money simply lending their name to a product or, in this case, an insurance policy. AARP is no different.

So, if you are a 67 year old male and would like to give AARP just around $30,000, not including lost compound interest, and you kick off at age 79 you get your money back plus $20,000. If you make it past 80, you're out of luck. But, that's what insurance is for – helping you out if bad luck ensues. And, as with a lot of folks if we didn't have bad luck we'd have no luck at all! But generally speaking putting ten grand away for a funeral is probably further ahead than buying a $50,000 policy at those "cheap" rates. And don't worry about leaving your kids or grand kids a nest-egg, Obamacare will keep them all happy from cradle to grave while taking all your money in the meantime.

These are the things that made me chuckle; no medical exam but the questions like, "have you been diagnosed by a doctor as having heart trouble, lung disorder or diabetes, etc.", among other ailments, at our age is almost a given, "yes." Or number two, "In the past two years have you been admitted to a hospital?" Or this one I really like, number three; "In the past three months have you consulted a doctor?" Another chuckle when in Question Three it was noted that I was not required to report any HIV tests but was required in Question One whether I had AIDS or an AIDS complex.

Delving into the coverage, I noted that if I get a doctor's diagnosis of 12 months or less to live then I can apply for half of my benefit coverage as long as I keep paying the premiums. Nice of AARP. Then I noted I get to keep this coverage to age 80 then I get to pay much more for something, I guess, new? And premiums, meaning monthly payments, are not at a guaranteed rate but I am told only if AARP raises all the rates in my same class at the same time will they raise mine. Well, I feel safer with my stated payment now.

AARP tells me that there is still time to protect my loved ones but didn't they just tell me all my problems will be addressed when we all kiss Obama's Ass and make him dictator? Well, just for a little while … until he gets all his grand plans in motion. I thought the Great One was going to give me all I needed, what about that AARP? Did you forget?

I saved the best laugh till last. As I re-read this proposal I knew I had to be missing something then there it was, "Just One Exclusion!" Get this, "If death results from suicide in the first two years, benefits will not be paid."

AARP wants all of us 67 year old people to kill ourselves when we reach age seventy and then screw us out of our benefits with the fine print in their frigging policy!

There is a master plan after all.



---

I Can't Believe the Crap on the News

May 28, 2010

....

By David Petronis

I swear, every day the crap I hear on the news is steadily worse than the day before; actually I find myself swearing at the news! Cathy tells me to calm down but with hearing that the Feds have built a fence to keep the Border Patrol vehicles off of "sensitive" land but aliens can cross it at any time, well that just makes me swear more! Are "they" all insane!

"They," being the numskulls who make these rules … the real power in Washington and elsewhere … the damn bureaucrats! The bottom feeders who listen to the lobbyists' … like the environmental whackos who think cacti are more important than you and I. When we start getting rid of the permanent fixtures imbedded in the government is the day we start improving America. You think teachers have tenure … ever try to fire a State Worker?

Today, Obama tells us that the illegal aliens will have to pay a fine, pay their back taxes and go to the rear of the line for US Citizenship; is that what he plans to do with the several hundred Somalia Muslims that recently crossed from Mexico? They aren't here to work Pres and they probably won't mind the back of the line; better to do their thing unseen in the rear. They would love US Citizenship so if they are caught doing damage they can get your AG Holder to give them their days in court to ridicule you for being an Ass! I have my own way to stop border crossings.

Oh, glad you asked. BO, do you know how many folks would gladly volunteer to set up camp on a desert ridge in Texas, Arizona or New Mexico and set their sights on a moving target? A scoped M-14 would be a handy deterrent and a couple of boxes of .308 ammo are still pretty cheap; problem of aliens solved in a week … at no cost to the Government! Drug smuggling would be at a halt and people in slavery would be replaced with people power. I'll bet free room and board would be there for the asking from fed up ranchers.

Speaking of the Fed, why can't you come up with a good idea like that to protect our borders and our Citizens? The Mexican Federales shoot folks trying to cross into their country illegally, why can't we? If Calderon can do it, why can't you? We'll start a war on the border with drug dealers, you say; and they would start shooting Americans and kidnapping them. The war would be the object 'cause, Pres, Phoenix is now the second highest kidnapping city in the world, just behind Mexico City and in case you haven't noticed … them drug runners are already shooting Americans. Where is Pershings' replacement when you need him? Instead of being apologetic to the commies in China get some gonads and enforce the US Immigration Laws so States like Arizona can get on with tourism instead of having to do your job! Before the States number one business is replaced by exporting illegals.

Sorry, I said "commies in China." I forgot, they are our trading partners and we owe them our asses and pretty soon our left arms and souls. Unfortunately, deal with the devil and face the consequences has been one of the forgotten rules. Went to buy a shirt yesterday and the ones made in Egypt were $24.95, ones from Bangladesh were the same and ones from China were $3.00 less … ones made in the USA … weren't there. An indication of what "Globalization" means to Americans like me and you. When I was selling clothing in my Hudson River Trading Company store we sold 90% Made in the USA, 7% Made in England (Barbour) and 3% Made in Korea (Combat Boots) because there wasn't a single US manufacturer of molded footwear. Now even that is dominated by China, want to walk to war, first place your boot order with the commies.

War ain't what it used to be. If you get shot at today you can shoot back but make sure there aren't any "civilians" around … that is, if you can actually load your weapon. Oh, there is plenty of ammo but there are more regulations against its' use. Want to send your son or daughter in Afghanistan a combat knife or even a large pocket knife? Make sure it is less than three inches; otherwise they may hurt someone with it. That gallant bayonet charge of yesteryear; forget about it. Our Army threw your kids bayonet away, into the scrap heap … too violent a weapon and deemed it too cruel for use in combat. The MI Garand , the weapon that won WWII and is probably still one of the greatest effective combat weapons in use today, well the Army has destroyed most of what they had left; instead of selling them to the civilian US marksmen. Heaven forbid we should have the power of the Minutemen of 1776. Instead we have to ward off any invasion with Chinese SKS's … if you can still find one … importation was banned.

Remember movies where Audie Murphy stood his ground with a .50 caliber Browning Machine Gun and won the Medal of Honor? Today your kid would win a Court Martial for shooting a .50 Cal at a combatant … cruel and unusual punishment blowing a man in half that was trying to kill you! Don't see much about the facts above on the crappy news … at least not knowing keeps me from swearing! Yeah, war ain't what it used to be … how's that "change" working for you?

---


May 25, 2010 ~ Children of our Great Country ... Watch, Listen & Learn...


To teach a kid a lesson is a great service, to learn from experience is a great teacher, to learn a lesson from a masterful teacher is a great experience. Children of the greatest generation have faltered to teach those of the next generation about the values and sacrifices those before us have endured. Please ask your children this question, "What is the Constitution?" And then sit them down for a few minutes and experience with them the words of a great orator ... and teach them the value and the meaning of being an American. Watch the video ...


---


May 23, 2010 ~ Obama Snubbed


Did you watch the 10-second video in the headings above, where a lineup of leading Russians refuse to shake Obama's hand? Did you see this on ABC, CBS, NBC, CNN or MSNBC?

This is "hard ball", Soviet Style. After the third handshake refusal, it becomes obvious and Obama's facial expression is priceless. "I guess we're no longer in Chicago?"


---


March 28, 2010 ~ Letter to NRA



To Wayne LaPierre,

I read with keen interest in our Daily Gazette, Schenectady, NY of how you and evident buddy, Harry Reid, were together at a new NRA shooting Range in Las Vegas, Saturday, March 27, 2010. Sarah Palin was spouting to the Tea Party crowd a mile away, you know the folks who rant about God, guns and Freedom. I assume there was no time in your schedule to meet and greet the street folks who will be turning your buddy to pasture in November.

Yes, I am an NRA Member, a gun dealer and gun show promoter. I also don't drink beer and I vote! In the last NY State and Congressional elections it seems you guys at the NRA backed our now Senator Gillibrand over a nice Conservative fellow and she won. Then was appointed to the Senate and we got Obamacare. You also backed Scott Murphy of NY over another nice conservative and we got Obamacare in the House. Are you now out stumping for Harry Reid so we can get Socialism in our lifetime? It is just great that good old Harry is a hunter or voted one time for our cause to keep our guns. There is a bigger picture here, Wayne. Guns are good. But even good gun guys can go wrong, as you guys did. Don't repeat your stupid mistakes and give Sarah a call.

It is of no use to have the right to buy and sell over the backyard fence if you can't afford to buy groceries or ammo and your grandchildren can inherit our collections but need to sell off to pay for the ridiculous Federal debt we are in. Get real, have a cup of tea, Wayne. Think beyond the firing range and set your NRA sights on getting Conservative Gun People to our Nation's Capitol in November. We here at our gun shows or NEACA Arms Fairs are shooting in that direction.

David Petronis,
President, NEACA, Inc.


From www.FOXNews.com

- January 11, 2010

Sarah Palin to Join Fox News as Contributor

Interesting News today from Fox News about my favorite Lady Conservative ... see story.

2008 Republican vice presidential nominee Sarah Palin is joining Fox News as a contributor, the news channel announced Monday.

The former Alaska governor, whose book, Going Rogue: An American Life, became a bestseller weeks before it was released and remains No. 2 on the New York Times bestseller list, has signed a multi-year deal to offer her political commentary and analysis across all Fox News platforms, including Fox Business Channel, FoxNews.com and Fox News Radio.

She will also participate in special event political programming for Fox Broadcasting.

"I am thrilled to be joining the great talent and management team at Fox News. It's wonderful to be part of a place that so values fair and balanced news," Palin said in a written release.

Palin will also host periodic episodes of Fox News Channel's "Real American Stories," a series exploring inspirational real-life tales of overcoming adversity throughout the American landscape that will debut in 2010.

"Governor Palin has captivated everyone on both sides of the political spectrum and we are excited to add her dynamic voice to the FOX News lineup," said Bill Shine, executive vice president of programming.

Prior to joining Sen. John McCain on the 2008 presidential ticket, Palin was the first woman to serve as governor of Alaska, taking the oath in 2006. As governor, she worked on improving resource development, education, health and transportation and infrastructure development.

Prior to holding the office of governor, Palin served two terms on the Wasilla City Council in Alaska as well as two terms as the mayor and manager of Wasilla, and worked as an oil and gas industry regulator.

Owned by News Corp, Fox News Channel is a 24-hour general news service covering breaking news as well as political, entertainment and business news, and has been the most-watched cable news channel in the country for eight years running. It features the top 13 programs in cable news and can be seen in more than 90 million homes.

HISTORY OF THE WORLD IN THREE SHORT PARAGRAPHS
Over five thousand years ago, Moses said to the children of Israel: Pick up your shovel, mount your asses and camels, and I will lead you to the promised land.

Nearly 75 years ago Roosevelt said: Lay down your shovels, sit on your asses, and light up a camel; this is the promised land.

Now, Obama has stolen your shovel, taxed your asses, raised the price of camels and mortgaged the promised land.

Something to Ponder

I don't know who wrote this piece about the "Change" that has been happening in America but the logic and the history lesson should be heeded. I could have written it because I feel the same way, uneasy and questioning … why? Why is the Country I grew up in so different from the memories of my youth fifty years ago? Is it Progress … or are we simply repeating the dark side of history? David Petronis … 26 October 2009

The Observation … Anonymous.

I have come to think there is something monumentally large afoot and I do not believe it is simply a banking crisis, or a mortgage crisis, or a credit crisis. Yes these exist but they are merely single facets on a very large gemstone that is only now coming into a sharper focus…

Something of historic proportions is happening. I can sense it because I know how it feels, smells, what it looks like and how people react to it. Yes, a perfect storm may be brewing but there is something happening within our country that has been evolving for about ten to fifteen years. The pace has dramatically quickened in the past two.

We demand and then codify into law the requirement that our banks make massive loans to people we know they can never pay back? Why?

We learned just days ago that the Federal Reserve, which has little or no real oversight by anyone, has "loaned" two trillion dollars (that is $2,000,000,000,000) over the past few months, but will not tell us to whom or why or disclose the terms. That is our money; yours and mine. And that is three times the $700 billion we all argued about so strenuously just this past September 2008. Who has this money? Why do they have it? Why are the terms unavailable to us? Who asked for it? Who authorized it? I thought this was a government of "we the people," who loaned our powers to our elected leaders; apparently not.

We have spent two or more decades intentionally de-industrializing our economy. Why?

We have intentionally dumbed down our schools, ignored our history and no longer teach our founding documents; why we are exceptional and why we are worth preserving. Students by and large cannot write, think critically, read, or articulate. Parents are not revolting, teachers are not picketing and school boards continue to back mediocrity. Why?

We have now established the precedent of protesting every close election, violently in California over a proposition that is so controversial, one that simply wants marriage to remain defined as between one man and one woman. Did you ever think such a thing possible just a decade ago? We have corrupted our sacred political process by allowing unelected judges to write laws that radically change our way of life and then allow mainstream Marxist groups like ACORN and others to turn our voting system into a banana republic; to what purpose?

Now, our mortgage industry is collapsing, housing prices are in free fall, major industries are failing, our banking system is on the verge of collapse, social security is nearly bankrupt, as is Medicare and our entire government. Our education system is worse than a joke (I teach college and I know precisely what I am talking about) the list of problems is staggering in its length, breadth, and depth. It is potentially 1929 times ten.

And now we are at war with an enemy we cannot even name for fear of offending people of the same religion, who, in turn, cannot wait to slit the throats of your children if they have the opportunity to do so.



And finally, we have elected a man that no one really knows anything about, who has never run so much as a Dairy Queen, let alone a town as big as Wasilla, Alaska. All of his associations and alliances are with real radicals in their chosen fields of employment, and everything we learn about him, drip by drip, is unsettling if not downright scary. Surely, you have heard him speak about his idea to create and fund a mandatory Civilian Defense Force, stronger than our military, for use inside our borders. No?

Oh, of course not. The media would never play that for you over and over again and then demand he answer it. Sarah Palin's pregnant daughter and a $150,000 wardrobe are more important.



Mr. Obama's winning platform can be boiled down to one word: Change. Why?

I have never been so afraid for my country and for my children as I am now.

This man campaigned on bringing people together, something he has never, ever done in his professional life. In my assessment, Obama will divide us along philosophical lines, push us apart and then try to realign the pieces into a new and different power structure. Change is indeed coming. And when it comes, you will never see the same nation again.

And that is only the beginning.



As a serious student of history, I thought I would never come to experience what the ordinary, moral German must have felt in the mid-1930's. In those times, the "Savior" was a former smooth-talking rabble-rouser (Community Organizer) from the streets, about whom the average German knew next to nothing. What they should have known was that he was associated with groups that shouted, shoved, and pushed around people with whom they disagreed; he edged his way onto the political stage through great oratory. Conservative "losers", I hope you read it right this time.

And there were the promises. Economic times were tough, people were losing jobs and he was a great speaker. He smiled and frowned and waved a lot. And people, even newspapers, were afraid to speak out for fear that his "brown shirts" would bully and beat them into submission; which they did - regularly. And then, he was duly elected to office, while a full-throttled economic crisis bloomed at hand - the Great Depression. Slowly, but surely he seized the controls of government power, person by person, department by department, bureaucracy by bureaucracy. The children of German citizens were, at first, encouraged to join a Youth Movement in his name where they were taught exactly what to think. Later, they were required to do so. No Jews need apply.

How did he get people on his side? He did it by promising jobs to the jobless, money to the money-less and rewards for the military-industrial complex. He did it by indoctrinating the children, advocating gun control, promising health care for all, better wages, better jobs and promising to re-instill pride once again in the country, across Europe and across the world. He did it all with a compliant media - did you know that? And he did this all in the name of justice and... "Change!" And the people surely got what they voted for.

If you think I am exaggerating, look it up. It's all there in the history books under Hitler and Nazism.

So read your history books. Many people of conscience objected in 1933 and were shouted down, called names, laughed at and ridiculed. When Winston Churchill pointed out the obvious in the late 1930s while seated in the House of Lords in England (he was not yet Prime Minister) he was booed back into his seat and called a crazy troublemaker. He was right, though. And the world came to regret that he was not listened to.



Do not forget that at that time Germany was the most educated, the most cultured country in Europe. It was full of music, art, museums, hospitals, laboratories and universities. And yet, in

less than six years

(a shorter time span than just two terms of the U. S. presidency) Germany was rounding up its own citizens, killing others, abrogating its laws, turning children against parents and neighbors against neighbors; all with the best of intentions, of course. The road to Hell is paved with them.



As a practical thinker, one not overly prone to emotional decisions, I have a choice: I can either believe what the objective pieces of evidence tell me (even if they make me cringe with disgust); I can believe what history is shouting to me from across the chasm of seven decades; or I can hope I am wrong by closing my eyes, having another latte, and ignoring what is transpiring around me.

I, for one, choose to believe the evidence. No doubt some people will scoff at me; others laugh or think I am foolish, naive, or both. To some degree, perhaps I am. But I have never been afraid to look people in the eye and tell them exactly what I believe and why I believe it.



I pray I am wrong. I do not think I am. Perhaps the only hope is our vote in the next elections.
<![if !supportLineBreakNewLine]>
<![endif]>

---




September 1, 2009

T

oday is the 70th Anniversary of the Start of World War Two, September 1, 1939. Fifty Million people were estimated to have lost their lives in the ongoing years till War's end. Something to think about when then, like today, we were not prepared Mentally nor Militarily to respond to a threat from a National Socialist Party of Brown Shirts and Black Shirts who simply wanted to Right the Wrongs of the Past Administration. History can and will be repeated if common people lose their Faith. This Video urges us to Remember ...

watch then join the Tea Party.


Sunday Morning Coffee July 27,

" I see the Capital Region Quarterly Sales Tax receipt numbers are in for this Second Quarter of 2009 and the area is down from 4 to 10% in tax revenue," was my first comment to my wife over Sunday morning coffee. I continued, "Saratoga County led the decline with 10.27% less taxes collected over the same period of last year, equating to about 2.5 million dollars." Cathy replied, "Didn't you write about that last week?"

I wrote in a Letter to the Editor of our local Express that sales tax revenue increases are not about to offset any give-a-ways for PILOT Programs to developers of the Esplanade Project in Mechanicville. In the letter I said, "If you want to build it, pay for it; don't ask us taxpayers to foot the bill."

Someone asked me why I bother to write Letters to Editors or commentary articles on various subjects. "Generally nobody really cares about anything except their own job and family," was a comment. I explained simply, "If not me, who?" But with that response I also questioned my motive. Was I the type of person who just wanted to see his name in print? Searching my soul, the answer was much more than, "no." I've had my fifteen minutes of fame supposedly allotted to us all, in fact many times over. I don't need recognition but I feel a need to speak out when I recognize a problem. I guess I have a need to comment thinking if I don't, who will? I've never been one to leave it up to the other guy to get rid of the dead skunk in the road.

I have found that very many young people today do not know what is happening around their lives. Very few young people, I put young at under 45 years old, read a daily paper or watch the evening news. They seem to be too busy with daily life. However, they usually know what is going on in the work place, in their or their friends' neighborhood and at school. But in politics outside their hamlet, in history about town and of State and Federal proposed policies and laws, most kids don't have a clue. Ask who the Vice President is or the name of their representatives to the State Legislature are and more than not a blank stare will be your answer. But politics is what drives each of our lives, shapes what we can and can't do and generally figures how much money you will get to spend on what you want next year and in the future. Elections have consequences and knowing who and what policy to back are important to your future.

This morning I am especially enjoying the Sunday newspaper, though I must say, comics aren't what they used to be; I got more chuckles out of how the Schenectady politicians and city lawyers are trying to stifle new businesses and curtail private parties. If the proposed laws were in effect years ago I wouldn't have been able to go into business. When these things are thought up they seem so reasonable, being their purpose is to curb crime, burglaries or drug use, all good targets of concern. You probably don't even know of these crime fighting attempts, so let me shed some light.

The Schenectady City Council wants to pass a law that will allow their police to crash a private party held in a commercial building, ostensibly to stamp out drug use because there were three homicides at private parties last year. There must be hundreds of pros and cons on that issue. Probably more a problem of who is having the party instead of the function in general. The problem seems to have solved itself though, private party bookings have moved out of Schenectady; great business outcome.

If the "Fenced Goods Law" goes through, small businessmen will have to prove to the City that they have enough money to operate a "legitimate" business. Object is, that if you intend to buy any "used" items from the public for a business of resale, then you must show you have enough capital so you won't be enticed to buy stolen or "fenced goods" so you can make exorbitant profits. In other words, people who have a lot of money are good; people with little money are bad. I wonder who decides between the good and evil among us. The City would control this by not simply leveling a proposed $250.00 fine for being engaged in this larceny but also by credit checking and determining whether the prospective business person has enough cash. They would not issue a "certificate" unless one passed their test. Way to go, bro!

My solution; why not just lock up the filthy burglars in the first place and hide the freaking key! Problem solved. I started my business career with a rug of green outdoor carpet, a metal cash box and $50.00 for change when I opened my first retail outlet; plus a little inventory of course. Point is I could not have passed their test for capitalization. Since then we have been successful in amassing … well, let's just say it's more than a million. But not from that friendly business city, Schenectady.

I ran a gun show within the City limits some years ago and it was the only time I had to jump through hoops, pay extra cash and obtain permits to do so in over 25 years in my Show Promotion business. Haven't run one there since. Being run by a Democrat majority I guess they just have a need for control; kind of like Obama insisting his unhealthy health plan is "going to be" shoved down our throats whether we like it or not. When our Congress and Federal workers try it out first for a year or two, talk to me then!

The health care debate is supposed to be around 50/50 for or against, according to some polls. I ask, how can spending several trillion dollars to insure 40 million people (a lot who don't want it or need it) benefit the 300 million who already have one form of good health insurance or another? Or, do you see folks flying to England or Canada for medical aid? Wake up folks, smell the roses at home before you whiff the cesspool leaking out of Washington. To the young folks who probably won't read about this today, either here or in your local daily, you may find it too late when you reach my age. Let your voice be heard now.

"Cathy, I need another cup of coffee, please! Reading about these Unions is drying my throat!" Now, Carl, I thought to myself, what are you chiding about today? I love Carl Strock when he agrees with me but he can be a real … well, pain sometimes. And I thought I may have converted him about guns when I invited him to one of our Saratoga Springs Arms Fairs. He did show up and said hello. "Carl, we're having another at the end of August, pop in!" At least he told it like it was with this Union bid to abolish elections at non-union work places. What a crock! Gun sales would probably go even higher if that proposed legislation got wings.

I wonder, could it be that this lingering small amount of unionized workers in the private sector and the overwhelming number of governmental unions combine so that it generally costs a million dollars a mile for roads? What ever happened to the ditch digger for $5.00 an hour? That wasn't supposed to be a career job that required a "living wage" as the liberals like to say. Flinging burgers wasn't supposed to be a lifetime opportunity but rather a part-time or entry pursuit. No wonder there is so much unemployment today, the brainwashing of living minimum wages precludes workers from taking a menial job … or two, to get by while working towards something better. Let a small businessman legally hire help at five bucks an hour without all the red tape involved of "living wages" and see how many folks could get a job. It is not a permanent solution but it would put money in some pockets right now. It should not be up to the business owner to create careers out of dead end jobs. It should be on the back of the individual worker to make him or herself move up the line from burger flipper to the flippin' manager. Well, not likely to be much incentive to look harder when one can now get 72 weeks of unemployment benefits; that is some paid vacation. "I know, Cathy, sometimes things are tough," I mused. She saw what I was writing.

Uh, oh! I got to the Opinion Section; skip that. If I wanted your opinion I would have given it to you. Cathy says I got to get off my duff and mow the lawn. Women, they just don't understand what a Sunday morning is supposed to be. At least I can hide in the bathroom and finish the paper. I still have the financials and the rest of the comics but may only have time for the most important. Just like the cherry with a sunday desert, I leave the best till last. I'll go with "Dilbert."

---

Your kids got nothing to do? Show them this Jazz .... Jambalaya, Crayfish Pie ...


MEANING OF ASSUME

Assume. What a word it is! What a scenario those two syllables can put together. Know that life is hard enough but when assumption enters a phase of it the process is usually a learning experience. So, for the next several minutes, let's assume that I, the author, know what I'm writing about and you, the reader, will either be entertained, or learn something.

I have been in sales, in sales management and now own several businesses. I have been trained in and also taught sales, closings and time management. I am of retirement age but choose to be working. I have what some people would call a type A personality. The point is, I have lived a full life and quite probably know what I write about. Many years ago while attending a seminar, my mind was opened to a very interesting question; Who is the ass in assume, you or me?

Sounds dumb, doesn't it? Let's take a look at my experiences just this past week and find out what happens when one person assumes another person knows what they are doing. A contractor stopped in to my gun shop and asked if I still needed brick work, we made a deal and I hired him. I knew of his work and he seemed reliable, especially after showing up on time for several days. He was working by the hour and he and I kept time schedules. When his bill came to me I assumed our hours would basically be the same; they were not. His included leaving his house and picking up material on his way to the job and lunch time. His also included his wife's time for picking up some material plus gas. Whether his or mine were correct was not the lesson here, the learning experience was twofold; I assumed I was paying him for brick work performed and not travel time; lessons learned, I was the ass in assume. I fired him.

During this job, I needed coloring for the mortar mix so I called a cement supply company, Grimm, in Green Island, NY. Been there for over a hundred years so they must know and care about their business. When I phoned, the fellow who answered sure sounded like he knew what I needed and I left. On arrival at this very large facility of cement and stone products, I found who I was talking to and we checked a color chart, picked out what I needed, ordered five, five pound boxes and pulled my vehicle up to a delivery area. He brought out one box containing six boxes of coloring and said, "thanks", be off with his blessings.

Now, assuming something was awry I said, "Wait", I ordered 5 boxes, either I'm short or over." This competent looking young fellow then looked at the box that said six and stared in wonderment, apparently perplexed, possibly bedazzled! He observed while I pulled my trusty pocket knife, skillfully inserted the blade to the taped box and exposed six boxes of coloring. I handed him one that was imprinted with a number "five" and "pound" word and told him I just saved his company twelve dollars and change. Good-bye. Now you would assume that my good deed for the day was done but don't ever forget the other very important adage to that concept; no good deed ever goes unpunished !

I arrived back at my house with the box of coloring, showed it to my mason and now I read on the box, "Bright Red" when I specifically ordered "Limestone Red" from the color chart. To the phone I go, talked to my main man "Scott", who helped me with the order and found out he gave me the wrong box. They were closing shortly and would be open at 7AM on Monday, no time left this Friday to go back and get an exchange. "Anyone live near me in Mechanicville who could drop off a box?" I asked. "I don't know where other employees live," was the answer. Lesson learned, I assumed I got what I paid for and hoped the problem could have been easily corrected, it was neither. I was the ass in assume.

Now the weekend brick work wasn't going to happen so time was lost on the project. Come Monday morning and my main man "Moose" was supposed to be on the job at 7AM. When he showed up just before 9:00 I had other things to do. It takes about an hour to run down to Grimm and back; actually 40-45 minutes but who's counting time? So, I told "Moose" to go and pick up what we needed and he would be on the clock for labor and I'd give him a few bucks for gas; mind calculation, 30 miles round trip, 15 miles a gallon, 2 gallons at $2.50, five bucks, I'll go six. Moose goes down, gets the right color, leaves at 9 and returns at 11:00. On his bill calculation he adds 2 hours for labor and $20 for gas. You know the lesson, it rhymes.

You would assume when a bill comes in the mail it is correct, not always. My wife Cathy always checks the credit card statements, the phone bills, the utility bills and the bank statements Often they are wrong and usually not in our best interest. Assume the grocery clerk and the scanner are adding things up right and learn the lesson at home that they were wrong. When you assume, it costs you time and money.

If a grocery clerk doesn't know what an apricot or a bunch of scallions are you would assume they would ask. If not they may charge for the incorrect item. You assume the scanner is correct but if the stock man doesn't put in the right code or adjust the code for sale items, you pay more. Never assume your grocery trip is an outing, it is a chore, a job, often a learning experience.

I have an answering machine on a particular phone line and the line is set up so no outgoing calls can be made. Cathy checked the phone bill and found a charge that my answering machine accepted a collect call. I will have to speak with it! Another erroneous $9.00 charge for another company re-routing my calls; no they weren't! Don't check the bill and you'll pay extra. Another rule to live by is "If you are not part of the solution you are part of the problem." Training for sales clerks, computer operators and people in general is essential. Assume ignorance and train.

One would assume that our legal system is generally correct in its outcome. You would assume wrong, The lady with the scales is blindfolded so assume nothing will go right and you may stay out of jail. I embrace the death penalty for horrendous crimes but assuming you would never be charged with murder when you are completely innocent doesn't work well when walking the last few yards on death row. Good plan or bad, don't really know but if your life depended on the assumption that the system is infallible, you could assume wrong.

On the subject of law and lawyers, today at 1PM Cathy and I go to a closing of understanding on a restaurant we wish to purchase. We've worked long and hard on this deal and it now all comes down to a meeting of the minds; we assume we are all on the same page and all will go well. We've done our diligence in explaining what we want and have agreed with the sellers on all aspects. Will our lawyers be on this same plane, the same field of view, the same page as we are. We'll see later.

Donald Trump gave advice as to always be ready to walk away from a deal until the very last moment of signature. We adhere to that advice and are willing to do so with this deal. If it is not exactly how you want it, decide beforehand on what you will do. Walk away if necessary. Never assume it will work out, it usually will not.

Now my week isn't quite finished, yet. Yesterday I was met at my shop by a customer and I was a bit rushed for time anyway and events got carried away. I unlocked my door, put keys in pocket, turned off the alarms, turned on the lights and talked about guns. Needed to be somewhere else so when I finished I was just going to quickly lock up again and come back later. Reached into pocket for keys, went to lock the front door and found that I only had the round part hanging on the ring, only had half a key. Proceeded to check the key hole and there I saw an object in the slot, the rest of my key? Luckily, I have an inner door which I did lock and left the outer door unlocked. I will repair it later or call a locksmith and away I went.

Cathy asked when I would be home for dinner and I told her if I didn't need the locksmith in an hour or so. Back at the shop about 4:00 PM I proceeded to take the lock apart, naturally a set screw that holds the thing-a-ma-jig wasn't going to move so I took out my handy lock-picks to see if I could get the broken end out. The tools went in awfully easy and I could grab nothing. I had taken a spare key and checked it to see what the end looked like, for some reason I also tried to insert it into the lock … went in just fine! There was no broken part of the key in there, I just assumed there was. On checking my pants pocket in the evening after emptying the day's accumulation, there was my broken end. All in a day's assumption, I guess.

Lesson learned in the last few minutes of reading is that when you assume something of another or of an instance you generally will achieve disappointment rather than your intended outcome. Practice clarity in your conversations and even in your thoughts and conclusions. The dictionary defines "assume" as to "take as granted or true"; that is, to "suppose." Another meaning is, "to take up or upon oneself" as to assume responsibility. These two meanings, among others, make the act of assumption a very important part of everyday life. As I said previously, life is hard, don't make it any harder by assuming it is not.

However I do assume, you will check out my Dave's World Page on NEACA.com to observe the outcome.

---

Has the NYS Senate staged a comeback? Maybe Monday?

Answer was, I guess not! Republicans had best get off their fat asses and go see the people out there if they want to be on the inside again.


Follow this

NRA link

to see what the gun grabbers in the NYS Assembly have passed this month of May, real scary!





Think you are alone? Not if your cell phone is with you. This link will get you to think about what you could be saying to everyone...

Cell Talk


" Stories & Glory of Dave's World " MUST SEE ~ Remember the Fifties link. ... Had an Interview with Channel 10 News on Saturday, April 10th about the increase in Gun Sales along with ammunition. Been real busy this month, watch for new business venture.



Listen to My Radio Interview on WGY about Saratoga Arms Fair



Check out the radical

Muslims in America Compounds

... time to think !!

The Cost of Raising Offspring! Below....
...also see our

Local News & Views

. ... and

Gun Show page with restaurant reviews .


---




"Dinner with Obama"



Once upon a time, I was invited to the White House for a private dinner
with the President. I was a well respected businessman, with a factory that produces memory chips for computers and portable electronics. There was some talk that my industry was being scrutinized by the
administration, but I paid it no mind, I live in a free country. There's nothing that the government can do to me if I've broken no laws. My wealth was earned honestly and an invitation to dinner with an American President is an honor.

I checked my coat, was greeted by the Chief of Staff, and joined Mr.
Obama in a yellow dining room. We sat across from each other at a
table draped in white linen. The Great Seal was embossed on the china and uniformed staff served our dinner. The meal was served, and I was
startled when my waiter suddenly reached out, plucked a dinner roll off
my plate and began nibbling it as he walked back to the kitchen.

"Sorry about that," said Obama. "Andrew is very hungry."
"I don't appreciate...," I began, but as I looked into the calm brown eyes
across from me, I felt immediately guilty and petty. It was just a dinner roll. "Of course," I concluded and reached for my glass. Before I could, however, another waiter reached forward took the glass away and
swallowed the wine in a single gulp.

"And his brother Eric is very thirsty," explained the President. I didn't say anything. Obama is testing my compassion, I thought. I will play along, I don't want to seem unkind. Then my plate was whisked away before I had tasted a bite!

"Eric's children are also quite hungry," I heard as I crashed to the floor. My chair had been pulled out from under me. I stood, angrily brushing myself off and watched as it was carried from the room.

"And their grandmother can't stand for long," continued BHO. I excused myself, smiling outwardly but inside feeling like a fool. Obviously I had been invited to the White House to be sport for some kind of game. I reached for my coat to find that it had been taken. I turned back to this so called President to hear, "Their grandfather doesn't like the cold."

I wanted to scream - that was my coat! But again, I looked at that placid
smiling face of my host and decided I was being a poor sport. I spread my hands helplessly and chuckled. Then I felt my hip pocket and realized my wallet was gone. Now, I excused myself and walked to a phone on an elegant side table. I quickly learned that my credit cards had been maxed out, my bank accounts emptied, my retirement and equity portfolios had vanished, and my wife had been thrown out of our home. Apparently, the waiters and their families were moving in. The President hadn't moved or spoken as I learned all this, but finally I lowered the phone into its cradle and turned to face him.

"Andrew's whole family has made bad financial decisions. They haven't
planned for retirement and they need a house. They recently defaulted on their subprime mortgage so I told them they could have your home. They now need it more than you do," he explained.

My hands were shaking. I felt faint. I stumbled back to the table and
knelt on the floor. The President cheerfully cut his meat, ate his steak
and drank his wine. I lowered my eyes and stared at the tablecloth. "By the way," he added, "I have just signed an Executive Order nationalizing your factories. I'm firing you as head of your business and I'll be operating the firm now for the benefit of all mankind. There's a
whole bunch of Eric's and Andrew's out there and they can't come to you groveling like beggars for jobs ."

I looked up. Obama dropped his spoon into the empty ramekin which
had been his creme brulee then drained the last drop of wine from his glass. As the table was cleared he lit a cigarette and leaned back in his
chair. He stared at me. I clung to the edge of the table as if it were a
ledge and I was hanging over an abyss. I thought of the years behind me, the life I had lived flashed before me. I had earned it with a lifetime
of hard work, much risk and many struggles. Why was I being punished? Has God now forsaken me? How had I allowed it all to
be taken? What game had I played and lost? I looked across the table with eyes in amazement seeking what had I done wrong?

As if answering my unspoken thought, Obama suddenly cocked his
head, locked his empty eyes on mine and bared a thousand teeth. I could see the horned growth from his brow as this beast wryly rubbed his hands... and he growled...

"You should have stopped me at the dinner roll."



Do you really believe that Obama could possibly win a war along with his Liberal Congress that we are engaging in on the Pakistani border? If so naive, watch this video ...

Tribal Industry




---

Half of You Dummies Voted For It ...

By INVESTOR'S BUSINESS DAILY Posted Friday, February 13, 2009 4:20 PM PT

Stimulus: Say this for the $787 billion behemoth that Congress voted on on Friday — never in our history has a more important vote been cast on legislation with so little scrutiny. Couldn't they at least read the thing before voting on it?

The 1,434-page bill is, in a word, massive. It's full of details that deserve to be given a close look before anyone votes. As the old saying goes, the devil's in the details — and if you can't look at the details, you might just end up with the devil.

The bill that President Obama called "the largest change in domestic policy since the 1930s" was jammed down Congress' throat, breaking almost all the promises of bipartisanship and transparency along the way.

House Speaker Nancy Pelosi and Senate Majority Leader Harry Reid vowed to give members of Congress at least 48 hours to look at the historic legislation before them.

After all, the bill will spend the equivalent of nearly 9% of our GDP while adding $1.2 trillion to our national debt. Obama vows to "create or save" 3.5 million jobs at a cost of $263,000 per job. Shouldn't it get even a little bit of scrutiny?

Apparently not. The bill went on line sometime early Friday morning, not too long before passing 246-183 with not a single Republican vote and seven Democrats voting against it. So much for a "bipartisan" plan, another promise broken.

In the House at least, there wasn't even the pretense of bipartisanship. The Democrats drafted their bill with no input from the Republicans.

In the Senate, Democrats found three Republicans — Susan Collins and Olympia Snowe, both of Maine (pop. 1.3 million), and Arlen Specter of Pennsylvania — to give them bipartisan cover and to provide a 60-vote filibuster-proof majority.

(What a crew of RINO'S)

Even more obscene was the undue haste with which Congress voted on this bill as it was still coming together late last week. As House GOP leader John Boehner noted on the floor, "not one (House) member has read this bill."

That was by design. Pelosi was keen to leave town on a weeklong recess, and she didn't want to have to wait for a little thing like debate over the largest spending bill ever passed.

Nor is it a partisan issue. As Missouri Democrat Emanuel Cleaver said, "Regardless of party, we all cast our votes with one hand and crossed our fingers with the other."Is this any way to pass a so-called stimulus package?

Even worse, as U.S. News and World Report has noted, lobbyists — not members of Congress — got the first shot at suggesting changes to the measure.

The newsweekly's Paul Bedard said "one key Democratic staffer" e-mailed him the following: "K Street (Washington's lobbyists' row) has the bill, or chunks of it already, and the congressional offices don't."

This was Thursday night, on the eve of the vote. And remember, Congress had voted to put the bill online for at least 48 hours before it took action. Not until Friday morning, however, did it hit the Web. All a lie.

Why the haste? Surely one reason is the bill is stuffed with pork and short of real stimulus. Its authors don't want the details out. They shouldn't be surprised, then, when voters bridle at what they've been saddled with.

Another reason seems to be that lawmakers had pressing business overseas during this week's recess, and really didn't want to stick around Washington.

In Pelosi's case, she and several other Democrats were due to leave Friday evening for an eight-day tour of Europe, including Rome. We wouldn't want to get in the way of her travel plans, would we?

In this month of celebrating the bicentennial of President Lincoln's birth, we can't help recalling his prayerful hope at Gettysburg — that "government of the people, by the people, for the people, shall not perish from the earth."

This bill pretty much inverts Lincoln's ringing words. In this sorry episode at least, it was "government of the lobbyists, by the lobbyists, for the lobbyists." In other words, a real disgrace.

---

After all the misinformation from the media and blatant disinformation from the democrats that we all had to wade through with hip boots, here is a bit of REAL and TRUE Information about the cause of the housing crisis and our eventual economic meltdown. No, it wasn't President Bush's fault, nor the Republicans in Congress but rather the root cause, as usual, was the Liberal-crats on the Hill. You folks wanted change but surely you'll get more of the same, just this time farther up the kazoo! View this video from Fox News to see where the problem lies ...



September 24, 2008 News Report


... but who watches the news?

OK, WE LOST ... Now This?



Obama Supporters Wave Communist Flag in DC





---

NEWS RELEASE

HOLDER NOMINATION SIGNALS OBAMA'S TRUE ANTI-GUN RIGHTS AGENDA

BELLEVUE, WA - The nomination of Eric Holder for the post of attorney general of the United States sends an "alarming signal" to gun owners about how the Barack Obama administration will view individual gun rights, as affirmed this year by the Supreme Court, the Second Amendment Foundation said today.

"Eric Holder signed an amicus brief in the Heller case that supported the District of Columbia's handgun ban, and also argued that the Second Amendment does not protect an individual right," noted SAF founder Alan Gottlieb. "He has supported national handgun licensing and mandatory trigger locks. As deputy attorney general under Janet Reno, he lobbied Congress to pass legislation that would have curtailed legitimate gun shows.

"This is not the record of a man who will come to office as the nation's top law enforcement officer with the rights and concerns of gun owners in mind," he observed.

Holder's nomination, like the appointment of anti-gun Illinois Congressman Rahm Emanuel as White House Chief of Staff, tells American gun owners that Obama's campaign claims supporting the Second Amendment were "empty rhetoric," Gottlieb stated.

"America's 85 million gun owners have ample reason to be pessimistic about how their civil rights will fare under the Obama administration," Gottlieb said. "Mr. Obama will have a Congress with an anti-gun Democrat majority leadership to push his gun control agenda. Gun owners have not forgotten Mr. Obama's acknowledged opposition to concealed carry rights, nor his support for a ban on handgun ownership when he was running for the Illinois state senate.

"Barack Obama vigorously portrayed himself on the campaign trail as a man who supports gun ownership," Gottlieb concluded, "but now that he has won the election, he is surrounding himself with people who are avowed gun prohibitionists. What better indication of what to expect from Barack Obama as president than the people he is selecting to lead his administration? This isn't a roster of devoted public servants. It's a rogue's gallery of extremists who have labored to erase the Second Amendment from the Bill of Rights."


---

<![if !supportLineBreakNewLine]>
<![endif]>

THE POLITICAL BEAST

Commentary by David Petronis ~ October 25, 2008

The media has taken polls suggesting less than two weeks prior to this most important of elections, that Obama has due cause to begin measuring for new drapes in the White House. Not only the Presidency has already been decided but the new Congress will have a huge majority in the House and at least 60 uncontestable Democrats in the Senate. Nancy Pelosi will have you "sending in your guns" for destruction as Harry Reid collects checks for the Treasury Department for your new "government sponsored Health Care System."

Now it's reported that the vast majority of white Catholics are also voting for Barrack Hussein Obama, noteworthy to the point that they have always picked the next president with their block vote. I am one of the descenting white Catholics who will be voting for John McCain and voting out the New York State Democrats. I hope I have a majority of friends who follow me to keep our nation a Christian Country.

Consider this, Ye Christians; Revelation 13:5, the Beast. Revelations tells us the Beast (anti-Christ) will rule for 42 months and then destroy everything. During the six month honey moon and reorganization after the inauguration, 42 months are left in this next Presidential term. Obama has stated that this will no longer be a Christian nation --- it will be one of Christians, Jews, Muslims, Buddhists ….. I, for one, don't agree with this new design for America, how about you?

According to the Book of Revelations the anti-Christ is: The anti-Christ will be a man in his 40's, of Muslim descent, who will deceive the nations with persuasive language and have a massive Christ-like appeal. The prophecy says that people will flock to him and he will promise false hope and world peace. And when he is in power will destroy everything………..

Do I see a similarity between the prophecies in Revelations to the pernicious candidate of the Democrats, you decide. It is hard for me to believe that the likes of today's Democrat leaders can flaunt the efforts of George Washington and the Patriots in war and John Adams, Paul Revere or Thomas Jefferson in their cause of liberty and Halls of Congress. They flaunt our heritage, all the blood spilled to make America the finest nation on earth, they decry God from our Constitution and they coerce the Forth Estate, the media, to promote their aims and their ascent to power. Can we allow this to continue? I think not.

The culmination of Obama's four years in office, besides following the dire prophesy of Revelations also coincides with the Mayan Culture date of world destruction currently figured out to be 2012. Is this coincidence that these two far removed prophecies converge upon the same future date in history of mankind's ruin and destruction? And there are other similar cultural predictions.

It may be that the worst to come is not immediately from Obama himself but rather from the jubilance of the Democrats to their resurgence of power, the overwhelming controlling votes of the House and Senate along with the veto-proof, though unnecessary, Presidency. Not since 1978 when Jimmy Carter was President did the Dems hold this much anticipated power. That is the time they fooled with the "Houses for Everyone Theory" the culmination of which thirty years later is the need to bail-out Freddie Mac and Fanny Mae leading to the housing crises leading to the banking crisis and another $700 million dollars balanced on the backs of our grandkids. Look it up if you have any doubt that this is not the root of the problems we have today.

Can you try to imagine what the Democrats will do first: Voter registration on the same day as the election; Voting for felons, in or out of jail; Union Boss looking over your Voting Shoulder Act; Sweeping reforms to curtail any future buying of the election as is being tried now (known as the Comprehensive Incumbent Re-Election Reform Act); Turn in your guns, the days of Hunting and Shooting Are Over Act; a car in every garage and pot for people mandate payed for by Redistribution of Wealth Act; anything they wish to retrieve from the garbage heap of liberal discards will again be in play plus all those wonderful new ideas of how the Dems can help us all with more dependency on those in government … the true and real meaning of the progressive cause … scary indeed!

On their ascension into power, the Day of Inauguration 2009 the Political Beast will begin to be unleashed upon the unsuspecting hoards who allowed them to deceive you. Fortunately there will still be gun shops and gun shows still open in January where protection can be obtained for thwarting the impending doom … though the powers within the bureaucracy will now have all your personal information and what you own … that is a good thing, right? Think about your vote this time. See us at NEACA.com.

---

Link to Governor Sarah Palin's VP Speech




McCain is in Trouble

Commentary by David Petronis, October 8, 2008

If you watched the second Presidential debate last night without falling asleep give yourself an "A" for absolute attentiveness but give John McCain an "F" for what should have been fighting spirit with innovative attacks on Obama's character and sleazy friends. The whole hype leading to this as to what McCain "had to do" in the pundit's eyes reminded me of the "shock and awe" I was disappointed with during the bombing of Baghdad. I waited and waited, and waited but no "awe" was to be seen; too many war movies, I guess and no doubt my expectations this time were a bit too high for McCain to sweep in on the low road. There is less than four weeks before our country drowns in toilet water so us real Americans are going to have to push our friends and neighbors to take a good look at what kind of changes are soon to come. My intent here is not to be pretty with prose but alarmist with reality.

This McCain fellow just can't seem to call a spade a spade! Does he view himself as a gentleman from the Senate who can't speak ill of another Senator to his face? Get over it, John, or you are going to lose! While Obama and the rest of the ideological democrats stick in a knife with a friendly smile, good 'ol John is going to be hugging the floor with moans rivaling "Et tu, Brute'?" Being swept under the rug of oblivion by media hyping of liberal sound bites over and over again and not coming up kicking, biting and scratching is not a good plan, John. Thank God for Sarah! But you, my friend, have got to start kicking some ass.

It amazes me that anyone with a name that has the sound and syllables of our number one terrorist, Osama, a middle name of the tyrant we needed a war to depose, Hussein and a common first name Barack with an Arabic origin has gotten this far in the electoral process. Don't you people know that names actually suggest a meaning? If I step in sh-- and it stinks, the name of that fits. We are still a nation full of Anglo-Saxon Christians and our customs, laws and Constitution were founded on their beliefs. Well, at least for now we are. Since when did we invite the Anti-Christ in? The old belief was that if you wanted to come to America you could come but when you got here you became an American and celebrated Thanksgiving and Christmas. When did that requirement change? Nobody asked me if it was OK. I don't see hyphenated Americans and I don't think they belong here. I only see Americans that can conform, if you don't like it, leave. How then can one who calls himself an African-American have the gall to run for President of our America? It boggles my mind! And this guy is more Muslim in name and nature than African. Even in his book on life he says if push comes to shove he will stand with the Muslims. And 50% of the idiots who we have given the right to register and vote think he's just swell. Boggle, boggle! Where did we go wrong? GW, I am sorry, I know you are turning in the grave.

Guilt by association should have been a game stopper long ago for this Afro from Chicago. The affirmative action programs aside where did the money and influence come from that put this poor boy, born in the usual out of wedlock style of a salt and pepper affair, into the best of Universities? I don't think it was his grades. Dig into it and Muslims seem to have had a hand. Look into what he did during his formative and college years besides drugs and learn about associations with radicals and ACORN , the "community organizer" portion of his portfolio. When Obama was eight, Bill Ayers of the Weatherman terrorist group bombed US Government buildings, a technicality got him off from spending his life in prison. When Obama started his political career it was around a coffee table with Bill Ayers, the terrorist. I rest my case!

When Jeremiah Wright says it's time for a black woman to legally sleep in the White House I envision the next step is to re-paint it black. When Father Flagher flails his arms like a chicken and wishes he was black I envision him roosting on the Capital dome and crapping over the deserved Senate below. When Farrakhan raises his arm to black power and points toward his coming space ship I envision a return to goose stepping ideologue's of yesterday's idiocy. Simply watch and listen to the friends of Obama and if you are not yet scared of the consequences of his Presidency, take your pulse!

Fellow Americans if you do not want to wake up to socialistic doctrines, guaranteeing of negro reparations from the Civil War, religious zealots whose religion is to kill the white man and strip his body flesh, to associations with terrorists in the White House, to police bashing, crime laden rappers shrieking "niggers kill whities" then you had best try your damnedest to turn this trend around and vote in the next best President, John McCain. And don't look for God's help if he loses, we brought Sodom on ourselves.

Alien Breeding of Democrats ...

Some of you will recall that on July 8, 1947, a little over 60 years ago, witnesses claim that an unidentified flying object (UFO) with five aliens aboard, crashed onto a sheep and cattle ranch just outside Roswell, New Mexico.

This is a well known incident that many say has long been covered up by the US Air Force and other federal agencies. However, what you may NOT know is that in the month of April 1948, nine months after that historic event, the following people were born:

Albert A. Gore, Jr.

Hillary Rodham Clinton

John F. Kerry

William J. Clinton

Howard Dean

Nancy Pelosi

Dianne Feinstein

Charles E. Schumer

Barbara Boxer

See what happens when aliens breed with sheep? I certainly hope this bit of information clears up a lot of things for you, it did for me. No wonder they support the bills to help illegal aliens! Now you know.

Do you think that the government should bailout Wall Street and the banks to the tune of $750 BILLION DOLLARS? I don't, no matter what the people in the know say.

David Petronis 9/26/08

When politicians start talking about billions of dollars they actually begin to start paying attention. When a Washingtonian speaks in millions he or she thinks of pocket change, from our pockets of course. But when billion or trillion come into play their radar tunes in, probably trying to figure out how to get at least a small piece of it, after all hiding a few hundred million in hundreds of billions is easy. Do you know what a billion is?

My calculator only goes up to ten million so I had to resort to the old pencil and paper method to figure something out. Let's say out of the 300,000,000 people in the USA, (that figure is 300 million if you write it out) that only 200,000,000 are actually over 18 and working for a living and possibly paying taxes. Now instead of giving out a bailout of OUR MONEY (because the only way the government gets its' money is from us in taxes or it prints it as a loan from us) we cut that 750 billion in half and divide it up among us 200 million citizens. If my math is correct, that gives a bailout to each taxpayer of $1,875.00. That is my plan.

Ever heard of the Bakken Formation?

GOOGLE it or follow this link. http://www.usgs.gov/newsroom/article.asp?ID=1911

This report may be a bit optimistic but it hasn't been proven wrong either.


The U.S. Geological Service issued a report in April ('08) that only scientists and oilmen knew was coming, but man was it big. It was a revised report (hadn't been updated since '95) on how much oil was in this area of the western 2/3 of North Dakota; western South Dakota; and extreme eastern Montana ... check THIS out:

The Bakken is the largest domestic oil discovery since Alaska's Prudhoe Bay, and has the potential to eliminate all American dependence on foreign oil. The Energy Information Administration (EIA) estimates it at 503 billion barrels. Even if just 10% of the oil is recoverable... at $107 a barrel, we're looking at a resource base worth more than $5.3 trillion.

'When I first briefed legislators on this, you could practically see their jaws hit the floor. They had no idea.' says Terry Johnson, the Montana Legislature's financial analyst.

'This sizable find is now the highest-producing onshore oil field found in the past 56 years,' reports The Pittsburgh Post Gazette. It's a formation known as the Williston Basin, but is more commonly referred to as the 'Bakken.' And it stretches from Northern Montana, through North Dakota and into Canada. For years, US oil exploration has been considered a dead end. Even the 'Big Oil' companies gave up searching for major oil wells decades ago. However, a recent technological breakthrough has opened up the Bakken's massive reserves... and we now have access of up to 500 billion barrels. Because this is light, sweet oil, those billions of barrels will cost Americans just $16 PER BARREL!

That's enough crude to fully fuel the American economy for 41 years straight.

US Oil Discovery- Largest Reserve in the World!


Stansberry Report Online - 4/20/2006 Hidden 1,000 feet beneath the surface of the Rocky Mountains lies the largest untapped oil reserve in the world is more than 2 TRILLION barrels. On August 8, 2005 President Bush mandated its extraction ... that was over three years ago!

They reported this stunning news: We have more oil inside our borders, than all the other proven reserves on earth. Here are the official estimates:

8-times as much oil as Saudi Arabia
18-times as much oil as Iraq
21-times as much oil as Kuwait
22-times as much oil as Iran
500-times as much oil as Yemen- and it's all right here in the Western United States.

HOW can this BE? HOW can we NOT BE extracting this!? Because the democrats, environmentalists and left wing republicans have blocked all efforts to help America become independent of foreign oil.

James Bartis, lead researcher with the study says we've got more oil in this very compact area than the entire Middle East, more than 2 TRILLION barrels, Untapped. That's more than all the proven oil reserves of crude oil in the world today, reports The Denver Post.

Barak Hussein Obama just finished his first debate with John McCain claiming that the US had only 3% of the world's oil and consumed over 25% of it … so we should switch to wind and solar for our needs. The wind, I can see generated by the Democrat politicians on the hill but as for solar I'll be sticking some of the millions they should be sending me instead of Wall Street so far up their behinds along with their heads they will never see the sun again. Vote these ridiculous people out of office once and for all.

---

Sarah Palin's Foreign Policy Experience

Commentary by David Petronis, September 1, 2008

The State of Alaska has a foreign country on its eastern and southern borders, Canada. As the crow flies north from Alaska it would probably freeze to death on the Russian tundra. If you cross the western Bearing Sea you would be in Russia, not to mention the adjoining territorial waters of Russia and Alaska. To the southwest where the Aleutian Islands arc through the Pacific Ocean they end up close to Japan and China. No other of our states has as much territory either joining or in close proximity to other foreign countries. Wouldn't one think that the Governor of a state with those proximities encounter's foreign relation experiences on probably a weekly if not a daily basis? Who are the Democrats trying to kid when they say Sarah Palin, the current Governor of Alaska, has no foreign relation experience? She certainly does!

I just received a note from a native of Alaska, who also happens to be my nephew and he states, "As Governor of Alaska, Sarah deals directly with a host of Pacific Rim countries on a variety of trade issues; from exporting coal to China and Korea, to oil issues with British Petroleum (BP), to Bearing Sea and Pacific Ocean fishing down to the International Whaling Commission. … Plus she is also negotiating a huge natural gas project that involves our closest neighbor, Canada. This gal has political common sense too and ain't afraid to tell Congress where the buck stops, as in telling them that if we wanted a bridge to nowhere at Ketchikan, the State of Alaska would built it ourselves." So says Rick Hrubes of Fairbanks.

Now, let me ask my Democrat friends what kind of foreign relation experience Barak Hussein Obama (BHO) has? That he dealt with all facets of people in the Chicago suburbs as an "organizer?" Or that his vast political experience in the US Senate for nearly three years, while not being on any meaningful Senate Committee's during that time, plus being on the campaign trail for most of his Senate term, is that his foreign relation experience? Or is it from his recent visit to Afghanistan where he snubbed the enlisted and hospitalized soldiers on his fact finding, basketball prowess showmanship trip? Or was is that he lived in Hawaii as a kid or was taught as a Muslim at one time or went to Harvard or that he experimented with an international dope substance; is that the sum of his total foreign relations experience that will enable him to be President on Day One? I don't think so!

The US Presidential pair, our President and our Vice President, are elected every four years by the people who believe that they will be able to take the reins if an immediate crisis arises. And that as a team, they can work together, compliment each other's experience and God forbid, something happened to the President, our Vice President could take competent control of the Country. Sarah Palin surely could do just that. I have my doubts about Joe Biden and I have an even greater concern about BHO. His wondrous presence aside, his condescending demeanor, lack of experience in business, in leadership, in military affairs, in foreign affairs and even lack of experience dealing with the myriad of domestic affairs in his short political career contribute only to his NOT being president at this time. There appear to be a lot of Democrats who also concur with this thought.

We, as the people, voted for a majority of the Electoral College that elected George Bush as President for two terms. His running mate was Dick Cheney; both were qualified to lead on Day One. Many Democrats and some Republicans might dispute that fact but history will sustain it. John McCain and Sarah Palin will also be ready and able to take charge when required. They will make the "change" that many Americans are eager for but they will continue the stability of our Military to protect us while exuding their overall experience in and with domestic or foreign affairs. Your favorable vote will enable them to make changes where needed but to also continue making this the greatest nation the world has to witness.

As John McCain has stated, "Our best days are still ahead of us, God bless America."

---

Hooray for McCain

Commentary by David Petronis,

August 29, 2008

Funny thing happened on the way to the caribou hunt … my husband told me I got a call from John about being chosen for the Vice President of these United States … told my hubby to wait a second, got to take this shot…… and I am one proud Mama today!!!

So goes today's saga of Sara Barracuda, also known as Sarah Palin, present Governor of the largest State in our Union, Alaska. From long shot on the long list of Veep choices for Republican Presidential contender John McCain, Sarah Palin is a welcome choice to my small family of Conservatives and to our massive party of disgruntled Republicans. Thank you John, you will now get my vote and some of my money.

Sarah is a Life Member of the National Rifle Association, ran a fishing boat for a business, likes to hunt and fish, married twenty years to the same guy who also likes to hunt and fish plus is a world class snow mobile champion, was a beauty pageant winner, been in politics for about eighteen years nowhere near Washington, DC, been a Mayor of a small City in Alaska, been Governor for the last two years, lowered property taxes and started a savings account with the money saved, handles and shoots assault weapons, wants to drill for more oil and gas in ANWR, is a mother with five children, one of them in the US Army about to be shipped to Iraq, thinks of herself as a hockey-mom but also coached basketball, had time to join the PTA, her husband is a Union Member, she is white but, what can I say, she is not a part of the good-ol-boy network, shook up the Republican Party in Alaska when they were found to be doing the wrong things, has an approval rating from her constituents of over 80%, is the first woman to be nominated for the second highest office in the land by the Republican Party, and did I mention she likes to hunt and her favorite food is Moose Stew? And she looks damn good in a suit with a skirt!

But, alas, the democrats and liberals have already asked how many houses she brings to the McCain campaign while also noting that just like their Presidential Candidate, BHO; she has no foreign policy experience. Can't have everything, I guess but she sure will make a nice Vice President alongside the next President of the United States, John McCain, who has plenty of experience dealing with slime balls, Washingtonites, and terrorists in general. I wonder where she got that nickname of Barracuda. Joe Biden won't bloody her nose in the playground! You better see your mama, Joe.

Some folks thought her crack about the 18 million cracks put in the glass ceiling by Hillary Clinton was a wisecrack when Sarah concluded with her chance to break it as a Republican. I believe it was a sincere thank you to Hillary and to Geraldine Ferraro before her. History was made these past few days in Denver and I was privileged to have been able to see it happen. Today more history was made and I feel that through John's choice my own granddaughters have just as much chance as anyone to grow up to be President. Only in America, only in these United States of America can we be witness to such historical days such as these. God bless us all and God Bless America for all time.

PS: Please Vote and Vote for the Republican ticket in November. It will take your children's lifetime to undo the damage the alternative party will envelop upon us in four short years of their ideology. To those of you who think George Bush is or was the problem, remember who kept us safe these past eight years. To those who think the Republicans are or were the problem, remember who controls Congress today and who went on vacation from the gasoline price problem. When democrat Nancy Pelosi gavels dead the drilling for new oil and Barak Hussein Obama claims he is going to wean us off oil in 10 years with natural gas, do you think perhaps there may be something wrong with policy and rhetoric? Do you know that natural gas is simply a by-product of oil drilling? Before you pull that lever for, who knows who, Barak (one the most familiar of Arabic names) (Hussein?)(Obama – the only difference with Osama is the BS), you had better know who is behind the lever.

---

Gun Rights Stand Test of Time

Commentary by David Petronis, June 26, 2008

Well, it's swell! Five out of nine Justices of the Supreme Court of the USA agreed that our Founding Fathers had it right all along these past two hundred and some years since they penned the Second Amendment. The Right of the People to own guns shall not be infringed. But what does that say about the other four in robes? Probably none of them have been mugged yet.

In seriousness, with that small margin this historic vote along party lines could well have been cast in a different manner. What should have been Nine to Zero, this vote made Justice Kennedy the most powerful man in the US, the swing man. As are the "Independents" who will swing this November 4th election one way or the other because they can't seem to take a stand until they see how the wind is blowing. Whether Justice Kennedy is one of the great men who weighs all options or simply votes his convictions on an issue or just throws a dart, I don't know. Regardless, this time he targeted the right spot in our Constitution and saved our day in court. This ruling could have very far reaching effects on all our besieged rights.

I would imagine the National Rifle Association is partying down in DC about now. And probably getting ready to assault a few more gun banning laws and cities in the near future. I heard Chief James Tuffey of the Albany Police Department comment on the radio today that it wasn't the legal guns that he was worried about but rather the illegal "straw man" purchases made in other, less regulated States than New York, then filtered here onto his streets. He said that he favored a Federal Law that would be applied to all gun purchasers equally in all the States. Well, States Rights issues aside, as a gun dealer and as a firearms carrier I would even go along with something like that if all gun carry permits were then recognized as Federal Carry Permits, good anywhere in the USA. I think even the good old NRA would find that compromise interesting.

The news today was full with reporting of this court decision. Most call-in folks to radio talk shows were pro-gun and liked the ruling. But the news spots had to find the guy who thought this was disastrous and how it was so important now to vote for democrats this November. I'm sure his life on earth will forever now be terrorized by gun-totin' Republicans!

So what about the New York State pistol permits that are labeled for "Hunting and Target" shooting only, in some counties? Is it legal for a local Judge to apply his "feelings" to your Constitutional Right to gun ownership? Probably not, though never been challenged.

Today's ruling explicitly stated that Citizens have a right to have a gun in their home for self protection. Does that mean the "Castle Doctrine" laws that forty or so other States have adopted must be legally available in all States? Like here in New York? NY says we citizens have to run out the back door if someone is trying to break in your front door, the "escape route" option. I am going to have the idiot running in the front door hitting the floor from a blast of .44, no option here. Will I now be legally protected? Unfortunately, this ruling by the Supreme's doesn't address any of these issues.

It was still a great day for gun owners and sane people throughout this great Country. At last a little sanity has come down from on high and, at least today, all is right with the world.

What Goes Around, Comes Around ....

June 16, 2008 ~ Oil futures hit another new high today on Wall Street. Do you know where the name Wall Street came from? Let me clue you in on a little known fact. Back in the late 1600's when the New York City area was know as New Amsterdam there were wild hogs roaming everywhere. In order to keep these marauding pigs out of the streets a large wall was built on the edge of town and over the years was rebuilt and strengthened. In time the pigs were kept at bay from this area that was to be known as Wall Street. And as is the case with much of our forgotten history the real reason for the name was lost. Now, I want a bunch of you people who live and work down there in the Big Apple to throw open your sash and yell from the towers, "The PIGS are back, the Pigs are back" and let these wall street hogs who are driving up our oil and ruining our lives as Americans know who they are. I am returning your lives back to you, use them wisely!


What Libyan Muammar Gadhafi said of Obama Oct. 18

The One, the Only, He has Come!

Commentary by David Petronis

, June 2, 2008

Barak Hussein Obama has now resigned from his church because he doesn't want his Pastor or his mentors or his other church member brothers and sisters to have to endure any more controversy in the news simply because he is running for the democrat candidacy for President of these United States. Isn't that special? Isn't that the most unselfish act you have ever heard? BHO is giving up his church of twenty years so no more controversy and threats will be aimed at his Trinity United Church members by the media. Wow, what a guy! Sounds more like BULL.

So it came to pass that the righteous one, the white skinned hater of America, was called upon by the Almighty above to save Obama and drive him from the flock. Not because of wickedness but for LOVE. Drive him to besmirch the church for hate speech due whitey from whitey so the real Negro could speak again to his Pastoral flock; the anointed one can reign without controversy and be free to lurk in circles of deceit and depravity whilst his tined tongue beseech thee who speaks the Negro secession of oppression. So is the word of GOD…A, according to Father Pfleger! Change, oh change has BEGUN!

It is said that there will come unto us a Savior. One who will lead us to his home of astonishing beauty where one will live forever among promises of glory and satisfaction. That a change will come from a man of destiny and Deity who will speak the words all wish to consume. None shall be suspect of his words or deeds while they listen and see the Glory. None will doubt the sincerity of his convictions nor detect the venom spurred to his victims. He will come in splendor and pomp among and through his hoard with meretricious merriment and subtle deceitful scorn. The Anti-Christ will deceive you with love to devour your soul with despise.

Anyway, that is how I see this not black enough Muslim convert who just trounced the Whitey Woman who knew it was her legitimate turn. How about you? Rush Limbaugh seems to think that the white Priest was given the task of providing Hussein the way out while pointing the blame to whitey instead of wacky blacky Wright. Better White than Wright… to blame. I tend to agree with glee and know in my heart that the Libs will conjure and conspire to any end to justify whatever deemed their final goal.

---

Below are a few lines from Obama's book; In his words!



From Audacity of Hope:

'I will stand with the Muslims should the political

winds shift in an ugly direction.'


<![if !supportLineBreakNewLine]>
You decide whether we should use his middle name, HUSSEIN.<![endif]>
<![if !supportLineBreakNewLine]>

<![endif]>

---

Inside Scoop !! This is from one of my California Nieces who knows "whasss - appenin" and when, 27 May 2008.

Hi there, just wanted you all to know that Bebe is doing a major national commercial for GM on Chevy Silverado Trucks and the real people who own them.

Do you know anyone who may be interested?

Have them check out the Chevy website, http://www.chevy200k.com

We ONLY want people who have 200k MILES on their SILVERADO truck and a GREAT STORY and WANTS to be in a national commercial.

(GUN DEALERS ??)

We'll need their photo and a photo of their truck and their contact info to get started. SEND THIS ASAP!

They may have to travel to NYC next week to meet her and get on tape, but it may be worth it to them if they get the job.

Just letting you know.

Big bucks for anyone who gets it!.....

deb

How Not to Bag a Moose! Below....

I wonder when we are going to bomb Iran. Muslims seem to only understand that might is right. Now we hear from two of the Gulf States that we protect daily insist that the US can't use our bases on their soil to make war on Iran. But Iran can perform an act of war against one of our best allies, the British. I say, knock their veils and rags off the sheetheads and blow them back to the stone age, about a hundred years from where they are now! And to the local Muslim professor who just resigned from Skidmore in Saratoga Springs, NY because of the controversy over ethnic jokes and too much US Patriotism in Sea World, FL I say good riddance. You are right we don't want you over here. If you claim Turkish- American citizenship go cry about us in Turkey and take the rest of the Turkeys with you. I believe Rush Limbaugh had a hand in her final decision, thanks, Rush. A tit for tat for bus drivers.

Now that president of Iran, ajimagibaji or what ever his name is has been granted a US visa to speak at the untidy nations building in New York what say we make a movie about the exploits of his kidnapping and torture by being made to work building houses for 400 days with his old friend Jimmy boy Carter?

What Ayatollah Alisheethead never told the suicide recruits ...

However, when Dick Cheney arrives with Quail ... well that's another story!

History of Conservatives and Liberals .... plus History of Lincoln & Kennedy

I am really sick of this politically correct and overly sensitive life style that all of us are supposed to imagine that we are in these days. I think I've blown a fuse ..... See my "incorrect" commentary below....

"But you know where this is going to lead, don't you? Mark my words; 2008 will be Hollywood and the media news ... the Good Southern Queen and the Black Knight, a made for TV fantasy come true. Hillary Clinton and Barak Osama ... Osoma Bama ... Hussain Baroma ... Holy Ommama and the blond bombma! My head reels!"

How to Save the Airlines ~ Below....

April 13, 2006 below... see Robin Williams' plan for Liberty & Order!

April 2, New Retirement Plan

Mar. 31, Things You Should Know

Feb 15, Dick shoots Lawyer .... Good Boy!

Jan 2, New Diatribe on Patriot Act

Also See ~ Racist my Butt ~ below

OK, if you can't wait for all the rest of the good things just go to the bottom of the page!

Breaking Good News ...

All you older folks are going to love this..

Remember When link
Ok, we lost. You think now that the Dems are in power we can all just "get along" and go forward to make a better world? ... That sound is me puking!
Dave, Here is my plan on HOW TO SAVE THE AIRLINES ...

Dump the male flight attendants. No one wanted them in the first place. Replace all the female flight attendants with good-looking strippers! What the hell -- They don't even serve food anymore, so what's the loss?

The strippers would at least triple the alcohol sales and get a "party atmosphere" going in the cabin. And, of course, every businessman in this country would start flying again, hoping to see naked women.

Because of the tips, female flight attendants wouldn't need a salary, thus saving even more money. I suspect tips would be so good that we could charge the women for working the plane and have them kick back 20% of the tips, including lap dances and "special services."

Muslims would be afraid to get on the planes for fear of seeing naked women. Hijackings would come to a screeching halt, and the airline industry would see record revenues. This is definitely a win-win situation if we handle it right -- a golden opportunity to turn a liability into an asset.

Why didn't Bush think of this? Why do I still have to do everything myself?

Sincerely,
Bill Clinton
The Cost of Raising Offspring! Over a Buck an Hour!

The government recently calculated the cost of raising a child from birth to age 18 and came up with $160,140 for a middle income family. Talk about sticker shock! That doesn't even touch college tuition. But, when you think about it, $160,140.00 isn't so bad if you break it down. It translates into: $8,896.66 a year, or $741.38 a month, or $171.08 a week. That's a mere $24.24 a day! Just over a dollar an hour.
Still, you might think the best financial advice is "don't have children" if you want to be "rich." Actually, it is just the opposite. Let's see what you get for your $160,140.00. First, you get; Naming rights. First, middle, and last! Then:
* Glimpses of God every day.
* Giggles under the covers every night.
* More love than your heart can hold.
* Butterfly kisses and Velcro hugs.
* Endless wonder over rocks, ants, clouds, and warm cookies.
* A hand to hold, usually covered with jelly or chocolate.
* A partner for blowing bubbles, flying kites.
* Someone to laugh yourself silly with, no matter what the boss said or how your stocks performed that day.

For $160,140, you never have to grow up. You get to:
* finger-paint,
* carve pumpkins,
* play hide-and-seek,
* catch lightning bugs, and
* never stop believing in Santa Claus.

You have an excuse to:
* keep reading the Adventures of Piglet and Pooh,
* watch Saturday morning cartoons,
* go to Disney movies, and * wish on stars.
* You get to frame rainbows, hearts, and flowers under refrigerator magnets and collect spray painted noodle wreaths for Christmas, hand prints set in clay for Mother's Day, and cards with backward letters for Father's Day.

For $160,140, there is no greater bang for your buck. You get to be a hero just for:
* retrieving a Frisbee off the garage roof,
* taking the training wheels off a bike,
* removing a splinter, or * filling a wading pool,
* coaxing a wad of gum out of bangs, and coaching a baseball team that never wins but always gets treated to ice cream or pizza regardless.

You get a front row seat to history, to witness the:
* first step, * first word,* first bra, * first date, and * first time behind the wheel.

You get to be immortal. You get another branch added to your family tree and if you're lucky, a long list of limbs in your obituary called grandchildren and great- grandchildren. You get an education in psychology, nursing, criminal justice, communications, and human sexuality that no college can match.

In the eyes of a child, you rank right up there under God. You have all the power to heal a boo-boo, scare away the monsters under the bed, patch a broken heart, police a slumber party, ground them forever, and love them without limits. So, one day they will, like you, love without counting the cost. That is quite a deal for the price! A mere dollar an hour.
Love & enjoy your children & grandchildren! I do mine. Every Day!

How Not to Bag a Moose!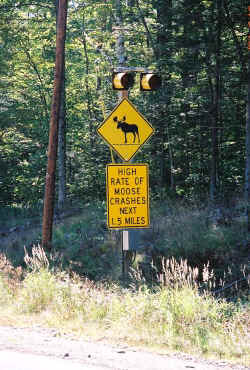 The following pictures are of a moose that went through a car's windshield and out the rear window this month near South River, Ontario. The VERY lucky woman driver ended up with just a broken wrist and needing a good bath. On viewing the pictures you will wonder how the woman managed to survive.
Click to enlarge.
---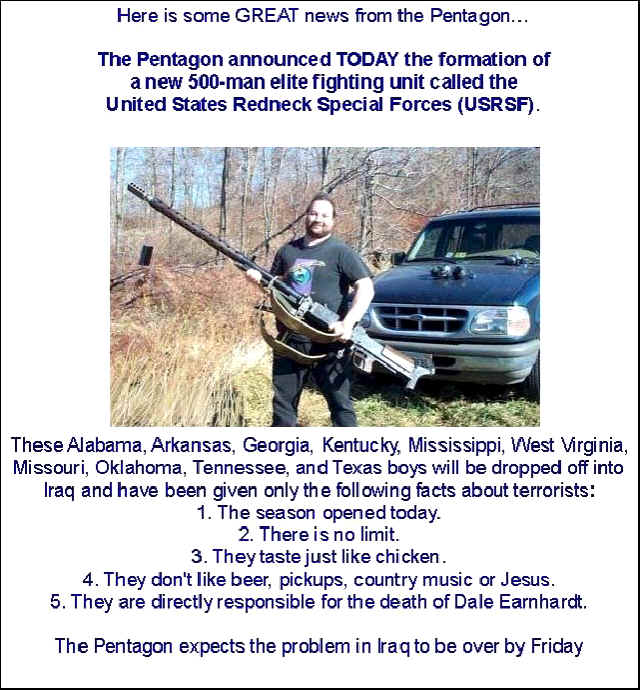 Here is an old world holiday tradition that Cathy and I want to share with all our friends and perhaps you will try this treat for your own Christmas. You can make it any time. Now we ask ...
---
Politically Incorrect Views ~ Remember, this is MY PAGE!
I have had it up to my eye brows with the Hollywood "push" of white folks and colored people having affairs on nearly every TV show being aired today! If you writers and progressive producers think your tainted view of the world is reality, you're nuts! If it isn't a blond and a black having a new tryst on CSI it's a couple of Homo Cops doing dirty years ago on Cold Case while a current white jelly bellied one pursues a dark filly in Philly. It is never ending and seems to run from show to show where whites and blacks have to end up sleeping together nightly on our living room screens. It's enough to make me puke!
I started watching the new show with the stupid title of "3 lbs." Into the third episode the numb nuts brain surgeon has to have an affair with the colored lawyer. What, there's no nice Jewish girls! They love Brain Doctors. Give me a break! And the sit-coms are more like s--t-coms with the mixed race affairs. Or did you think we were color blind! Am I being racist? No, I'm being smothered in Bullshit!
I am not a racist. I am practical. I can remember when someone would be lynched for being impractical. Not to condone that behavior but the free wiliness today of interracial affairs is no better. I see it every day at my local super market or shops, a salt 'n pepper combo as it used to be called. It would be just fine if they both got neutered but their little head has to get satisfied and the little fry's show up. And they think the world is going to accept all this. I doubt it. And not for one minute do I believe the majority of the colored folks approve of it either. (Here is where I insert the possible imbedded racist harboring ... if you want to be African, go there... If you want to be American, you can stay. If you come across the border learn and speak English, if you come across the oceans learn to eat hamburger, not duck feet and monkey brains. And if you come from muslimland don't be a "sheethead" over here, convert to Christianity or stay home. We don't need your huddled masses any more. This is AMERICA for AMERICANS. But I digress.)
And the commercials! Another fairytale from fairyland. How many of you have interracial family dinners on Thanksgiving and Christmas? Not I, thank God. But to watch the commercials one would think these are daily occurrences and that all white families have a few coloreds in their closet. I have no problem with mixed entertainment or inviting any friends over for tea but I would not want my daughter bringing home a stray for dinner no matter what color he was. The blond drummer boy was bad enough.
Are Target Stores really on target with the white and black cooking and dancing together? Is all this pushing for ethnic and racial equality silently burning people up inside? I doubt if these views are mine alone. I like people and especially divergent people who I can converse with and learn something. I'll talk to the party at the adjoining dinner table or bar stool. I don't care what color or race they are, if the thought even enters my mind. But I don't want my family genes mixing with another race to try to repopulate the world into one color as Hollywood must see it. Black and white makes gray and I see no reason to step back in time. I want the full color spectrum in my world, separate colors, not tints of gray. Hollywood, get real for a change!
But you know where this is going to lead, don't you? Mark my words; 2008 will be Hollywood and the media news ... the Good Southern Queen and the Black Knight, a made for TV fantasy come true. Hillary Clinton and Barak Osama ... Osoma Bama ... Hussain Baroma ... Holy Ommama and the blond bombma! My head reels!
---
Ever wonder if that person who just moved in up the street is a murderer or a child rapist? Here is a free map of the undesirables that live in your neighborhood. Go to Sex Offender Map .
Oh, so politically insensitive am I.
---
Other News...
Run! Save yourself, the Dems are coming!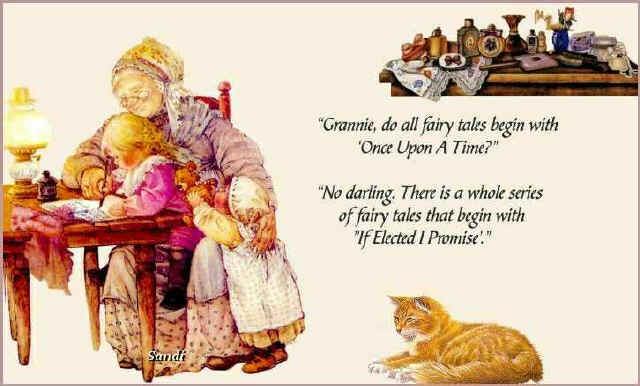 Terrorist muslims are still out there and all we think about is the price of oil ... Remember Sept. 11, 2001. And, did you see how oil prices are dropping? All President Bush's Fault and Republicans when in Congress.
---
Cathy and I
bought a new Chrysler and returned to the dealer the next day because I couldn't get the radio to work. Fred, the salesman, explained that the radio was voice activated.

"Nelson," Fred said to the radio. The Radio replied, "Ricky or Willie?" "Willie," he continued, and "On The Road Again" came from the speakers. Then he said, "Ray Charles," and in an instant "Georgia On My Mind" replaced Willie Nelson. And the display showed the artist and song that was playing. I drove away happy, and for the next few days, every time I'd say, "Beethoven," I'd get beautiful classical music, and if I said, "Beatles," I'd get one of their awesome songs. My favorite is Elvis, and I keep calling his name and he keeps singing to me. I love it!
Yesterday, a couple of dorks ran a red light and nearly creamed my new car, but I swerved in time to avoid them. In doing so I yelled, "Ass Holes!"
Immediately the French National Anthem began to play, sung by Jane Fonda and Barbara Streisand, backed up by Michael Moore and The Dixie Chicks, with John Kerry on guitar, Al Gore on drums, Dan Rather on harmonica, Nancy Pelosi on tambourine, Harry Reid on spoons, Bill Clinton on sax and Ted Kennedy on scotch.
Damn, I LOVE this car!
---
Now It's Crappy Old News ...
New York State Gun Owners and others will have their problems multiplied if Elliot Spitzer wins the Governors race, which appears today that he will.
Gun Shows in State facilities will surely be in the past and new anti-gun legislation will only be a vote away after he takes office. And have you seen photos or ads for his running mate? Is Spitzer afraid to show the voters that Patterson is black? Is he afraid that New Yorkers may not be ready to turn over the reins to a black Governor if in time of need? I just wonder aloud why I never see or hear of him.
Hillary Loses Senate Debate . . . Big Time

By Dick Morris & Eileen McGann ~ From NewsMax.com

On Friday night, Hillary Clinton finally had to face an unscripted, uncontrolled media event — a debate with her feisty opponent John Spencer, the Republican candidate for Senator from New York this year.

Spencer pinned her ears back with his opening statement when he declared:
"I am the only person here who really wants to be the Senator from
New York . . . she wants to be President."

And then he exploited the opening by reminding Hillary "you're not the President yet."

During the debate, Spencer highlighted Hillary's vote against the NSA's wiretapping program and her efforts to kill the Patriot Act.

John Spencer began his challenge to Hillary tonight. The race starts today.

Hillary's huge financial advantage and her lead in the polls was of little use tonight because it was obvious that the empress has no clothes.

While Hillary gave scripted, rehearsed answers, Spencer challenged her failure to deliver on her campaign promises of 200,000 new jobs and mocked her refusal to accept blame for anything, pinning the job loss on Bush and the North Korea bomb on the State Department.

But beyond the words, there were the appearances. Hillary Clinton was a Richard Nixon look-alike tonight, wearing pancake makeup, featuring hooded eyes that never met the camera, and looking like she felt — angry at having to waste time justifying her Senate tenure in something as trivial as an election.

John Spencer may not beat Hillary, but he sure made her sweat tonight. If she wins by less than 12 points — the margin Lazio lost by in 2000 — she will have a lot of explaining to do. And John Spencer, may just be the guy to make it happen.
Senate and House seats for the Republican majority are also on the line in this coming election. If you fine conservatives are still using your brain I hope you use it to study the whole picture and the consequences that will come with a Republican loss.
---
Other News... September 11, 2001 photos not seen before ... 9/13/2001 the aftermath of terror.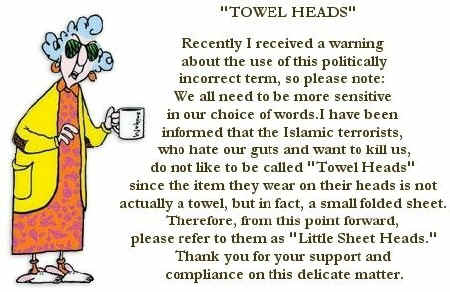 Remember, only muslims in their eternal quest for peace and guided by their koran are responsible for nearly 3000 dead Americans and others on 9/11, 2001. Their stated intent is to kill all the rest of the infidels. In case you don't know what a infidel is, simply look in the mirror ! And wonder why ~ they don't and we do ~ Love America, go there.
---
Happy Fourth of July... Now when will Americans be free again from taxation? ... Happy Birthday America! ... Enjoy the Link
June 9, 2006 ~ Jimmy Crack Corn and I ... well, just read the letter below!
June 4, 2006 ~ Hey There New York... want to vote democrat? Ask them how they would vote for the Castle Doctrine ... below. Memorial Day was May 29th here is a link you should show your children and explain who we are. Go There. You like Baseball and the USA? Go Here Kids !
May 25 ... Cheap Labor, see below ...
May 15, President Speaks Tonight ... find out how to get your very own Mexican. ...Sorry, it was just how to pay for one here.
Muhammad or just Yakmed ... below plus the scariest trio ever!!
" Stories & Glory of Dave's World " link MUST SEE ~ Hillary for 2008 ... Plus ~ Remember the Fifties link.
---
Taking a wee break from the golf circuit, Tiger Woods drove his new Ford Excursion into an Irish gas station. An attendant greeted him
in typical Irish manner, unaware who the golf pro was. "Top of the
mornin' to ya!" the Irish man smiled, doffing his cap.
As Tiger got out of the mammoth vehicle, two tees fell out of his
pocket. "So what are those, lad?" asked the attendant.
"They're called tees," replied Tiger.
"And what would ya be usin' 'em for, now?" inquired the Irishman.
"Well, they're for resting my balls on when I drive," said Tiger.
"AW! Jaysus, Mary an' Joseph," exclaimed the Irish attendant. "Those
fellas at FORD think of everything!"
See!! I am no t a racist! I hate everyone equally. ... But especially "Sheet Heads."
How about a fun game of real Golf on the Internet?
Happy Fourth of July... Now when will we free Americans be free again from undue taxation?
This was sent from a friend in Canada.
This is an interesting, if not disgusting, story if only half true. I'd like to add that Social Security is basically a chain letter or pyramid scheme the likes of which are against the law in most States and that it really doesn't matter whether you're a Democrat or a Republican. In the future you can look forward to higher FICA taxes, lower benefits and a later eligibility age. That's if the system is even around in the future which is doubtful after about 2030!
Many years ago in Seattle, two wonderful neighbors, Elliott and Patty Roosevelt came to my home to swim on a regular basis. They were a great couple full of laughter and stories that today I continue to marvel at. Both are now deceased, but their stories remain. During the years of our friendship we had many, many discussions about Elliott's parents (President Franklin D. and Eleanor Roosevelt) and how his father and mother never intended for the Social Security and Welfare programs to turn out the way they are today. Elliott used to say that if his parents returned to earth and saw what the politicians had done to their programs they would have burned all of them in hell.

Here is a story I received today regarding the Social Security Program and I immediately thought of Elliott's comments. I Hope you will read this and think about it.
_____________________________________________

Franklin Roosevelt, a Democrat, introduced the Social Security (FICA) Program. He promised:

1.) That participation in the Program would be completely voluntary,

2.) That the participants would only have to pay 1% of the first $1,400 of their annual incomes into the Program,

3.) That the money the participants elected to put into the Program would be deductible from their income for tax purposes each year,

4.) That the money the participants put into the independent "Trust Fund" rather than into the General operating fund, and therefore, would only be used to fund the Social Security Retirement Program, and no other Government program, and,

5.) That the annuity payments to the retirees would never be taxed as income.

Since many of us have paid into FICA for years and are now receiving a Social Security check every month -- and then finding that we are getting taxed on 85% of the money we paid to the Federal government to "put away" -- you may be interested in the following:

Q: Which Political Party took Social Security from the independent "Trust Fund" and put it into the General fund so that Congress could spend it?

A: It was Lyndon Johnson and the democratically controlled House and Senate.

Q: Which Political Party eliminated the income tax deduction for Social Security (FICA) withholding?

A: The Democratic Party.

Q: Which Political Party started taxing Social Security annuities?

A: The Democratic Party, with Al Gore casting the "tie-breaking" deciding vote as President of the Senate, while he was Vice President of the US.

Q: Which Political Party decided to start giving annuity payments to immigrants?

A: That's right! Jimmy Carter and the Democratic Party. Immigrants moved into this country, and at age 65, began to receive Social Security payments! The Democratic Party gave these payments to them, even though they never paid a dime into it.

Then, after doing all this lying and thieving and violating of the original contract (FICA), the Democrats turn around and tell you that the Republicans want to take your Social Security away! And the worst part about it is uninformed citizens believe it!
... and you thought we were FREE.
June 9, 2006 ... The "I Don't Care Letter" ... This one I hope you can pass on and p- ss them ALL OFF!!
WHAT'S ALL THE FUSS?
"Are we fighting a war on terror or aren't we? Was it or was it not started by Islamic people who brought it to our shores on September 11, 2001? Were people from all over the world, mostly Americans, not brutally murdered that day, in downtown Manhattan, across the Potomac from our nation's capitol and in a field in Pennsylvania? Did nearly three thousand men, women and children die a horrible, burning or crushing death that day, or didn't they? And I'm supposed to care that a copy of the Koran was "desecrated" when an overworked American soldier kicked it or got it wet? Well, I don't. I don't care at all.

I'll start caring when Osama bin Laden turns himself in and repents for incinerating all those innocent people on 9/11. I'll care about the Koran when the fanatics in the Middle East start caring about the Holy Bible, the mere possession of which is a crime in Saudi Arabia. I'll care when Abu Musab al-Zarqawi tells the world he is sorry for hacking off Nick Berg's head while Berg screamed through his gurgling, slashed throat. (Well, Zarqawi won't be doing much now that he is at room temperature. Way to go, GI's !!)

I'll care when the cowardly so-called "insurgents" in Iraq come out and fight like men instead of disrespecting their own religion by hiding in mosques. I'll care when the mindless zealots who blow themselves up in search of nirvana care about the innocent children within range of their suicide bombs. I'll care when the American media stops pretending that their First Amendment liberties are somehow derived from international law instead of the United States Constitution's Bill of Rights.

In the meantime, when I hear a story about a brave Marine roughing up an Iraqi terrorist to obtain information, know this: I don't care! When I see a fuzzy photo of a pile of naked Iraqi prisoners who have been humiliated in what amounts to a college hazing incident, rest assured that I don't care. When I see a wounded terrorist get shot in the head when he is told not to move because he might be booby- trapped, you can take it to the bank that I don't care.

When I hear that a prisoner, who was issued a Koran and a prayer mat, and fed "special" food that is paid for by my tax dollars, is complaining that his holy book is being "mishandled," you can absolutely believe in your heart of hearts that I don't care. And by the way, I've noticed that sometimes it's spelled "Koran" and other times "Quran." Well, Jimmy Crack Corn and ---- you got it, I DON'T CARE!

If you agree with this view point, pass this on to all your e-mail friends. Sooner or later, it'll get to the people responsible for this ridiculous behavior! If you don't agree, then by all means hit the delete button. Should you choose the latter, then please don't complain when more atrocities committed by radical muslims happen here in our own great country.
June 4 ... The Castle Doctrine ... Your Right to not retreat, your home is your Castle. How would the elephants and jackasses vote in the NYS Legislature?
About two-thirds of the States have now passed laws similar to Florida's Castle Doctrine law passed in the spring of 2005 and more States are in the process. Then why does New York State law require its' citizens to run away from an attacker or home intruder when we should be able to defend our home, life and property with similar or more force? What would the current line up for the Governor's Mansion do with a NYS Castle Doctrine proposal? How would your State Representative vote in his or her Legislative house? It may be time to think about it before our time to vote for them comes around again. Here is an article from Florida.
Florida passes Castle Doctrine law
At last, balance shifts away from criminals
By MARION P. HAMMER
Published on: 05/02/05
Florida's new Castle Doctrine law reverses the pendulum that for far too long has swung in the direction of protecting the rights of criminals over the rights of their victims. The new law simply says if a criminal breaks into your home or your occupied vehicle, you may presume he is there to do bodily harm and you may use any force, including deadly force, against him. Marion P. Hammer, past president of the National Rifle Association, is executive director of Unified Sportsmen of Florida.
The Castle Doctrine law also removes the "duty to retreat" when you're outside your home and in a place you have a legal right to be. Consider the following scenario: a woman is walking down the street and is attacked by a rapist who tries to drag her into an alley. Under prior Florida law, the woman had a legal "duty to retreat." The victim of the attack was required to try to run away. Not anymore. Today, that woman has no obligation to retreat. If she chooses, she may stand her ground and fight. She may meet force with force, including deadly force, if she reasonably believes it is necessary to prevent death or great bodily harm.
No one knows what is in the twisted mind of a violent criminal. You can't expect a victim to wait before taking action to protect herself and say, "Excuse me, Mr. Criminal, did you drag me into this alley to rape and kill me or do you just want to beat me up and steal my purse?"
Calling 911 won't save her life. The victim has a split second to take action to defend her life. That decision must be hers, not a prosecutor who isn't anywhere near the scene. Law-abiding citizens shouldn't have to worry about being prosecuted for doing what the Constitution and common sense give us all the right to do.
Law-abiding citizens only want to be able to protect themselves. Proof of that statement can be found by examining the public record of Florida's lawful firearms owners. Of more than 1 million Florida gun owners who were issued licenses to carry concealed firearms for self-defense over the past 18 years, roughly 0.0001 of 1 percent misused their guns and had their licenses revoked. What other group has a better record of responsible citizenship?
Survey research shows that at least half of Florida's homes have firearms in them, and there are approximately 6 million individual law-abiding gun owners. The overwhelming majority say the primary reason they own guns is for personal protection.
That's what this law is all about: restoring your right under the Castle Doctrine and the Constitution to protect yourself, your family and others. Your home is your castle, and you have a right — as ancient as time itself — to absolute safety in it. Florida law is now on the side of law-abiding victims rather than criminals. And that is the way it is supposed to be.
May 25 ... Mexicans Supply Cheap Labor!
Isn't that what the whole immigration issue is about? Business's don't want to pay a decent wage, consumers don't want expensive produce, and the Government will tell you that Americans don't want the low paying jobs but the bottom line is, cheap labor!
The phrase "cheap labor" is a myth, a farce, and a lie. There is no such thing as "cheap labor!" Take for example, an illegal Mexican who sneaks in here with his wife and five children. He takes a job for five or six dollars an hour. At that wage with six dependents he pays no income tax, yet at the end of the year if he files income tax he gets an " earned income credit " of up to $3,200 free!
He qualifies for Section 8 housing and subsidized rent. He qualifies for food stamps. He qualifies for free (no deductible, no co-pay) health care. His children get free breakfasts and lunches at school while requiring bilingual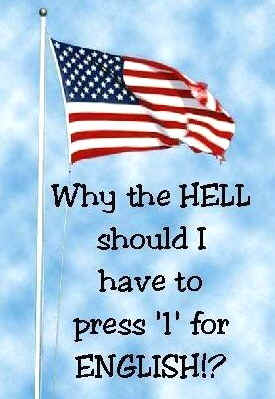 teachers and books. He qualifies for relief from high energy bills. If they are or become, aged, blind or disabled they qualify for SSI. Once qualified for SSI they can qualify for Medicare. All of this is at our, the taxpayer, expense.
He doesn't have to worry about car insurance, life insurance, or home owners insurance. We the taxpayers provide Spanish language signs, bulletins and printed material. He cannot be fired, harassed, or sued. He and his family receive the equivalent of $20. to $30.00 an hour in benefits. Working Americans are lucky to have $5. or $6.00 an hour left after paying their bills and his .
And we, the taxpayers, also pay for increased crime, graffiti, and trash clean up. "Cheap labor?" YEAH, RIGHT! FOR WHO?
Now Consider Cheap Tomatoes!

This note is from a retired teacher whose wife is still a teacher in the Riverside California area and has been for many years. The attached is her first hand knowledge...

"As you all listen to the news about the student protests over illegal immigration there are some things that you should be aware of. As most of you know my wife is in charge of the English-as-a-second-language department at a large southern California high school, which is designated a Title 1 school, meaning that its student's average in the lower socio-economic income levels. Most of the schools you are hearing about- South Gate High, Bell Gardens, Huntington Park, etc.- where these students are protesting, are also Title 1 schools.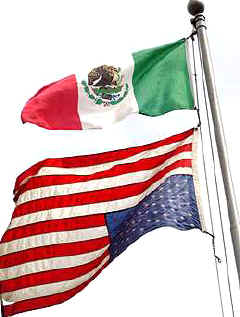 My wife tells me that 100% of the students in her school and other Title 1 schools are on the free breakfast, free lunch program. When I say free breakfast I'm not talking a glass of milk and roll... but a full breakfast and cereal bar with fruits and juices that would make a Marriott proud. The waste of this food is monumental, with trays and trays of it being dumped in the trash uneaten. She estimates that well over 50% of these students are obese or at least moderately overweight. About 75% or more DO HAVE cell phones.

The school also provides day care centers for the unwed teenage pregnant girls (some as young as 13) so they can attend class without the inconvenience of having to arrange for baby-sitters or having family watch their kids. She was ordered to spend $700,000 on her department or risk losing funding for the upcoming year even though there was little need for anything; her budget was already substantial. She ended up buying brand new computers for their computer learning center; half of which, one month later, have been carved with graffiti by the appreciative students who obviously feel humbled and grateful to have a free education in America.

She has had to intervene several times for young and substitute teachers whose classes consist of many illegal immigrant students here in the country less then 3 months who raised so much hell with the female teachers, calling them "Putas" -whores- and throwing things that the teachers were in tears.

Free medical, free education, free food, day care etc., etc., etc. Is it any wonder they feel entitled to not only be in this country but to demand rights, privileges, and entitlements? To my conservative friends: I hope you're really proud of how George W. Bush has helped to sell-out this country with his pro-illegal alien policy. I voted for him too, but on this issue he is a disaster.

To my bleeding-heart liberal friends who want to point out how much these illegal immigrants contribute to our society because they LIKE their gardener and housekeeper and they like to pay less for tomatoes. Spend some time in the real world of illegal immigration and see the TRUE costs. We have higher insurance, Medical facilities closing, higher medical costs, more crime, lower standards of education in our schools, overcrowding, new diseases etc., etc. As for me, I'll pay more for tomatoes.

We need to wake up. The guest worker program will be a disaster because we won't have the guts to enforce it. Does anyone in their right mind really think they will leave and return voluntarily? There are many hardworking Hispanic/ American citizens that contribute to our country and many that I consider my true friends. We should encourage and accept those Hispanics who have done it the right and legal way.

It does, however, have everything to do with culture. A third-world culture that does not value education, that accepts children getting pregnant and dropping out of school by 15 and that refuses to assimilate... and an American culture that has become so weak and politically correct that we don't have the will to do anything about it. It makes my blood boil!"
But we have assets in times of turmoil!
Let's say a big earthquake with the strength of 8.1 on the Richter scale has hit Mexico. It is tragic, I know, but two million Mexicans have died and over a million are injured. The country is totally ruined and the government doesn't know where to start and is asking for help to rebuild. The rest of the world is in shock.
Canada is sending troopers to help the Mexican army control the riots. Saudi Arabia is sending oil. Other Latin American countries are sending all sorts of supplies. The European community (except France) is sending food and money.
And the good 'ol United States, not to be outdone, is sending two million replacement Mexicans carrying Mexican and USA flags with a big sign saying, "WE CAN SEND ALL YOU NEED!" God Bless AMERICA !!
Copy and send these comments to your friends. View these good things and more on Dave's World at www.Neaca.com

---
April 13, 2006 ....
Read Robin Williams' plan for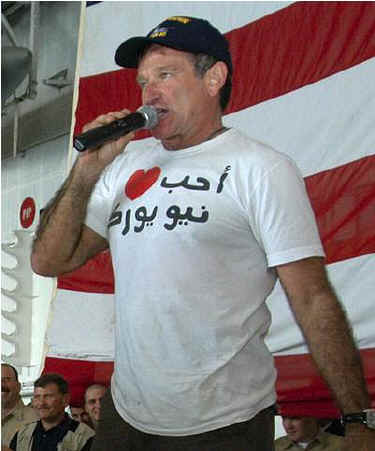 Liberty and Order!
A GOOD PLAN..
Robin Williams, wearing a shirt that says "I love New York" in Arabic.
The Statue of Liberty is no longer saying "Give me your tired, your poor, your huddled masses." She's got a baseball bat and she's yelling, 'you want a piece of me?' " ... Robin Williams
Though I like it and it sounds like what he would say, the following plan circulating is NOT from Robin Williams. I wish I thought of it, though. What we need now is for our UN Ambassador to stand up and repeat this message. Supposedly, this is Robin Williams' plan... (Hard to argue with this logic!) "I see a lot of people yelling for peace but I have not heard of a plan for peace. So, here's one plan."
1) "The US will apologize to the world for our interference in their affairs, past and present. You know Hitler, Mussolini, Stalin, Tojo, Noriega, Milosevic, Hussein, and the rest of those 'good ole boys', we will never interfere again.

2) We will withdraw our troops from all over the world starting with Germany, South Korea, the Middle East and the Philippines, they don't want us there. We would station these troops at our borders. No one allowed in sneaking through holes in the fence.

3) All illegal aliens have 90 days to get their affairs together and leave, we'll give them a free trip home. After 90 days the remainder will be gathered up and deported immediately, regardless of whom or where they are, they're illegal! France will welcome them in.

4) All future visitors will be thoroughly checked and limited to a 90 day Visa unless given a special work permit! No one from a terrorist nation will be allowed in. If you don't like it there, change it yourself and don't hide here. Asylum would never be available to anyone. We don't need any more cab drivers, motel owners or 7-11 cashiers.

5) No foreign 'students' over age 21. The older ones are the bombers. If they don't attend classes, they get a 'D' and it's 'Sayonara Baby'.

6) The US will make a strong effort to become self-sufficient energy wise. This will include developing nonpolluting sources of energy but will require a temporary drilling of oil in the Alaskan wilderness. The caribou will have to cope for a while.

7) Offer Saudi Arabia and other oil producing countries $10 a barrel for their oil. If they don't like it, we go someplace else. They can go somewhere else to sell their production.
8) If there is a famine or other natural catastrophe in the world, we will not 'interfere'. They can pray to Allah or whomever for seeds, rain, cement or whatever else they need. Besides most of what we give them is stolen or given to their army. The people who need it most get very little, if anything.

9) Ship the UN Headquarters to an isolated island someplace and make a new TV Reality Show out it. We don't need the spies and fair weather friends here. Besides, the building would make a good homeless shelter or lockup for illegal aliens.

10) All Americans must go to charm and beauty school. That way, no one can call us 'Ugly Americans' any longer. The Language we speak is ENGLISH... learn it... or LEAVE... Now, isn't that a winner of a plan?

The Statue of Liberty is no longer saying "Give me your tired, your poor, your huddled masses." She's got a baseball bat and she's yelling, 'you want a piece of me?' " ... Robin Williams (The last quote is true.)
But I Really Like It! ...Send it on to your 'Representative' in our Congress of Perpetual Wimps.
Why Kids Grow up Hating Mexicans ...
A little Mexican boy goes into the kitchen where his mom is baking. He puts his hand in the flour and wipes it all over his face.
"Mom, look, I'm a white boy." His mom slaps him in the face and says, "Go show your father".
He goes to his dad in the living room and says, "Look dad, I'm a white boy." His dad slaps him hard in the face and says, "Go show your grandmother." The boy goes in his grandmothers room and says, "Mira, abuelita, I'm a white boy." His grandmother slaps him in the face and sends him back to his mother.
His mother says, "See. Did you learn anything from that?"
To which the boy replies, "Sure did. I have only been white for five minutes and I already hate you Mexicans."

... and see
Teddy's Immigration ideas, I totally agree!
April 8, 2006 ... I personally believe in Teddy's fine position on Immigration and think that the whole Country should now unite behind him so his ideas become the law of the land. Don't you?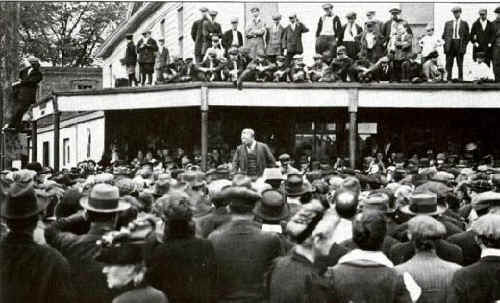 "In the first place, we should insist that if the immigrant who comes here in good faith becomes an American and assimilates himself to us, he shall be treated on an exact equality with everyone else, for it is an outrage to discriminate against any such man because of creed, or birthplace, or origin. But this is predicated upon the person's becoming in every facet an American, and nothing but an American... There can be no divided allegiance here. Any man who says he is an American, but something else also, isn't an American at all. We have room for but one flag, the American flag... We have room for but one language here, and that is the English language... and we have room for but one sole loyalty and that is a loyalty to the American people. "

Theodore Roosevelt's ideas on Immigrants and being an AMERICAN in 1907. I totally agree with his sentiments.
---
If you are ready for the Adventure of a Lifetime, TRY THIS:
Enter Mexico illegally. Never mind immigration quotas, visas, international law, or any of that nonsense. Once there, demand that the local government provide free medical care for you and your entire family. Demand bilingual nurses and doctors. Also, d emand free bilingual local and national government forms, bulletins, road signs, etc.
Don't forget to procreate abundantly. Deflect any criticism of this allegedly irresponsible reproductive behavior with, "It is a cultural U.S.A. thing. You would not understand, pal."

Keep your American identity strong. Fly Old Glory from your rooftop, or proudly display it in your front window and on your car bumper.

Speak only English at home and in public and insist that your children do likewise. Demand classes on American culture in the Mexican school system.
Demand a local Mexican driver license. This will afford other legal rights and will go far to legitimize your unauthorized, illegal presence in Mexico. Drive around with no liability insurance and ignore local traffic laws. Also insist that local Mexican law enforcement teach English to all its officers.

And ... Good luck! You'll need it because you could demand for the rest of time or more likely, soon be dead! Because it will never happen! It will not happen in Mexico or any other country in the world except right here in the good old United States, Land of the naive and stupid, with particularly idiotic politically correct politicians. Go ahead and try the above in Mexico!!
---
April 4... Tomorrow, 2 minutes and 3 seconds after 1:00 AM the time and date will be; 01:02:03 04/05/06. It will never occur again, you may live through it but learned about it here! Now you may resume your Normal Life.
---
April 2, 2006 ... My old retirement plan just hasn't worked out quite the way I had hoped. So, I now have a New Retirement Plan that I firmly believe will be breaking news and become the wave of the future. The stock market picks my personal advisor urged upon my wallet went something like this:
Purchasing $1000.00 of Nortel stock one year ago, now nets $49.00.
With Enron, I have $16.50 left of the original $1,000.00 investment.
With WorldCom, I have less than $5.00 left. My $1000.00 of K-Mart ended up to be zero with bankruptcy. (But I do find it ironic that the new K-Mart had enough of my money left to buy Sears Company). The $2000.00 I put in Prodigy I shouldn't have. So, rethinking these investments and living the stress of my loss I've come up with a better solution to my Retirement pleasure and strategy. I have concluded that if I had purchased $1000.00 worth of beer one year ago, drank
all the beer and in the process had a good time with less stress, then turned in the cans for the aluminum recycling REFUND, I would now have $214.00.

Based on the above, the best current investment advice is to drink
heavily and recycle. I'm calling it the 401-Keg Plan. Buy Beer Stock!

~ April 1, 2006 ~ Peacefully reading the paper this morning I glanced up and told Cathy, "They traded Jeeter!" She nearly killed me with her look. "April Fool," said I. Oh, the pain!
March 31... Things You Should Know ... but probably don't!
1. Money isn't made out of paper; it's made out of cotton.
2. The Declaration of Independence was written on hemp paper.
3. The dot over the letter i is called a "tittle".
4. A raisin dropped in a glass of fresh champagne will bounce up and down continuously from the bottom of the glass to the top.
5. Susan Lucci is the daughter of Phyllis Diller.
6. 40% of McDonald's profits come from the sales of Happy Meals.
7. 315 entries in Webster's 1996 Dictionary were misspelled.
8. The 'spot' on 7UP comes from its inventor, who had red eyes. He was albino.
9. On average, 12 newborns will be given to the wrong parents, daily.
10. Warren Beatty and Shirley MacLaine are brother and sister.
11. Chocolate affects a dog's heart and nervous system; a few ounces will kill a small sized dog.
12. Orcas (killer whales) kill sharks by torpedoing up into the shark's
stomach from underneath, causing the shark to explode.
13. Most lipstick contains fish scales.
14. Donald Duck comics were banned from Finland because he doesn't wear pants.
15. Ketchup was sold in the 1830's as medicine.
16. Upper and lower case letters are named 'upper' and 'lower' because in the time when all original print had to be set in individual letters, the upper case' letters were stored in the case on top of the case that stored the smaller, 'lower case' letters.
17. Leonardo Da Vinci could write with one hand and draw with the other at the same time hence, multi-tasking was invented.
18. Because metal was scarce, the Oscars given out during World War II were made of wood.
19. There are no clocks in Las Vegas gambling casinos.
20. The name Wendy was made up for the book Peter Pan; there was never a recorded Wendy before!
21. There are no words in the dictionary that rhyme with: orange, purple and silver!
22. Leonardo Da Vinci invented scissors. Also, it took him 10 years to paint Mona Lisa's lips.
23. A tiny amount of liquor on a scorpion will make it instantly go mad and sting itself to death.
24 The mask used by Michael Myers in the original "Halloween" was a Captain Kirk's mask painted white.
25. If you have three quarters, four dimes, and four pennies, you have
$1.19. You also have the largest amount of money in coins without being able to make change for a dollar (good to know.)
26. By raising your legs slowly and lying on your back, you can't sink in quicksand (and you thought this list was completely useless.)
27. The phrase "rule of thumb" is derived from an old English law, which stated that you couldn't beat your wife with anything wider than your thumb.
28. The first product Motorola started to develop was a record player for automobiles. At that time, the most known player on the market was the Victrola, so they called themselves Motorola.
29. Celery has negative calories! It takes more calories to eat a piece of celery than the celery has in it to begin with. It's the same with apples!
30. Chewing gum while peeling onions will keep you from crying!
31. The glue on Israeli postage stamps is certified kosher.
32. Guinness Book of Records holds the record for being the book most often stolen from Public Libraries.
33. Astronauts are not allowed to eat beans before they go into space because passing wind in a space suit damages it.
34. George Carlin said it best about Martha Stewart. "Boy, I feel a lot safer now that she's behind bars. O. J. Simpson and Kobe Bryant are still walking around; Osama Bin Laden too, but they take the ONE woman in America willing to cook, clean, and work in the yard, and they haul her fanny off to jail."


Feb. 28 ~ New Words ... Below Dick and Bill ...

Feb 15, Dick shoots Lawyer .... Good Boy! The Talk Shows are having a field day at the expense of our VP Dick Cheney after accidentally shooting his lawyer friend while quail hunting. I've been in the same situation and believe me it is not hard to do. One false move by any of a variety of parties involved and a quick accident can occur. But it is still funny, damn it!!!! This from NewsMax.com ...
NBC's Tonight Show host Jay Leno offered these gems: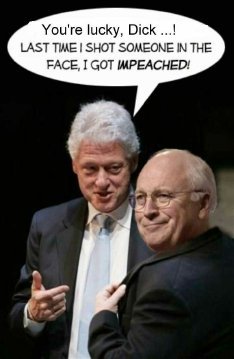 "I guess the guy is going to be OK," Leno said. "When the ambulance got there, out of force of habit they put Cheney on the stretcher … When people found out he shot a lawyer, his popularity is now at 92 percent."
Comedy Central's host of "The Daily Show," Jon Stewart, placed this incident in its proper historical perspective, recognizing that Cheney was the first U.S. vice president to shoot someone since Aaron Burr, who shot Alexander Hamilton during a duel in 1804:
"Hamilton, of course, was shot in a duel with Aaron Burr over issues of honor, integrity and political maneuvering," Stewart said. "Whittington? Mistaken for a bird."
Top radio talk-show host Rush Limbaugh put a political spin on the accident, offering his listeners a choice:
"Would you rather go hunting with Dick Cheney or riding in a car over a bridge with Ted Kennedy?" Limbaugh asked. "At least Cheney takes you to the hospital."
Even politicians got in on the act, including some who are genuinely fond of the vice president.
Florida Gov. Jeb Bush, brother to President George W. Bush, attended the Florida State Fair Governor's Day Luncheon on Monday, and was given a promotional sticker to wear at the event.
Bush placed the bright orange sticker – the same color of a hunter's vest - on his chest and quipped, "I'm a little concerned that Dick Cheney is going to walk in."
Foreign newspapers also had a field day at the vice president's expense. According to a report in The Seattle Times, two overseas headlines were most noteworthy.
The Herald in Scotland read, "Cheney Bags a Lawyer," while the Sydney Morning Herald summarized with this headline, "Cheney Hunts Quail and the World Ducks."
Feb. 28 ~ New Words ... From the Washington Post
The Washington Post's Style Invitational once again asked readers to take any word from the dictionary, alter it by adding, subtracting, or changing one letter, and supply a new definition. Here are last year's winners:

1. Bozone (n.) The substance surrounding stupid people that stops bright ideas from penetrating. The bozone layer, unfortunately, shows little sign of breaking down in the near future.

2. Cashtration (n.) The act of buying a house, which renders the subject financially impotent for an indefinite period.

3. Giraffiti (n) Vandalism spray-painted very, very high.

4. Sarchasm (n) The gulf between the author of sarcastic wit and the person who doesn't get it.

5 . Inoculatte (v) To take coffee intravenously when you are running late.

6. Hipatitis (n) Terminal coolness.

7. Osteopornosis (n) A degenerate disease. (This one got extra credit.)

8. Karmageddon (n) It's like, when everybody is sending off all these really bad vibes, right? And then, like, the Earth explodes and it's like, a serious bummer.

9.Decafalon (n.) The grueling event of getting through the day consuming only things that are good for you.

10. Glibido (v) All talk and no action.

11. Dopeler effect (n) The tendency of stupid ideas to seem smarter when they come at you rapidly.

12. Arachnoleptic fit (n.) The frantic dance performed just after you've accidentally walked through a spider web.

13. Beelzebug (n.) Satan in the form of a mosquito that gets into your bedroom at three in the morning and cannot be cast out.

14. Caterpallor (n.) The color you turn after finding half a grub in the fruit you're eating.

And the pick of the literature:

15. Ignoranus (n): A person who's both stupid and an asshole .


I don't make it easy ~ you have to scroll all the way to the bottom for other new things ... but it's well worth the trip!
'Twas the Night before Christmas and all thru the house,
not a creature was stirring, not even a mouse ...

A DIFFERENT CHRISTMAS POEM

The embers glowed softly, and in their dim light,
I gazed round the room and I cherished the sight.
My wife was asleep, her head on my chest, My daughter
beside me, angelic in rest.

Outside the snow fell, a blanket of white,
Transforming the yard to a winter delight.
The sparkling lights in the tree I believe,
Completed the magic that was Christmas Eve.
My eyelids were heavy, my breathing was deep,
Secure and surrounded by love I would sleep.

In perfect contentment, or so it would seem,
So I slumbered, perhaps I started to dream.
The sound wasn't loud, and it wasn't too near, But I
opened my eyes when it tickled my ear.

Perhaps just a cough, I didn't quite know, Then the
sure sound of footsteps outside in the snow.
My soul gave a tremble, I struggled to hear,
And I crept to the door just to see who was near.

Standing out in the cold and the dark of the night, A
lone figure stood, his face weary and tight.
A soldier, I puzzled, some twenty years old, Perhaps a
Marine, huddled here in the cold.

Alone in the dark, he looked up and smiled, Standing
watch over me, and my wife and my child.
"What are you doing?" I asked without fear, "Come in
this moment, it's freezing out here!
Put down your pack, brush the snow from your sleeve,
You should be at home on a cold Christmas Eve!"
For barely a moment I saw his eyes shift, Away from
the cold and the snow blown in drifts..
To the window that danced with a warm fire's light
Then he sighed and he said "Its really all right,
I'm out here by choice. I'm here every night."

"It's my duty to stand at the front of the line, That
separates you from the darkest of times.
No one had to ask or beg or implore me, I'm proud to
stand here like my fathers before me.
My Gramps died at 'Pearl on a day in December," Then
he sighed, "That's a Christmas 'Gram always remembers."
My dad stood his watch in the jungles of 'Nam', And
now it is my turn and so, here I am.

I've not seen my own son in more than a while,
But my wife sends me pictures, he's sure got her smile.
Then he bent and he carefully pulled from his bag, The
red, white, and blue... an American flag.

"I can live through the cold and the being alone, Away
from my family, my house and my home.
I can stand at my post through the rain and the sleet,
I can sleep in a foxhole with little to eat.

I can carry the weight of killing another, Or lay down
my life with my sister and brother..
Who stand at the front against any and all, To ensure
for all time that this flag will not fall."

"So go back inside," he said, "harbor no fright, Your
family is waiting and I'll be all right."
"But isn't there something I can do, at the least,
"Give you money," I asked, "or prepare you a feast?

It seems all too little for all that you've done,
For being away from your wife and your son."
Then his eye welled a tear that held no regret, "Just
tell us you love us, and never forget.

To fight for our rights back at home while we're gone,
To stand your own watch, no matter how long.
For when we come home, either standing or dead,
To know you remember we fought and we bled.
Is payment enough, and with that we will trust,
That we mattered to you as you mattered to us.


WE ALL NEED TO PRAY FOR OUR

MILITARY PERSONNEL EVERY NIGHT! From:
BRIAN E. PERAZONE
MAJOR, CA
We have a new Silent Auction page ~ Try it out.
Prior News and Views
I Must be getting old ... going to my 45th High School Reunion tonight. Wearing my ten gallon hat and my python skin boots 'cause I know the bull crap will be piling high ... be prepared!
Well. That was nice! Glad it's over.
The political garbage being spilled out is becoming worse than the stench of the New Orleans backwaters ... below ...
New Katrina Victim Letter Circulating ~ See 9-20 Report ...
also... 9-26-2005 ~ What one man Learned about Hurricanes ~ and ~ French Police Report from Paris ... See below ....
Wear the Fox Hat ... If You Dare .
Happy Fourth Of July, Veterans Day and a Fireworks Alternative ... on this occasion when the authorities frown on the finest of uses for small explosive devises ... try out the SG2000 Spud Gun for those high aerial displays and use the imagination for best results. Also, please don't attempt this unless you are a qualified POTATO GUN Safety Manager.
A Warrior Tribute ... Link index.htm
Sing It ... FRANKIE... you'll like this !
... also the Final Solution is below.
****************************************************************
"There's a Nip in the Air this morning ~ must be another Pearl Harbor Day !"
04-28-04 Great New Items Are Added to Bottom ... this is like the past two years in review ~ lest we forget.
I don't know why the media is so surprised by the commitment, and thus enlistment, of our brave men and women to the Armed F o rces. If I were nineteen again, I would want to go and kick ass too. And today, there are plenty of butts that need burning. With the wisdom of youth like truth from the mouths of babes, there is still a sense of patriotic duty and now almost an urgency in our younger generation. So, to the liberals, the non-believers, the appeasers and the remnants of the me generation, you have lost the battle for the hearts and minds of our youth. And thank God for them and for America's future.
Is it only me who notices dedicated expressions on the faces of our troops in battle footage against the enemy? And that these jihadists, these seekers of seventy virgins, need to hide their mugs with their Mothers' aprons. These "Thugs of the Middle East" not only hide behind the veil of religion but also in the Mosques and holy places of Islam. How will even one virgin recognize a dead terrorist with covered features? And when our military knows them it is easier to send them on their journey. Come on you Muslim Warriors of God, you Palestinian Patriots, you Defenders of Islam, you Mobsters of Mid-east Mayhem, have more gonzalees than your pre-teen brethren and show your unwrapped faces on news time Al-Jazeera TV and let our soldiers know who you are, and also -- happy trails to you.
Can I clear up the problem with the Democratic nominee for President of the Greatest Country in the entire World, John Kerry? He is a Dork! Why would anyone in their right mind want to put the likes of the new JFK at the helm of the Biggest and Baddest Battle Star in this time of war or peace? Former presidential pair still like him, I guess. Mr. Clinton passed on his hairdresser and Mr. Gore, now that he probably reaped enough interest, has passed on his remaining six million dollars in campaign funds to fellow dems, most to Kerry.
And, oh ye-ah! Our important First Amendment Rights, now vehemently defended by radio interests against FCC rules to curb the curse words. So shock-jock, Howard Sterns, now wants to replace President Bush 'cause the rules of decency stem from his administration. I never see the libs who defend their right to say anything ever defend the right of Second Amendment advocates. You know, the right to own and shoot a gun instead of your mouth off. The leniency of using F_ _ _ as an adjective in like "You f_ _ ing asshole!" is not good enough. Sterns wants it for a verb – which is verboten in FCC public land – so he can simply say "F _ _ _ you!" on the air. Oh, Lordy, where has the world gone wrong?
And Fallujah, just keep f_ _ _ ing off and you'll see some censorship by the Big Red Bad Ass US Eagle Shit on your head. As a quote from one US Soldier "We've been playing patty cake with them these last few days." Good night, Iraq.
05-12-04
I just received this letter from one of our NEACA Members and it was obviously well thought out and describes one persons' concerns about our Country's direction. Terry lives in a small town in the NY State Adirondacks. He likes guns, enjoys hunting and works as an engineer. He, and many of his peers, who are real Republican in their philosophy have many questions about the Party leadership and direction. In the past elections, in what should be a Republican stronghold, the Democrats won. Terry and I have had political conversations and I know how he feels. I can only hope that the people who really matter also listen to the lonely cries echoing from the mountainside and heed the message borne on the wind.
Below, is a message I received by e-mail about a Wife's Pride and I thought you might like it. It follows my letter, however it is unverifiable as to the author or its authenticity.

If true, this is a wonderful homage to our truly dedicated and honest service people who are obeying their leaders directives and are sincerely making supreme sacrifices to deter terror in the world. Deep in my heart I feel her compassion and revere what the soldiers have given. This is a wonderful Country and worth defending the principles it stands for, such as honesty, morality, decency and the privileges that free people live with daily. If one honors our soldiers and is sincere about it, one would be offended when people ridicule their courageous deeds in the name of the American society. This is the case with this incident. And recently I have been told about how a silver star winner and triple purple heart winner is a fraud and joined the Navy to evade the dangers of the foot soldier. I think to myself that the silver star is only one step away from a congressional medal of honor and to disgrace the recipient is disgusting and repulsive to that person and any that might earn one. Forget that the person might like hominy and grits or fly a confederate flag on his home or have some other manner of living that we might or might not all agree with. That is one of the reasons that soldiers and Navy personnel sacrifice so much to protect this great nation.
Some of our great Congressional Representatives (and I don't mean just those Democrats) have come forth recently and have stated unequivocally that our soldiers have been sent into harms way in insufficient numbers to protect them (yes, I know - Clinton cut the military - just like Reagan when he closed all the bases and Bush who is closing more). The fact that large ammo dumps were left unguarded so the enemy could raid them and use the gun powder to make bombs and kill our great soldiers; the Red Cross has been warning of misconduct and a two star general, assigned to investigate problems, has also said the service people are understaffed, untrained and UNSUPERVISED!!!!!
I sincerely hope that this conflict was best spent in Iraq instead of Afghanistan, where the majority of the known terrorists have been reported by our "intelligence?" I sincerely hope that the loss of all these American lives wasn't in vain to satisfy private interests or vengeful acts. We, as Americans, should question our direction when several of the Cabinet officials are warning us that this might be the case and, as they see it, are the directions and desires of our top leaders.
I wonder how our top leader can really be serving our best interests when he suggests that it would be a really good Idea to allow the illegal (YES ILLEGAL) immigrants living in this country the automatic right to reside here as citizens. That one statement has caused a flood of immigrants into this country and the flood of people has crippled the Border Patrol, Coast Guard, Immigration and Naturalization, Customs, the Navy and all the other front line defenses that would likely stop the terrorist in the first line of defense. To me, it is totally irresponsible and un-Republican to act this way. Is it just to get votes or is it to allow cheap labor to the south western states.?
I am troubled by the obvious conflict of interest in business sent overseas - especially when our great military is reporting multi - million dollar fraud by these companies. I believe as you do, that we should honor our great military people that are honesty doing the work we have assigned them. Even when they are warning us about improprieties within. This government is set up on a system of checks and balances and you can't revere one part (our blessed front line soldiers) without revering the people reporting behind the scenes. Like the FBI agent that reported the likelihood of these events, the military reporting illegal charges to the services - cheating our service people out of money best spent to defend their positions. Or like the people who reported that in the days following the terrible tragedy that 24 of Osama's family members and other Royal Saudi family members were given top white house security clearance to leave the country, protected by an FBI agent for each planeload - when grieving Americans weren't even allowed to fly next to their lost kin.
As good Republicans and good Americans we must insure that our honest beliefs are correctly managed by our leaders and if they are not, then it is only right that we change those leaders before the opposition party does it for us. It isn't as if there aren't plenty of signals out there that don't warn us. We can't be a blind person in a roomful of deaf people.
I won't question the righteousness of the prison scandal. I will wonder why it ever got so out of hand. Where in hell was the leadership and supervision and training, etc.?
Dave, you don't need to be a brain surgeon to realize that the Democrats are totally missing the boat! If they truly represented the average person then they would support our right to gun ownership and guarantee themselves about 50-70 million more votes and lock in every election in the country. Such fools!!!! I may not agree with a stupid boss I work for but I do listen and try to learn from him. He might say something intelligent and I could learn from it. In the same regard, even though I disagree with the social attitude of the others I will listen to the positive things that come out and the positive things my representatives have to say. Then make up my own mind about things intelligently (as much as My intelligence will allow me to achieve).
God bless this country and May God direct the leadership to honest and positive achievements in using our money and support. And may he bless you and your family for the years of what I believe is one of the more intelligent efforts to organize our shows. Thanks, Terry.
Wife's Pride (Unverified Story)
I was sitting alone in one of those loud, casual steak houses that you find all over the country. You know the type - a bucket of peanuts on every table, shells littering the floor, and a bunch of perky college kids racing around with long neck beers and sizzling platters.
Taking a sip of my iced tea, I studied the crowd over the rim of my glass. My gaze lingered on a group enjoying their meal. They wore no uniform to identify their branch of service, but they were definitely "military:" clean shaven, cropped haircut, and that "squared away" look that comes with pride.
Smiling sadly, I glanced across my table to the empty seat where my husband usually sat. It had only been a few months since we sat in this very booth, talking about his upcoming deployment to the Middle East.
That was when he made me promise to get a sitter for the kids, come back to this restaurant once a month and treat myself to a nice steak. In turn he would treasure the thought of me being here, thinking about him until he returned home to me.
I fingered the little flag pin I constantly wear and wondered where he was at this very moment. Was he safe and warm? Was his cold any better? Were my letters getting through to him?
As I pondered these thoughts, high pitched female voices from the next booth broke into my thoughts.
"I don't know what Bush is thinking about. Invading Iraq. You'd think that man would learn from his old man's mistakes. Good Lord, what an idiot! I can't believe he is even in office. You do know, he stole the election."
I cut into my steak and tried to ignore them, as they began an endless tirade running down our president. I thought about the last night I spent with my husband, as he prepared to deploy. He had just returned from getting his smallpox and anthrax shots. The image of him standing in our kitchen packing his gas mask still gives me chills.
Once again the women's voices invaded my thoughts. "It is all about oil, you know. Our soldiers will go in and rape and steal all the oil they can in the name of 'freedom'. Humph! I wonder how many innocent people they'll kill without giving it a thought? It's pure greed, you know."
My chest tightened as I stared at my wedding ring. I could still see how handsome my husband looked in his "mess dress" the day he slipped it on my finger. I just wondered what he was wearing now. Probably his desert uniform, affectionately dubbed "coffee stains" with a heavy bulletproof vest over it.
"You know, we should just leave Iraq alone. I don't think they are hiding any weapons. In fact, I bet it's all a big act just to increase the president's popularity. That's all it is, padding the military budget at the expense of our social security and education. And, you know what else? We're just asking for another 9-ll. I can't say when it happens again that we didn't deserve it."
Their words brought to mind the war protesters I had watched gathering outside our base. Did no one appreciate the sacrifice of brave men and women, who leave their homes and family to ensure our freedom? Do they even know what "freedom" is?
I glanced at the table where the young men were sitting, and saw their courageous faces change. They had stopped eating and looked at each other dejectedly, listening to the women talking.
"Well, I, for one, think it's just deplorable to invade Iraq, and I am certainly sick of our tax dollars going to train professional baby killers we call a military."
Professional baby killers? I thought about what a wonderful father my husband is, and of how long it would be before he would see our children again.
That's it! Indignation rose up inside me. Normally reserved, pride in my husband gave me a brassy boldness I never realized I had. Tonight one voice will answer on behalf of our military, and let her pride in our troops be known.
Sliding out of my booth, I walked around to the adjoining booth and placed my hands flat on their table. Lowering myself to eye level with them, I smilingly said, "I couldn't help overhearing your conversation.
"You see, I'm sitting here trying to enjoy my dinner alone. And, do you know why? Because my husband, whom I love with all my heart, is halfway around the world defending your right to say rotten things about him."
"Yes, you have the right to your opinion, and what you think is none of my business. However, what you say in public is something else, and I will not sit by and listen to you ridicule MY country, MY president, MY husband, and all the other fine American men and women who put their lives on the line, just so you can have the "freedom" to complain. Freedom is an expensive commodity, ladies. Don't let your actions cheapen it."
I must have been louder than I meant to be, because the manager came over to inquire if everything was all right. "Yes, thank you," I replied. Then turning back to the women, I said, "Enjoy the rest of your meal."
As I returned to my booth applause broke out. I was embarrassed for making a scene, and went back to my half eaten steak. The women picked up their check and scurried away.
After finishing my meal, and while waiting for my check, the manager returned with a huge apple cobbler ala mode. "Compliments of those soldiers," he said. He also smiled and said the ladies tried to pay for my dinner, but that another couple had beaten them to it.
When I asked who, the manager said they had already left, but that the gentleman was a veteran, and wanted to take care of the wife of "one of our boys."
With a lump in my throat, I gratefully turned to the soldiers and thanked them for the cobbler. Grinning from ear to ear, they came over and surrounded the booth. "We just wanted to thank you, ma'am. You know, we can't get into confrontations with civilians, so we appreciate what you did."
As I drove home, for the first time since my husband's deployment, I didn't feel quite so alone. My heart was filled with the warmth of the other diners who stopped by my table, to relate how they, too, were proud of my husband, and would keep him in their prayers. I knew their flags would fly a little higher the next day.
Perhaps they would look for more tangible ways to show their pride in our country, and the military who protect her. And maybe, just maybe, the two women who were railing against our country, would pause for a minute to appreciate all the freedom America offers, and the price it pays to maintain it's freedom.
As for me, I have learned that one voice CAN make a difference. Maybe the next time protesters gather outside the gates of the base where I live, I will proudly stand on the opposite side with a sign of my own. It will simply say, "Thank You!"

(*Lori Kimble is a 31 year old teacher and proud military wife. A California native, Mrs. Kimble currently lives in Alabama)

To those who fought for our Nation: Freedom has a flavor the protected will never know. GOD BLESS AMERICA!
05-25-04
THE FINAL SOLUTION
Why is it so clear to me, the solution to America's problems today, that is; and most people, especially our politicians who could actually implement the solution, don't seem to have a clue. Nor, does my final solution have anything to do with the espousal by Hitler.
However, during World War Two Japanese, Italian and German aliens were interred in camps to relieve the problems of internal espionage and possible acts of war within the boundaries of the USA. It was then certainly an upheaval of families and absolute infringements of life, liberty and pursuits of happiness. Aliens of those mentioned ethnicities were definitely relieved of any form of American or Western justice, as were many American citizens of those descents, some voluntary and some not. The American homeland however, was made safe during a time of war and strife.
We again are in a world war. As in the 1940's there are still pacifists, atheists, religious zealots, homosexuals, child molesters, illegal aliens, and all other sorts of fringe beings roaming free in America. The difference today is they have merged into the main stream, they know how to garner media attention and they have open agendas with friends in high places. They also have the American Civil Liberties Union, as well as a non-ending supply of suit happy lawyers. Times have changed dramatically in sixty years.
Still, sometimes the simpler solutions to major problems should not be swept aside with yesterday's values. Our war today is with terrorists; the majority of terrorists are Middle Eastern Muslims, internment camps were used effectively during our last World War, ergo – internment camps for Muslims appear apropos. This then, is the beginning of the solution to limit free roaming of possible, and perhaps probable, persons intent on internal espionage and acts of war or sabotage. Cruel and unjust punishment you ask? Perhaps, but not unusual and certainly not unwarranted.
A choice of relocation to their former homeland could be offered. Then a reasonably comfortable alternative lifestyle would be given to Muslims or Middle Eastern ethnicities in a safe, cohesive environment and confinement.
Can we ask why would a country that was sabotaged by Arabian Airline Pilots still allow Arabs to fly or take flying lessons within our borders? Why should Middle Eastern persons be allowed to drive large trucks throughout our land when a mode of operendi is for those same ethnics to truck bomb our buildings? If a farmer is worried about a fox outside his coup, why would he invite the fox to live with his chickens?
Years ago the farmer would shoot the fox, problem over. Today he might only trap him humanely or scare him away. However, even as years have passed, the fox is still the fox; it still wants to eat our chickens. Radical Muslims still want to bomb our buildings.
The beginning of the American solution is internment camps, deportation and closing of our borders to possible problem people who sympathize with those whom we are at war. The tightening of our borders is a key link in the solution chain. Business people dependent on cheap labor insist the immigrant is essential. Americans, it's said, won't work for the low wages. They won't stoop to the low esteem of farmhand, picker, dishwasher, busboy or maid. Then, if big agriculture and business is at the cause of illegal immigration and their chief beneficial recipients, as proud and generous Americans, why should we all just standby and see these immigrants being exploited? We all say we abhor child labor in third world countries. Why condone the same just under our noses? With no illegal immigrants, no exploitation; another problem solved.
If illegal immigrants were stopped and deported and if illegals already here were found and deported, it would be a huge step to clear our land of illegals. But, they would just come back tomorrow, they say. Tough times try men's souls, as well as troubled times. Deterring people from illegally crossing our borders is quite simple. Unlike the prior Russians and the Berlin Wall East Germans who shot people when they tried to leave, I think we have a right of defense and may shoot people who try to circumvent the proper procedural entry. Yes, a tough solution to a tougher problem. Mexico won't like it, you say? I say Mexico may be part of the problem, but shooting a few illegal aliens may be a big part of the solution. And, I personally have nothing against the Mexican people. However, I don't believe the Mexican Government appreciates Hondurans, Columbians, or even Americans sneaking into their country. They actually shoot them.
The large farms couldn't operate without the cheap labor provided from down under, is one argument. Well, I guess they will either have to raise their wage scale, charge more money for their produce, or go out of business. Or, perhaps being a small farmer would actually become profitable again with the large farms out of business. Was that a bad thing fifty or sixty years ago? But who would work the land? Who would stoop to pick tomatoes?
Perhaps another link in the solution chain would be the drastic cut and steady elimination of welfare. When one gets real hungry, maybe one would stoop to pick up a penny or nickel. I don't have to be hungry and I stoop for change, though I know many of us are way too proud – or not hungry enough. Or one may even stoop to look for a job, even if it was to pick tomatoes. A large part of the solution is in overhauling our welfare state. Eliminating liberals in halls of power would go a long way to ending dependency on the dole. Remember, the worst thing that could happen to liberals or left leaning Democrats is that Americans stood on their own two feet. Without dependants they would have no constituents. What God fearing American Christian, who is free to work and live and hunt and fish as our fore fathers did, would need a liberal? Another problem solved.
Americans should strive to always do better, seek an education to provide a better life and live the golden rule of doing to others, as we would have others do for us. Can you tell me why some States in our Union, like New York and recently Kansas, would provide free education and even higher learning to illegal aliens on a free basis but deny funds to its' own American citizens? It is true. Simply listen to the current events or read the national news. Our American colleges and Universities have sadly become bastions of liberalism. Today, if you pray to the devil and are a homosexual, illegal minority in America, you have it made! I think even the Indians want to be queer with envy. Our pillars of higher learning are not part of the American solution but a good portion of the problem.
Deportation; sounds like an easy to use tool of legal enforcement. Not so in America, especially if you are an illegal alien. A cop can stop a car for a traffic check and noticing contraband or drugs, arrest that American citizen. If a cop checked a license and found an illegal alien however, he cannot arrest an illegal and hence, never deportation one would see. A doctor can, and in some cases must, report you an American citizen, for slapping sense into your kid's head but can't report when treating an illegal alien. Do I see a problem with the pattern? Illegal protected, American citizen dejected.
On and on we could go where the plight of the meek and weak outweigh the right of the American white. And no, I am not prejudiced against any race or color or creed. We all are Americans, we all were immigrants at one time, and we all deserve equal justice and our own pursuit of happiness. The point is, are our liberal pursuits of individual satisfaction and happiness now infringing on the right of the majority?
Two hundred years ago one could shoot a robber as a matter of course. A hundred years ago one could still shoot an attacker as a matter of course. In this year if you shoot your mouth off at a homo or a minority – you may land in jail. As the song goes, "Something's Got to Give?" The American way is surely not today. And whether my solution is final or just finally beginning the cure, one link at a time needs to be forged again to win back America.
Listening to its' problems and forming an opinion is a start for each of us. Common sense and common duty must prevail. Our American values were not trampled upon sixty years ago nor do they need be now. But concise and abrupt steps need to emerge from our lawmakers to return America to Americans. Politicians need to know, we know and know how to defend our land and our rights and regain our cherished values. The way is by law and by vote. Those of us who don't know enough to vote – and vote right – may inflict their ignorance on us all. They are truly the one big problem to the solution. This year vote your conscience, vote American.
A Response to the Solution
Reply- I do believe that the Interned in this country were entirely Japanese Americans, and not German or Italian. In fact, many German and Italian Americans fought and died for us during the war in Europe and the Pacific. Also, we know many Blacks (sometimes referred to as African-Americans, several generations removed) fought and died for the Allies, though segregated and treated with less dignity than captured German soldiers fighting against us. Oops, on our part. The problem with racism and reverse-racism and now "tolerance" is it all ends up being the same thing: bigotry.
However, since there is the potential for Social disorder, terrorism, a second Civil War, and even World War III, we need to focus on ALL of our problems and prioritize them for the new generation growing up with Liberal Schools and Teachers, CNN Seditious Bastards, Ted Kennedy, and the "Hillary." They are now to believe Muslims are OK as long as we don't bother them, allow the sick scum of the earth to take over this country in the name of tolerance, and big government of Taxes and Entitlements is the answer to all social problems; not the Family, self-reliance and individual-responsibility.
I want to see all Muslims in the US either denounce Islam, Allah, the Taliban and Al Kieda himself, or get the Hell OUT!!! We have a better chance at killing all the dumb bastards in someone else's country without hurting innocent Americans. I'm sure we can find a Reservation for them if we must. They must repent or die. There is no room for Muslims and everyone else on this planet. They keep telling us that and we won't listen.
Our Politicians are and ever shall be too focused on re-election and not enough on doing the job right. If we had a President with a little more backbone (Obviously he at least has one and Kerry doesn't) he would say "to hell with the numbers" and start just doing the RIGHT THING.
Why do we turn away Europeans who want to be here and actually have something to offer, when we allow millions of Mexicans in without anything more than two arms, two legs and a mouth to feed… illegally, and then give them amnesty since they are already part of the community and "no one wants the jobs they do anyway." We should deport ALL illegals , and all useless welfare recipients and pan-handlers. Let someone else deal with them… we could always find a Reservation or Internment Camp for them. Put them on a commune and make them work for their supper, and stop taking (tax) money from Americans.
The Well Regulated Militia is back on its way once a few more Human Rights and Constitutional protections are eroded. Homos should go back in the closet and stay there. These perverted beings should be given no remorse for their "life-style" choice and abhorrent behavior in the same way we look down on drug abusers and common criminals. If there is a mental illness that affects these beings, we should find a cure… but there's always the reservation. With the inevitable Civil War looming since nothing will be done, contingencies need to be decided upon and early warning signs discovered and acted upon.
I think our friends in the World should open their eyes and realize what's left to do. As is the case with Terrorism, and our Liberal back-stabbing seditious bastards, there have to be good people in other parts of the world who understand what needs to be done. Our Republic may not be strong enough to hold itself right forever, and without some outside help and a LOT more backbone and strength inside, I fear it may come to total destruction of our enemies and a fight to the death for everyone.
"Anonymous," Thanks.
Well, wasn't that Special??
I have a few things you people should read. Go to this page link FEMA Concentration and Internment Camps and learn what was and what may be in store.
Coming .... more.
This Just In .......

Democratic National Committee Convention Official Program:

> 6:00pm - Opening flag burning ceremony.

> 6:00pm - Opening secular prayers by Rev. Jesse Jackson and Rev. Al
Sharpton.

> 6:30pm - Anti-war concert by Barbra Streisand.

> 6:40pm - Ted Kennedy proposes a toast.

> 7:00pm - Tribute theme to France.

> 7:10pm - Collect offerings for al-Zawahri defense fund.

> 7:25pm - Tribute theme to Germany.

> 7:45pm - Anti-war rally (Moderated by Michael Moore)

> 8:25pm - Ted Kennedy proposes a toast.

> 8:30pm - Terrorist appeasement workshop.

> 9:00pm - Gay marriage ceremony (both male and female couples)

> 9:30pm - * Intermission * Special Guest SOLOIST JANE FONDA

> 10:00pm - Posting the Iraqi Colors by Sean Penn and Tim Robbins

> 10:10pm - Re-enactment of Kerry's medal toss.

> 10:20pm - Cameo by Dean 'Yeeearrrrrrrg!'

> 10:30pm - Abortion demonstration by N.A.R.A.L.

> 10:40pm - Ted Kennedy proposes a toast.

> 10:50pm - Pledge of allegiance to the UN.

> 11:00pm - Multiple gay marriage ceremony (threesomes, mixed and same sex).

> 11:15PM - Maximizing Welfare workshop.

> 11:30pm - 'Free Saddam' pep rally.

> 11:59PM - Ted Kennedy proposes a toast.

> 12:00am - Nomination of democratic candidate.
06- 10- 04
We mourn the passing of President Ronald Reagan. May tomorrow bring eternal rest and peace to him and his Shining City on a Hill.
I just updated our Items of Interest pages, and added some very interesting nature photos to page two.
06- 16- 04 That's Our Guy
Sheriff Joe Arpaio of Phoenix, Arizona has been doing it the right way for years.
* He has jail meals down to 40 cents a serving ... and charges the inmates.
* He prohibits smoking and porno magazines in the jail cells.
* He eliminated the inmates use of weights.
* He cut off all but "G" movies for inmates.
* He started chain gangs so the inmates could do free work on County and City projects. To be fair and sensitive he began chain gangs for women so he wouldn't get sued for discrimination.
* He took away cable TV until he found a Federal Court Order required cable TV for jails. Now he only lets in the Disney Channel and the Weather Channel. Asked why the Weather Channel was allowed, he replied "So they will know how hot it is going to be while working on my chain gangs."
* He cut off coffee since it has zero nutritional value. When the inmates complained he told them, "This isn't the Ritz, if you don't like it don't come back!"
* He bought Newt Gingrich's lecture series on videotape and pipes it into the cells. When asked by a reporter if he had any lecture series done by a Democrat, he replied, "that a Democratic lecture series might explain why a lot of the inmates were in his jails in the first place."
I think I like this fellow. But there is more ...
With temperatures being even hotter than normal in Phoenix, over 116 degrees, the Associated Press reported:
About 2,000 inmates living in a barbed-wire-surrounded tent encampment at the Maricopa County Jail have been given permission to strip down to their government-issued pink boxer shorts.

On Wednesday, hundreds of men wearing boxers were either curled up on their bunk beds or chatted in the tents, which reached 138 degrees inside the week before.

Many were also swathed in wet, pink towels as sweat collected on their chests and dripped down to their pink socks.
"It feels like we are in a furnace," said James Zanzot, an inmate who has lived in the tents for 1 1/2 years. "It's inhumane."
Joe Arpaio, the tough-guy sheriff who created the tent city and long ago started making his prisoners wear pink and eat bologna sandwiches, is not one bit sympathetic. He said Wednesday that he told all of the inmates:

"It's 120 degrees in Iraq and our soldiers are living in tents too, and they have to wear full battle gear, but they didn't commit any crimes. ... so shut your damned mouths."
To learn more on Sheriff Joe Arpaio go to ...
10/26/04 This Election is Getting Real Ugly
Recent discussions with some friends, which several are gun dealers, have surprised Cathy and I about some of the misguided views they hold on the coming election - one of the most important in recent history. The next President will definitely appoint one or more Supreme Court Justices for starters. The War on Terror will either be won right or not in the next few years. Our National image and integrity will be carved in the shifting sands of Iraq and probably Iran. Our American ideals will be tested. Can you voters just do this little test that I like to perform on my customers when they come in to my gun store and ask, "What kind of gun should I get for protection?"
I say, "Close your eyes and think that you are an intruder in your darkened house and you hear this sound ~ (The subtle and unmistakable sound of the sliding pump action of a shotgun slamming home a chambered round as I activate the mechanism.) ~ the sound alone is enough to send the critter scurrying with a chill in the spine."
I say now of this election, "Voters, close your eyes and visualize a similar scary moment and listen for these words, 'President John Kerry will now take the oath of office'. Words like that should send chills up and down your spine." And, to make matters absolutely worse! Can you even imagine how this guy would run the business of this country after waking up each morning and staring first thing at First and Foremost Woman ~ Teresa? Oh, woe are we. Halloween is certainly the right time for scary thoughts as these. Make sure they don't become a reality, vote for our President, George W. Bush.
WHO I AM
By Cathy Petronis
I am a Republican. Furthermore I am a Conservative Republican.
When Democrats and Liberals talk about the Republicans stealing votes, keeping people from voting and being outright criminals, I take offense.
I am a gun owner, hunter and licensed gun dealer. I don't know how many people out there could pass the scrutiny to become a Federal and State dealer.
I am opposed to political philosophies that want to take away my right to legally own guns. I am appalled by anyone who's record is to be a gun control advocate and uses a photo op to pretend to be an avid hunter and protector of gun rights.
Above all I am a woman, wife, mother and grandmother and I am against abortion. I don't like people who profess to believe in their religion but still believe in abortion when their church opposes it. There's abstinence, birth control or adoption. Just ask people who have been unable to have children on their own.
I am a small business owner and not in the upper 2% income bracket. We've had some struggles the past 2 years but I have the depth of intelligence to realize that 9/11 had a terrible impact on the economy. When it comes to hospitalization, I pay almost $300 a month but I have a choice of the type of care I have. Ever ask the Canadians about their government health care? It's scary!
I'm a tax preparer and I've seen close to 90% of my clients paying lower income taxes the past three years. The only ones paying more are those who've had a major increase in income or lower deductions.
I realize that people have different views but I resent the fact that some people don't respect mine.
I will vote for George W. Bush for President for another four years because in my heart and my mind I know that he is the strong leader we need in these tough times to take care of me, my family, my state and this wonderful country we live in.
Nov. 17 ... I can already see the effects with our President George W. Bush in being re-elected as the stock market rises and people are out again and spending money. Four more years of stunning achievements. Now all we have to do is kill more militant Muslims to make the world a safer place. Halleluiah.
Jan. 7, 2005 ... Well, it is official. The December Stats for NEACA.com are in and we had over ONE MILLION hits. To be exact we garnered 1,006,223 for the month. It is a milestone for us and it sets the New Year off with a bang. Four gun orders from the site this week and a bunch of other goodies. And, my Page Maker file has most of our next Arms Collectors Journal, all 16 pages are nearing completion. AND, we have most of our Civil War biographical novel completed and hope to have that ready by June. Things are working all the time and 2005 looks like a really great year upcoming! Happy New Year to All.
March 25, 2005 ... After many months of trials and tribulations we have finally brought our Arms Collectors Journal back into print and also on-line. For the first time in the history of my meager mind and muscle we have become world wide publishers of a newspaper. You know what? I am proud of Cathy and myself for this accomplishment. Go to ACJ on-line to see our efforts.
May 1, 2005 ... Moving right along we have our first two issues of our Arms Collectors Journal published and on line for viewing. We also have some new stats which are very nice; April hits were 1,674,282 the visits 62,618 and the views were 44,002. Not too bad. That is like a million and a half customers walking past your store last month, over 62,000 taking a peek in your window and 44,000 of them coming in for a look around. Now, if I can only get half of them to spend at least Five Bucks before they leave, I'm going on a trip around the world! Give me one quick click to my Site Map Page and you will find an avenue or an aisle to roam.
After eating an entire bull, a mountain lion felt so good he started roaring. He kept it up until a hunter came along and shot him. The moral:
When you're full of bull, keep your mouth shut. and.....
Long ago when men cursed and beat the ground with sticks, it was called witchcraft. Today it's called ... GOLF. Will Rogers

06-12-2005 Posting
Here is Something of Interest you all Should Pass On to Friends.
WHY WAIT UNTIL 2008? THERE IS AN ELECTION IN 2006.
I HEREWITH, FIRMLY STATE, THAT I WILL NOT VOTE FOR ANY POLITICIAN, REGARDLESS OF THE OTHER ISSUES, IF HE DOES NOT SPONSOR AND SUPPORT THIS IMPORTANT LEGISLATION. THAT INCLUDES EVERYONE STANDING FOR ELECTION IN 2006 AND ASKING FOR YOUR VOTE.
LET US SHOW OUR LEADERS IN WASHINGTON THAT WE HAVE "PEOPLE POWER" AND HAVE THE POWER OF THE INTERNET. LET ME KNOW IF YOU ARE WITH ME ON THIS BY REPLYING AND FORWARDING TO EVERYONE IN YOUR ADDRESS BOOK.
THE ABOVE MESSAGE WAS DATED 4/25/05 AND SENT FROM CHATTANOOGA, TN .
IT DOESN'T MATTER IF YOU ARE REPUBLICAN OR DEMOCRAT!

KEEP IT GOING!!!!

2006 Election Issue!!

GET A BILL STARTED TO PLACE ALL POLITICIANS ON SOCIAL SECURITY

(This is worth reading. It is short and to the point.)

Perhaps we are asking the wrong questions during election years.

Our Senators and Congressmen or Women do not pay into Social Security and, of course, they do not collect from it.

You see, Social Security benefits were not suitable for persons of their rare elevation in society . They felt they should have a special plan for themselves. So, many years ago they voted in their ownbenefit plan.

In more recent years, no congressperson has felt the need to change it. After all, it is a great plan.

For all practical purposes their plan works like this:

When they retire, they continue to draw the same pay until they die.

Except it may increase from time to time for cost of living adjustments….

For example, Senator Byrd and Congressman White and their wives may expect to draw $7,800,000.00 (that's Seven Million, Eight-Hundred Thousand Dollars), with their wives drawing $275,000.00 during the last years of their comfortable lives.

Tom DeLay is slated to receive $4,795,000.00; Jon Corzine will only receive $1,140,000.00 because of his short tenure in the Senate.

Bob Dole is already collecting on his dole of $6,575,000.00 since he left the Senate. His wife is now in the Senate, working to build up her own pile of gold from us. These figures are in addition to the FREE medical, dental, optical, and hospitalization services given to these so-called public servants. Let us clean up their act in 2006, use your votes !

This is calculated on an average life span for each of those named Dignitaries.

Younger dignitaries who retire at an early age, will receive much more during the rest of their lives.

Their cost for this excellent plan is $0.00 . NADA .... ZILCH .... NOTHING!

This little perk they voted for themselves is free to them. You and I pick up the tab for this plan . The funds for this fine retirement plan come directly from the General Funds;

"OUR TAX DOLLARS AT WORK"!

From our own Social Security Plan, which you and I pay (or have paid) into, every payday until we retire (which amount is matched by our employer but which we as the employed actually pay in the form of other taxes) we can expect to get an average of $1,000 per month after retirement.
Cathy and I will both accumulate about $1100. We can hardly wait!

Or, in other words, we would have to collect our average of $1,000 monthly benefits for 68 years and one (1) month to equal Senator! Bob Dole's benefits!

Social Security could be very good if only one small change were made.

That change would be to:

Jerk the Golden Fleece Retirement Plan! ... from under the Senators and Congressmen's asses. Put them into the Social Security plan with the rest of us , then sit back .....

and see how fast they would fix it.

If enough people receive this, maybe a seed of awareness will be planted and maybe good changes will evolve.

How many peopleCAN YOU send this to?

Better yet....

How many peopleWILL YOU send this to?
"Always Find a Silver Lining" ....or .... "If you got to be there, Make it Worthwhile"
Jennifer's wedding day was fast approaching. Nothing could dampen her excitement, not even her parents nasty divorce. Her mother even found the PERFECT dress to wear and would be the best dressed mother-of-the-bride ever!
A week later, Jennifer was horrified to learn that her father's new young wife had bought the exact same dress her mother had! Jennifer asked his new wife to exchange it, but she refused.
"Absolutely not! I look like a million bucks in this dress, and I'm wearing it." She replied.

Jennifer told her mother the story and she graciously replied, "Never mind, sweetheart. I'll get another dress. After all, it's your special day."

A few days later, they went shopping together and did find another gorgeous dress. When they stopped for lunch, Jennifer asked her mother, "Are you going to return the other dress? You really don't have another occasion where you could wear it."
Jennifer's mother just smiled and said, "Of course I do, dear. I'm wearing it to the rehearsal dinner!"
and Remember to Always Wait for the ... Rest of the Story.
One day Little Johnny watched his daddy's car pass by the school
playground and go into the woods. Curious, he followed the car and saw
Daddy and Aunt Jane in a passionate embrace. Little Johnny found this so
exciting that he could not contain himself as he ran home and started to
tell his mother what he saw.

"Mommy, I was at the playground and I saw Daddy's car go into the woods with Aunt Jane. I went back to look and he was giving Aunt Jane a big kiss, then he helped her take off her shirt. Then Aunt Jane helped Daddy take his pants off, then Aunt Jane........"

At this point Mommy cut him off and said, "Johnny, this is such an interesting story, suppose you save the rest of it for supper time. I want
to see the look on Daddy's face when you tell it tonight"!

At the dinner table, Mommy asked little Johnny to tell his story.
Johnny started his story, "I was at the playground and I saw Daddy's car go into the woods with Aunt Jane. I went back to look and he was giving Aunt Jane a big kiss, then he helped her take off her shirt. Then Aunt Jane
helped Daddy take his pants off, then Aunt Jane and Daddy started doing the same thing that Mommy and Uncle Bill used to do when Daddy was in the Army."

Moral: Sometimes you need to listen to the whole story before you
interrupt.

06/15/2005 Posting ... Martians are Coming .....
Our Saratoga Springs, New York Arms Fair has become so popular that they come from all across the nation to be here. But recently we've found that our door prize coupons have showed us that we have visitors from many other nations also coming to view the fine displays of antique and collector and investment firearms and vintage militaria. But now, the vast network of Scientists who work for us in trying to discover new people to attract have made an astounding discovery. It seems that the planet Mars will be hovering at its closest point to earth in over 60,000 years on the dates of our Show this August 26, 27 and 28. And whatever inhabitants of the Red Planet are there are obviously wanting to get a better look at our Saratoga Arms Fair and of what all the fuss is about. We believe that we are the first Gun Show Promoters to be attracting such a response from interstellar visitors. NEACA, First in Performance ... Again! Read their report:
The Red Planet is about to be spectacular! This month and next, Earth is catching up with Mars in an encounter that will culminate in the closest approach between the two planets in recorded history. The next time Mars may come this close is in 2287. Due to the way Jupiter's gravity tugs on Mars and perturbs its orbit, astronomers can only be certain that Mars has not come this close to Earth in the Last 5,000 years, but it may be as long as 60,000 years before it happens again.

The encounter will culminate on August 27th when Mars comes to within 34,649,589 miles of Earth and will be (next to the moon) the brightest object in the night sky. It will attain a magnitude of -2.9 and will appear 25.11 arc seconds wide. At a modest 75-power magnification. Obviously this will also afford a fantastic view for any Martians of the great amount of activity around the Saratoga Arms Fair at the City Center in Saratoga Springs, New York.

Mars will look as large as the full moon to the naked eye. Mars will be easy to spot. At the beginning of August it will rise in the east at 10p.m. and reach its azimuth at about 3 a.m.

By the end of August when the two planets are closest, Mars will rise at nightfall and reach its highest point in the sky at 12:30a.m. That's pretty convenient to see something that no human being has seen in recorded history.. So, mark your calendar at the beginning of August to see Mars grow progressively brighter and brighter throughout the month. Finally reaching its' intended assent over Saratoga Springs on the 27th. Dave Petronis, President of NEACA Show Promotions is feverishly trying to figure out how to create some sort of inter planetary ticket booth to take full advantage of this First in History visit from Martians.

Thank You Scientists and Astronomers Alike. We couldn't do it without you.
Mars has not come this close to Earth
in the Last 5,000 years, but it may be as long as 60,000 years before it happens again.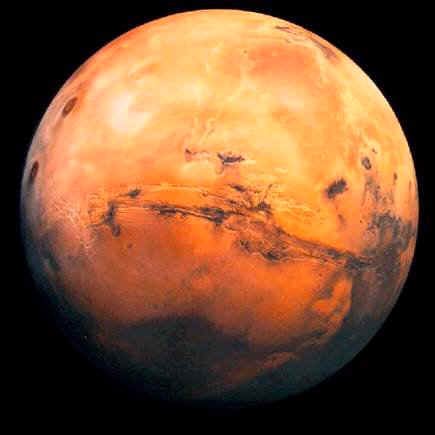 The Red Planet is about to be spectacular!
Th is month and next, Earth is catching up with Mars in an encounter that will culminate in the closest approach between the two planets in recorded history. The next time Mars may come this close is in 2287. Due to the way Jupiter's gravity tugs on Mars and perturbs its orbit, astronomers can only be certain that Mars has not come this close to Earth in the Last 5,000 years, but it may be as long as 60,000 years before it happens again.

The encounter will culminate on August 27th when Mars comes to within 34,649,589 miles of Earth and will be (next to the moon) the brightest object in the night sky. It will attain a magnitude of -2.9 and will appear 25.11 arc seconds wide. At a modest 75-power magnification.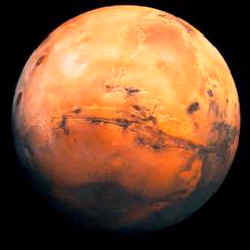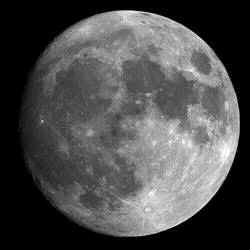 Mars will look as large as the full moon to the naked eye .
Mars will be easy to spot. At the
beginning of August it will rise in the east at 10p.m. and reach its azimuth at about 3 a.m.

By the end of August when the two planets are
closest, Mars will rise at nightfall and reach its
highest point in the sky at 12:30a.m. That's pretty
convenient to see something that no human being has
seen in recorded history. So, mark your calendar at
the beginning of August to see Mars grow
progressively brighter and brighter throughout the
month.

Share this with your children and grandchildren.
NO ONE ALIVE TODAY WILL EVER SEE THIS AGAIN
Courtesy of; Samuel Aikin, PMP, ISV & Developer Relations Technology Manager
770-858-7803 or 8/648, Fax: 7945
1500 Riveredge, Atlanta, GA.30328 ~
saikin@us.ibm.com
7-14-2005 Life as it Was ~ Life Without Email...
An unemployed man goes to apply for a job with Microsoft as a janitor. The manager there arranges for him to take an aptitude test (Section: Floors, sweeping and cleaning).

After the test, the manager says, "You will be employed at minimum wage, $5.15 an hour. Let me have your e-mail address, so that I can send you a form to complete and tell you where to report for work on your first day."

Taken aback, the man protests that he has neither a computer nor an e-mail address. To this the Microsoft manager replies, "Well then, that means that you virtually don't exist and can therefore hardly expect to be employed."

Stunned, the man leaves. Not knowing where to turn and having only $10 in his wallet, he decides to buy a 25 LB flat of tomatoes at the supermarket.

Within less than 2 hours, he sells all the tomatoes individually at 100% profit. Repeating the process several times more that day, he ends up with almost $100 before going to sleep that night.

And thus it dawns on him that he could quite easily make a living selling tomatoes. Getting up early every day and going to bed late, he multiplies his profits quickly.

After a short time he acquires a cart to transport several dozen boxes of tomatoes, only to have to trade it in again so that he can buy a pickup truck to support his expanding business. By the end of the second year, he is the owner of a fleet of pickup trucks and manages a staff of a hundred former unemployed people, all selling tomatoes.

Planning for the future of his wife and children, he decides to buy some life insurance. Consulting with an insurance adviser, he picks an insurance plan to fit his new circumstances. At the end of the telephone conversation, the adviser asks him for his e-mail address in order to send the final documents electronically.

When the man replies that he has no e-mail, the adviser is stunned, "What! You don't have e-mail? How on earth have you managed to amass such wealth without the Internet, e-mail and e-commerce? Just imagine where you would be now, if only you had been connected to the Internet from the very start!" (Hee, hee .... He could be really cleaning up by now, says Dave.)

After a moment of thought, the tomato millionaire replied, "Why, of course! I would be a floor cleaner at Microsoft!"

NOTE: Years ago I didn't have e-mail and bought my first gun to sell. If only I knew then about the power of tomatoes!
Now I am going to explain about Tax Cuts in 2005
"It's just a tax cut for the rich!", and that statement is accepted as fact. But what does that really mean? - The following explanation may help.

Suppose that every night, 10 men go out for dinner at a restaurant.

The bill for all 10 comes to $100. (I know, it's a cheap date.) After much discussion they decided to pay their bill the way we pay our taxes and it went like this:

* The first four men (the poorest of the group) paid nothing.

* The fifth paid $1.

* The sixth $3.

* The seventh $7.

* The eighth $12.

* The ninth $18.

* The tenth man (the richest) paid $59. All 10 were quite happy with the arrangement, (Obviously, none of them were Gun Dealers) until one day, the owner said: "Since you are all such good customers, I'm going to reduce the cost of your daily meal by $20." (Where is this place?)

So now dinner for the 10 only cost $80. and the group still wanted to pay their bill the way we pay our taxes. (Secretly hoping that the more they came to the trough perhaps the owner would reduce the meal even more.)

The first four men were unaffected. They still eat for free. But how should the other six, the paying customers, divvy up the $20 windfall so that everyone would get his "fair share"? They realized that $20 divided by six is $3.33. But if they subtracted that from everybody's share, then the fifth and sixth men would each end up being paid to eat (These guys could be closet Gun Dealers). The restaurateur suggested reducing each man's bill by roughly the same percentage, thusly:

* The fifth man paid nothing (like the first four) instead of $1 (a 100% savings).

* The sixth paid $2 instead of $3 (saving 33%).

* The seventh paid $5 instead of $7 (saving 28%).

* The eighth paid $9 instead of $12 (saving 25%).

* The ninth paid $14 instead of $18 (saving 22%).

* The tenth paid $49 instead of $59 (saving 16%).

Each of the six was better off, and the first four continued to eat for free, as now did the fifth (giving free meals to half the party) but outside the restaurant, the men began to compare their savings. (Now greed takes over common sense, they are probably teachers.)

"I only got a dollar out of the $20," declared the sixth man. He pointed to the tenth man, "but he got $10!".

"That's right," exclaimed the fifth man. "I only saved a dollar too. It's unfair that he got ten times more than me!"

"That's true!" shouted the seventh man. "Why should he get $10 back when I got only $2? The wealthy get all the breaks!"

"Wait a minute," yelled the first four men in unison. "We didn't get anything at all. The system exploits the poor!" (Here you can see the diversity of the diners.)
The nine men surrounded the tenth and beat him up. The next night the tenth man didn't show up for dinner. (Proving that severely beating the guy that pays the bill makes him smarter.)
The nine sat down and ate without him, (who needs him anyway) but when they came to pay the bill, they discovered that they didn't have enough money between all of them to meet even half of the bill! (Creating dishwashers in an unforgiving society.)

That, boys and girls, journalists and college professors, is how our tax system works. The people who pay the highest taxes get the most benefit from a tax reduction. Tax them too much, attack them for being wealthy, and they just may not show up at the table any more. There are lots of good restaurants in Monaco and the Caribbean.

David R. Kamerschen, Professor of Economics, University of NSW. (Another man from Dave's World.)

Not to leave out the Importance of Women ... One of my Gun Dealin' Dysfunctionals' tells me thus:

1. It's important to have a woman who helps at home, who cooks from time to time, cleans up and has a job.

2. It's important to have a woman who can make you laugh.

3. It's important to have a woman who you can trust and who doesn't lie to you.

4. It's important to have a woman who is good in bed and who likes to be with you.

5. It's very, very important that these four women don't know each other.

Should I name Names?

---
Stick it to the OIL Company Day ~ September 1, 2005

ATTENTION, SHEEP.

IT HAS BEEN CALCULATED THAT IF EVERYONE IN THE UNITED STATES DID NOT PURCHASE A DROP OF GASOLINE FOR ONE DAY AND ALL AT THE SAME TIME, THE OIL COMPANIES WOULD CHOKE ON THEIR STOCKPILES.

AT THE SAME TIME IT WOULD HIT THE ENTIRE INDUSTRY WITH A NET LOSS OF OVER 4.6 BILLION DOLLARS WHICH AFFECTS THE BOTTOM LINES OF THE OIL COMPANIES.

THEREFORE SEPTEMBER 1ST HAS BEEN FORMALLY DECLARED "STICK IT UP THEIR @$$ " DAY BY AND FOR THE PEOPLE OF THIS NATION. WE SHOULD NOT BUY A SINGLE DROP OF GASOLINE THAT DAY.

THE ONLY WAY THIS CAN BE DONE IS IF YOU FORWARD THIS E-MAIL TO AS MANY PEOPLE AS YOU CAN AND AS QUICKLY AS YOU CAN TO GET THE WORD OUT. WAITING ON THE ADMINISTRATION TO STEP IN AND CONTROL THE PRICES IS NOT GOING TO HAPPEN NOR BE MUCH EFFECTIVE IF IT DOES. WHAT HAPPENED TO THE REDUCTION AND CONTROL IN PRICES THAT THE ARAB NATIONS PROMISED WEEKS AGO?

REMEMBER ONE THING, NOT ONLY IS THE PRICE OF GASOLINE GOING UP BUT AT THE SAME TIME AIRLINES ARE FORCED TO RAISE THEIR PRICES, TRUCKING COMPANIES ARE FORCED TO RAISE THEIR PRICES WHICH EFFECTS PRICES ON EVERYTHING THAT IS SHIPPED. THINGS LIKE FOOD, CLOTHING, BUILDING MATERIALS, MEDICAL SUPPLIES ETC. WHO PAYS IN THE END? WE DO!

WE CAN MAKE A DIFFERENCE. IF THEY DON'T GET THE MESSAGE AFTER ONE DAY, WE WILL DO IT AGAIN AND AGAIN. SO DO YOUR PART AND SPREAD THE WORD. FORWARD THIS EMAIL TO EVERYONE YOU KNOW. MARK YOUR CALENDARS AND MAKE SEPTEMBER 1ST A DAY THAT THE CITIZENS OF THE UNITED STATES SAY "ENOUGH IS ENOUGH". WE KNOW EVERYONE ISN'T GOING TO DO IT, BUT I AM! HOW ABOUT YOU?

PLEASE FORWARD THIS ON TO EVERYONE YOU CAN!

On the Other Side ... How 'bout this?
Bloody shame about those high oil and gas prices, according to this report by Jay Hancock published by the Chicago Tribune.
They're causing billions of dollars to be invested in petroleum production, which will increase supply. They're discouraging unnecessary driving, encouraging use of public transit and fuel-efficient cars and cueing industry to cut fuel costs, which will decrease demand.
And they're triggering billions more to be invested in new technologies such as solar power and hybrid engines, which will offer alternatives.
I hate to say it, but if this keeps up we might avoid a 1970s-style energy crisis, with its shortages, gas lines, severe recession and petroleum prices a third higher than they are now, adjusted for inflation. We might even set the stage for a new era of low oil prices, like we had in the 1980s and 1990s, or at least new stability.
Can't Congress do something about $2.60-a-gallon gas?
Check out the damage caused by exorbitant oil prices, as reported by news outlets across the globe.
In Libya, which has some of the biggest untapped crude reserves in the world, lifted sanctions and the prospect of getting $60 or more for a barrel is helping induce Chevron, Marathon and numerous others to open millions of acres for drilling.
Exploration is also creating jobs and expanding supply in Russia, Angola, China, Algeria, Britain, India, Canada, Azerbaijan, Nigeria, Poland, Malaysia, New Zealand and Trinidad and Tobago, reports Oil & Gas Investor.
The profit signal sent by $60 oil is so strong that last month the number of exploratory rigs around the world hit its highest level since 1986, says Baker Hughes, the petro services company.
Where are the energy czars and price controls to stop all this when you need them?
Capital projects are booming in the equipment and "downstream" sectors, too. Companies in South Korea, China, Singapore and the United States are addressing a drilling-rig shortage by building new hardware.
Chevron is expanding its Pascagoula, Miss., refinery by a fourth. Kinder Morgan and Sempra want to spend $3 billion on a pipeline bringing natural gas from the Rockies to the Midwest and East. Texas-based Valero and Conoco Phillips are spending billions to improve their ability to process sour crude, which is cheaper than sweet and will help bring down prices.
Thai Oil is spending $1 billion on new output capacity. Brazil just announced plans to increase processing capacity by 20 percent. China and India have doubled refining capacity in recent years.
In short, high prices have spurred the global petroleum industry to make up for decades of miserable investment and operating with rickety equipment. We're finally investing in the future and ensuring our ability to produce energy for our children.
Darn it. I hate it when that happens.
As rising oil prices make alternatives look attractive, we're also getting the strongest incentives in two decades to reduce our petro addiction and take the next step.
Public transit use seems to be rising. Ridership on the MARC commuter rail system is up 13 percent since 2003 despite ridiculous breakdowns and delays, The Sun reported last week. Public transit ridership also seems to be up mildly in places from Washington to St. Louis to Los Angeles, according to various newspaper reports.
Sales are soaring for "hybrid" vehicles that run on gas and electricity. Toyota doubled production of its Prius hybrid this year. Ford has a hybrid SUV. GM has a hybrid truck and says it could produce a fuel-cell car that runs on hydrogen by 2020.
Florida-based FPL Group is building up to 750 megawatts' worth of wind-powered electricity generation this year -- nearly half the capacity of Constellation Energy's Calvert Cliffs nuclear facility. Frederick-based BP Solar, a division of BP PLC, is expanding again after downsizing in 2003, the Frederick News-Post reported a few months ago.
Weirder and wilder stuff is on the way. Venture capitalists, the people who brought you Silicon Valley and the computer revolution, have gotten interested in energy. One of the partners at Baltimore's New Enterprise Associates is a Nobel Prize winner searching the globe for alternative-energy investments.
Gee, that doesn't sound so bad, actually. Maybe higher prices are part of an invisible hand creating economic order, as described by Adam Smith. Maybe $60 oil is beaming signals across the economy that will boost supply, cut demand and eventually lower prices, as described by Friedrich Hayek. Maybe we didn't need the energy bill Congress just passed.
Maybe, in a free market, the solution to $60 oil is -- $60 oil.
(The preceding report by Jay Hancock was published by the Chicago Tribune on Wednesday, Aug. 24, 2005.)
Nah! Don't buy oil on September First.
---
RACIST, MY BUTT
by David Petronis
The aid is pouring in for Katrina relief now. Some good always comes from tragedy. India and Pakistan have agreed to split a relief campaign. Pakistan is sending more Paki's to operate even more Seven-11 and other quick stop gas stations and Indi's are being sent to buy and run the gulf coast motels. It was heard that all they needed was scraping out of some Mississippi mud and they'd be just fine. All profits to be donated to families and relatives back home.
Japan and China are sending fishing fleets to catch floating furniture and will drag the delta for metals and iron so they can reprocess the scrap to ship back to the American people in the form of statues of the middle finger pointing to the heavens. This sign of symbolism will enter thru the newly renovated Port of New Orleans created by the American taxpayers.
Hollywood sent Sean Penn to the rescue, who then needed to be rescued. They also are producing a new music tour properly named Band Aid for Disaster Relief, or BADR for short. Some NRA members are sending bullets for BAR's to cops to quell gangs for immediate use in the street to street relief. They're the ones getting my money.
Funny we had not seen the leaders of the dark side down in the New Orleans slums and projects driving buses to get their people out. I thought busing was their favorite issue. Oh, that's right; it was for schools not for saving lives. Where were Al Sharpton, Jesse Jackson, Mayor Ray Nagin and Charlie Rangel when the tragedy was about to unfold? Not driving buses to New Orleans, that's for sure. Sharpton was busy hugging the traitorous mother in Texas, Jackson was kissing a communist in Venezuela, Mayor Ray Nagin was evacuating himself to Baton Rouge and yelling for everyone else to run to the Superdome and Charlie Rangel wasn't even heard from – hard to believe – until the complaining period. And, as usual, all the dems and libs got together and now want to form a commission to complain about how bad the Republicans are.
Many of us white folks are now looked upon as racist evil doers because we see things clearly. If we are to be called racists, let me tell you what I saw from my white perspective. Instead of helping poor colored folks, I saw the more important colored folks leaving the threatened area or not venturing into it and evacuating the poor and infirmed. I saw and heard complaints from these same blacks about how the white "government" didn't do anything, meaning the Bush administration. The black government of Louisiana was in charge of New Orleans and still is, the white masters in Washington can't help until asked. Local relief is a local problem and should be handled by locals with help from Washington when requested. You do remember that President Bush created an Emergency Response and Disaster Area even before the hurricane hit. This was so the locals could ask for help and get it faster. Guess who didn't have a plan. Guess who let their own people stay in the path and wake of disaster. When buses were needed guess whom had hundreds parked in the low water line when the levee was breached?
With the democrats telling the colored folk that they will take care of them for these past fifty years and with their creation of a welfare state – both in fact and in mind set - why would anyone think most of these poor blacks could think for themselves anymore? Why try to get out of the way on their own? "Someone will come get us!" Well folks, someone didn't. All the someone's left.
I'm sorry, but if I know a category four or five hurricane is coming and I'm already six feet below ground level – I ain't staying! Especially not in an attic without a chain saw or crowbar.
Could it be that these people might have been dependent on the rest of the people just a bit too long? The younger ones probably don't even know what a crowbar is but they know how to get a gun and turn into professional gang members and now looters. At least they took initiative, a wondrous thought as I see them in my sight picture. What a dilemma, are we actually shooting the ones that show promise? Finally, those stranded folks are walking or boating out of the inner city of New Orleans, the rest see too much of an opportunity not to stay around. I have at least six families of relatives in the New Orleans area and you know what? They all got out before the storm hit. They all have damaged homes. None are blaming George Bush for a relentless and daunting Act of God.
I personally lived thru a tornado. My home was a disaster area and I screamed at the press and politicians as they all drove by gawking while the authorities kept my family out, unable to bring in help and equipment. For several days and nights we lived thru it but no Salvation Army, no Red Cross and no electricity. Eventually, the National Guard came and restoration began. I know personally of the upset lives. But we managed. Neighbor helped neighbor and we helped ourselves. Some looters tried it too but were discouraged.
South Africa, France and even Cuba are offering to send relief help for Katrina victims. Sorry, "refugees," it sounds so much more sinister here in the USA. They can't believe the white government let all those colored people die or live in misery in the world of the great Satan. I have one request for aid from these countries. Please ask all these poor people if they would like to come and live with ya'll. I think I know how many would go, zip, nada, none.
Am I being a racist or a realist? I think realist. I also saw a young man – I think he was colored but what's the difference – commandeered an unused, mind you, school bus and took eighty of his stranded Americans on an eight hour trip to Houston. And they all even chipped in on gas. I saw a three star American General of our Army get off a plane and start kicking ass to get things moving and done – I think he was some kind of other color than pure white, I cheered him on. I saw Army and National guardsmen doing the work that needed to be done, I don't remember their colors – I think black, brown and green camouflage, I cheered them on too. But I'm still a racist, like all us Middle American white folks because we see reality, we see people helping others, we see people helping themselves – and we see colored people helping themselves to big screen TV's in the flood waters of the Mississippi delta. Delta Dawn maybe had no shoes but she was still proud and knew how to help herself.
Am I a racist when I think that our borders should be sealed to all but legal immigrants who want to be Americans and share in our good fortune; the good fortune that was made with sweat, tears and heartaches. Welfare was neighbor helping neighbor, not government handing out checks to the indigent. Families – you know, man and woman, kids, etc. – helped out their relatives, not wondering if the government was going to provide for them. That's the way it used to be, period! Not today, that is the way it used to be. Is reality, racist?
Perhaps the wake up call was long overdue and just turning over and going back to sleep isn't an option again. It's time to shake the covers off and get the hell out of bed with the environmentalists, liberals and do-gooders, i.e. Kerry, Kennedy, Clinton - and get America back to being America again. Get our refineries in action and new ones built. Oil from the Gulf and Alaska should be pumped to refineries in the Midwest and turned into American black gold once more. I can live with $1.89 a gallon for gas – but never at over $3.00! Build back America, buy American; Let my money stay.
I don't mind a nuclear plant in my back yard if I can get real cheap electric power. Give and take is what we need. Clean coal can still be used and trees will continue to grow with conservation and best use of resources. And I think our money should be spent on railroads and new bridges instead of aids in Africa or military bases in Germany and Korea. Move them to where the oil is and drop a few nukes on Fallujah and Syria just to show the world who we are and we still can. Above all, let's send these terrorist bastards to rape their virgins with Allah and I say, "God's speed to all." Is that being racist? You bet your ass, it is! Proud to be an American realist, whatever hue I am.
David Petronis
September 6, 2005
---
... September 8, 2005 ... This Just In ... It's Not Just Us
Australia - The Right to Leave Our Country - YOU Have the right - the right to leave !

Because Sydney did not want to offend other cultures by putting up Christmas lights...

and after hearing that the State of South Australia changed its opinion and let a Muslim woman have her picture on her driver's license with her face covered...

this prompted this editorial written by an Australian citizen and published in an Australian newspaper.

As follows:

IMMIGRANTS, NOT AUSTRALIANS, MUST ADAPT. Take It Or Leave It, I am tired of this nation worrying about whether we are offending some individual or their culture. Since the terrorist attacks on Bali, we have experienced a surge in patriotism by the majority of Australians.

However, the dust from the attacks had barely settled when the "politically correct" crowd began complaining about the possibility that our patriotism was offending others. I am not against immigration, nor do I hold a grudge against anyone who is seeking a better life by coming to Australia.

However, there are a few things that those who have recently come to our country, and apparently some born here, need to understand.

This idea of Australia being a multicultural community has served only to dilute our sovereignty and our national identity. As Australians, we have our own culture, our own society, our own language and our own lifestyle.

This culture has been developed over two centuries of struggles, trials and victories by millions of men and women who have sought freedom.

We speak ENGLISH, not Spanish, Lebanese, Arabic, Chinese, Japanese, Russian, or any other language. Therefore, if you wish to become part of our society, Learn the language!

"In God We Trust" is our National Motto. This is not some Christian, right wing, political slogan. We adopted this motto because Christian men and women, on Christian principles, founded this nation, and this is clearly documented. It is certainly appropriate to display it on the walls of our schools. If God offends you, then I suggest you consider another part of the world as your new home, Because God is part of our culture.

If the Southern Cross offends you, or you don't like "A Fair Go", then you should seriously consider a move to another part of this planet.

We are happy with our culture and have no desire to change, And we really don't care how you did things where you came from.

This is OUR COUNTRY, OUR LAND, and OUR LIFESTYLE, and we will allow you every opportunity to enjoy all this.

But once you are done complaining, whining, and griping about Our Flag, Our Pledge, Our National Motto, or Our Way of Life, I highly encourage you take advantage of one other great Australian freedom, "THE RIGHT TO LEAVE".

If you aren't happy here then f#@* off! We didn't force you to come here. You asked to be here. So accept the country YOU accepted.

Pretty easy really, when you think about it.
(I think that about says it all from down under.)
Gov. Kathleen Blanco's Bureaucrats Blocked Food and Water
The Red Cross was reportedly ready to deliver food, water and other supplies to flood-ravaged refugees who were sweltering inside New Orleans' Superdome last week - but the relief was blocked by bureaucrats who worked for Louisiana Gov. Kathleen Blanco.
Fox News Channel's Major Garrett reported Wednesday that the Red Cross had "trucks with water, food, hygiene equipment, all sorts of things ready to go ... to the Superdome and Convention Center."
But the Louisiana Department of Homeland Security, Garrett said, "told them they could not go."
"The Red Cross tells me that Louisiana's Department of Homeland Security said, 'Look, we do not want to create a magnet for more people to come to the Superdome or Convention Center, we want to get them out,'" he explained.
"So at the same time local officials were screaming where is the food, where is the water, the Red Cross was standing by ready [and] the Louisiana Department of Homeland Security said you can't go."
The Welfare State
When nailed by a natural disaster, demonstrates it's obscene success in molding "sheep" out of human beings!

by Robert Tracinski
September 2, 2005

It took four long days for state and federal officials to figure out how to deal with the disaster in New Orleans. I can't blame them, because it also took me four long days to figure out what was going on there. The reason is that the events there make no sense if you think that we are confronting a natural disaster.

If this is just a natural disaster, the response for public officials is obvious: you bring in food, water, and doctors; you send transportation to evacuate refugees to temporary shelters; you send engineers to stop the flooding and rebuild the city's infrastructure. For journalists, natural disasters also have a familiar pattern: the heroism of ordinary people pulling together to survive; the hard work and dedication of doctors, nurses, and rescue workers; the steps being taken to clean up and rebuild.

Public officials did not expect that the first thing they would have to do is to send thousands of armed troops in armored vehicle, as if they are suppressing an enemy insurgency. And journalists-myself included-did not expect that the story would not be about rain, wind, and flooding, but about rape, murder, and looting.

But this is not a natural disaster. It is a man-made disaster.

The man-made disaster is not an inadequate or incompetent response by federal relief agencies, and it was not directly caused by Hurricane Katrina. This is where just about every newspaper and television channel has gotten the story wrong.

The man-made disaster we are now witnessing in New Orleans did not happen over four days last week. It happened over the past four decades. Hurricane Katrina merely exposed it to public view.

The man-made disaster is the welfare state.

For the past few days, I have found the news from New Orleans to be confusing. People were not behaving as you would expect them to behave in an emergency-indeed, they were not behaving as they have behaved in other emergencies. That is what has shocked so many people: they have been saying that this is not what we expect from America. In fact, it is not even what we expect from a Third World country.

When confronted with a disaster, people usually rise to the occasion. They work together to rescue people in danger, and they spontaneously organize to keep order and solve problems. This is especially true in America. We are an enterprising people, used to relying on our own initiative rather than waiting around for the government to take care of us. I have seen this a hundred times, in small examples (a small town whose main traffic light had gone out, causing ordinary citizens to get out of their cars and serve as impromptu traffic cops, directing cars through the intersection) and large ones (the spontaneous response of New Yorkers to September 11).

So what explains the chaos in New Orleans? To give you an idea of the magnitude of what is going on, here is a description from a Washington Times story :

"Storm victims are raped and beaten; fights erupt with flying fists, knives and guns; fires are breaking out; corpses litter the streets; and police and rescue helicopters are repeatedly fired on.

"The plea from Mayor C. Ray Nagin came even as National Guardsmen poured in to restore order and stop the looting, car jackings and gunfire....

"Last night, Gov. Kathleen Babineaux Blanco said 300 Iraq- hardened Arkansas National Guard members were inside New Orleans with shoot to kill orders.

" 'These troops are...under my orders to restore order in the streets,' she said. 'They have M-16s, and they are locked and loaded. These troops know how to shoot and kill and they are more than willing to do so if necessary and I expect they will.' "

The reference to Iraq is eerie. The photo that accompanies this article shows a SWAT team with rifles and armored vests riding on an armored vehicle through trash-strewn streets lined by a rabble of squalid, listless people, one of whom appears to be yelling at them. It looks exactly like a scene from Sadr City in Baghdad.

What explains bands of thugs using a natural disaster as an excuse for an orgy of looting, armed robbery, and rape? What causes unruly mobs to storm the very buses that have arrived to evacuate them, causing the drivers to speed away, frightened for their lives? What causes people to attack the doctors trying to treat patients at the Superdome?

Why are people responding to natural destruction by causing further destruction? Why are they attacking the people who are trying to help them?

My wife, Sherri, figured it out first, and she figured it out on a sense-of-life level. While watching the coverage one night on Fox News Channel, she told me that she was getting a familiar feeling. She studied architecture at the Illinois Institute of Chicago, which is located in the South Side of Chicago just blocks away from the Robert Taylor Homes, one of the largest high-rise public housing projects in America. "The projects," as they were known, were infamous for uncontrollable crime and irremediable squalor. (They have since, mercifully, been demolished .)

What Sherri was getting from last night's television coverage was a whiff of the sense of life of "the projects." Then the "crawl"-the informational phrases flashed at the bottom of the screen on most news channels- gave some vital statistics to confirm this sense: 75% of the residents of New Orleans had already evacuated before the hurricane, and of those who remained, a large number were from the city's public housing projects. Jack Wakeland then told me that early reports from CNN and Fox indicated that the city had no plan for evacuating all of the prisoners in the city's jails-so they just let many of them loose. [Update: I have been searching for news reports on this last story, but I have not been able to confirm it. Instead, I have found numerous reports about the collapse of the corrupt and incompetent New Orleans Police Department; see here and here.]

There is no doubt a significant overlap between these two populations-- that is, a large number of people in the jails used to live in the housing projects, and vice versa.

There were many decent, innocent people trapped in New Orleans when the deluge hit-but they were trapped alongside large numbers of people from two groups: criminals-and wards of the welfare state, people selected, over decades, for their lack of initiative and self-induced helplessness. The welfare wards were a mass of sheep-on whom the incompetent administration of New Orleans unleashed a pack of wolves.

All of this is related, incidentally, to the incompetence of the city government, which failed to plan for a total evacuation of the city, despite the knowledge that this might be necessary. In a city corrupted by the welfare state, the job of city officials is to ensure the flow of handouts to welfare recipients and patronage to political supporters-not to ensure a lawful, orderly evacuation in case of emergency.

No one has really reported this story, as far as I can tell. In fact, some are already actively distorting it, blaming President Bush, for example, for failing to personally ensure that the Mayor of New Orleans had drafted an adequate evacuation plan. The worst example is an execrable piece from the Toronto Globe and Mail , by a supercilious Canadian who blames the chaos on American "individualism." But the truth is precisely the opposite: the chaos was caused by a system that was the exact opposite of individualism.

What Hurricane Katrina exposed was the psychological consequences of the welfare state. What we consider "normal" behavior in an emergency is behavior that is normal for people who have values and take the responsibility to pursue and protect them. People with values respond to a disaster by fighting against it and doing whatever it takes to overcome the difficulties they face. They don't sit around and complain that the government hasn't taken care of them. And they don't use the chaos of a disaster as an opportunity to prey on their fellow men.

But what about criminals and welfare parasites? Do they worry about saving their houses and property? They don't, because they don't own anything. Do they worry about what is going to happen to their businesses or how they are going to make a living? They never worried about those things before. Do they worry about crime and looting? But living off of stolen wealth is a way of life for them.

People living in piles of their own trash, while petulantly complaining that other people aren't doing enough to take care of them and then shooting at those who come to rescue them-this is not just a description of the chaos at the Superdome. It is a perfect summary of the 40-year history of the welfare state and its public housing projects.

The welfare state-and the brutish, uncivilized mentality it sustains and encourages-is the man-made disaster that explains the moral ugliness that has swamped New Orleans. And that is the story that no one is reporting.

Source: TIA Daily -- September 2, 2005
Didn't I just say all that above?
Oh, for the good ol' days of fifty years ago ... life was so much better and cheaper, ya' think?
September 20, 2005 Report ... I received this in e-mail:
I thought I might inform the few friends I have on my recent traumatic experience. I am going to tell it straight, blunt, raw, and I don't give a damn. Long read, I know but please do read!

I went to volunteer on Saturday at the George R. Brown convention for two reasons.

A: I wanted to help people to get a warm fuzzy. B: Curiosity.

I've been watching the news lately and have seen scenes that have made me want to vomit. And no it wasn't dead bodies, the city under water, or the sludge everywhere. It was PEOPLE'S BEHAVIOR. The people on T.V. (99% being Black) were DEMANDING help. They were not asking nicely but demanding as if society owed these people something. Well the honest truth is WE DON'T.

Help should be asked for in a kind manner and then appreciated. This is not what the press (FOX in particular) was showing, what I was seeing was a group of people who are yelling, demanding, looting, killing, raping, and SHOOTING back at the demanded help! So I'm thinking this can't possibly be true can it? So I decide to submit to the DEMAND for help out of SHOCK. I couldn't believe this to be true of the majority of the people who are the weakest of society. So I went to volunteer and help folks out and see the truth. So I will tell the following story and you decide:

I arrived at the astrodome only to find out that there are too many volunteers and that volunteers were needed at the George R. Brown Convention Center. As I was walking up to the Convention Center I noticed a line of cars that wrapped around blocks filled with donations. These were ordinary Houstonians coming with truckloads and trunks full of water, diapers, clothes, blankets, food, all types of good stuff. And lots of it was NEW. I felt that warm fuzzy while helping unload these vehicles of these wonderful human beings. I then went inside the building and noticed approximately 100,000 sq. ft. of clothes, shoes, jackets, toys and all types of goodies all organized and ready for the people in need. I signed up, received a name badge and was on my merry way excited to be useful.

I toured the place to get familiar with my surrounding; the entire place is probably around 2 million sq. ft. I noticed rows as far as the eye can see of mattresses, not cots, BLOW UP MATTRESSES! All of which had nice pillows and plenty of blankets. 2 to 3 bottles of water lay on every bed. These full size to queen size beds by the way were comfortable, I laid on one to see for myself. I went to look at the medical area. I couldn't believe what my eyes were seeing! A makeshift hospital created in 24 hours! It was unbelievable, they even had a pharmacy. I also noticed that they created showers, which would also have hot water. I went upstairs to the third floor to find a HUGE cafeteria created in under 24 hours! Rows of tables, chairs and food everywhere - enough to feed an army! I'm not talking about crap food either. They had Jason's Deli food, apples, oranges, coke, diet coke, lemonade, orange juice, cookies, all types of chips and sandwiches. All the beverages by the way was put on ice and chilled! In a matter of about 24 hours or less an entire mini-city was erected by volunteers for the poor evacuees. This was not your rundown crap shelter, it was BUM HEAVEN.

So that was the layout: great food, comfy beds, clean showers, free medical help, by the way there was a library, and a theatre room I forgot to mention. Great stuff right? Well here is what happened on my journey -

I started by handing out COLD water bottles to evacuees as they got off the bus. Many would take them and only 20% or less said thank you. Lots of them would shake their heads and ask for sodas! So this went on for about 20-30 minutes until I was sick of being an unappreciated servant. I figured certainly these folks would appreciate some food! So I went upstairs to serve these beloved evacuees some GOOD food that I wish I could have at the moment!

The following statements are graphic, truthful, and discuss UNRATIONAL behavior. Evacuees come slowly to receive this mountain of food that is worth serving to a king! I tell them that we have 2 types of great deli sandwiches to choose from - ham and turkey. Many look at the food in disgust and DEMAND burgers, pizza, and even McDonalds! Jason's deli is better than McDonalds! Only 1 out of ten people who took something would say "thank you" the rest took items as if it was their God give right to be served without a shred of appreciation! They would ask for beer and liquor.

They complained that we didn't have good enough food. They refused food and laughed at us. They treated us volunteers as if we where SLAVES. No not all of them of course... but 70% did! 20% where appreciative, 10% took the food without any comment and the other 70% had some disgusting comment to say. Some had the nerve to laugh at us. And when I snapped back at them for being mean, they would curse at me! Needless to say I was in utter shock.

They would eat their food and leave their mess on the table... some would pick up their stuff, many would leave it for the volunteers to pick up. I left that real quick to go down and help set up some more beds. I saw many young ladies carrying mattresses and I helped for a while. Then I realized something... there were hundreds of able bodied young men who could help! I asked a group of young evacuees in their teens and early twenties to help.

I got cursed at for asking them to help! One said "We just lost our ****ing homes and you want us to work!" The next said "Ya Cracker, you got a home we don't" I looked at them in disbelief. Here are women walking by carrying THEIR ****ING BEDS and they can't lift a finger and help themselves!

WHY THE **** SHOULD I HELP PEOPLE WHO DON'T WANT TO HELP THEMSELVES!

I waved them off and turned away and was laughed at and more "white boy jokes" where made at me. I felt no need to waste my breath on a bunch of pitiful losers. I went to a nearby restroom where I noticed a man shaving.

I used the restroom, washed my hands and saw this man throw his razor towards the trash can... he missed... he walked out leaving his disgusting razor on the floor for some other "cracker" to pick up. Even the little kids were demanding. I saw only ONE white family and only TWO Hispanic families.

The rest where blacks...sorry 20% to 30% decent blacks... and 70% LOSERS! I would call them ******S, but the actual definition of a ****** is one who is ignorant, these people were not ignorant......they were ARROGANT S. The majority of which are thugs and lifetime lazy ass welfare recipients. We are inviting the lowest of the low to Houston. And like idiots we are serving the people who will soon steal our cars, rape, murder, and destroy our city while stealing from our pockets on a daily basis through the welfare checks they take. We will fund our own destruction.

By "US" I don't mean a specific race, I mean the people who work hard, work smart, have values and morals. Only people who want to help themselves should be helped, the others should be allowed to destroy themselves. I do not want to work hard, give the government close to half the money I earn so they can in turn give it to a bunch of losers.

I don't believe in being poor for life. My family immigrated here, we came here poor, and now thank God, and due to HARD WORK we are doing fine. If immigrants, who come here, don't know the language can work and become successful... WHY THE **** CAN'T THE MAJORITY OF THE HOMEGROWN DO IT!

If we continue to reward these losers then we will soon destroy our great country. I just witnessed selfish, arrogant, unappreciative behavior by the very people who need help the most. Now these same people who cursed me, refused my cities generosity, who refuse to help themselves are DEMANDING handouts on their own terms! They prance around as if they are owed something, and when they do receive a handout, they say it's not good enough! Well you know what......these types of people can go to hell for all I care!
Was This All True? I replied to the sender with this answer, you decide.
Hi Sender, In this world of fast paced connections sometimes we have to hesitate in the knee jerk reactions to forward everything we receive. All is not truthful out there in cyber land. I would be among the first to agree that the story and experience of this volunteer is true because I don't particularly give colored people an "A" in societal gatherings or even an "E" for the effort of getting on in life with hard work and responsible practices. But, I have learned to be a cynic and not believe half of what I hear and less of what I read so I have found ways to verify things. One is by going to this site where Urban Legends are discussed in detail http://www.snopes.com/katrina/personal/volunteer.asp and see what these folks have learned about a particular subject, usually "web letters." It takes time, but I'd rather be right than wrong. In this case the jury is still out. Thanks for the mail.
Dave
9-26-05 ... What One Man Learned About Hurricanes
Things I have learned from watching the news on TV during the last 8 days and how it adds sarcasm to tragedy.
No Negro needing rescuing weighs less than 300 pounds. Most people will drop a stolen item when someone points a gun at them. The only difference between Oil Company CEO's and looters, is that looters can be identified from TV film footage. No legal action will ever be taken against either.
Martial law is only declared in white communities. The hurricane only hit colored family's property. New Orleans was devastated and no other city was affected by the hurricane. New Orleans has no white people. White folks don't make good news stories.
Mississippi is reported to have blown down trees. The hurricane blew a limb off a tree in the yard of an Alabama resident. Only black family members from New Orleans got separated in the hurricane rescue efforts.

When you are hungry after a hurricane, steal a big screen TV for barter.

The hurricane did 23 billion dollars in improvements to New Orleans: now the city is on welfare, looters and gangs roam freely and they are in your city. Don't give thanks to the thousands that came to help rescue you, instead, bitch because the government hasn't given you a debit card yet.
Ignore warnings to evacuate and the white folks will come get you and give you money for being stupid. Oh yeah, it was all Bush's fault because he didn't sign the Kyoto Treaty.

This Just in From Paris ...
Associated Press: Friday, Sept. 26, 2005; 11:00 PM Paris, France --
Lance Armstrong's record setting seventh Tour de France victory, along with his entire Tour de France legacy, may be tarnished by what could turn out to be one of the greatest sports scandals of all time.
Armstrong is being quizzed by French police after three banned substances were found in his South of France hotel room while on vacation after winning the 2005 Tour de France.
The three substances found were toothpaste, deodorant, and soap, which have been banned by French authorities for over 75 years. Armstrong's girlfriend and American rocker Sheryl Crowe is quoted as saying, "We use them every day in America, so we naturally thought they'd be okay throughout Europe."
Along with these three banned substances, French authorities also physically searched Armstrong himself and found several other interesting items that they have never seen before, including a backbone and large testicles.


Our Pending Loss of Civil Liberties: The Patriot Act ~ Which of My Rights Will Be Lost?
By David Petronis, 2 January 2006
When Democrats and liberal or "moderate" Republicans complain today that the Patriot Act is going to infringe on or make me lose my precious "civil liberties" I truly wonder how bad my personal life will soon become. If Congress passes the renewal of this four-year-old law just when will I start to feel the loss of these liberties? And what freedoms, if any will I lose? If I am a terrorist or thinking about subverting the government, I kinda' hope like, now! But, so far, if you discount airline travel, I hadn't noticed I lost any, nothing, nil, none, nada. And as for the searches and confiscation of my pocket knife before I can board a plane, well, I have to go along with it but I don't feel any safer when I fly – I'd rather be able to carry my personal hand gun wherever I go. Then I'd feel safer!
Knowing that a myriad of companies that do business with airports no doubt have questionable employees that can and may enter restricted areas with opportunities to plant or deliver illegal substances to other people or to put virulent things in various places while some high school dropout is searching my shoes just doesn't make me feel safe. Hit or miss x-ray inspection of my tagged baggage and singling out every tenth person in line for routine pat down of high explosive bandoliers can't quite raise my feeling of security.
I am positively secure in my feelings that our politicians really feel better that they made us go thru all these rights infringements. Congressional Rule 101: When one knows not what to do, pass a "Feel Good Law." However, try not to infringe on the minority in the process.
But if a rag headed Islamic terrorist with a forged drivers license carrying a Koran skillfully hollowed out to hold a pound of high explosive, looks sweaty and jittery the security personnel shouldn't single him out for pat-down because it might infringe on his civil liberty, normally called "fitting the profile." I'm sorry but that minority person's civil liberty should be infringed upon before being allowed to board my plane. Especially when George Bush just got finished with monitoring his "death to Americans" cell phone call received from Osama Bin Ladin. Just who are these subversive libs trying to protect?
Bit by bit and year-by-year for the last few decades, each of our civil rights has been diminished. When you drink water from your tap do you know what's been added to it? My right to drink pure unadulterated mountain stream water has been infringed upon! My God given and historical right to hunt on public property in Central Park has been gone for over a century, as is the right to hunt and gather like our Ancestors once did in most State and Federal Parks. Not even to mention my right to drive the animals' nuts while speeding thru the snow on my Yamaha in Yellowstone. All gone forever.
In fact, when I want to speed down by the levy in my Chevy, I can't. But if I try, I must strap into my seat belt first. Wasn't our given right of enjoyment and free movement infringed upon both in place and circumstance? I don't like it but I have to live with it. In many places you can't light up your property because it may bother the neighbors; you can't raise pigs and chickens in your condo and you can't light up a weed in your home or even a smoke in a bar. Haven't we all given up our rights and civil liberties on a continual basis? How much worse can the Patriot Act be?
Each and every one of those rights we've lost has been thru the efforts of good deed people trying to protect our own selves or others living among us. Have they been so disastrous to our freedom loving culture or personal liberty? No, uncomfortable to some but not a disaster to the majority of Americans. But I still don't like giving up any of my freedoms.
So, why should giving up your "endowed by the creator" (whom most liberals don't believe in anyway) "right to a private phone call" to or from Al-Qaida be so important? I just can't see the problem. Especially when listening in on a terrorist plan to blow up the Brooklyn Bridge could pretty much help stop the act. Where is George going wrong here?
We all would like to be able to run free and naked down the street. Well, maybe not all of us but you know. Being an avid Second Amendment supporter I believe every responsible adult should be able to own and carry a gun wherever and whenever they choose. You want to see muggings and crime go down in a hurry, pass that bill. Plus its' counterpart like one signed into law last year by Governor Jeb Bush in Florida, where you don't have to flee your home when threatened by an invader – as in New York. It's called the "Castle Doctrine" which eliminates the duty to retreat from criminal attack and ensures that their criminal attacker can't sue citizens who defend themselves. Gun control in one's home should be the ability to put a well placed round between the eyes of some perp.
Even without the National Rifle Association support, and remembering the Red Dawn saga, for the continuation and extension of those Second Amendment Rights I would gladly undergo scrutiny and registration for a National Gun Carry Permit. One law that indeed would make me more secure in my own well being, but my right to privacy would also have been infringed. I would have to prove I wasn't a felon, a druggy, a harasser or wife beater, and probably not on mind numbing drugs prescribed by the local psychiatrist. Fine with me.
In today's world it's a balancing act of take a little bad for a little more good. The days of Bison roaming free in Newark, New Jersey are just about over, I'm afraid. And the time has come to renew and strengthen that Freedom mongering Patriot Act. If for no other reason than to keep the God fearing American majority free from terror and harm by a heathen minority. Sorry about that, but liberty works in both ways, especially in War. Or did you not know we were in one?
---
Muhammad or just Yakmed ... It's just the raghead Yakmed thinking about out running that missile. Don't think so!!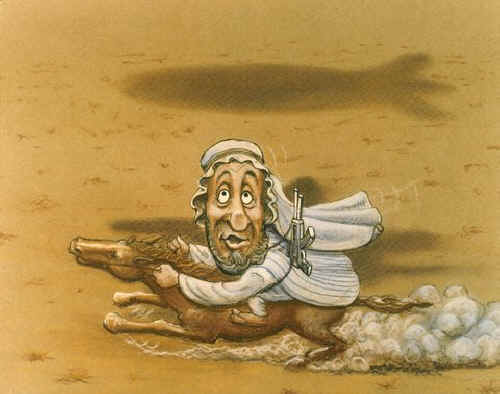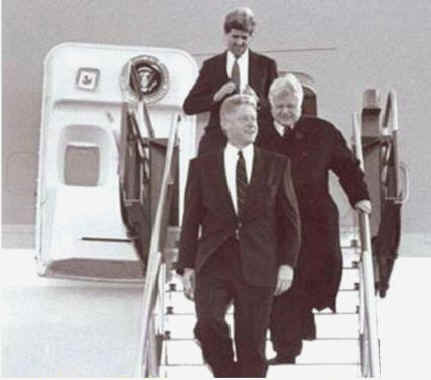 This is the new Boston Law Firm of Dickum, Drownum and Taxum, DDT for short. A real alliance of specialists who just received their invitations for Quail hunting in Texas. Good luck, boys!
... and you thought Yakmed the Terrorist was scary.
Feb ~ Bush Fails To Prevent East Coast Blizzard

Minorities Hit Hardest
by Brain Wilyums
NBC 02/23/06

As President Bush and his staff cowered in the White House, the snow continued to pile up on the many poor and African American victims who could not afford to get out of town or to safety in Florida.

Crucial supplies of blankets, hot cocoa, popcorn and dark rum, so essential to surviving the stress of any major snowstorm, lay in stores undelivered.

"Where is the government? I need my sidewalk shoveled so I can get out

to buy

my danged lottery tickets!" said one D.C. resident from his living room.

"Why are we wasting money in Iraq when we could be spending it here on me?"

Progressive

blogs

blasted the President for his inaction. "We find the timing terribly suspicious, just as the Domestic Spying hearings kick into high gear, what happens? A major northeast Blizzard. Why now?" wrote one blogger.

Hearings into the Blizzards' effect on hearings are almost a certainty.

Howard Dean has suggested he will call for an investigation once his new medications kick in and John Kerry took a break from the sporting activities of the glamorous super-rich in some exotic locale (random choice: Ice Sailing in Finland) to call for new legislation outlawing snowstorms.

"The Republican Congress has dropped the ball once again. I have always been a staunch supporter of anti-snow legislation, except for certain locations where I ski. Snow has no business on our roads and the President and Congress knows that."

Calls for impeachment over "SnowGate" as some are calling it already are mounting as deeply as the snow itself, and what will be discovered underneath will prove to have a truly chilling effect on the Republicans, as the inevitable thaw proceeds. Or something like that.

More breaking news......

Al Sharpton wants an investigation as to why snow is ALWAYS white.

Cheney has stock in Tru-Value Hardware. Do you have any idea how many SNOW SHOVELS they sold today to the unsuspecting consumer?

I demand to know why FEMA has been so late in reacting to this storm. THEY KNEW IT WAS COMING! And yet they failed to have crews in place to fix the electricity as soon as it went off. It just shows that Bush and the Republicans just don't care about the people in the N.E. The Senate needs to investigate this with administration people under oath.

I'll bet that the great junior senator from N.Y. has opened the doors of her home to all of the heatless poor of her neighborhood and is busy baking cookies for them while her husband applies body heat to the nearly frozen teen-aged girls.