This section is comprised of collectable blades of non-military knives, swords, razors and related. Others can be found under Militaria, Specific Company, Tools, Surplus and Fraternal. We have quite a few, purchase all the time and will add items continually. We have many more in our shop.
Click for Content Information or e-mail us at sales@neaca.com but please refrain from questions as to values of your items or info about your items unless you seek a paid appraisal. If you have things you would like to sell to us include your asking price and complete description in first contact.
---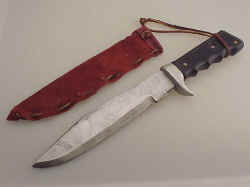 Hand Made Bowie
Heavy, 9 1/4" unmarked Bowie blade with rebuilt grip rivets. Fine, tight knife, comes with hand made suede leather sheath. Good start for

custom Bowie collection. BUY NOW ... $xx.00.
SOLD
---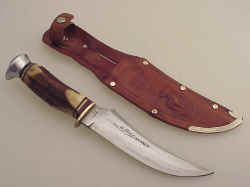 Buffalo Skinner
Bowie knife with embossed Elk on leather sheath. Long clip point to 5 and 1/2" blade. Marked with "Original Buffalo Skinner" and "Edgebrand, Solingen, Germany, 496." Brass guard, one piece stag grip and aluminum pommel. All in excellent condition except blade does show some sharpening marks. This is probably from the 1950's era and we have it priced at $xxx.00

... BUY NOW. SOLD
---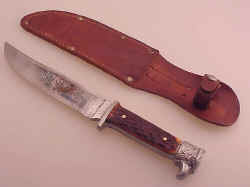 Eagle Head Bowie
Bowie style hunting knife with 5 1/2" light blade having etched, colored scene of bugling bull elk in woods. Marked "Korium, Solingen Steel, M. I. Germany, Pat. Pend." One piece cast aluminum grip of plain guard and ornate eagle head that is sandwiched with stag slabs. Has original leather sheath, all in excellent condition but blade has very slight curve to tip. Great

knife of by-gone era, ... BUY NOW ... $xxx.00.
SOLD
---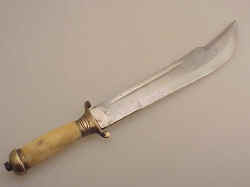 Bone Handle 9" Bowie
Unmarked but with nice fuller and clip point, this heavy 9" bowie blade has brass guard and pommel. It is nicely fitted with bone grip, probably from the 1880's and just has the "look" that we collectors



want ... BUY NOW ... $xxx.00.
SOLD
---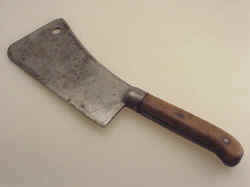 Green River No. 8 Meat Cleaver
Meat Cleaver, fine old tool with good blade and hardwood grips. Marked "Nichols Bros., Green River, Mass, (Arrow) 8." Collectable or useable, a style used in the



1870's by buffalo skinners.
SOLD
---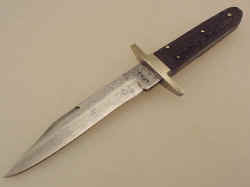 L. F. & C. Bowie c1875
Heavy clip point 5 5/8" blade, 10" o/a c1875, dark stag grips with brass rivets, heavy silver cross guard. Excellent condition, has seen use and blade is polished. Popular

use by WWI Doughboys BUY NOW ... $xxx.00 SOLD
---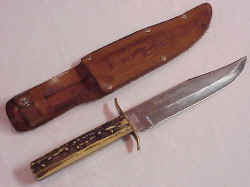 Edge Brand 445 Bowie, Solingen
Bowie knife with embossed Elk on leather sheath. Half clip point to 6 and 1/4" blade, hollow ground edge. Marked as "Original Bowie Knife" and "Edge Brand, Solingen, Germany / 445." Brass "S" guard, two 4" slab stag grip with brass rivets. All in excellent condition but high polish blade shows some light sharpening marks and small areas of discoloration. The stitching at end of scabbard has come undone.

This is probably from the 1950's era and we have it priced at $xxx.00 ... BUY NOW. SOLD
---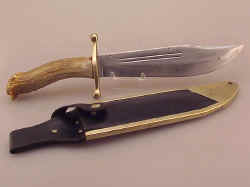 Case Bowie Knife
Case Company Bowie Knife with custom full stag grip and brass cross guard. The black leather scabbard is edged in sheet brass and all are in excellent condition.
We have it priced at $xxx.00 ... BUY NOW.

SOLD
---
To Place an Order CONTACT US ~ All Prices Reflect a 4% Cash Discount ~ However we do accept all Major Credit Cards. Remember that prices are subject to change without notice.
Our Guarantee is Simple ~ 100% Satisfaction
If you have something to offer for sale please price it in your first e-mail. If you want an appraisal we have a small $35.00 fee.
Stop in and visit at our Mechanicville, NY store location or ask us to bring a particular item to one of our Arms Fairs. See Gun Shows.
---