By David Petronis ~ © 1984 - 2023 NEACA, Inc.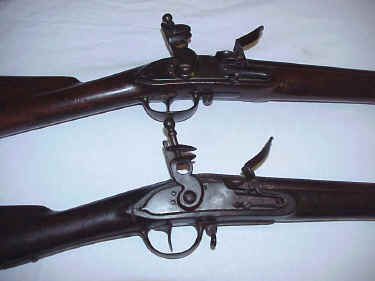 1795 US Springfield Flint Lock Muskets
Antique Arms
Pictured are a pair of 1795 US Springfield Flint Lock Muskets of .69 Caliber. The top one is dated 1813 and is classed as a Type III. The bottom is the same basic configuration but is unmarked except for a possible 1801 date and "T. DALE" on inside of lock. The complete story is below.
I received a call quite recently pertaining to a request for my services for an appraisal of what the owner described as a 1795 Eli Whitney musket. She relayed to me by phone that she was told it was quite rare and had a value of probably $6,000. However, in order to sell it she would like a written professional appraisal of her firearm. She wished to bring it to my Hudson River Trading Company store location that afternoon.
As planned, she and her brother found my Main Street, Mechanicville, NY store front easily and arrived with her prized possession around two PM on a hazy August afternoon. Carried in a styrofoam lined long box marked "Pedersoli Charleville Pattern" was indeed an antique musket. I hadn't seen one of these in awhile and when I opened the box I recalled an earlier encounter.
Sometime around 1974 I got a call to look at some old guns that a fellow had inherited and were now in his garage in Watervliet, NY. He knew nothing about them, wanted rid of the stuff and could he get any money for them? The calls daydreams are made of. I went, I looked, I bought.
Among the Civil War muskets and carbines was a flintlock with bayonet. It was filthy, missing the ramrod and had a long sliver of wood out of the right side of the full stock, just shy of the front barrel band. The swivels were missing and it simply looked terrible – and at the time I did like Civil War long arms and swords. But, for an additional $25.00 I added it to my package of prizes.
After cleaning up what I really wanted and squirreling the best pieces into my personal collection, I finally took a good look at the rugged old flintlock. With the grime and dirt removed I found a date and markings on the lock that read "1813" and "US" over a stylized Eagle over "Springfield". Going into my Flayderman's I found that I probably had a model 1795 Springfield Musket. A bit more research and it seemed to be a Type III but with a 41½" barrel.
Our American Bicentennial celebration was just around the corner and as most people of the time, I found our 200 year old heritage exciting and interesting. Especially, now that I owned a musket of the time period – well, 1813 was close enough. So, I kept it. I have it to this day and have occasionally taken it out of hiding and gleaned over its' wondrous elegance. From time to time I tried to find information about the model and of why mine was a bit short but not much had been written of the subject. So, it stays with my collection as a fond memory or for when it is in need.
Upon opening the long box brought into my shop I immediately recognized a US Model 1795 Musket. It was not quite as grimy as was my first but it most assuredly was rusty, dusty and dry. I asked why the owner thought this was a Whitney gun and her reply was that someone in a museum, I won't name it, told her so. And there was a "WF" inscribed under the trigger area. Also, after looking it up in a book and seeing "1801" on the butt plate, they were convinced of its worth of around $6,000 – or more.
Now, as I told her over the phone, I generally have a standard fee of $50.00 for one appraisal item and would give a written description and probable value of her item for insurance purposes or possible resale. I then inspected her firearm carefully and upon finding no markings or proofs or visible indication of exactly what she had, I made her a proposal.
Even though I learned she too was from Watervliet, NY – no, it was not to purchase the weapon for $25.00! But I did relay to her that because of the rust and overall condition it would be hard to perform any satisfactory appraisal – or even identification – of her piece without careful cleaning and time consuming inspection. We agreed on a fee to perform this operation, that it would take a week or two and that I would then determine what she had. And, if she wanted to sell it, I could also perform that service or she could herself, now armed with proper information. She left her gun with me and the next day I began the process.
We in this business all have our special way to do things, tips we've acquired, secrets learned from friends and experience and I won't bore you, the reader, with my little operation. Suffice it to say I want to perform a minimum of disturbance while learning the maximum possible. Which, over a period of about ten days, I restored some luster to dirty, dry wood and a smooth patina to most metal whereby I could investigate any markings. What I found was that I certainly was not in possession of a Eli Whitney Musket.
One of the reasons for my collection of firearms is also their use as comparison models to others that I find for resale or use in my appraisal service. I did reach out for my 1795 Springfield and did use it for some comparison work. The one I was now performing work upon was more of the 1763 Charleville Pattern and closely resembled the Harpers Ferry version but without markings. Following below is a thorough description of this piece and it's accompanying bayonet.
1795 STYLE US FLINTLOCK MUSKET
Weapon Type: Antique Flint-Lock Musket of 1763 French Charleville Pattern, possibly part of the early United States 1794 private contract for 7000 pieces to supply arsenals and militias. The appearance follows the criteria of the US musket by Springfield Arsenal known as Model 1795 Type III, of caliber .69.
Description: The full stock is of walnut with lines of 1795 pattern and without the deep grooves below comb. The 42" barrel is held by three evenly spaced barrel bands, which are secured by heavy rear mounted spring locks. The bayonet lug is on top of barrel and 1¼" from muzzle. The tang is secured by a large original wood screw into stock. The trigger guard is elongated with long teat pointed finials as on Springfield 1795 Type I, as are the riveted swivels. The iron butt plate has numerals that appear individually stamped as "180", possibly a militia rack number or the 1801 date where year was commonly placed at the time period. However, no visually apparent numeral one now exists, except a very light line impression, possibly a number one. The lock is of the 1795 Type III pattern with rear teat extension, bevel edges, flat hammer and integral iron flash pan. The frizzen spring has a beveled arrowhead appearance. The hammer guide is flat and straight, not of the very early style and the frizzen does not have the early curved tail. The lock is completely unmarked save for two areas; where the incised eagle would normally be found, forward of the hammer, there is either the remnant of an eagle or possibly corrosion marks, though of what remains appear straight and incised lines. There is also a stamping on the internal backside of lock, which can be discerned as "T.DALE". (Through much research no record can be found of that name or of any similarities or anomalies.)
Markings & Condition: The lock is marked as noted and other than minimal light pitting it is in fine to excellent NRA Standard antique condition. The barrel was originally a bright finish as the sections covered by wood and bands attest. The remainder is brown patina with some smooth pitting in spots. There is deeper pitting near flash pan, which is usual. The only markings are a deep rectangle possibly signifying a proof mark, and an incised "IIIV" on lower rear. The touchhole is fine and the barrel appears sound and clean. An anomaly of sort is the appearance of some small copper or brass remnant on the underside of barrel about a third down from muzzle, appearing in same area is perhaps some defect in exterior metal. The inner side of trigger guard has "IIIV" incised into bow. The trigger plate has what appears to be incised initials "WF". The first and lower barrel bands also have the Roman Numerals "IIIV" incised into their inside areas. All the metal parts have a layer of patina, lightly cleaned with oils and cloth to remove surface dust and grime. The appearance is even and mellow, some earlier cleaning is evident where markings are normally found. The walnut stock is in fine to excellent condition with no apparent cracks and with but one ¾" gouge in right rear. The stock is clean and has been lightly oiled to restore wood oils and finish. On the right side of butt stock area are carved fancy cursive initials or name, possibly "L P" or "H P" and possibly lighter continuation. On the left side in more crude block letters is a name appearing as "Sammiol Hall", possibly more continuing beneath. The butt plate has possible date mark as indicated and also "IIIV" incised on inside of butt plate. The drop at rear of comb top is 2½", bottom of stock drop is 6¾ ". The wrist circumference measures 5¼". The ramrod is apparently a replacement that has a tulip head and is 39¾" long (shorter than normal) and with a screw tip. The overall weight of this firearm is 9 pounds; the overall length is 57¾".
The Bayonet: found with firearm, and no doubt attached for some time evidenced by the lack of patina under socket, is a standard pattern triangular socket bayonet with open mounting slot. The slot itself has a "T" shape. The blade measures 15¼", overall including socket 18¼", blade measures 1" across flat of top at base. The top rear of blade is marked with a "G" next to socket arm with "US" slightly forward. Near socket cut out is a block "H". The finish was originally bright but now has mostly a brown patina. The condition is excellent overall.
Summary & Opinion: Being a professional dealer and antique firearms collector for over thirty years, I have formed a basis of knowledge that I now apply to this firearm described and examined above. Due to the lack of any United States proofs or government markings, one can reasonably, but not assuredly, rule out that this piece was a martial arm of the Army if produced after 1800. Most of these were at least date marked from 1799 on top of butt plate and after 1804 on the lock itself with at least date, eagle, US or more likely all of the aforementioned. This piece shows only a mark "180" – possibly more – and no definitive proofs. The accompanying bayonet is "US" surcharged but offers no guarantee it was original to this firearm.
MY CONCLUSION
There were many private gunsmiths engaged in the arms supply business at the time between 1770 and 1820 who made arms patterned after the 1763 Charleville .69 caliber musket, most prevalent of the earlier time period. This may be a civilian arm produced by an independent gunsmith, one among the myriad of makers. There also were several known contracts issued for private makers to supply arms to the Federal Government according to a, sometimes vague, model or set of directions. The contract of 1794 seems to fit this arm best, if indeed this is the case, and most suppliers of this contract are unknown as is the exact example criteria.
This may also be one of the arms contracted for by individual States or even private militias. It is simply an unknown at this time.
My personal opinion is that this is part of the early 1794 Federal contract and is an unmarked martial arm. This is based purely on prior observations of similar firearms and my experience coupled with recent research. Also, that the marking of this firearm lock, of "T. Dale", brings to light a hither-to unknown arms maker or private gunsmith. Perhaps further research would appear necessary to bring that observation to a fruitful determination. As for the value and in its' present condition, with the accompanying described bayonet, I believe a reasonable fair market price in today's 2004 arms market would be between $3,000 and $6,000 US dollars, possibly quite a bit more.
FURTHERING THE POSSIBILITIES
In this business, as in life in general, one of the toughest things to admit is those three solemn words "I don't know!" As to the exact, 100%, no doubt what so ever, absolutely definitive designation in a neat pigeonhole report of factual identification – I'm not sure. Not quite as bad as I don't know, but still pretty shaky. But I can tell you what I believe.
I can also tell you how amazed I am of what I've learned to this point. In this wondrous world of American arms collecting there are no real accurate records of the early beginning of our country's armaments. The year 1795 is simply the opening of Springfield Arsenal in Massachusetts and the muskets produced from its' beginning were simply termed Model 1795 for convenience.
And, since I gained possession of my first 1795 US musket in 1974, there has been very little discovered and published to this day. The romance of collecting US Martial Arms and in particular, Springfield Armory weapons, had its' beginning in 1795 with that first musket off the line – as it were – yet very little is factually known of it or the whole procuring process of our early years. There is no definitive reference on the subject because there were no definitive records at the time. New things come to light but evidently the real interest is not there – at least with today's collectors, the interest is not in our very early stages of development. Even though those were certainly wondrous years for our new country and it's leaders.
The collector of today seems more interested in mint boxed Colts, or the cowboy era, or highly engraved Winchesters rifles, not the ungainly musket of 200 hundred years ago. It is much easier to collect those newer guns - and much to read and learn. Not that I have anything against that collector, they keep me in business. And I have a few of my own. But it seems to me our heritage of the founding fathers - their meanings and sacrifices and hard work - goes more unappreciated each passing year.
Even my own interest of the period faded a bit, but was set aglow again on close inspection of this musket. I believe I've found one of the 7000 early contract pieces that were ordered in 1794. And by a hither to unknown maker, T. Dale, whereabouts undiscovered. How important this might be within the realm of early musket making may not be evident for some time – if at all. Where he and this musket fit in our arms development years, may never even be learned. But, be as it may, not everyday does one find some new information. And quite possibly, someone else has already found it but has not as yet relayed it.
Still, if this musket is one of the very early pieces ordered by contract – by a maker unknown – it surely is a find. Unmarked, as it would be with no guidelines, even as to "US" markings – "was I supposed to mark the lock, or you?" We just don't know. The assembly markings of "IIIV"; is that number eight of how many? Or is it something else? Is it 1801 with a light stamp – or 1800 without the last digit, then to be applied when delivered? Or is it a State Militia rack number of 180, under a State contract?
Why a 42" barrel instead of the longer Charleville Pattern T. Dale was working with. Or was it a Harpers Ferry Pattern from 1800 with a 42" barrel? Or did Mr. Dale only produce the lock? The bayonet is US surcharged but not the gun – which is not unusual. But were they simply married long ago?
As for the price range – perhaps $3,000 to $6,000 for an unmarked martial 1795 Pattern musket – the speculation may be low. But if it is one of the very early ones – with unknown maker – perhaps $10,000 or more, would be a closer estimate considering being in NRA fine to excellent condition with inscriptions. Who is "Sammiol Hall" and am I reading it properly? Well, I still don't know the "for sure" answers but the gun certainly begs a lot of questions.
I have stated my suspicions of what it is but nothing definitive has been cut in stone. I am leaning to placing this musket into the early United States of America Contract of 1794, whose makers are fairly unknown and will advise my client of my findings and conclusions. But, in all fairness to her, I still seek answers to unresolved questions. Do any of you, the readers, have any insight into my little mystery gun? I would sincerely appreciate any further input.
---