Indian Dagger, 1930's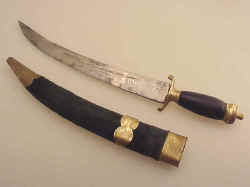 Etched, 9 1/4" blade is marked "Made in India," and has brass guard and pommel with dark mahogany grip. Probably a souvenir dagger from the 1930's, comes with green velvet sheath with brass fittings. It is in overall fine condition. ...
Price: $85.00
---
Kukri c1940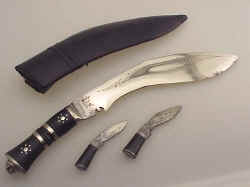 Indian Kukri with leather sheath also pair of small knives. Chromed blade mkd. India, horn grip with metal inlays -- some shrinkage. Obviously for the tourist trade, made probably 1940 - 50 period. Some rust pitting to blade edge but otherwise fine condition. Sheath possibly elephant hide. ...
Price: $245.00
---