Clauberg, W, Solingen, Solingen
German Dagger, 1950's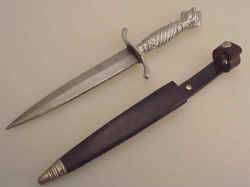 German dagger with leather sheath. Single edge 6" clip point blade in new condition, "Korium, Forged Solingen Steel, Made in Germany" marked on blade. Cast aluminum "S" guard, cast spiral grip with eagle claw and ball pommel. Magazine ads in 1950's depicted this dagger piercing a coin. ...
Price: $175.00
---
Solingen Bowie Knife with Stag Grips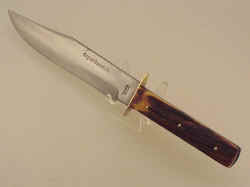 "Original Bowie Knife," 8" heavy, clip point blade and "Solingen, Germany" near oval brass guard. Knife is 13" over all and 3 brass rivets hold stag grips. Blade has been sharpened and polished and reverse has some old pitting but over all look is good. Circa 1930 or earlier. ...
Price: $295.00
---
US Sword, Civil War Era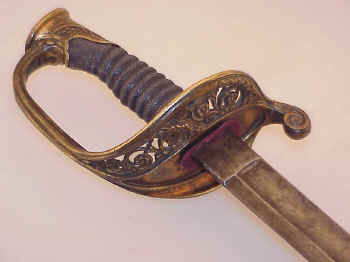 US Non-Regulation, Civil War Era, Model 1850 Foot Officer's Sword with slightly curved single edge, heavy, 32" blade marked "W. CLAUBERG, SOLINGEN" encircling a standing knight, "IRON PROOF" etched to back of blade. Wide brass, single arm guard, is pierced with florals. Though somewhat darkened wi ...
Price: $895.00
---