For Sale ~ Real Estate and Vehicles
There comes a time when one starts to think about change; about thinning out more than the hair line. That time has come for us and we are seriously going to begin to scale down our possessions and our inventory. What we have is becoming a time consumer and we can ill afford the loss of any. The inventory is on our other pages and this page will hold real estate, vehicles and other capital assets. We will still be in "the Gun Business" & the "Show Business" but we may want to sell our Gun Shop, at least the building. And if that occurs we have to clear it out with sales or movement. Plus we have Adirondack Acreage For Sale.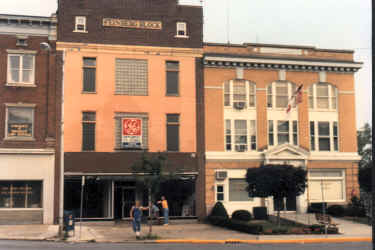 38 North Main St., Mechanicville, New York 12118
The middle building is named the Feinburg Block and prior to our purchase it was used for a Standard Furniture Store in Mechanicville, NY. On the right is the City Municipal Building or "City Hall" and "Court House" that also is home to the Police Station housed in the rear. The building on the left is part of a string of adjoining businesses beginning with the Schenectady "Daily Gazette" Newspaper office. The Municipal Fire Station is across the street as well as several other retail and professional businesses. A rear roadway and parking lot is in the back as well as a large free dockage area for boats on trips along the Hudson River which flows to New York City about 130 miles to the south. The photo is from sixteen years ago when we bought the place. Since then the tree has grown, the roof has been stripped and recovered, the steam heating system repaired and maintained and the 4 story Otis passenger elevator put to use daily. Unfortunately the salmon colored glass face has been removed due to sustaining some damage from the Tornado of 1998. A new awning was installed but the frame was also damaged and we did not return it to use. Each of the four floors is 30 x 100 feet, 3000 square feet each, and also connected by cast iron open stairwells. Oak flooring on all floors and tile in the basement, which also has a ramp rear entrance. The elevator has wide access doors and services four floors and a small loading dock. A fifth floor runs about one third the way back from front to rear and can be used for storage as well as access to the roof. Water, gas and sewer lines are connected and a 1000 gallon oil fuel tank is in the rear. We are currently using the building for our Gun and Antique Shop as well as basement flea market and upper floors for storage and sorting. Taxes are reasonable and all expenses to operate our business and building are around $850.00 a month. It is a very nice, not glorious, building and does need some work but it is sturdy, large, useable and highly affordable in a nice location. We have no mortgage and the price we are asking for the building is $550,000.00 which is only a few thousand more than several empty lots for sale within several blocks. We may be inclined to also sell the store as a going business with inventory. A mortgage balance may be arranged with the proper client.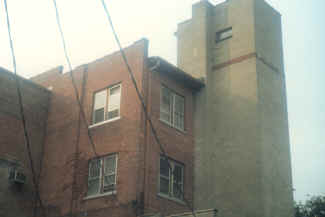 Rear of our Building
Photo shows the solid brick construction and block outer structure for the steel frame of the elevator shaft. From the rear roadway the shaft rises about six full stories making our building one of the tallest in the area and one of the few with an elevator. Even the several adjoining buildings have none and I thought it might be a good investment to buy City Hall and break thru the walls so that building could also conform with laws for handicap accessibility. New York State will soon be pouring money into Tourism and usage of the Hudson River and Champlain Canal system as it has done and is still doing for the Mohawk River Canal. It is only a matter of time when all river front or river accessible property will be in very high demand. And it flows about 200 feet behind us with Free Boat Docking.
Ford F600 Truck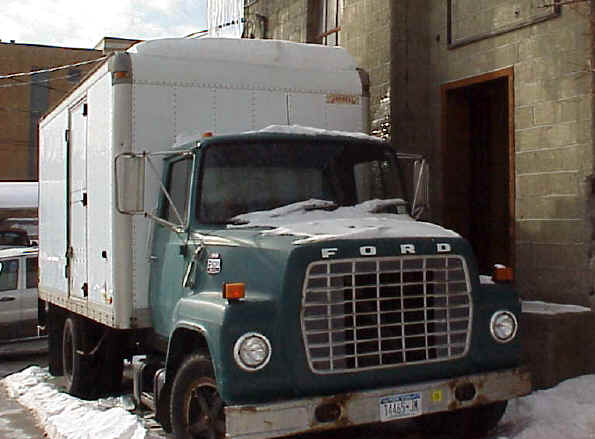 This Ford F600 gasoline powered heavy duty truck with its' 16 foot box and hydraulic rear tailgate lift has really served me well. I bought it with very low mileage and have only put on about 200 miles a year by using it to bring about ninety 8 foot tables and chairs to our Shows. It is a 1983 and has all good tires and a fine automatic transmission. The box has a vertical sliding rear door and two side doors. There are double 16" wheels in rear and single in front. Most of the hydraulic brake lines have recently been replaced. It is currently inspected and on the road. This truck has enabled me to set up and deliver tables to shows in the boonies where none were available. When I needed power and load carry capacity to some Lakeside Village in the Adirondack Mountains this old girl was my meal ticket. She has been with me a long time and we treated each other well, I'll be sorry to see her go. But slinging 55 pound tables on and off her backside is not in my future job description. Even though I can still make use of my tables I would consider selling them with the truck as part of a delivery business. I would like $3500.00 for 'ol Bessie. You can see her at work at our next Saratoga Springs Arm Fair in August 2014.
Adirondack Acreage For Sale ~
Approximately 25 Acres near Stony Creek, NY ... Borders Forever Wild Adirondack Park Land.
Has nice beaver pond in front of property, 23' travel trailer included, nice hunting area. From the mountain you can see the vastness of the Adirondack Park. It is remote yet accessible. Trees are near ready to harvest or leave for wildlife cover. We have seen moose tracks, black bears have raised cubs there, coyote's howl, white tail deer are large, squirrels scurry and birds flutter over beaver and muskrat. There are salamanders and newts around the waterways and tree frogs in the forest of mostly white birch, maple and aspen. Another small mountain lake sits behind the property though all downhill. Our not so close neighbor has a roadway to the lake.
It is a sloping mountain top with trail from logging road about 7/10ths of a mile off town Tucker Road, no electric. We have been to our land about three of four times in the last several years, seems to be no time so why do we keep it? Vehicle access is no problem and the other neighbor has built a small log cabin next to our land, same can be done in several nice spots on ours. After our tree harvest we are considering about $48,000. for all, more without harvesting.
There is the Bit & Bridle Dude Ranch near the access known as Glassbrook Road off Tucker Road, which is off Harrisburg Road out of Stony Creek village. Our land is on the border of the Adirondack State Park which is in a "Forever Wild" area. You can walk and hunt several million acres from the end of our co-owner owned private road. If I was younger .... ?
---