Autumn Leaf, Cake Safe, Coffee Pot, Frosted ...
Hall Autumn Leaf Cake Safe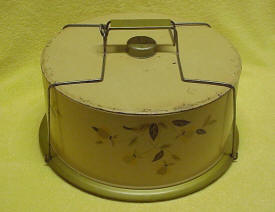 Jewel Tea Company, Autumn Leaf, Cake Safe of the new style was re-introduced in 1950 and produced through 1953. This one is in excellent condition, with fine color, fine pattern and is complete. The bottom tray is in fine condition but has a small dent in bottom rim (see image), it is also embossed ...
Price: $75.00
---
Autumn Leaf Coffee, Eight Cup Metal Dripper Insert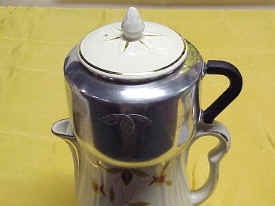 Jewel Tea, Autumn Leaf Metal Dripper only, for eight cup, drip coffee maker. The autumn leaf pattern is embossed on each side and the black Bakelite handle has one clean curve to design. This fits with a little excess room in eight cup coffee pot and lid fits securely. The nine cup lid will not f ...
Price: $70.00
---
Autumn Leaf Frosted Glasses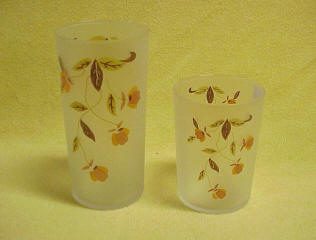 The Autumn Leaf pattern was applied to these frosted glasses made by Libbey. The taller glass, known as the ice tea, measures 5 1/2" tall and was made from 1940 to 1949. The shorter juice glass, which is the more difficult to find, was made from 1950 to 1953 and measures 3 3/4". We have a set of ...
Price: $175.00
---