20 Year, Amber, Anniversary, Autumn Leaf ...
Fenton Glass Company Amber Accessory Pieces Item No. 3638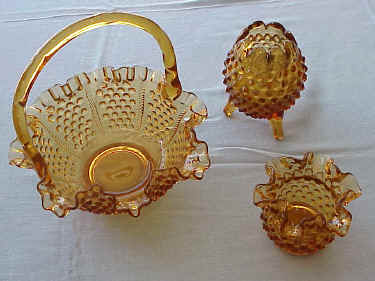 Fenton Item No. 3638 is pictured on the left. The hobnail handled basket in colonial amber color, measuring 8 1/2", was introduced by Fenton in 1967 and discontinued in 1970. ...
Price: $40.00
---
Autumn Leaf Pattern NALCC 20th Anniversary Basketball Teapot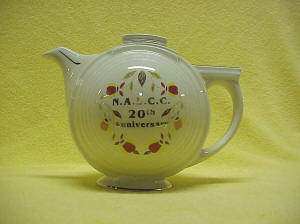 This Autumn Leaf Basketball Teapot was made for the National Autumn Leaf Collectors Club by Hall China Company in 1998 as noted in the bottom stamp in the thumbnail below. This piece is new and unused but has no box with it. It measures 6 1/4" tall and 8 3/4" with spout to handle. ...
Price: $215.00
---