12ga, Brass Shot Shell, Reloading, UMC
UMC Primed Brass Shells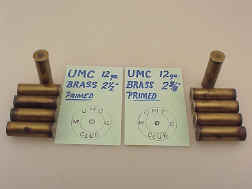 Group of ten UMC brand 12 gauge Primed brass shot shells. Founded in 1867 Union Metalic Cartridge Compamy merged with Remington in 1912. All marked "Club", five are 2 1/2" length and five are 2 5/8," all are live primed. These are fairly scarce and the price is for either group of five. ...
Price: $65.00
---
Winchester 12 gauge Brass Shot Shells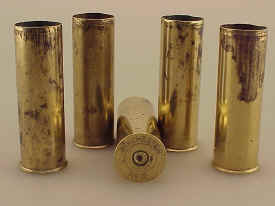 Winchester brass shot shells in 12 gauge, 2 1/2" length, with head stamp marked as "Winchester No 12" and in fine over all condition. They have been media tumbled clean, checked for defects and photo shows primer and head stamp on base. I have five fired shells in a group ...
Price: $65.00
---