Autumn Leaf, Butter, China Specialties, Dish ...
Autumn Leaf Jewel Tea Quarter Pound Butter Dish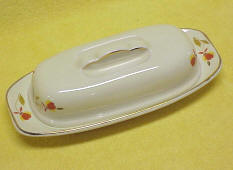 This Jewel Tea Autumn Leaf 1/4 Pound Dish with cover is known as the regular ruffled type. This was a more practical size for the time period with the advent of the packaging of butter in quarter pound sticks. The piece is mint with 100% gold but the cover has some staining on one under edge side (n ...
Price: $215.00
---
Autumn Leaf Jewel Tea One Pound Butter Dish Miniature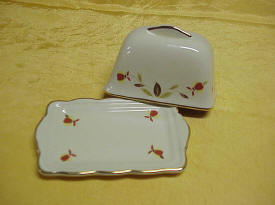 The Autumn Leaf one pound butter dish by Hall Company has been made in miniature for China Specialties. It can be used as an individual server or just as a cute little accent piece. The base plate measures 3" wide and overall it is 2" tall. ...
Price: $29.95
---