Dagger, German, Militaria Nazi, Pre-war ...
German Dagger, 1950's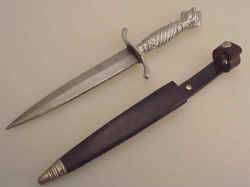 German dagger with leather sheath. Single edge 6" clip point blade in new condition, "Korium, Forged Solingen Steel, Made in Germany" marked on blade. Cast aluminum "S" guard, cast spiral grip with eagle claw and ball pommel. Magazine ads in 1950's depicted this dagger piercing a coin. ...
Price: $175.00
---
Indian Dagger, 1930's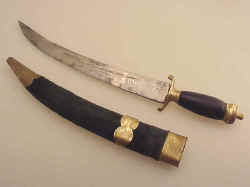 Etched, 9 1/4" blade is marked "Made in India," and has brass guard and pommel with dark mahogany grip. Probably a souvenir dagger from the 1930's, comes with green velvet sheath with brass fittings. It is in overall fine condition. ...
Price: $85.00
---
Nazi WWII Fireman's Dagger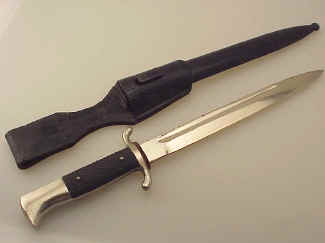 WWII Nazi Fireman's Dress Dagger, with black Scabbard & black Frog. All components unmarked and in excellent condition, blade wiggles slightly within grip, excellent leather throat washer. Blade has some small pitting to top of blood groove, the whole unit is other wise excellent. Scarce ...
Price: $245.00
---