Folder, Knife, Letter Opener, Winchester Company Collectible
Winchester Letter Opener with Folding Knife Blade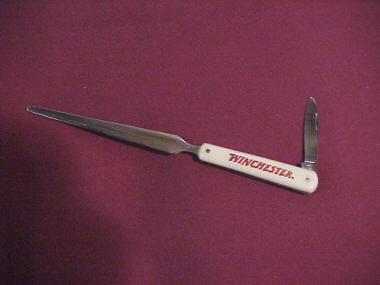 Winchester Letter Opener measures 7 5/8" with knife blade folded and 9 3/4" overall with blade extended. Letter opener blade shows use but knife blade shows very little wear. Winchester is crisp on the grip. This is a great piece for any Winchester collector. ...
Price: $45.00
---
Winchester three blade folding Knife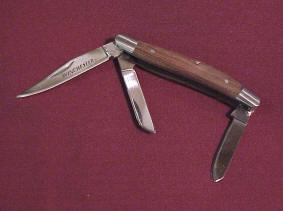 This Winchester Folder has three blades all in near new condition. The knife measures 3 1/2" folded and the largest blade measuring 2 1/2" is marked "Winchester"; each of the other blades measure just under 2". The wooden slab grips have nice grain and are also in excellent condition. We have no ide ...
Price: $75.00
---