Autumn Leaf, Frosted, Glass, Ice Tea ...
Autumn Leaf Frosted Glasses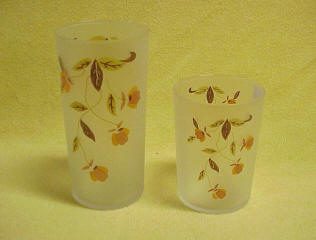 The Autumn Leaf pattern was applied to these frosted glasses made by Libbey. The taller glass, known as the ice tea, measures 5 1/2" tall and was made from 1940 to 1949. The shorter juice glass, which is the more difficult to find, was made from 1950 to 1953 and measures 3 3/4". We have a set of ...
Price: $175.00
---