Catalog, LaPorte Company, Skeet, Trap ...
Winchester Catalog, Shooting Equipment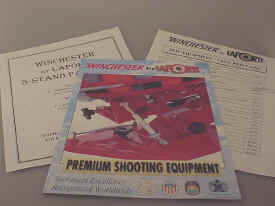 Winchester six page fold out catalog, "Premium Shooting Equipment" by LaPorte Company. It pictures Skeet and Trap Equipment for 1995 and includes Trap Equipment 1995 price list and special package letter. The catalog is 8 1/2" x 11" with glossy pages, all in excellent condition ...
Price: $15.00
---