3 Piece, Autumn Leaf, Bowl, Mixing ...
Jewel Tea Three Piece Nesting Mixing Bowl Set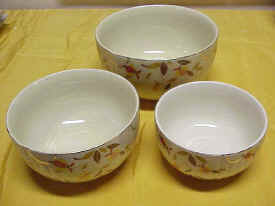 The largest 3 1/2 quart mixing bowl was introduced early in 1933 and the 2 quart and 1 quart bowls were added by Christmas of that year to make up the set. The large bowl has some black speckling to the outside and a spider on the bottom; 90% gold. Medium bowl has the same speckling as the large bo ...
Price: $70.00
---