Autumn Leaf, Butter, China Specialties, Dish ...
Autumn Leaf Jewel Tea One Pound Butter Dish Miniature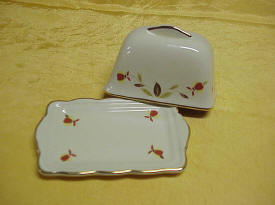 The Autumn Leaf one pound butter dish by Hall Company has been made in miniature for China Specialties. It can be used as an individual server or just as a cute little accent piece. The base plate measures 3" wide and overall it is 2" tall. ...
Price: $29.95
---