Autumn Leaf, Drip Jar, Pepper, Range Set ...
Autumn Leaf Jewel Tea Range Set with Left and Right Handle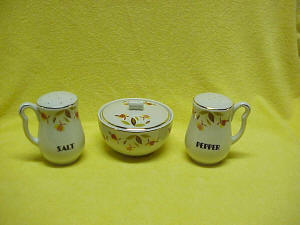 This range set by Hall in the Autumn Leaf pattern made for the Jewel Tea company has a mint Drip Jar with lid and mint left Salt and right Pepper shakers. It is very difficult to find a set like this in mint condition with 100% gold. ...
Price: $140.00
---