Hall Autumn Leaf Stack Set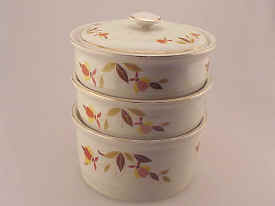 Jewel Tea, Autumn Leaf by Hall China, 4 piece Stack Bowl Set. Condition is excellent with about 90% gold, measures 10" tall and top lid is 5 3/4" that fits each section. This has the three proper sizes and proper lid; bottom is 34oz. and is near mint, center is 24 oz. and near mint, top is 18oz. an ...
Price: $125.00
---
---
Hall Autumn Leaf Stack Set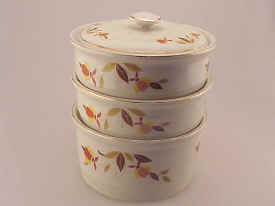 Have another one, mint gold and pattern slight marks on rims where pieces set on each other. ...
Price: $135.00
---