---
Story and Photos by David Petronis, 18 December 2005
All following formidable feats performed by Catherine Petronis
Amongst the hustle and bustle of our busy holiday lives, who needs a crisis, big or small? So, when Lillian called from Long Island two weeks before Christmas and told us that she was just getting too old to mix the dough … well, you could understand if you were born into Czech heritage, that a crisis was brewing.
I'm sure the tradition began a lot further back than I can remember, which is more than mid-way into the last century. Carried on, no doubt, from the farms and villages of the old country, where Slavs, Russians and Czechs once lived now called the Czech Republic, Czechoslovakia no longer. That is what the land was called after being grouped into one amalgamated country after World War One, a land many American 19th Century immigrants called home. Here, in these United States, they came to become Americans but like all venturing people, also kept some of their cherished homeland values and traditions.
Would this phone call mean that another old cherished way of life was about to disappear? And now, when even our own sanctity of Christmas values seems to be in jeopardy, would our family lose another tradition? Generation by generation, and now year by year, our Christian values, our American history even our ancestral heritage all seem to be fighting a losing battle of survival. Is our traditional family Christmas celebration about to flicker out in a stronger light of overwhelming secular oblivion? Not this year, I promised.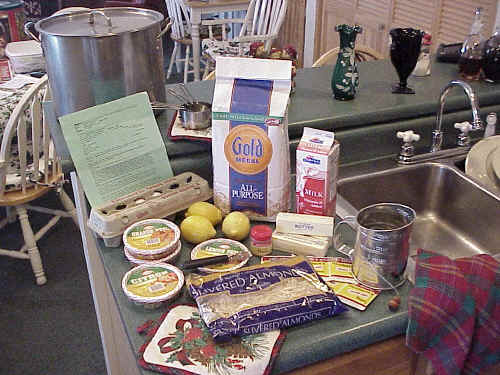 A small crisis it surely was when Lil told her sister Cathy, now next to me in upstate New York, that she could no longer take the strain of heavy dough mixing. And her other sister Barbara was no better in strength, both getting a little beyond that septarian mark in life's long process.
The recipes of good will, family cheer, holiday dressings and traditional foods were all taught and passed on from Cathy's mother and among them, her Christmas Hoska was one of the highlights of the season. This was to be labored over for most of a day about a week before the celebratory birth of Jesus. And a labor it is, the heavy dough is mixed, kneaded, raised and punched and raised some more and baked to a golden color of wonderful, while lingering scents of fruits and mace fill the air. It becomes the central prize of early morning breakfast as a gift of the labor of love for a glorious family Christmas. Lillian, you will have to pass the mixing spoon on to your daughters! Let the question not arise on Long Island again as to who will make the Hoska.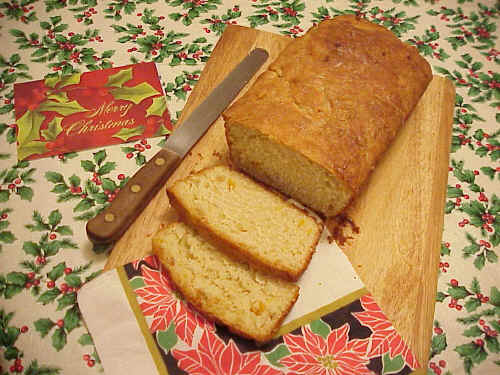 It was during the holiday season of 1960 when I first experienced this old world traditional Christmas bread, but Cathy's family had savored it for years. It has been and still is the traditional bread of Czechoslovakian family holidays and special events. But at Christmas time it is overly special.
Dorothy, Cathy's mom, must have learned the tradition from her mother, while husband John also carried the ancestral Czech name of Hrubes. No doubt the recipe was passed from generation of mother to daughter and daughters-in-law – even to their many sons who now enjoy the labor.
There are different ways to prepare and bake this bread. Dorothy's was to weave and braid strips of dough into fancy bread with fruits, nuts and raisins. Some folks even frost or sugar the loaves. We like it as standard loaves of bread with citron, candied fruit and almonds, no raisins. Anyway you make it and bake it, it is all Hoska, it is still traditional.
The Czech Republic today consists of a mixture of ethnic peoples of Bohemia and Moravia. There still are Germans, Slovaks, Ukrainians and other ethnicities that make up this small country of ten million souls. It was overwhelmingly a Catholic enclave but today half of the residents claim no official religion. Their tradition of colorful dress may also have inspired the decoration of the Hoska bread to what we've seen as nearly a holiday cake. We keep ours simple. If you care to indulge in a traditional labor of love for most of a day, we will tell you how to make the real thing, how to keep a traditional heritage alive and how to give your family, big or small, a gift from the heart. We will tell you how to make the Hoska.
Cathy says: This Hoska recipe originally came from my mother, who also added raisins but each of my siblings made changes to suit their individual families. The recipe that follows is our version and is how Dave and I like it. This recipe makes 5 loaves or 2 loaves and a large braid.
HOSKA
The Original Family Recipe from
Dorothy Calder Hrubes and presented here by daughter Cathy
6 packages dry yeast 5 large fresh eggs
1-½ cups of warm water rind of 2 large or 3 small lemons
1-½ cups sugar, sifted 4 teaspoons Mace
3 cups scalded whole milk 1 16-ounce package slivered almonds
16 cups sifted flour 3 small, 4 oz. cont. candied orange peel
4 teaspoons salt 2 small, 4 oz. containers candied citron
3 bricks margarine 2 small, 4 oz. cont. candied lemon peel
First things first, scald milk in a medium size pot; add margarine to the milk and let cool to luke warm. Then, to a large measuring cup add 1-½ cups of warm water, should be about 100 to 110 degrees Fahrenheit, ideally with a thermometer about 105 degrees. Open the packets of yeast and add to warm water and stir to dissolve. Sprinkle 5 to 6 teaspoons of sugar on top to feed and help the yeast rise.
Sift flour into a large bowl or pot (must be stainless steel or enamel, not aluminum) and add the sugar, salt, mace, fresh lemon rind, almonds and candied fruit. Beat eggs and add to milk and margarine mixture after it has cooled, then add some of this mixture to the dry ingredients while alternately adding the dissolved yeast. Blend and mix until all is added. Mix ingredients well until all flour and dry contents are wet; the muscle part of this process and where Dave fits in. This is where our disclaimer goes. Only attempt this if physically able. Ask your doctor if you can perform these fetes.
Put the entire mixed ball of dough on floured table or counter and knead the dough, adding small amounts of flour, as needed, until it no longer sticks to the palms of your hands. Put dough back in greased container large enough for dough to rise to double its bulk. Cover with waxed paper and a towel and place away from drafts, I place it in a closed oven at room temperature. Let it rise for 2 hours or until double in size. Punch down the dough and let rise for 1 more hour.
Grease five, 5" x 9" loaf pans. Remove dough from rising pot and lay out in a log form on cutting board, slice into five fairly equal sections and separate into loaf pans. Cover and set to rise again for 1 hour. Uncover the loaves and you are ready to bake.
Bake all at once at 350 degrees for 50 minutes. Tap tops for hollow sound do not over bake. Turn out of pans onto a cutting board or some surface not affected by heat. Brush loaves completely with melted butter while still warm, a small, fine hair paintbrush works well. Let cool and wrap or enjoy hot and immediately. (I wrap the loaves in aluminum foil and plastic wrap.) You can freeze these for up to three months if well wrapped.
I serve this hearty, heavy bread warm, sliced about ¾" thick and buttered. Mmmm good! As they say.














Well, that's our recipe for Christmas Bread but Cathy's sister Lillian has a different twist, makes the same amount but braids her dough into an entwined twist. She tries to find fresh yeast and two, 2 ounce packages equals our six packages of dry yeast. Lil also splits the dough after kneading into two equal sections and lets them rise in separate greased bowls. She feels it works better that way. My own thought is that it may be more airy and become drier. I like our bread more moist. But to each their own taste.
The recipe and preparation have come a long way in Cathy's family since her mother used to make her Hoska on Long Island in a drafty kitchen and bake it in the old wood stove. When Cathy bakes her own bread she often reminds me of remembering her mother firmly scolding them for any running around so her rising bread would not flop. And of yelling about opening doors so there would be no drafts from that cold winter air. Ah, the memories. Whatever your final recipe, I hope you try making this old traditional bread as a treat for your holiday.
Even though my own ancestors came from Lithuania where there is a similar Christmas bread, Cathy has nurtured my taste buds to her cooking and her recipes and I am glad she has. Nothin' says loving from the oven more than her hot holiday Hoska.
When you want to serve this with tea sweetened with real honey you may want to read my story about "To Bee or Not To Bee" and see where we got our twenty pounds or so of the delicious wild delectable. Browse our website at Neaca.com and see what you've been missing.
David Petronis,16 River Road, Mechanicville, NY 12118
518-664-7610
Copyright, 10 December 2006