Customers have been asking us for a way to consign items or sell their stuff on our web pages. To sell you can go thru our Arms Collectors Journal advertising. To consign you can go thru us. But we want only high quality or unique items and we have to have it in our possession. We are not going to worry about someone else's description, honesty or integrity when we use our name to sell a collectable. The item must be in our possession if we are to handle a sale. To appraise and price your item and sell it, our fee is 30% of the selling price from owner. Or a simple "this is what I need" from the seller who knows what he wants to do and our commission drops to 25%. Cash sales discounts apply, credit cards invite no discount of 3.5%. Call before shipping any items to us, 518-664-9743.
With over 7 Million hits and 195,000 Visits a MONTH to our site we Do Get Results.
~ Updated Sunday, February 5, 2023 ~
---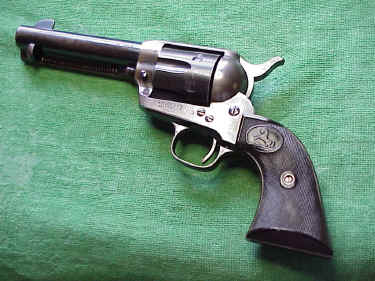 Colt Single Action Army 1873 in .45 Long Colt
We have just been consigned a very fine Colt 1873 SAA with 4 3/4" barrel and in .45 LC caliber. This gun with serial number 343642 is classed by collectors to be in the late smokeless powder range for 1920 to 1940. This particular revolver being made in 1922 still retains the "V" groove rear sight and Encircled Rampant Colt hard rubber grips, which remain in excellent condition and both being numbered to the frame. The serial number is only visible on the bottom front of the frame but is also marked under the grips and the cylinder rear is marked with "42"



being the last two digits, all of which is proper. The proper hammer configuration for this period is also present on this firearm and retains nearly all of its' original case coloring. The frame retains about 90% of the original case colors but is starting to thin on the high spots. Nearly 75 to 80% of the original bluing remains on barrel but some is browning

and about 60%


on the ejector rod housing. The back-strap and trigger guard bluing is thinning and the butt area has had a blemish that appears to have been treated for protection some time ago with cold blue. There are several spots of corrosion that have been cleaned as is common for a used firearm. Most of the screw heads are fine but several do show turnings. The front sight is completely



original as is all of this hard to find gun in this nice a condition. The barrel bore is excellent and there is the standard 2 line address.. I would rate this SAA overall at about 85% plus it is tight. This is not a

pristine in the box revolver but it is one that is all original, in a great barrel length and in overall fine condition. They don't turn up like this that often anymore and it will make a fine addition to any collection. Priced originally at $xxxx.00. ... BUY NOW. Includes commission.
SOLD for around $5000.
Seller is anxious to move this item and is willing to accept a reasonable offer. Seller has reduced this to $xxxx.00 Click to contact us.
---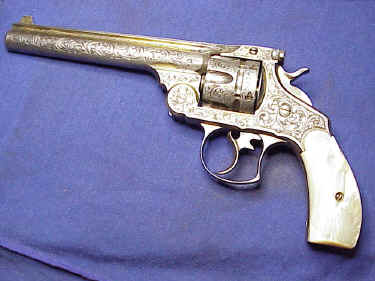 Smith & Wesson Double Action .44 Russian Revolver
Just received this fine Smith & Wesson

Double Action Revolver in .44 Russian caliber. It is fully engraved, has a gold wash and period Mother of Pearl grips. The factory letter assures that the standard gun configuration is correct and was nickel

plated. The serial number is 2332x, just imagine what a group that could have been seated in a card game during the late 1800's with this monster strapped to your leg. You draw one card to your pair, lift the corner ever so slightly, take a puff of your Cuban and raise the pot...
Laying this engraved and gold plated beauty either on the card table at the time or your game table today would definitely leave your audience in awe. Time has taken its' toll on the gold wash but enough remains to show this guns' character and appeal. The grips are pencil dated 1938 and hand-cut as mother of pearl




from an abalone shell, the most expensive and delicate of period materials. The bore is excellent as is the overall appearance of this fine antique weapon. Price on request.
This item being taken off the market soon ... jump on it before it goes, only $xxxx.00 ..... Returned to Owner
Also See our Smith & Wesson Page.
---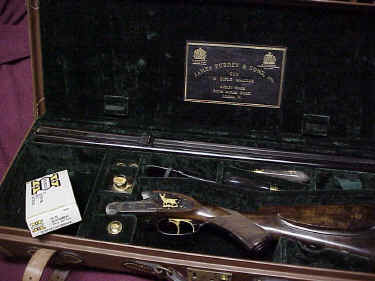 James Purdey & Sons Double Rifle .45-70 cal.
We have just received this super and wonderful James Purdy & Sons Double Side by Side Rifle in .45-70 caliber manufactured about 1931. It is in as new condition, in its' proper leather case and with accessories. The barrels are 25 1/2" with splinter fore-end. The stock has the proper pad, cheek- piece and full pistol grip. The side locks are inlaid with raised gold animal scenes. We moved this item to our Investment Gun Page. Go there for further details.
---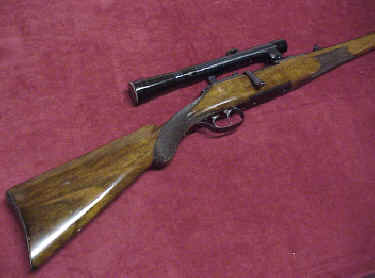 Mannlicher Schoenauer
Model 1905,
Carbine
We have just been consigned this Mannlicher Schoenauer, Model 1905 Carbine in 9x56mm with 2 3/4 power Certar German scope with quick release mounting system. The scope is out of focus and the crosshairs are missing but the



mounts can be reapplied to another scope or a repair can be pursued on this one. The 17" barrel and the receiver have been nicely reblued and the stock refinished in a high gloss varnish. Fine line checkering is sharp, there is

one small ding on the wood,

otherwise the gun looks as new. The one exception is that the metal butt plate must have been in water as there is evidence of some old pitting, not very noticeable. The bore is excellent, the bolt and box magazine with rotary action is as new. The double set trigger appears to be missing the trigger set screw but does function with a light



pull. The trigger guard does have several slight handling nicks but can be easily covered. The bolt is very smooth and these have been rated to have the very smoothest bolt action ever. Both bolt and receiver are serial numbered


1274. The scope mounting is the see-thru style and there is a single leaf rear sight and a raised ramp front sight. This is the type rifle that an African White Hunter may have used in the hey days of the early twentieth century. It can be yours to use as you please or convert to some thing exotic and wonderful, they don't come around every day. We have this priced at $xxxx.00 includes all comm. ... BUY NOW. SOLD
---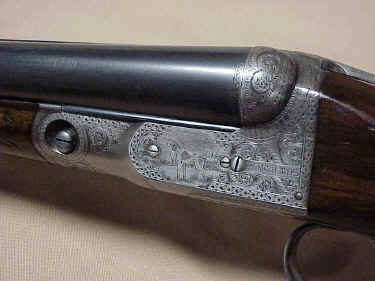 Parker Brothers CHE Grade, Double 12 Ga.

Side by Side
Shotgun
A fine American Parker Brothers CHE Grade, 12 gauge, 1 1/2 frame double barreled shotgun with 30" tubes choked modified and full. Of the nearly quarter million Parker guns manufactured during the reign of the finest American shotgun made, less than one-half of one percent were produced as a "C



Grade." With damage and loss of only ten percent of those that leaves about 1000 of these CHE Grade guns available for many more than 1000 collectors and avid double shooters. Any one of whom would like to


own one. It is a supply to demand market today so as the fellow said about his job you can rightly claim also about any "book values"; take it and shove it. But, we are reasonable.
This particular Parker is not in the pristine condition that most of us would love to find, but if it was, few of us could afford it at probably hovering around

$50,000. So, we will have to take this one for what it is, a fine, used hunting tool that was in one family and used by one man since presented to him as "To Roy From Tom, 1928." As attested by his consigning son and by the silver oval inscribed as such in the lower of the stock.

There is little difference in outward appearance between the popular and much more produced "D" grade than the "C" grade pictured here. If you look at the engraving along the frame edges you can see the subtle difference in styles. The main difference for the extra $50.00 Parker charged for the higher grade was the barrel marking. The "D" has "Titanic Barrels" and the "C" has an "Acme Barrel", which the Company Salesman was

to sell to the more discerning shooter ... at a higher price. I wonder if they had "bait and switch" ads like some of today's marketers? At any rate, much less were sold and made of the higher priced CHE Parkers.
View the thumbnails (click on the smaller photos to enlarge) so you can see the markings and double load proofs that Parker became famous for and instilled confidence in their customers that they were buying the highest quality gun available, and at a moderate price. That is unless you wanted the CHE, or "B", which there are more of, or ... Hallelujah ... the "A" Grade. A Parker Salesman dream! For now, we'll have to



ponder this offering of our "C" grade, with ejectors, so CHE Parker.
Our gun has acquired some scrapes and scratches over the hunting years and at

one time there was a ding or bruise mid-way in the right barrel. This has been repaired but remnants are still visible in the original bluing, I can have this professionally removed for around $200.00. About 97% of bluing appears remaining with but thinning at the muzzle and a few light scratches. The mid-rib ivory bead is fine but the front one has been damaged, easily replaced. The bores are excellent and the lock-up is very tight, nearly new feeling. The main detriment is the amount of case coloring


left on the receiver, only about 10%, viewable near the triggers. It seems this gun may have been overly cleaned and probably not actually used that much. In any event the fancy American walnut butt stock has a white-line spacer pad that was added and the length of pull from the front trigger to the end of the pad is 14". This also can be replaced if wanted, with a nice leather pad of the period style There is also a small ding

in

the left lower checked area of the stock that is not very noticeable. So, there you have it. A rarely offered CHE Parker that you can pick apart for any number of reasons but is so very hard to find in any form or condition, period. If you would care to own this fine American piece of our historic past, please send a check in the amount of $xxxx.00. ...BUY NOW. (Includes commission). Click to contact us.
We have had the white spacer removed and added a vintage leather

butt pad.

The length of pull is 14 1/4".

SOLD
---
---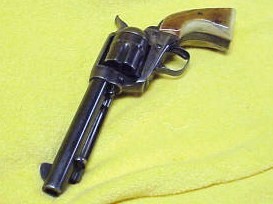 Colt Single Action

Army 1873 in .45 Long Colt
We have just been consigned a very fine Colt 1873 SAA with 5 1/2" barrel in .45 LC caliber. This gun with serial number 3379xx is classed by collectors to be in the late smokeless powder range for 1920 to 1940 because of the number being only on the frame. However, this Colt was made in 1919 so is a transition variant to


that rule. The same number is also on the grip frame under the period stag grip but not on the cylinder. There is little screw deformation and the gun is in overall excellent condition with most blue and most case color though a bit fading. An honest gun in a great caliber. This is a

consignment piece


and the owner has priced it right at $xxxx.00 ... BUY NOW. .... Returned to Owner
---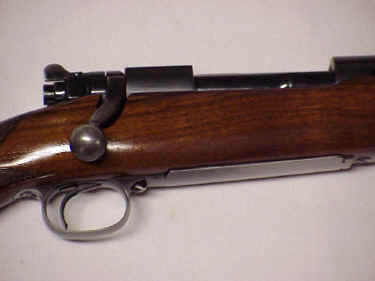 Winchester Model 70 made in

1937
We are offering a very nice Pre-war Winchester Model 70, known as "The Rifleman's Rifle," in .30-06 caliber made in 1937 which I believe is when the .30 Government 06 caliber was introduced. The safety type and straight stock are two of the early features found that were derived from its' predecessor Model 54. The gun retains nearly 98% of the original barrel blue but the trigger guard and floor-plate does show considerable


bluing loss, probably from carrying and the different type of metal used. There is some wear at the barrel top where a scope had been mounted and the cover rubbed some of the bluing off. The two front factory drilled holes supported the old Redfield mount and a third rear hole supported the back of the mount. This I removed and there is no evidence of the mount except the small amount of barrel wear as noted. The receiver, with serial number 8127, also retains nearly all its original blue finish. The walnut stock is excellent. It is hard to find an early Model 70 for sale in any condition and this one is overall excellent.
The front sight is the original ramp style with hood and the rear sight is the standard folding leaf with adjustable "V". The barrel is a standard tapered 24" length and the



bore and muzzle are excellent. The internal trigger adjustment is shown in the thumb nail photos. The original stock finish is also excellent and the early oval pistol grip is evident along with the metal butt plate. Even though this fine gun is in the common .30-06 caliber, one of the finest for hunting, and at one time had a more recent period scope mounted, this still is a fine



hunting weapon that was probably the best of its' kind and dominated the eager market for this prime pre-war and post-war sport hunting history. A rifle that still will be one of the best shooting and handling guns even in this century and we have it reasonably priced at $xxxx.00 ... BUY NOW. SOLD
I have a group of Model 70's coming in that I will put on the site soon. Is there something that you are looking for?
---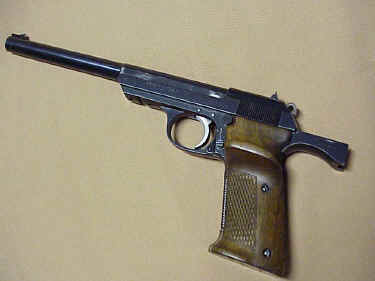 Walther 1936 Olympia Extended Frame Target
This rather rare Walther Olympia Target Pistol with extended frame is on consignment. It

is noted as being in excellent condition with very few rounds fired thru it. It belonged to a WWII veteran who liberated it while serving in Germany and has been in the family ever since. It does not have the rear sight that was part of the extension nor the weights that also were an accessory. Comes with one magazine with wood bottom. It is .22 LR caliber, semi- automatic which requires it be shipped to an FFL holder, also listed as a

curio. The frame has

about 98% original


bluing remaining and all markings are excellent. The frame is crown over N proofed, serial number is 5583 and matches the slide which also retains nearly all the bluing. The only bluing loss is to the 8 1/2" barrel where several areas are becoming light and several bright spots appear just forward of the slide and at the muzzle. All bluing is bright some of the photos appear a bit brown, that is not the case

in



actuality. The bore is bright and the grooves are deep. The rear sight is adjustable and has had a green paint applied to the flat (perhaps Third Reich Army green) and the front sight has also been brightened of its' bluing (see thumbnails). It is a target pistol and was used, who knows, perhaps in the 1936 Olympics? The stocks are excellent with sharp checkering and the pair matches the number on the wooden extension on the magazine, as is proper for a set. One bottom screw is missing from the mag. There are no weights or screws as mentioned. This is an extremely hard pistol to find in any condition and this one will surely delight any collection. I do have an interested party who also has first refusal on this terrific find. However, it remains for sale till actual final acceptance, $xxxx.00 ... BUY NOW. SOLD
---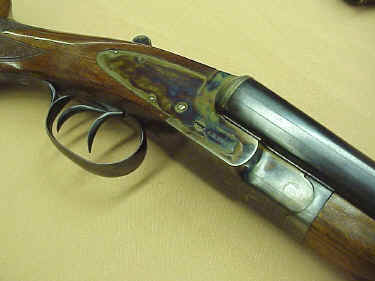 LC Smith Side by Side Double 12 Ga. Shotgun
A very fine LC Smith Field Grade 12 gauge double barreled shotgun was placed on consignment to us by the owner. It is in like new original condition with 28" steel barrels. The wood is straight grain American Walnut with fine line checkering and standard length of pull. The gun has double triggers with ejectors. We have priced this fine gun in exceptional condition at $xxxx.00 ... BUY NOW. SOLD
---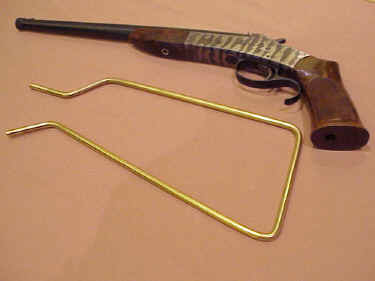 Harrington & Richardson Handy Gun
This is a very rare and extremely fine conditioned Harrington and Richardson "Handy Gun" in .32-20 caliber. H & R made most of these as pistol gripped shotguns which are now on the Curio and Relic list but still require BATF approval of ownership. However, very few of these were made in center fire, in fact only 85 in this .32-20 caliber. It is also quite fortunate that the condition of the gun is in the near mint classification. Of that small number made, only TEN were factory fitted with a special order shoulder stock, and it was un-numbered. The serial numbers ranged


thru their production of all styles of this gun so the date of manufacture is difficult to determine but these were generally made in the early 1930's. This sports a 12" barrel and the stock is factory cut for the shoulder stock. It is registered and listed as a single shot pistol.


The frame has a tiger stripe case coloration, the wood is excellent with some varnish flaking. The end of barrel is threaded for silencer and capped. The serial number range is 438xx. The price is not for the timid and is $xxxx.00 Serious inquiries invited. SOLD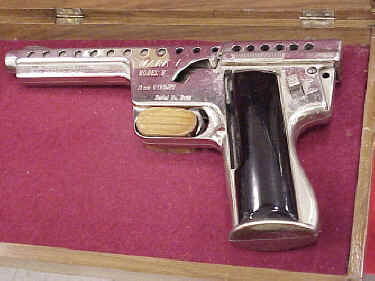 MBA GYROJET PISTOL Mark I, Deluxe Case
This is a rather rare "Ray gun" looking futuristic handgun that could be a throwback to Buck Rogers' time. However, this hand gun was probably made in 1966 in San Ramon, California, now part of the Union of USA Socialist Republics. This fine example is serial number B162 and is nickel plated, has black grips and is designated as the Presentation Model because it commemorates the rocket scientists Robert Goddard and Joseph Stubbs. And why is that so? Because this is the only semi-automatic pistol that actually fires rockets instead of



bullets! The whole "case" is launched by a primer that then ignites an actual "mini rocket" that is stabilized by its spin and reaches around 1250 feet per second in just over a tenth of a second. Where else can you find another like this? This is designated as a Curio & Relic by BATF because of the 13mm (.51 caliber) projectile so it has to go to a Collector with a license or an FFL holder or a person in a State with a Pistol Permit, and thru a FFL


Dealer. This pistol comes in the walnut presentation case, with a bronze medallion and surrounded by ten rounds of ammo both real and dummy. The ammo alone is very rare. These guns were used by Special Ops in Viet Nam, portrayed in futuristic Sci-fi movies and are owned by many VIP's. This is such an unusual gun and seen so rarely on the market that probably any price can be picked out of the air and reaching many thousands of dollars but my consignee says it is time to move this on to someone else to enjoy and marvel at. We have priced this at only $xxxx.00 plus my 15% commission. Of course if you think that is not right you can send me more ... or go find another one for sale. ... BUY NOW, an investment not to pass up.
Here is an interesting educational link on this pistol ... link
SOLD
---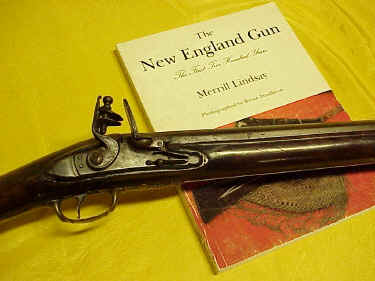 "Silas Allen" Flintlock,
New England Rifle
As pictured and described in "The New England Gun" by author Merrill Lindsay, we have the exact same piece for sale. It is about .62 caliber with heavy barrel and with flint lock firing system. The gun itself is in fine overall condition with but some wood missing at rear of lock plate. The barrel is signed "Silas Allen, Shrewsbury." The wood has silver wire inlays generously applied and the barrel



is pinned to stock. The 44" barrel is octagonal to round with flat sighting plane. The ram rod appears to be original to the gun. The front sight has worn down considerably and the rear buckhorn sight


is missing. The only defect occurring over the past two hundred year life of this fine rifle is the small area of wood that has chipped from the rear of the lock plate. It is a graceful looking and feeling rifle that would certainly grace the fireplace of any New England home or the collection of any Colonial Arms procurer. This piece of recorded history is not for the beginner unless as a secure investment for the future. It is priced over $xxxx.00

SOLD
---

Winchester Model 1866 Rifle & Saddle Ring Carbine
A pair of Winchester Model 1866 as a Rifle and Saddle Ring Carbine (SRC) from when the West began to be won. These are highly sought after and becoming hard to find in any condition but here we have two as better than average. The top gun is the rifle


with iron mountings while the lower one has brass furniture. Serious inquiries only. Prices for either are over $xxxx.00. SOLD
---

1861 Pattern US Rifle Contract Providence Tool Co., Rhode Island
We have just sold this nice US 1861 style contract rifle-musket by the Providence Tool Company, Providence,


Rhode Island dated 1864. ... priced at $xxxx.00 Returned to Owner
---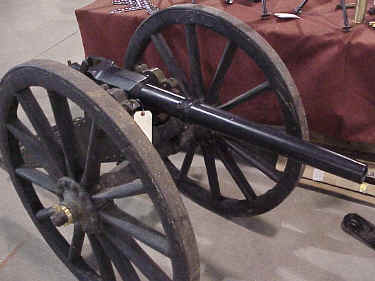 Hotchkiss Cannon
Hotchkiss Model 1895 Cannon in original condition. Fires 37mm Hotchkiss round. Barrel and receiver have been cleaned but the carriage still has 100 years of barn mostly intact. Not a D & D gun. Price is $xx,xxx.00
Another similar in design but has not been modified to fire Hotchkiss modern round. Only four known in this original configuration of firing a round with fuse and primer. This is

the type used at Battle of Wounded Knee by US Troopers. Price is $xx,xxx.00 Condition is overall fine.
BOTH ARE SOLD
---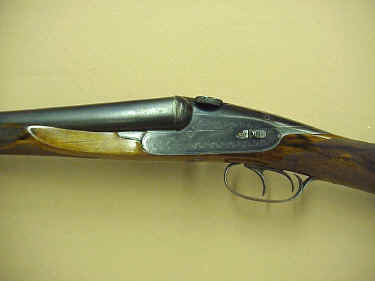 European Double 12 Ga. Side by Side Shotgun
This is a very well made European Double Barreled Shotgun in 12 gauge with unusual opening of the mechanism, similar to a Darne. The only visible markings is the name C. Harmin on the uplifting rear lever. The lever lifts and the barrels slide forward. There is no apparent way of disassembly for the firearm. I have seen similar to this but not this particular style. The gun is very light with fine checkering and is in excellent to like new condition. The entire stock is of one piece with beavertail fore-grip and straight pistol grip. This is on consignment for evaluation and future



sale. It was purchased by the owner at auction for nearly $2500.00 ten years ago. We are seeking a possible buyer. SOLD
---
This page is still being created, check back. If you would like to consign something with us ...
Click for Information or e-mail us at sales@neaca.com
To Place an Order go to CONTACT US ~ All Prices Reflect a 3.5% Cash Discount ~ However we do accept all Major Credit Cards
Our Guarantee is Simple ~ 100% Satisfaction