This page is for the Double Guns we get in, whether they be Purdeys, Parkers or just plain porkers, their home page is here. I'll be the first to admit to it, you probably know more than I about quality double guns, I was always too poor to own any and had to know a little bit about a lot of different things we sell. An expert I am not. I don't even own a set of English cone gauges, so right away, well, you know! But I'll do my best to snap a few pics and spin a couple of lines for each gun I find. Please bear with me.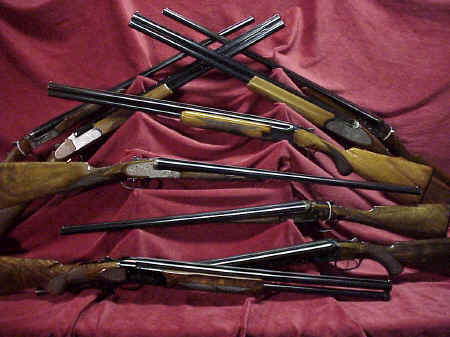 A collage of Double Guns
I had about sixteen more of these doubles laying around for this photo but I couldn't figure out how to fit any more in without touching each other! I've found that when I put my mind to the task and look in all the nooks I amaze myself at what turns up. I set a few of these out below to see if maybe I'll get a bite.
Also see our Antique Arms page for more Double Guns

I just added some new listings at the bottom ...
---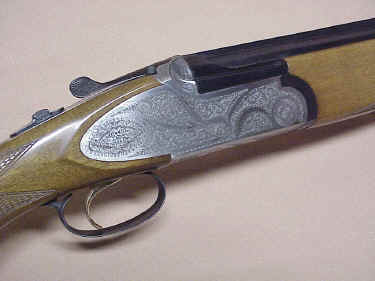 Emilio Rizzini 20 Gauge (HS1622)

This fine Italian Over/ Under Double Barrel Shotgun by Emilio Rizzini in 20 ga. is about 12 to 15 years old and in new, unfired condition. The light wood against the bright engraved receiver & locks gives a stunning color balance to the dark blue of the steel barrels. The look is of a fine quality with a feel of heft. The gun weighs in at 7 1/2 pounds and comes with factory supplied butt pad. A long days shooting can be accomplished without a feel of recoil. The gun is very tight and needs some "breaking in" that can only be done properly with use. A gold single trigger with top selector and ejectors are standard fare on this extra fine field grade. The chokes are modified and improved within the 27" barrels, a red bead forward of the thin rib picks up the target quite well. There are several small ding marks in wood from handling and are pictured above. A fine quality European gun with American influence. We have this lovely priced at only $1895.00. ... BUY NOW. SOLD
Link to Italian Company now manufacturing E. Rizzini arms.
---






This a fine lightweight, utilitarian 20 gauge over/ under by a fine Italian maker in Angelo Zoli. This box lock action has the Greener style bolt lock and sports fine engraving. The chambers will accommodate 3 inch magnum shells in this fine field grade gun. The 26" barrels are choked modified top and full on bottom. Single gold trigger and top mounted selector are standard. The gun weighs just 6 1/4 pounds and is in like new condition but I'm told by the prior owner that he had fired several rounds thru it. This is a fast shouldering piece and I can just picture the falling dove or quail beyond the ribbed bead. A fine gun for field work and priced at only $895.00. ... BUY NOW. (HS2015) SOLD
---







This exquisitely engraved and finely stocked side by side side lock, double barrel shotgun is from one of the finest makers in Eibar, Spain an area that has some of the finest gun makers in the world. This classic gun has seen some use but remains in top condition with mirror bores, tight lock-up and only several small stock dings and handling scratches. I don't believe the side plates have ever been removed and the gun has probably seen little actual firing. It is a show piece for any outing. Even in 12 gauge and with 28" barrels the gun weighs in at only 6 3/4 pounds. Standard European tastes with full and modified chokes, double triggers and ejectors compliment the fancy straight walnut stock with fine line checkering. Nearly all exposed metal has deep scroll engraving and the barrels sport the classic deep rust blue. It handles with fine balance and a standard 14 1/2" pull. A fine gun priced at $4850.00. ... BUY NOW.
---
Just put a nice CHE Parker on our Consignment Page.
---






Parker Brothers, thought by many to be the finest of the American side by side double shotguns, shown here in DHE Grade. Well, before the prior owner decided that it needed a few custom touches to fit his personal taste and body form. He was 84 years young when I bought this gun from him, a rugged man who liked his skeet shooting, and very frugal. When learning that the gun club laid claim to his spent shells he promptly had the ejectors removed. At the same time he figured the case coloring was pretty worn so naturally had the frame blued. Prior to that, somewhere along the way a fine leather pad and a 14" length of pull suited him most best. But you know, with the 1 1/2 frame and even 30" barrels this piece comes up wonderfully on me! I never had the opportunity to take it out and test it but it looks and feels terrific for a great field gun. And not to worry about rain or twigs or briars and brambles, it has already been nicely broken

in. I did take it to a gun show in Springfield and promptly found that some idiot had banged another hammer gun into the left barrel and made a small ding (see photo). So much for the "Do Not Touch" signs! It appears to be choked full and full, maybe I'm reading my old gauges wrong. The fore-end latch shows all the original case colors, the barrels are full blue and the bores are excellent, it weighs in at 7 1/4 pounds. Ejector parts are gone, I don't have them and you really don't need them for this great hunter. The stock shows some dings and some slivers where the pad was installed but overall the gun looks fine and is very tight. Look over the thumbnails above. The serial number 225226 dates it about 1928. We have it priced at a reasonable (and ding reduced) special of only $2995.00. ... BUY NOW.
---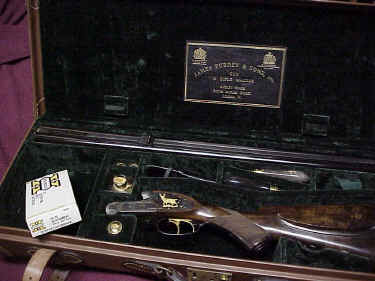 James Purdey & Sons Cased Double Rifle .45-70 cal.
We have just bought this super and wonderful James Purdey & Sons Double Side by Side Rifle in .45-70 caliber manufactured and finished by Purdey in 1930. It is in as new condition, in its' proper leather case and with Purdey accessories. The barrels are 25 1/2" with ejectors and splinter fore-end. The stock has a 14 1/2" pull with the proper pad, cheek-




piece and full pistol grip. The side locks of case coloring were engraved by Purdey in scrolls and roses pattern and inlaid later with raised gold animal scenes by Master Engraver Ken C. Hunt. A whitetail deer is on the left and a grizzly bear on the right lock. The rifle was originally chambered for .400 Purdey 3" Express and sent




to the famous R. B. Rodda Company in Calcutta, India in 1930. This Company sold to and handled many fine guns for the Maharajahs of the time as well as the well healed English Colonials. When and where the conversion to the more American .45-70 caliber is unknown. A pair of .45-70 gold plated snap-caps are included as




well as a cleaning kit with horn handle rod by Parker Hale, Ltd. Several Purdey horn handled screw drivers are also with the accessories, see thumbnail. There are several small dings in the wood and can be seen in the thumbnail photos. These use or handling


marks


can be professionally removed. Purdy guns are recognized by many in the gun fraternity to be the worlds' finest firearms. Recently several of these high quality guns were sold at auction for over $100,000.
Our asking price is $xxxxx.00 SOLD
Just got in a couple of nice Ruger doubles ... a 12 and a 28 gauge (in original box). Also a near new 28 gauge o/u Winchester 101. Plus a nice 20 gauge Ithaca 200 with ejectors by Charles Daly. All super guns ... but, yes, I still have even more. OK, one last tease ...Parker VHE 20 gauge about 90% ... and still more. I'll be bringing some of them to Saratoga this weekend and to our show in Newburgh at IceTime next weekend, August 27, 28. Call me.
---
I still have a lot of work to do on this page.
Click for Information about what we have for sale or e-mail us at sales@neaca.com
To Place an Order go to CONTACT US ~ All Prices Reflect a 3.5% Cash Discount ~ However we do accept all Major Credit Cards. Remember that prices are subject to change without notice.
Our Guarantee is Simple ~ 100% Satisfaction
If you have something to offer for sale please price it in your first e-mail. If you want a verbal appraisal we have a small $30.00 fee. We also do written appraisals at our shop.
Stop in and visit at our Mechanicville, NY store location or ask us to bring a particular item to one of our Arms Fairs. See Gun Shows.