Miniature Samurai Sword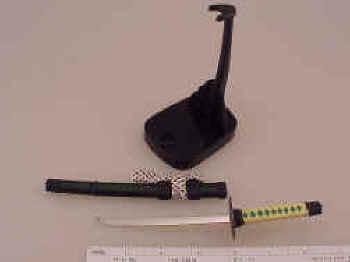 Samurai letter opener with plastic stand. Metal 4" blade with wrapped grip, comes complete with scabbard. Neat looking desk ornament that serves a purpose. ...
Price: $25.00
---
Japanese T99 19" Carbine in 7.7 Jap Cal.

Type 99 Japanese Military Short Rifle in 7.7 Jap caliber in Carbine configuration that has been stripped of its' stock, both barrel and receiver have been buffed to white metal. The Chrysanthemum has been ground and polished and the remainder of action is in the original blue black finish and in ex ...
Price: $295.00
---