This is our page for Ruger Company Firearms and collectables. Whether new, used, current or discontinued, if we have a Sturm- Ruger gun it will be here. Also, any of the Ruger Company Collectables we find we will post them here. If you collect, stop by often.
~ Updated Sunday, February 5, 2023 ~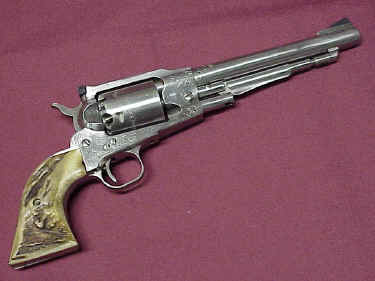 Ruger Old Army 200th Year .45 cal. Liberty Model Black Powder Revolver
C00403... Ruger Old Army Stainless Steel .45 caliber Black Powder Revolver made as a 200th year Anniversary of USA in 1976. It has the flat top, scroll engraving and adjustable rear sight. It is single action, loaded as cap and ball so does not need to be registered unless you have it with the ammunition or components. (Check your own State rules.) I don't know whether the stag grips were issued with the gun but they are in excellent condition and seem to be period with this piece. The cylinders and bore of the 7 1/2" barrel seem to show that this gun is unfired (not guaranteed to be so) and the action is very smooth and crisp. There is no box and I believe this was issued with a walnut case by Sturm Ruger Company. There is some pitting in places due to improper storage but I believe most can be polished out. The overall appearance is very fine though. Serial number is 145-00416, first year production. We have this rather scarce gun priced with the original issue Ruger leather holster, also in excellent condition, at only
$xxx.00. ... BUY NOW. SOLD
---
Ruger Recall of Ruger SR9 Semi-auto Pistols ...
Note: We received a recall from the Sturm, Ruger & Co., Inc. for any Ruger SR9 Semi-auto pistols manufactured between October 2007 and April 2008 bearing serial number prefix "330" (330-xxxxx Example). They claim that some of these pistols can, under certain conditions, fire if dropped with the manual safety in the "Off" or "Fire" position. The pistols will not fire in the "On" or "Safe" position, so states their notification.
If you have any of these serial numbered SR9 pistols call their Hotline at 1-800-784-3701 or E-Mail: SR9Recall@ruger.com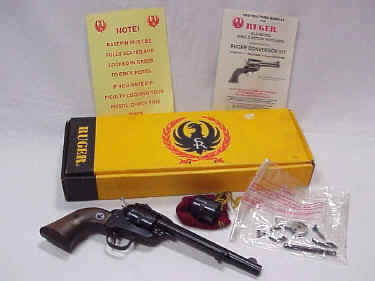 Ruger 3 Screw .22/.22 Magnum Revolver in Box
C00103... Ruger Revolver Model Single Six, 3 screw .22 caliber with additional .22 magnum cylinder. This is classed as a Curio. As new condition, 6 1/2" barrel and adjustable sights. Was sent back to Ruger Factory for safety upgrade and returned with yellow box and old model parts in Ruger bag. Has no prefix to six digit serial number, with all papers. Nice old collector gun or shooter, FFL required. Price is
---
---
---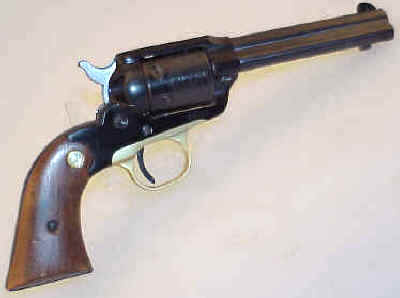 Ruger Old Model Bearcat .22 Caliber Revolver
HS1664.. Nice Ruger revolver, old model Bearcat, .22 caliber, serial number 495xx, and fairly early 1962 production with a 4 inch barrel. Gun has slight barrel end wear, nice walnut grips but L.H. is stamped on the bottom right grip. Several dings and scratches on barrel, dings on front site blade, the cylinder is roll stamped with Puma and Bear, 99% blue. The hammer is 100% blue with bright sides, which is proper. both left and right side of frame are near new as is grip straps with very slight wear on forward grip strap, the top of the frame has three or four visible dings. The trigger guard is gold color anodized aluminum and there is a scratch on the top right of the guard. A fine early Ruger collectible in overall excellent condition, which has have more endearing qualities than the new ones out. FFL is required.
Priced at only SOLD

---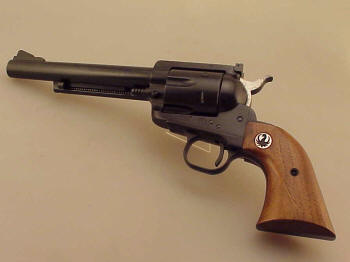 Ruger Old Model .44 Magnum Blackhawk
HS2452... Nice early revolver Ruger, Old Model .44 Mag Blackhawk with 6 1/2" bbl. Made in 1969 and never back to the factory for the transfer bar alteration so you must sign a waiver that it will not be fired without the new safety mechanism installed by Ruger. It would be in near new condition but for a little spotting on the right side of frame and near the ejection shroud screw, very minor considering the desirability of these early three screw Flat Tops. The grips are near perfect but there is some staining to the bright of the hammer which probably could be polished out. We have this great single action priced at ...
---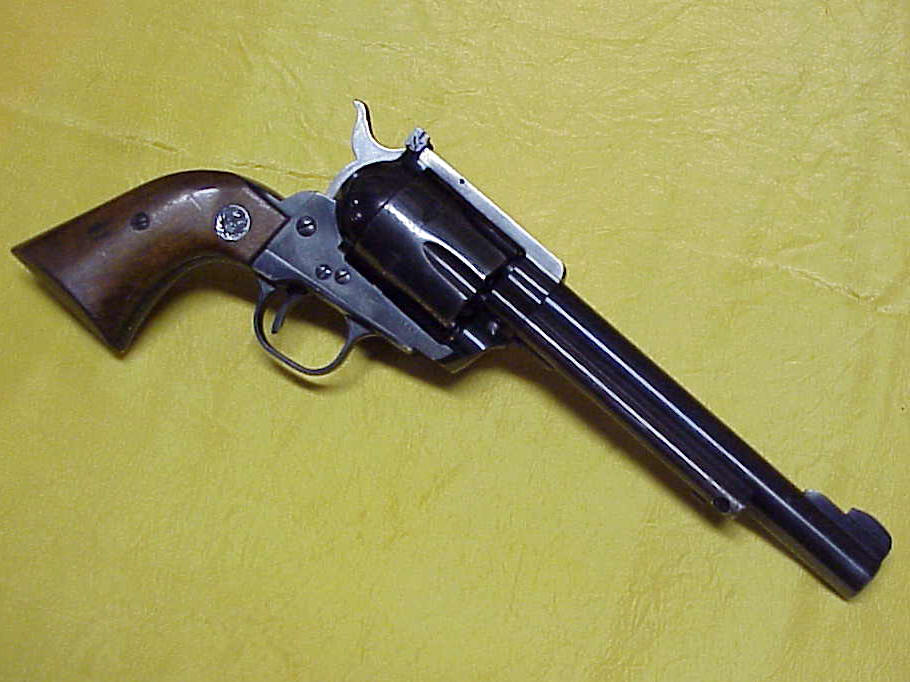 Ruger Old Model Blackhawk "3 Screw Flattop" Revolver
HS0007... Ruger Old Model Blackhawk Revolver in .44 Magnum caliber also known as the "Three Screw Flat Top" with 6 1/2" barrel. The serial number of 216xx was shipped from the factory in October, 1959 as per Ruger Records. It has walnut grips, fine with several scratches and left grip has small chip off bottom front. Some muzzle wear and forward cylinder wear as this gun was used as a service revolver by a NYS County Conservation Officer in the early 1960's. "J.H.B. NYS Cons" is hand Inscribed into bottom of grip frame; I bought this from his son. Some wear on backstrap, otherwise the bluing is excellent as are the "wondrous clicking sounds" when hammer is cocked. This revolver has not been altered to the "safety upgrade" with the hammer block. However, Ruger Company will perform this for the owner free of charge if so desired. It is not recommended for use without this being done and this gun should be relegated to collector only status without the new safety feature. These early, unaltered guns are becoming extremely rare and this one also has a little law enforcement history with it. We have this priced at ...
---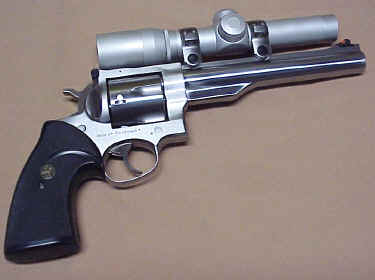 Ruger .44 Magnum SS with Burris Scope
PC0144 ... Ruger Redhawk .44 Magnum Revolver in Stainless Steel, 7 1/2" bbl., Pachmeyer rubber grips and Burris SS 2x Scope. The original sights still remain and gun has been fired and sighted in. This as new, 6 round revolver is one of our personal guns that has seen very little use. Actually this is my daughters' favorite target pistol which she says has light recoil. We don't get out that much anymore and have two others similar so we thought this one might serve someone else better. You can probably buy the whole set new for about what we want for this but then you have to mount it and break it in, we already took care of that and added a little love. Buy serial # 502-592xx soon before we want to take it out again. We have priced it at
$xxx.00. SOLD (I Can Get one New)

---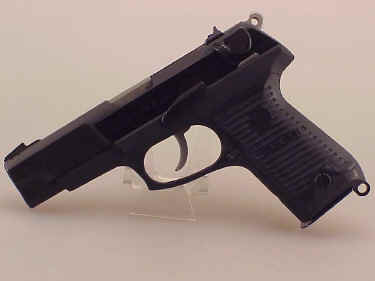 Ruger P85 Mk II 9mm Semi-Auto Hi-Cap Pistol
(HS- 2196) This is an older model Ruger P85 Pistol with Mark II 1991 trigger improvements. It has the 15 round high capacity magazine and it is in like new condition save for a slight holster wear to front right slide (see thumbnail). It is in 9mm caliber, double or single action with hammer semi- auto with 4 1/2" barrel, dark blue slide and matt black frame. It has a hold open on last round, safety de-cocking devise and white dot adjustable front and rear sights. The serial number is 303-489xx and is in excellent working order. This pre-ban pistol is priced at
---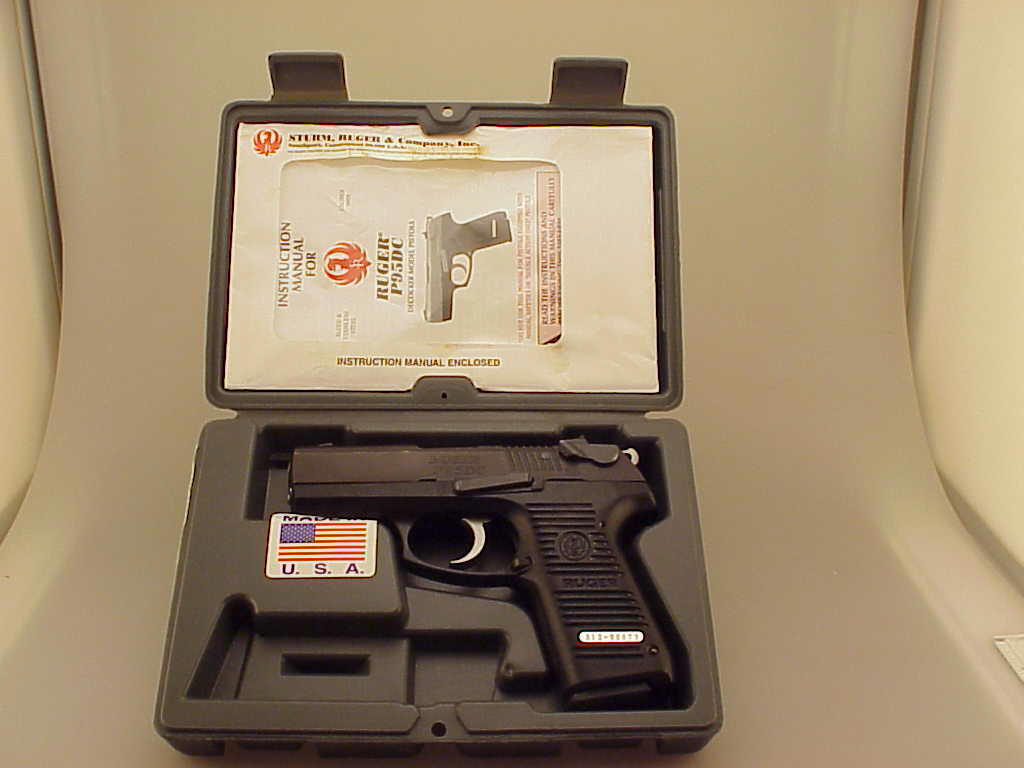 Ruger P-95 DC 9mm Semi-Auto Pistol
HS- 2420 ~ Ruger P-95 Double or Single Action Semi-auto Pistol in 9mm. This is a Poly-frame lightweight gun with ambidextrous De-cocking Devise and 4" barrel. It is as new in the original plastic Ruger box with all paperwork but it has been fired. It has some edge wear that I believe is from box wear. The serial number is 312-386xx and one 10 round magazine is included. We have this fine gun priced at ...
---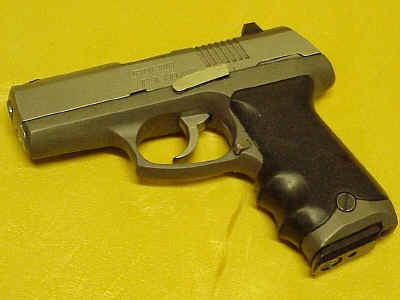 Ruger P93 DAO 9mm Semi-Auto Hi-Cap Magazine Pistol
This is a pre-ban Ruger P93 Double Action Only Hi-capacity magazine pistol in 9mm. It is in stainless steel and in like new condition. Molded plastic grips give it fine handling feel and is light in weight. The three white dot fixed sighting arrangement allows great point of aim pick-up. We also have several police style holsters available for this model. A FFL (Federal Firearms License) or shipment to your FFL holder is required. We have this fine carry or protective pistol priced at
$xxx.00 ... BUY NOW. SOLD
---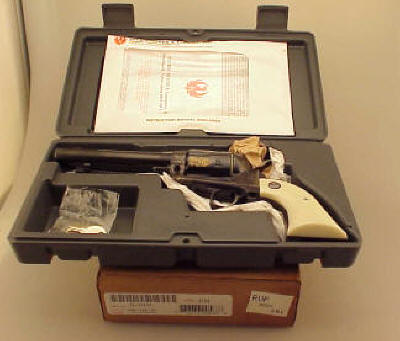 Ruger Vaquero .45 Engraved Revolver
HS 2434 - Ruger Vaquero in .45LC Caliber New in Box with original shipping carton and all paperwork. This is an engraved gun with fancy leaves and scrolls on the cylinder which are gold filled; it has simulated ivory grips each with the black Sturm-Ruger Medallion. This six shot revolver has a 5 1/2" barrel, is blued with case colored frame, bright hammer. It is unfired and as new but the cylinder has been turned and shows turn marks. There is a minute mark on top edge of front sight, not very noticeable but I describe everything. The serial number is 56-206xx and catalog number BNU-455-IE, listed on box as Model # 0588 and Caliber as .45 Magnum. About ten years old, we have this great piece priced at only ...
---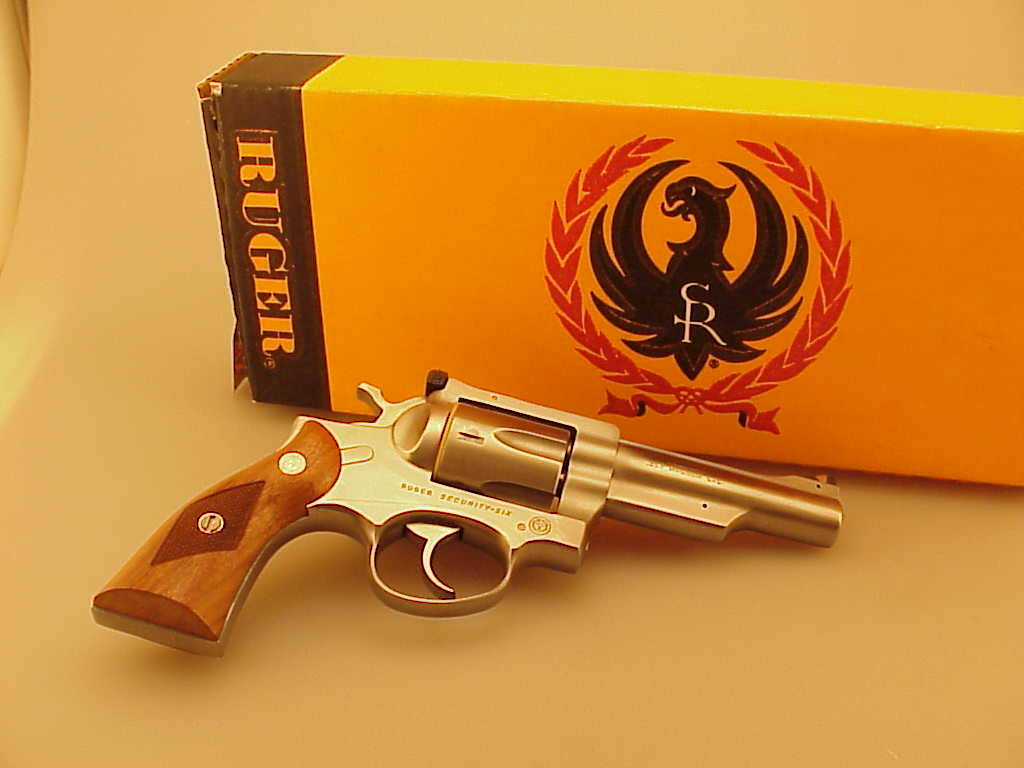 Pair of Ruger Security Six's, .357 Revolvers, Consecutive Serial Numbers, Both NIB
HS 2435/2436 - Ruger Pair Security Six Revolvers in .357 Magnum Caliber, Consecutive Serial Numbers. Each are identical to the other and are New In Box with outer shipping carton and all paperwork; both are in as new condition. These are Stainless Steel guns with 4" Bull Barrel, shrouded ejection rod, and adjustable rear sight. They each sport the checkered walnut grips with medallion. These were manufactured c1983 and in storage these past 25 years. The Ruger Catalog number is GA-34-H and consecutive serial numbers of 159-68878 and 79. We have this great pair priced at only
$0000.00 ... BUY NOW. SOLD
---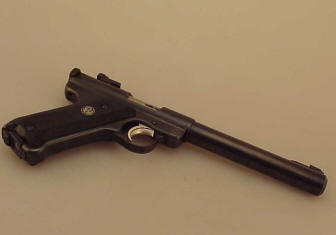 Ruger Mk II .22 Target Pistol
HS 2417- Ruger Mark II Target Pistol in .22 Caliber, Government Target Model with 6 7/8' Bull Barrel, rear adjustable sight, semi-automatic feed with 10 round magazine. It is blued with black plastic grips and has a bolt hold-open feature. It is in as new condition but has been fired. The serial number is 215-1177xx and we have this hard to find model priced at only ...
$000.00 ... BUY NOW. SOLD
---
Also visit Antique Arms for more guns or S & W Guns ~ We also have many more Smiths' in stock.
Click for Information about what we have for sale or e-mail us at sales@neaca.com
To Place an Order go to CONTACT US ~ All Prices Reflect a 4% Cash Discount ~ However we do accept all Major Credit Cards. Remember that prices are subject to change without notice.
Our Guarantee is Simple ~ 100% Satisfaction
If you have something to offer for sale please price it in your first e-mail.
If you want an appraisal we have a small $35.00 fee.
Stop in and visit at our Mechanicville, NY store location or ask us to bring a particular item to one of our Arms Fairs. See Gun Shows.